Fall is here, with all of its beautiful colors…which means it's time for us to pack on all of those beautiful layers. That's right – sweater weather is upon us! But not all sweaters are created equal. Everyone knows that staying warm and cute is a delicate balance. So these sweater styles are sure to have your back (and front) this winter
1. MÉLANGE
In the fashion world, anything with a French name is automatically cool, right? the word "mélange" actually means "mixed," and is used to describe many different things. One example is spices, but a more important example is fashion. Mélange has been coined to describe sweaters with mixed stitching, usually knitting two or more colors. Go oversized and multicolored to really work it at its best.
2. FAIRISLE
Native to the Shetland islands, this knitting technique is also used to weave multiple colors into patterns – but the outcome is a bit more distinct. Though its small-town look is notoriously found around Northern Europe, its uniqueness always deserves a place in someone's wardrobe with the right fit and soft colors.
3. SUPER SLEEVES
The bigger, the better: that seemed to be the sleeve motto on the runways of this year's fashion weeks. Giant sleeves are a great way to stand out without donning a bold pattern that doesn't match anything. Best paired with slim pants or a miniskirt.
4. ARGYLE
Every generation has found a way to embrace Argyle, though maybe none more than the Clueless worshippers of the 90's (and hey, we're still here!) Though their origins are from the countryside clans of Scotland, they're more often stereotyped on librarians and grandmothers. But these days, the diamond pattern is getting bigger, the colors are getting hipper, and the shapes are being made to fit every figure and outfit.
So bundle up, because as everyone knows…winter is coming.
35+ Child Stars From the 2000s That Have Already Built Their Families
From Like Mike to Spy Kids, the early 2000s provided us with some top-tier entertainment and stars. Even though it feels like just yesterday that we were sitting on the couch watching Lizzie McGuire, time has really flown. And the actors that we grew up with now have kids of their own. So, get ready to feel old, millennials — we're going to look at child stars from the early '00s that now have families.
Jamie Lynn Spears
Who doesn't know Jamie Lynn Spears? While she might be predominantly known as Britney Spears' younger sister, some may also recognize her from the popular TV series Zoey 101!
Now 30 years old, Jamie Lynn initially made headlines in 2007 after announcing that she was pregnant at 16. After giving birth in 2008, Spears stepped out of the spotlight to raise her daughter. She now has two daughters, Maddie and Ivey.
Shad Moss
Shad Moss, better known by his stage name Bow Wow, was first discovered by Snoop Dogg in the late '90s. By the time the 2000s rolled around, the young star was very much a household name. At 13 years old, he released his first album called Beware of Dog.
Shortly after that, Bow Wow tried his hand at acting and starred in films including Like Mike and Johnson Family Vacation. Today, at 34 years old, the rapper co-parents his 11-year-old daughter, Shai, with ex Joie Chavis.
Kaya Scodelario
Kaya Rose Scodelario-Davis is a British actress of Brazilian origin. She made her television debut in 2007 as Effy Stonem, an adolescent wild child, in the British series Skins. She's also known for her role of Teresa in the Maze Runner film series.
She also appeared in Pirates of the Caribbean: Dead Men Tell No Tales and Resident Evil: Welcome to Raccoon City. Now, Kaya and her husband, Benjamin Walker, have two sons. She sometimes posts adorable family photos on Instagram.
Emily Rossum
Emily Rossum made her acting debut in 1997 as a guest star on the television show Law & Order. After that, she secured a starring part as Abigail Williams in the long-running daytime soap opera As the World Turns. Still, she is most recognized for her part in Shameless.
Rossum and her husband, Sam Esmail, welcomed their daughter in May and chose not to disclose her name. In an Instagram picture from her maternity photoshoot, the actor announced the birth of her first child.
Lyndsy Fonseca
Now 35 years old, actress Lyndsy Fonseca got her start as Colleen Carlton on The Young and the Restless. But, many of you millennials may actually recognize her as Penny Mosby from How I Met Your Mother.
If you grew up watching that show, it must be pretty weird to learn that Fonseca has a three-year-old daughter named Greta Lilia Bean. Little Greta will be four in February!
Hilary Duff
We all know Hilary Duff aka Lizzie McGuire, right? Hilary Duff rose to prominence as the titular role in the Disney Channel series Lizzie McGuire. With films like The Lizzie McGuire Movie and A Cinderella Story, Duff established herself as a successful star among tweens.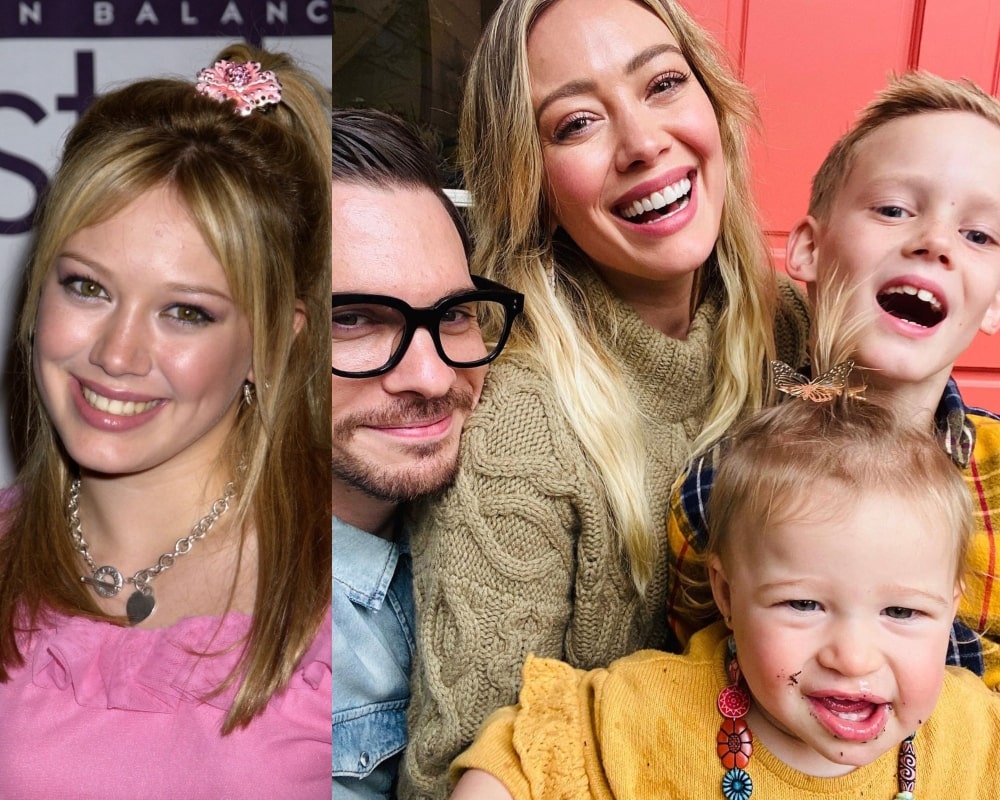 Hilary is the mother of three children — Luca, Violet Banks, and Mae James Bair. Luca is her firstborn son, and Violet and Mae are her daughters.
Hayden Panettiere
Although Hayden Panettiere is best known for her role in the NBC series Heroes, she made her debut as a child actress appearing in commercials. She managed to land her first significant starring role on One Life to Live when she was just five years old.
She went on to star in Guiding Light, Remember the Titans, Tiger Cruise, and Ice Princess before becoming taking on more adult roles. She has matured and now has a daughter, who will turn seven this year!
Brenda Song
Brenda made her screen debut in children's shows and television commercials. She switched to the Disney channel after working on a few television shows and film appearances, and her popularity skyrocketed. Her most memorable role was in The Suite Life of Zack and Cody in which she played the only child of wealthy businessman Wilfred Tipton.
She became a fan favorite as a result of this show. Brenda and her husband, former child actor Macaulay Culkin, welcomed their first kid in early April 2021.
Daniella Monet
Daniella Monet is perhaps best known as Tori Vega's older sister, Trina, on the popular television series Victorious. However, prior to her fame, she appeared in a number of television commercials as a child actor.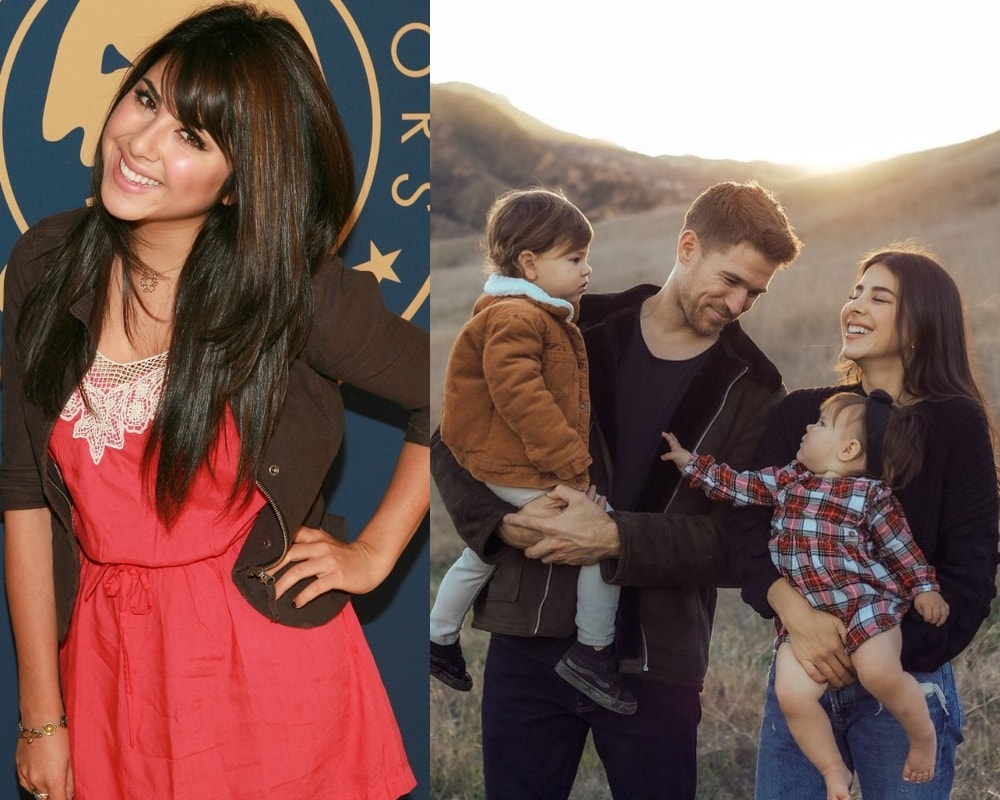 She's now a mother of two! Daniella Monet recently gave birth to her second child with fiancé Andrew Gardner. They also have a son named Gio James.
Alison Pill
Alison Pill is a well-known Canadian actress. Pill started working at the age of 12 and has since appeared in a number of television series and movies. She grew into adult roles, and her big break came with the television series, The Book of Daniel.
Many people will recognize her from the film Confessions of a Teenage Drama Queen — in which she starred alongside Lindsay Lohan! Today, she's a busy mother to Wilder Grace Leonard, who was born in 2016.
Emily VanCamp
Emily VanCamp is a Canadian-American actress best known for her portrayals as Amy Abbott on The WB television drama Everwood, Rebecca Harper on ABC television drama Brothers & Sisters, and Emily Thorne on ABC thriller Revenge.
Today, she has her hands full with her growing family. VanCamp gave birth to her first child, Iris, with her husband and former co-star Josh Bowman in 2021. We can only wish her the best of luck in her new role as a mother!
Nathan Kress
Remember Freddy? The nerdy, tech-savvy, and technical producer of Carly's web show on iCarly? Even though he is best known for his co-starring role in the hit Nickelodeon teen sitcom, he has also appeared in a number of other projects.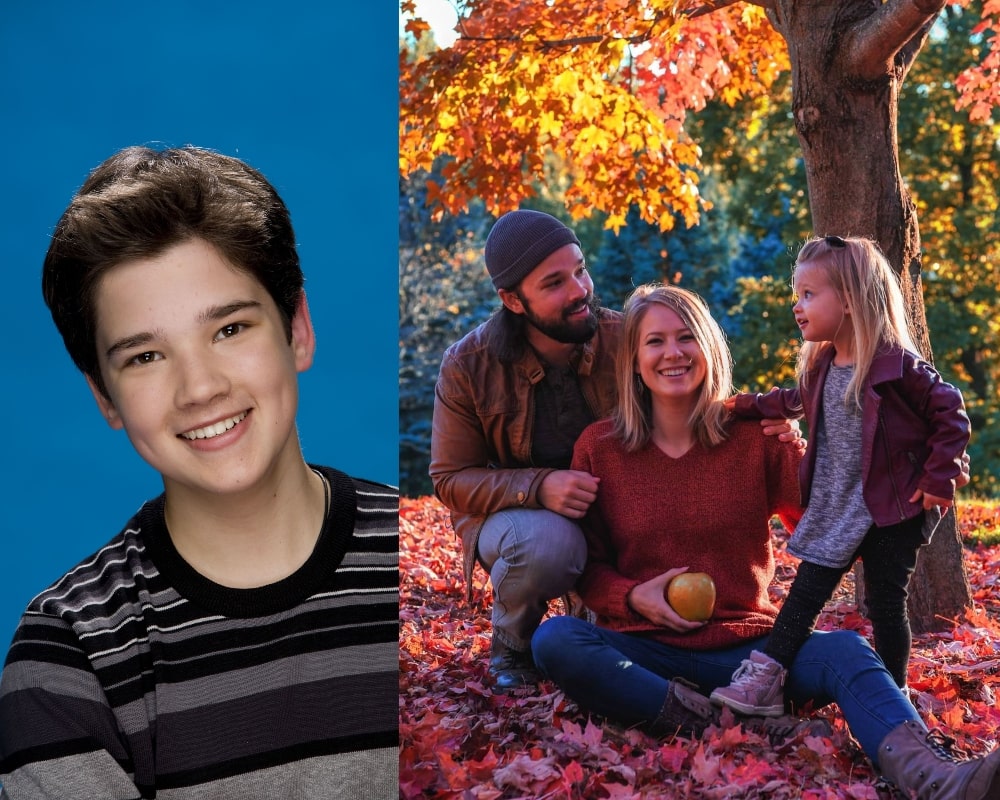 Now, he's a father too! In March 2021, the iCarly star and his wife welcomed their second child, daughter Evie Elise Kress. They also have an elder daughter named Rosie.
Drake Bell
Drake Bell is another child actor who has grown up with millennials. Bell is best known for his roles on The Amanda Show and Drake & Josh on Nickelodeon. He also starred in the live-action adaptations of The Fairly OddParents.
Bell provided the voice of Peter Parker — a.k.a. our friendly neighborhood Spider-Man — in Disney's animated show, Ultimate Spider-Man. He recently revealed that he has been married for almost three years now and is the proud father to a beautiful son.
Christopher Massey
Christopher Michael Massey is an American actor famous for playing Michael Barret on the Nickelodeon television show Zoey 101 during the 2000s. Even though he's well-known for that portrayal, he also appeared in films including Beneath the Darkness and Mary and Max.
Today, Massey has two children with Bria Miller, a daughter as well as a son. The actor also shares a daughter with Cassalei Jackson.
Jamie Bell
Jamie Bell is a dancer and actor from England. He rose to prominence thanks to his performance in the film adaptation of Billy Elliot in the '00s. Yes! He's that cute kid from the coming-of-age movie! He even won the BAFTA Award for Best Actor, making him the award's youngest winner.
Jamie and his first wife, Westworld starlet Evan Rachel Wood, share a seven-year-old son named Jack Matfin Bell. In 2017, Jamie married his second wife, actress Kate Mara. The couple welcomed their first child, a daughter, in 2019.
Raven Goodwin
Raven Goodwin is a well-known American actress. She's best known for her roles as Ivy Wentz in Disney's Good Luck Charlie and Tangie Cunningham in Nickelodeon's Just Jordan.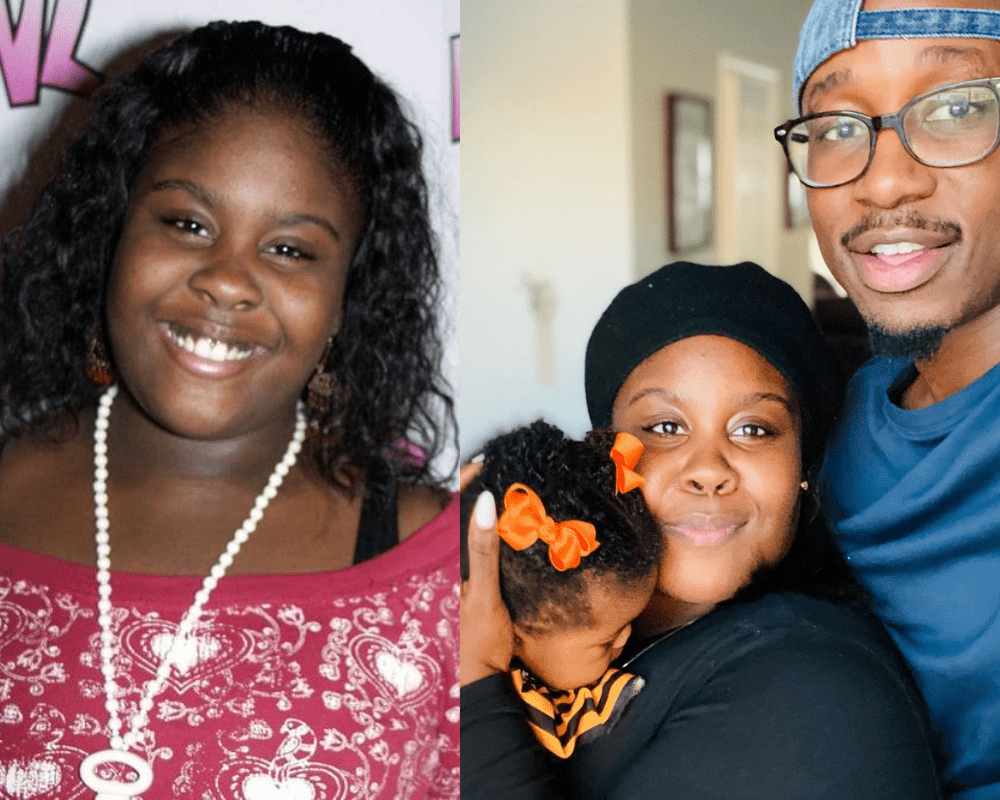 Now 29 years old, Goodwin welcomed a daughter with husband Wiley Battle in 2020. They named their firstborn Riley Rosa Bell Battle.
Danielle Panabaker
Danielle Panabaker is another child actress who grew up gracefully and now has a family of her own. She started acting as a teenager and rose to fame through films like Stuck in the Suburbs, Sky High, and Read it and Weep — as well as a miniseries called Empire Falls in 2005.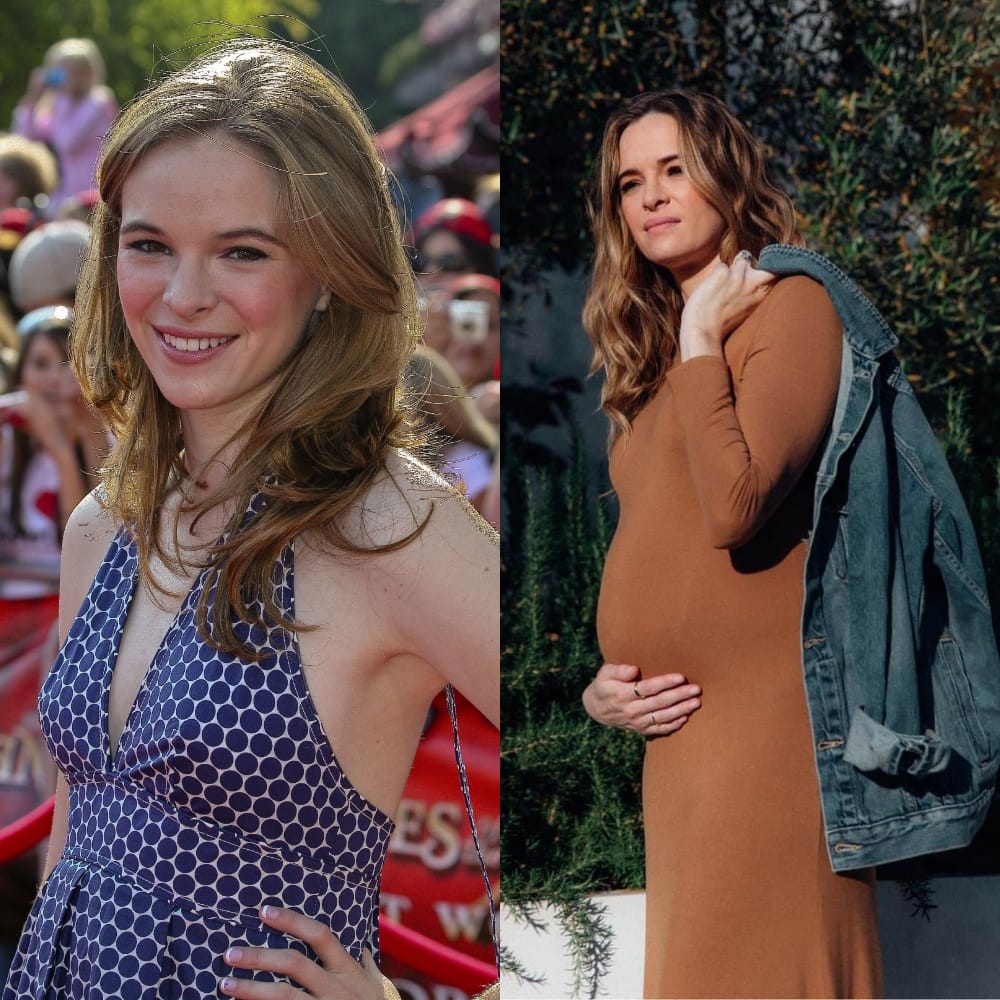 She recently starred in The Flash. Now, she's a mother! She gave birth to her first child with her husband, Hayes Robbins, in 2020.
Bindi Irwin
We may all know Bindi Irwin as the daughter of Steve Irwin, but she was actually quite a star from her childhood. She starred in many television shows and films from a very young age. Bindi Sue Irwin made her television debut when she was just a few weeks old.
She has appeared in films such as Return to Nim's Island and Bindi, the Jungle Girl as well as Free Willy: Escape from Pirate's Cove. She has given birth to a lovely girl named Grace Warrior with her husband, Chandler Powell.
Robbie Amell
Robbie Amell is a Canadian actor and producer who started his acting journey very early in life. He's known for playing roles as Stephen Jameson on The Tomorrow People, Ronnie Raymond on The Flash, and Fred Jones in the movie Scooby-Doo! The Mystery Begins.
Robbie Amell and Italia Ricci tied the knot back in 2016. In September 2019, they welcomed a son named Robert Patrick Amell IV.
Michael Welch
Michael Welch is a very well-known American actor who also started his acting career very young. His first role in a major motion picture was as Artim in Star Trek: Insurrection. Welch is best known for his role in the Twilight film series as the popular Mike Newton.
He has been part of almost all the Twilight movies. Michael was also a regular as Luke Girardi in an Emmy-nominated show Joan of Arcadia. He's now the father of two children.
Eden Sher
Didn't we all love Sue Heck from The Middle? Eden Sher, the actress that portrayed Sue, is also known for other roles including Star Butterfly on the show Star vs. the Forces of Evil.
Now 30 years old, Sher recently welcomed twins with husband Nick Cron-DeVico! We wish all the luck to these new parents!
Ashlie Brillault
How can we forget Kate from the show Lizzie McGuire? Ashlie Brillault played the show's main antagonist. Now, she's all grown up and has a family. After nearly 11 years of dating, she married her long-time boyfriend.
The lovebirds are now proud parents to a daughter! Brillault quit acting after her stint on Lizzie McGuire. She's now working as a criminal defense attorney. We're just thankful we got to watch her as Kate Sanders all those years ago!
Kyla Pratt
Kyla Pratt is a well-known musician and actress. She's best known for her roles as Penny Proud in Disney Channel's first animated series The Proud Family, as well as Breanna Latrice Barnes in One on One. She also had many roles as a child actress.
She appeared in movies including Love & Basketball. However, she's now grown up and has started a family of her own. She's now the mother of two beautiful daughters, Liyah and Lyric.
Jurnee Smollett
Jurnee Smollett is best known for playing the role of 10-year-old Eve in the independent film Eve's Bayou, for which she received great reviews. Smollett also appeared in Francis Ford Coppola's movie Jack.
She also landed spots on several TV shows like On Our Own and Full House. However, Jurnee Smollett has come a long way since then. She's mother to Hunter Zion Bell, whom she shares with ex Josiah Bell.
Christina Vidal
We can't be the only ones who are fans of the show Taina. Christina Vidal played the titular role on the show from 2001 to 2002. She also appeared in Freaky Friday, where she played alongside Lindsay Lohan.
Other films of hers include Brink!, See No Evil, and Life With Mikey. Now, she's married to Marcus Emanuel Mitchell — with whom she has two children.
Romeo Miller
Remember Benny from the 2003 hit film Honey? Many recognize Romeo, a.k.a. Lil' Romeo, as a rapper. Miller rose to prominence as a rapper in the 2000s after signing with No Limit Records.
He now works as a presenter on the reality show Ex on the Beach, in which he assists partners in getting over their ex-partners. He has a son named Kaiya Miller.
Frankie Muniz
If you loved watching Malcolm in the Middle or Agent Cody Banks, then you'll be delighted to know that our beloved Malcolm/Cody has grown up to become a loving father.
Muniz became a dad for the first time in 2021. Muniz and his wife, Paige Price, don't hold back from sharing their pride and joy on social media.
Rupert Grint
Some of us may have had a crush on Ron Weasley of the Harry Potter franchise. Rupert was just seven when he was cast as Ron. Before joining the franchise, he had only performed in school plays and with his local theater group.
Rupert and actress Georgia Groome welcomed their first child, a baby girl, in 2020. They named her Wednesday G. Grint. In an interview with People magazine, Grint has shared how happy he is to be a father and how he even brings Wednesday to set!
Kevin Jonas
Do we really have to introduce Kevin Jonas? Obviously, we know him as the eldest brother of the Jonas Brothers trio. We also know him from the popular teen movie Camp Rock.
Along with his younger brothers Joe and Nick, he rose to prominence as a member of the pop-rock band, the Jonas Brothers. Kevin Jonas began his family when he married his wife, Danielle, in 2009. He's now a father of two beautiful daughters, Alena Rose and Valentina Angelina.
David Henrie
Many of us recognize David Henrie thanks to the fact that he starred alongside Selena Gomez in Disney's Wizards of Waverly Place.
The actor has been married happily for over four years now. He and his wife, Maria Cahill, are proud parents to two children — a daughter and a son.
Joshua Peck
Didn't we all love Joshua Peck in Nickelodeon's Drake and Josh? Like his co-star, Josh has also started his family. He married Paige O'Brien in 2017.
The two welcomed a son, Max Milo Peck, in 2018. Peck appears to enjoy parenting and frequently shares his knowledge with his fans. Even his followers seem to enjoy his anecdotes, which he shares every now and then.
Tia Mowry
Tia Mowry is an American actress best known for playing the titular role on the popular sitcom Sister, Sister as Tia Landry. The show also starred her identical twin sister, Tamera Mowry.
Tia and Tamera both have formed happy families and are raising their kids beautifully. Tia married husband Cory Hardrict in 2008 and together, they have two children — a daughter named Cairo Hardrict and a son, Cree Hardrict.
Emma Roberts
Did you know Emma Roberts is Julia Roberts' niece? Perhaps you did, but if you didn't, now ya know! After making her acting debut in the crime film Blow, Roberts gained recognition for her portrayal of Addie Singer on Nick's teen sitcom Unfabulous.
It's crazy to think that Emma is a baby mama now! She and her boyfriend, Garrett Hedlund, welcomed a baby boy named Rhodes Robert Hedlund in 2020.
Ashley Tisdale
Ashley Tisdale, predominantly known for her performance as Sharpay Evans in Disney's High School Musical franchise, has been an artist for most of her life.
She has been working as a singer and actress since her childhood days. However, she's no kid anymore — she and hubby Christopher French welcomed their first child in 2021!
Alexa PenaVega
Every boy pined over Spy Kids' Carmen Cortez while every girl wanted to be her. Actress Alexa PenaVega may have portrayed a cool spy back in the day, but today, the 33-year-old is busy raising her three children.
The actress and her husband, actor and singer Carlos PenaVega, have two adorable sons as well as a daughter!
Daryl Sabara
Since we've already talked about Carmen, we should also discuss her on-screen younger brother, Juni Cortez — played by Daryl Sabara.
Although he's best known for this particular part, he has also appeared in shows like Wizards of Waverly Place, as well as movies including Father of the Pride and The Polar Express. Sabara married singer Meghan Trainor a few years ago. The pair welcomed their first child, a baby boy named Riley, in February of 2021.
Sasha Pieterse
Can you believe that Sasha Pieterse was only 13 years old when she was cast as Alison DiLaurentis on the show, Pretty Little Liars?! Upon the success of the show, Pieterse then landed the role of Amy Loubalu in the Disney Channel film Geek Charming.
From there, Pieterse starred in the teen comedy film G.B.F. and participated in the 25th season of Dancing With the Stars — in which she finished in 10th place! Now 25 years old, Pieterse and her husband welcomed a son in November 2020.
Chelsea Tavares
Remember Chelsea Tavares from the second season of Just Jordan? Many may also recognize her as Patience from the show, All American. One of her recent roles is the recent role of Nora in the long-awaited video game The Last of Us Part II.
She's all grown up now and is, in fact, a mama! Tavares announced in February 2021 that she and her boyfriend, Joshua Bowen, had a son. Tavares didn't reveal the baby's name or provide any information about the birth, but we got to see a few cute pictures of her with the baby.
Angela Simmons
The daughter of Run-DMC's Rev. Run and niece of Russell Simmons, Angela Simmons is a reality television star, designer, and entrepreneur. She has appeared in two successful television shows — Run's House and Daddy's Girls.
In 2016, the celeb gave birth to Sutton Joseph Tennyson with her partner Sutton Tennyson. Sadly, in 2018, Sutton Tennyson tragically passed. The media personality and businesswoman has continued to focus on her family and new work endeavors.
Keisha Castle-Hughes
Keisha Castle-Hughes is a New Zealand actress best known for her role as Paikea "Pai" Apirana in the film Whale Rider. Keisha Castle-Hughes was just 13 while she was nominated for Best Actress in the Academy Awards, making her the youngest member nominated for that category at the time.
The 30-year-old actress is now the mother of two children. Felicity, her first child, will be 14 years old this year. In June 2021, she gave birth to her second child, Matilda.
Tiffany Evans
The singer, who we know from her appearance as a child in Tyler Perry's Diary of a Mad Black Woman, has her own family now!
Now, she has two children with her husband, Lorenzo Henderson. Her eldest daughter is named Adalia. The couple quietly welcomed their second child, Chaden, recently.
Rachel Hurd-Wood
Remember Rachel Hurd-Wood, a.k.a. Wendy from the Peter Pan movie? She's all grown up now! Even though she's best known for this film role, she recently gained recognition for her performance as Rachel Maddox in the TV series Clique.
In November 2017, Hurd-Wood married Russ Bain in London. Liam, their son, was born in May 2018. They were previously residing in North London but have since relocated to Oundle, Northamptonshire. Stella, their daughter, was born in April 2021.
Dee Dee Davis
Dee Dee Davis is best known to audiences for her role as Bryana on The Bernie Mac Show, for which she received the 2004 Young Artist Award. But, Dee Dee is no longer a baby girl!
In fact, she's now a grown woman and the proud mother to Logan and Leia. She's flourishing, and we couldn't be happier for her!
Tamsin Egerton
Tamsin Egerton is an English model and actress best known for her roles as Holly Goodfellow in the movie Keeping Mum, Chelsea Parker in the movie St. Trinian's, and Guinevere in TV series Camelot.
Now, she's married to actor Josh Hartnett. Tamsin and Josh have three children together. The happy family currently lives in Surrey, England.
Alexz Johnson
Do you remember Alexz Johnson from the 2000s popular television show Instant Star? Although she played roles in films like Disney Channel's So Weird and Erin Ulmer in Final Destination 3, she's still best known for her portrayal as Jude Harrison.
She's now all grown up. She recently gave birth to her first child, Levi William Johnson, with husband Kyle Mark Johnson.