Winter can be a killer for our hair, as the dry air sucks all of the moisture from our locks, making it frizzy, staticky, and often, just plain dry.
However, many hair care professionals are realizing that glamorous hair starts with our scalp, but keeping that fragile skin healthy is not as easy as we thought. With the cold weather officially upon us, it's time to ditch the dry scalp with products specifically designed to keep flakes at bay.
As Helen Reavey, a stylist to the stars has explained, traditional shampoos can often be the culprit when it comes to scalp health. Much like regular soap, shampoos are formulated with detergents that work by stripping the hair, and therefore skin, of the natural oils that help hold in the moisture. Reavey's new line, which she's created with her husband, Colm Mackin, is designed to avoid that problem.
The product line was inspired by the growing reliance on plant botanicals in skincare lines. Though many brands can now be found that boast the healing properties of plant botanicals, cold-pressed oils in particular. The company focuses on formulating their products with cold-pressed oils because many of the properties that make them effective for the hair and skin get lost or break down when the oils are extracted using high heat methods.
For their first product line, they've released a three-part system. The Act+Acre system starts off with a pretreatment for the scalp. The "Scalp Detox" is comprised of moringa oil and vetiver. Though it might seem counterintuitive, using oils is actually one of the best methods for dissolving other sorts of build up.
As a second step, Reavey has formulated a sulfate-free Hair Cleanse, which will complete the cleansing process without harsh detergents. To finish it all off is a conditioner that's made with a smoothing blend with amaranth oil.
40+ Celebs Who Married Their First Love
For some Hollywood stars, life is all about dating around. But, for all the bachelors and playboys, there are also the long-time monogamists. That's right — even in the world of celebrity, there are some relationships that really do last. These celebs married their first love and while some made it, others didn't. Check out all the celebrities that went all-in with their first loves.
Jack Black and Tanya Haden
This one isn't exactly straightforward. Musician and actor Jack Black met Tanya Haden in high school, but they ended up losing touch after leaving school. 15 years later, the couple met at a mutual friend's party, and hit it off.
Jack Black finally popped the question in 2006, and the pair were hitched just months later — no wonder after waiting so long! Now, the happy couple has two sons together — Samuel Jason, and Thomas David.
Kathy Avanzino and Rick Hilton
While her half-sisters Kim and Kyle were sent down the child star path, Kathy Avanzino was instead encouraged to marry into money. Paris and Nicky's mom met businessman and heir Rick Hilton when she was just 15, and married him at 20. Together, these long-time lovers have four kids, including sons Barron and Conrad.
Clearly, a Hollywood institution, Rick and Kathy Hilton have weathered the storm for decades. They are now grandparents to Lily Grace, Teddy Marilyn, and Milou Alizée.
Samuel L. Jackson and LaTanya Richardson Jackson
First up is the highest-grossing actor of all time — Samuel L. Jackson. The star met his wife, LaTanya Richardson, while the two attended different colleges in Atlanta. Richardson is an actress but stepped back after the birth of their daughter, Zoe.
Speaking about their relationship, Jackson has said, "We actually thought we were going to be the black Liz Taylor and Richard Burton, but we were going to stay together! She's had a good career. I've had a good career. So it's worked."
Jeff Daniels and Kathleen Rosemary Treado
Another committed monogamist in the acting world is Jeff Daniels. The Emmy Award winner married his high school sweetheart, Kathleen Treado, in 1979. Interestingly, the pair decided to raise their kids in the couple's home state, Michigan, rather than in Beverly Hills.
Speaking about the decision, the star said, "Kathleen and I had both been raised here; good enough for us, good enough for them." He continued, "It was just too important to get wrong. My career came second to that."
Ron Howard and Cheryl Alley
Director and actor Ron Howard has been on our screens for quite some time. Starting as a child star, the actor has starred in successful sitcoms and directed multiple hit movies. For his efforts, Ron Howard has won two Oscars.
Howard married wife Cheryl Alley when they were both 21 years old. He remembers, "It's crazy — we were teenagers, it shouldn't have worked. We got married young, that shouldn't have worked either, and yet it really and truly has."
Heather Morris and Taylor Hubbell
The delightful Heather Morris warmed our hearts as the goofy, hip popping Brittany S. Pierce in Glee. The actress met her future husband, Taylor Hubbell, when he was still a college baseball player. In fact, the couple had attended the same Arizona high school, but didn't cross paths.
When Heather Morris moved to LA, Taylor Hubbell hit her up on Myspace. Since then, the couple has tied the knot and welcomed two sons — Elijah Beckwith, and Owen Bartlett.
Jon Bon Jovi and Dorothea Hurley
While rockstars tend to have a reputation for womanizing, that isn't true in all cases. Just take Jon Bon Jovi as an example. The Grammy Award winner met his wife, Dorothea Hurley, at their New Jersey high school. Then, they made a stop on one of the band's tours and got married in Vegas.
Definitely not just a whim, this marriage has lasted over three decades, and the couple shares four kids. The star has said, "We really like each other. We want to hang out."
Rainn Wilson and Holiday Reinhorn
Another set of long-term lovers are actor Rainn Wilson and author Holiday Reinhorn. This couple met when they were both studying acting at the University of Washington. After dating for over a decade, they got hitched in 1995.
Now, Wilson and Reinhorn have a son together, as well as a menagerie of animals. Among other things, the pair own two Vietnamese pot-bellied pigs named Snortington and Amy, and a zonkey named Derek. Together, the couple works with an educational foundation in Haiti.
Chris O'Donnell and Caroline Fentress
Next, we have actor Chris O'Donnell, and his wife Caroline Fentress. This couple met at Boston College and got married in 1997 in Washington. Together, the pair have five children — Charles, Lily, Finley, Maeve, and Christopher.
After over 30 years together, it's safe to say that these two have a pretty strong marriage. O'Donnell himself grew up with six siblings, so clearly having a big family is normal for this star. Adorably, all of his kids have had cameo roles in his TV shows.
LeBron James and Savannah Brinson
There are rather a lot of athletes on this list, starting with the iconic LeBron James. While some athletes have a reputation for using their status to date lots of models and actresses, others stick to one person.
Savannah Brinson and LeBron James started dating in high school, and she became pregnant with their first child. After 10 years together, the star proposed, and the couple eventually married in 2014. In total, they have three children — Bronny, Bryce, and Zhuri.
Tyler Posey and Seana Gorlick
Here are some more childhood sweethearts — this time it's actor Tyler Posey and his teen love, Seana Gorlick. Sadly, unlike some others on this list, this couple didn't make it. Posey and Gorlick actually got engaged in 2013, but broke it off in the same year, after 10 years together.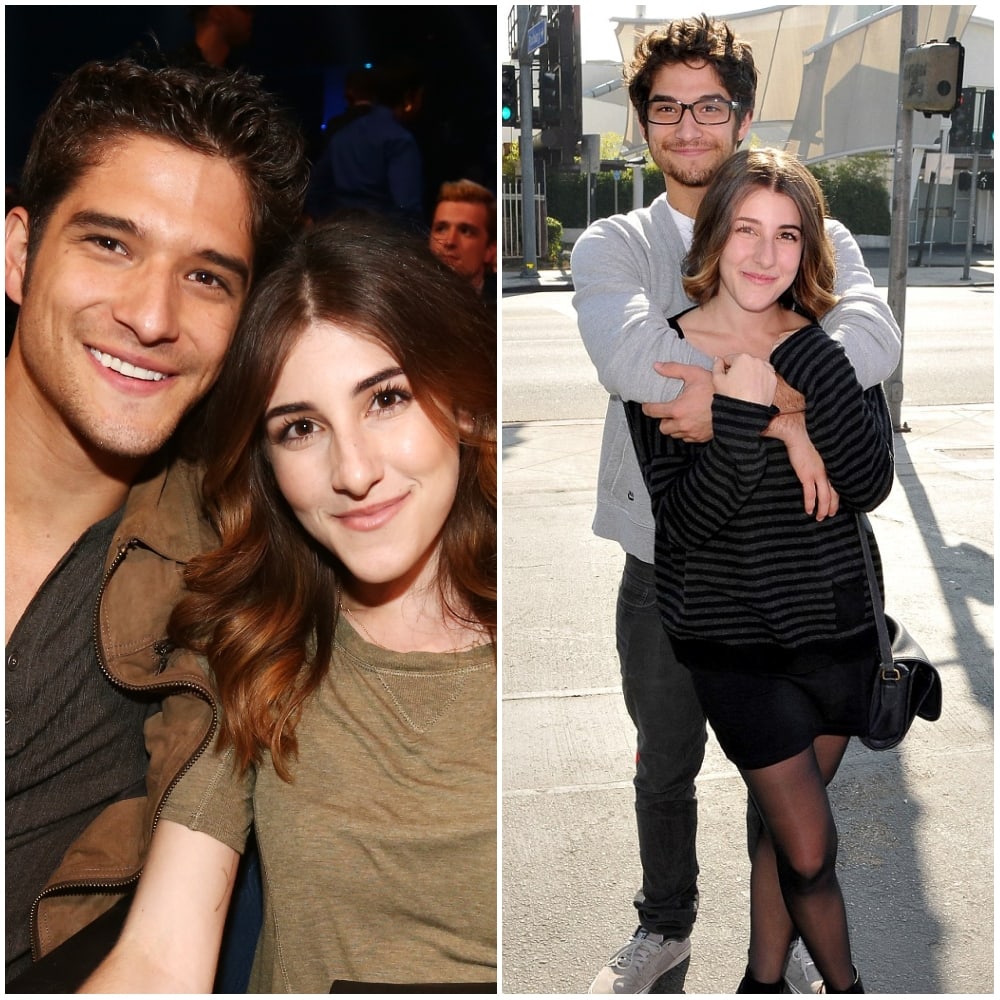 Some time later, the actor came out as queer in a YouTube video. He has said, "You can be whoever you want to be and get with whoever you want to get with and it shouldn't affect you."
Ozzy Osbourne and Sharon Levy
Okay, so technically Ozzy Osbourne was married before pairing up with his wife, Sharon. However, the Black Sabbath frontman has described his first marriage as "a terrible mistake," so arguably he did marry his first love. Admittedly, he then cheated on her multiple times.
However, it's undeniable that Sharon Levy married her first love. The star met Ozzy when she was just 18, and he was married. Years later, the star divorced his wife and married Sharon in the same year. They've been together ever since.
Jack Johnson and Kim Baker
Hawaiian-born singer-songwriter Jack Johnson is perhaps best known for his upbeat acoustic tune, "Better Together." The star met his future wife, Kim Baker, in college, and they tied the knot in 2000. Now, they have three children — two sons, and one daughter.
Together, Jack and Kim Johnson are heavily involved in environmentalism, and particularly with ocean conservation. The star has donated the proceeds of his tours to environmental projects. He has said, "All my songs about love come when I'm trying to make my wife smile."
Julia Louis-Dreyfus and Brad Hall
Comedic heavy hitter Julia Louis-Dreyfus has also been in a long-term relationship with her first love. The actress married college sweetheart Brad Hall in 1987, after meeting in an improv class. How perfect!
Together, this star couple has two sons — Henry, and Charles. Considering Brad Hall is also a comedic actor, we reckon this house must be a barrel of laughs! Julia Louis-Dreyfus is one of the most decorated actors in TV history. Perhaps a long marriage is the secret.
Anthony Mackie and Sheletta Chapital
Here we have another long-term celebrity couple that just didn't make it. Actor Anthony Mackie married his childhood sweetheart Sheletta Chapital in 2014, having met her in grade school. Despite their long relationship, the marriage only lasted a few years, with the couple officially splitting in 2018.
Together, Anthony Mackie and Sheletta Chapital have four sons. Interestingly, Mackie and Chapital were able to keep the end of their marriage on the down-low. The press only found out it had happened years after the official divorce.
Russell Wilson and Ashton Meem
And so soon we have another ill-fated couple that married their first love. This time it's NFL quarterback Russell Wilson, who is now in a high-profile relationship with singer Ciara. But, before Ciara, there was Ashton.
Russell Wilson married his high school sweetheart, Ashton Meem, in 2012. Much like long-term couple Anthony Mackie and Sheletta Chapital, Russell Wilson and Ashton Meem's marriage only lasted a few years. The couple didn't have any kids, though Wilson is now a father with his second wife.
Sasha Pieterse and Hudson Sheaffer
Actress Sasha Pieterse was pretty young when she tied the knot. The star married husband Hudson Sheaffer when she was 23, in 2018. However, it makes sense that Pieterse didn't want to wait any longer. After all, this pair had been dating since they were both teenagers. Speaking about her husband, the star has said, "He's incredible. I've known him for so long."
Despite Sasha Pieterse's rising fame, the young couple managed to stay together. They welcomed their first child — son Hendrix Wade Sheaffer.
Sofía Vergara and Joe Gonzalez
Before she met husband Joe Manganiello, actress Sofía Vergara was married to another Joe entirely. The Columbian star met her first love in high school, and the couple tied the knot while still in their teens.
Together, Sofía and her first Joe have a son named Manolo — just like her fictional counterpart. Several years after the birth of their child, this young couple decided to call it quits. As we know, the star went on to marry actor Joe Manganiello.
Kendrick Lamar and Whitney Alford
Speaking about his longtime partner Whitney Alford, rapper Kendrick Lamar says, "I wouldn't even call her my girl, that's my best friend. I don't even like the term that society has put in the world as far as being a companion — she's somebody I can tell my fears to."
These two met at the same high school, and Kendrick Lamar popped the question in 2015. These two are pretty private, but it is speculated that they welcomed a daughter in 2020.
Eminem and Kim Scott
Even a casual listener of Eminem's music has heard about Kim. Particularly in his early career, the star was constantly bashing his ex-childhood sweetheart on his tracks. These two met in high school, when a young Marshall Mathers stood on a desk to rap an LL Cool J song.
At the time, a teenage Kim and her sister had run away from home, and then moved in with Eminem and his mom. The pair have been married and divorced twice, and are parents to Hailie, Alaina, and Whitney.
Snoop Dogg and Shante Taylor
Here's another rap superstar that has stuck with one woman for most of his life. The inimitable Snoop Dogg — also known as Calvin Cordozar Broadus Jr. — met his love in high school, and has been with her ever since. Well, her and some other ladies along the way.
Snoop married Shante Taylor back in 1997, and though they filed for divorce in 2004, they actually renewed their vows in 2008. Together, they have three sons — Cordé, Cordell, and Cori.
Joey Fatone and Kelly Baldwin
NSYNC star Joey Fatone is another celebrity that married his childhood sweetheart. However, these two didn't last, confirming their divorce in 2020. Joey Fatone and Kelly Baldwin met in high school, and had an on-off relationship while the celeb toured with NSYNC.
After rekindling their relationship in 2000, Fatone and Baldwin welcomed their first child. They got married in 2004, and later welcomed daughter Kloey in 2010. Since then, Fatone has been dating social media personality Izabel Araujo.
Catelynn Lowell and Tyler Baltierra
Since they became famous as teen parents, it's no surprise that Catelynn Lowell and Tyler Baltierra married their first loves. The reality stars got together in middle school, and shortly after, Lowell became pregnant. The teens put their first daughter up for adoption, and managed to stay together throughout the stressful time.
These reality TV parents got married in 2014, and have since welcomed two daughters — Novalee, and Vaeda. In fact, the pair have recently revealed that they're expecting again.
David Beckham and Victoria Adams
Back in the '90s, soccer player David Beckham had his eye on Spice Girl Victoria Adams. Posh Spice attended one of Beckham's soccer matches, and soon after, the couple was an item. Becks proposed in 1998, and the pair made it official in 1999 (complete with gold thrones).
Together, Posh and Becks have four kids — sons Brooklyn, Romeo, and Cruz, and daughter Harper. It should be no surprise that all of the Beckham boys play soccer, and that two have modeled.
Stephen King and Tabitha Spruce
Author extraordinaire Stephen King has sold over 350 million copies of his books. On top of that, the King of Horror has a long-lasting relationship with his author wife Tabitha Spruce. The couple met in a writing seminar at the University of Maine. King remembers, "She came across — and still does — as a tough broad."
Stephen King and Tabitha Spruce got married in 1971, and have three children together. Much like in the Beckham family, King's sons have taken up the family trade, working as authors.
Brandi and Bryan Redmond
Redheads Brandi and Bryan Redmond met in high school, and tied the knot in 2003. When they joined Bravo's Housewife franchise, the couple was parents to two girls — Brinkley, and Brooklyn. Shortly after, we saw them welcome adopted son Bruin, and more recently, they were surprised by daughter Brilynn.
However, reality fans know that Bryan Redmond was spotted with another woman in a viral video. Speaking about the situation, Brandi commented, "I will tell you that, you know, this was the craziest year and my darkest hour."
Ja Rule and Aisha Murray
Ja Rule — real name Jeffrey Bruce Atkins — has been with wife Aisha since middle school. According to the rapper, "The first time I met her I was getting off the school bus, and she was the new girl in school."
Ja Rule and Aisha Murray got married in 2001, and together they have three kids — daughter Brittney Asja, and sons Jeffrey Jr. and Jordan. This couple has certainly been through their ups and downs, especially because Ja spent some time in jail.
Thomas Rhett and Lauren Akins
Our next set of happy celebs who married their first loves are country singer Thomas Rhett Atkins Jr. and wife Laura Akins. These two met when they were children, and started dating when they were teens. However, along the way, they did split and almost paired off with other people.
Thankfully, Rhett and Atkins tied the knot in 2012. Since then they have adopted a daughter, Willa Gray, and welcomed two more — Ada James, and Lennon Love. Adorable!
Timothy Olyphant and Alexis Knief
Actor Timothy Olyphant also met his wife through education. In this case, it was at college where the star first laid eyes on Alexis Knief. This pair got married when Olyphant was just 23 years old, but they've been together ever since.
Together, Timothy Olyphant and Alexis Knief have three children — Grace Katherine, Henry, and Vivian. Adorably, these two were an item long before Olyphant became a household name. It looks like they managed to weather the storm!
Bono and Ali Stewart
Here's another star that met his future wife on the school bus. Bono remembers, "We were teenagers, went to the same high school. And just so happens that one afternoon I walked her to her bus."
The star — real name Paul David Hewson — met Alison Stewart when she was just 12 years old. The couple got married in 1982, and are parents to daughters Jordan and Memphis, and sons Elijah and John. Unsurprisingly, Ali has inspired lots of U2 songs, including "The Sweetest Thing."
Paul Bettany and Jennifer Connelly
Alright, so this one is a little different than the others on this list. English actor Paul Bettany was in love with actress Jennifer Connelly long before he met her. In fact, she was his first crush, and he proudly hung a poster of her in his childhood bedroom.
Years later, the couple worked together but were dating other people. Then, after the 9/11 attacks, Bettany tracked Connelly down and proposed. The pair weren't even in a relationship, but she said yes! Now they have two kids together.
Mariano and Clara Rivera
Panamanian-American baseball player Mariano Rivera met wife Clara when they were both in elementary school. The elementary school sweethearts got married in 1991 in Panama, and lived there for almost a decade before moving to New York.
Together, Mariano and Clara Rivera are parents to three sons — Mariano, Jafet, and Jaziel. There have been accusations of infidelity made towards the former professional athlete, though he has called them "unfounded." The legendary pitcher is currently involved in various charity projects.
Steph Curry and Ayesha Alexander
Basketball royalty Steph and Ayesha Curry met at a church youth group when they were just teenagers. However, Ayesha claims that she didn't even go to a basketball game until she'd been casually dating Steph for five years.
As Steph tells it, he was going to LA for the ESPY awards, and couldn't stop thinking about his teen love. As it turned out, Ayesha was pursuing acting in Hollywood, so the two met up. After that, they tied the knot in 2001. Now, they have three kids together.
Misha Collins and Victoria Vantoch
Misha Collins — real name Dmitri Tippens Krushnic — had a difficult childhood. The actor came from a poor family, and experienced homelessness more than once. Incredibly, the star managed to make a name for himself, working as an actor and published poet.
Misha Collins first met Victoria Vantoch when he was the only boy in English class. They got married years later in 2001, and have two children together — son Anaximander, and daughter Maison. Victoria Vantoch is a successful writer and historian.
Alan Rickman and Rima Horton
Acting legend Alan Rickman met his future wife, Rima Horton when he was 19 years old, in 1965. Rickman and Horton met in an amateur theater group, and moved in together in 1977. Interestingly, these two didn't get married until 2012. That's four decades together before walking up the aisle!
Rima Horton worked as a politician, and as a senior lecturer. These two got married in a private New York City ceremony in 2012, but didn't reveal it for another three years.
Patrick Mahomes and Brittany Matthews
Here's another athlete who married his first love. Patrick Mahomes, an American football quarterback, met his future wife, Brittany Matthews when they were in high school together. When the athlete received his Super Bowl Championship Ring in 2020, he took the opportunity to pop the question to his long-time other half.
Patrick Mahomes and Brittany Matthews have a daughter together, born in 2021. Matthews was a professional soccer player, a personal trainer, and now co-owns a women's professional soccer team.
Clayton Kershaw and Ellen Melson
From one happily monogamous athlete to another, we turn to pro baseball player Clayton Kershaw. The eight-time All-Star met Ellen Melson in high school, and the couple got engaged when they were both 21 years old.
Together, Clayton Kershaw and Ellen Melson have two children — daughter Cali Ann, and son Charley. Together, this couple does lots of volunteering and charity work. For example, they launched "Kershaw's Challenge" to raise money to build an orphanage in Zambia.
Robin Thicke and Paula Patton
When Robin Thicke first met Paula Patton, he was just 14 years old, and she 16. Later, the pair tied the knot in 2005, but this long-term relationship ended up exploding into a tabloid frenzy. Thicke and Patton have son Julian together, and were in a relationship for over 20 years.
However, when actress Paula Patton filed for divorce, she cited her husband's infidelity, abuse, and addiction issues. Since then, Robin Thicke married April Love Geary, with whom he has three children.
Witney Carson and Carson McAllister
Up next is professional Latin ballroom dancer Witney Carson. The TV star started dating her future husband in her senior year of high school, but he had always had his eye on her. McAllister remembers, "She was my dream girl since seventh grade. But she didn't know I existed until senior year."
Witney Carson and Carson McAllister got married in Salt Lake City in 2016, with fellow professional dancers as bridesmaids. The happy couple welcomed their son, Kevin, in 2021.
Elizabeth Banks and Max Handelman
The fabulous Elizabeth Banks is another celebrity that's been with the same guy since her younger years. Actually, Banks met Max Handelman on her first-ever day of college, but she didn't think she'd marry him at that point. She later claimed, "Really, what happened was I've never met anyone that I liked more."
Elizabeth Banks and sportswriter Max Handelman got hitched in 2003, and the actress converted to Judaism for her husband. Together, the lifelong pair have two sons.
Mark Zuckerberg and Priscilla Chan
According to his version of the story, Facebook founder Mark Zuckerberg was in a bit of a rush when he first asked out Priscilla Chan. He claims that his first words to his future wife were, "I'm going to get kicked out in three days, so we need to go on a date quickly." How romantic!
Apparently, these two met at a frat party, and things must have gone well. They got married in the media magnate's backyard in 2012, also celebrating Priscilla Chan's graduation from medical school.
Mike Sorrentino and Lauren Pesce
Incredibly, Mike "The Situation" Sorrentino postponed his relationship with college sweetheart Lauren Pesce so he could appear on reality TV. The star pursued Pesce when the pair attended high school together, but then ended the relationship before his star turn in 2009.
After he made his money, Mike Sorrentino went back to Lauren Pesce and eventually married her in 2018. Together, the couple has a son named Romeo Reign. Lauren Pesce clearly has a lot of patience, especially as Sorrentino was imprisoned in 2019.
Kobe Bryant and Vanessa Lane
The late Kobe Bryant sadly passed away in a helicopter crash in 2020. During his incredible life, the professional athlete was in a long-term relationship with Vanessa Lane. The star first met his future wife when she was a high school student, and backup dancer in a music video. They were engaged six months later.
Because Kobe Bryant was already signed to the NBA, the couple faced huge amounts of scrutiny. In fact, Lane ended up finishing her education via homeschooling. These two got married in 2001.
LL Cool J and Simone Smith
According to rapper LL Cool J, the secret to a long-lasting marriage is good communication. He has said, "I'm not looking to win arguments, this isn't debate class. We each express ourselves and then either fix the issue or move on." That sounds reasonable!
The star met Simone Smith when they were both teenagers and a friend introduced them. After dating for eight years, the couple got married in 1995. Together, these two have four children — Najee, Italia, Samaria, and Nina.
Prince William and Kate Middleton
Last but not least are their royal highnesses, Prince William and Kate Middleton. As most people know, these two met at St Andrew's University. In fact, Kate caught Wills' eye when she walked in a fashion show wearing nothing but a slip.
Kate Middleton and Prince William started dating in 2003, and shared a flat with other housemates while studying. As you might expect, this couple was hounded by the press. Of course, their highly publicized royal wedding took place in 2011.