Every woman should have a pair of denim jeans in their closet, but with so many styles and shapes out there, it can often seem impossible to find jeans that suit you. Should you go for a straight leg? What about skinny jeans? Can you pull off flares? Well, every woman is different, but there's a high chance that you fit into one of the many shape categories on offer. When you determine which shape you are, picking the right jeans for your shape is paramount.
Body Type: Hourglass
If you have an hourglass shape, you probably have curves in all of the right places. You have a large bust and large hips, and there's a high chance you've got a relatively small waist. To enhance your figure and find jeans that look amazing on you, it's best to opt for a bootcut or flared jeans. This is because the wider legs allow them to match up to your wide hips, but the material also fits snugly against the rest of your vivacious body.
Body Type: Boy Shape
Do you have slim hips and a rather straight physique? Well, you have a boy shaped body! If you're searching for the best kind of jeans to fit your figure, then you'll be happy to know that we have found them for you. Skinny or super-skinny jeans will allow you to showcase your slim legs, but they will also mimic the idea that you have a bit of curve to you. As the jeans cling to your legs as the material goes around your hips, your knees, and down to your ankles, the natural lines will look curvy as anything.
Body Type: Petite
If you have a petite body, there's a high chance that you have struggled to find jeans that fit in the past. That's because everything is either too long or just too big, but you don't need to worry anymore. Straight-legged jeans are perfect for you because the straight lines give the impression of straight lines up and down, which can make you look much taller than you already are. It's also important to avoid white-wash denim if you're petite and stick to darker colors that will once again make you look taller.
Struggling to find the perfect jeans? This should definitely help you out.
Royal Fans Are Saying Meghan Markle Never Should Have Married Prince Harry For These Reasons
Shattered Dreams
Marrying into the royal family means that Meghan Markle had to put so many of her aspirations to one side. And she's not the first person who has had to do that. Before marrying Prince William, Kate Middleton enjoyed working as a photographer/web designer, but ultimately had to part ways with those passions. Marrying Prince Harry didn't just mean that Meghan had to rethink her options in terms of pursuing her dreams – her options are now very limited…
Not Following Royal Protocol
Marrying Prince Harry means that Meghan Markle is required to follow many royal traditions that were previously alien to her. One of the most recent indicators that Meghan had made a huge mistake was during the Trooping of the Color event. When all royal members were expected to face forward and sing the national anthem, Meghan turned back to speak with Harry, who promptly ordered her to turn around. "She eventually turned around and looked like she was going to start crying," one insider said.
Raising Archie
One of Meghan Markle's biggest reasons for regretting marrying Prince Harry might be due to the way the royal family treats their baby boy – Archie. The public was confused as to why Queen Elizabeth and Prince Philip didn't attend the newborn's christening. However, Meghan's mind could be put at ease a little knowing that the Queen didn't attend Prince Louis' christening either last year. Meghan and Harry might also struggle to bring up Archie and future children with shared values.
Rules Too Strict
The list of the sacrifices that Meghan Markle had to make for the royal family is enough to indicate that maybe it wasn't worth marrying Prince Harry after all. The former actress has had to abandon some of the most trivial things in order to fit in. Meghan's no longer able to cross her legs when she sits or even stick out her tongue. The list goes on and on…
Dealing With His Exes
Despite marrying into one of the most private, secure families in the world, Meghan still can't seem to prevent her husband from interacting with his exes. During the entire Trooping the Color fiasco, paparazzi caught ex Chelsy Davy arriving in London to reportedly check up on Harry during this tough time in his life. This is because the exes remained friends after breaking up. Royal correspondent Phil Dampier is convinced that Harry was desperate to marry Chelsy, before she got "cold feet."
He Had One Last Phone Call With Her
It has recently been revealed that Prince Harry had one last tearful phone call with former flame Chelsy Davy before tying the knot with Meghan Markle. "It was their final call, a parting call in which they both acknowledged Harry was moving on," a source told royal author Katie Nicholl. "Chelsy was quite emotional about it all, she was in tears and almost didn't go to the wedding. In the end, she went and promised Harry she wouldn't try and gatecrash the party."
Marrying The Royal Family
They say that when you marry someone, you marry the entire family, and Meghan Markle is learning this lesson the hard way. Meghan has struggled to win the hearts of various family members, while also having a handful of altercations. The former actress reportedly brought Kate Middleton to tears when she pressured her into finding "the very best" bridesmaid dress to wear for her wedding. Even Prince William warned his brother not to rush into any relationship, asking him if he was "sure" about Meghan.
She's Changed Him
It appears that Meghan might have regretted tying the knot with Prince Harry after trying too hard to change him. Duncan Larcombe, who wrote about royal family ongoings for The Sun for a long time, suggested that Meghan Markle may have heavily influenced Harry's seemingly radical change in behavior in royal environments. "All of Harry's staff have always thought he was fantastic, but the two of them [together] are high maintenance," Duncan said. The writer also claimed that the prince has become "quite grumpy and aloof."
Actresses Don't Marry Royals
Meghan Markle was required to abandon her acting career to marry Prince Harry, and that in itself is a reason why she shouldn't have done it! The Duchess of Sussex is a talented actress, who had a main role in the hit law series Suits. Sophie Rhys-Jones also left her acting career behind when she married Prince Edward two decades ago. During their engagement period, Prince Phillip reportedly said the following to Prince Harry: "One steps out with actresses, one doesn't marry them." Yikes!
Personality Clash?
Meghan Markle may have regretted tying the knot with Prince Harry simply due to their differing personalities. While Harry is one of the more rebellious figures of the royal family, he is still a saint in comparison to Meghan, following royal protocol and generally coming across as someone who is quite emotionally reserved. Meghan, on the other hand, is a naturally bubbly, outgoing individual, which might not be the best fit for Prince Harry, let alone the rest of the royal family!
History Repeating Itself?
If Meghan took a look in the history books, she might've thought twice about ever marrying Prince Harry. Other women who have married into royal families in the past haven't fared well, including Harry's mother – the late Princess Diana. While she was married to Prince Charles, Diana reportedly grew miserable and even developed an eating disorder at one point. Then there's actress Grace Kelly, who married into the Monegasque royal family. She was also looked down upon by her royal contemporaries.
Did She Marry Someone Too Famous?
Meghan could've done well with learning how things went between Prince Harry and his previous unsuccessful relationships. Cressida Bonas ended up splitting with Harry because "she could not take the public scrutiny and being judged by total strangers." Chelsy Davy told The Times that while she was with Harry, the attention she received was "crazy and scary and uncomfortable." Even someone like Meghan Markle, who was already a pretty famous name, might've married someone a bit too famous for her own wellbeing.
Losing Their Friends
It seems like both Meghan and Harry might regret marrying each other after their respective social circles fell by the wayside. Harry is struggling to stay in touch with friends such as Astrid Harbord and Tom Inskip. "It's all part of Meghan's quiet airbrushing out of Harry's old posse," a friend claimed. However, Meghan has also lost touch with some of her closest friends. According to TV personality Lizzie Cundy, Meghan essentially "ghosted" her after things got serious between her and Harry.
My Way Or The High Way
Meghan Markle may regret marrying Prince Harry due to her inability to stay completely true to herself. Despite this, the former actress is still trying to do things her way, within reason. One of the biggest indicators of this is the way she dresses. On many occasions, royal experts have called out Meghan for wearing sleeveless dresses in public. It's unclear if royal female members have to wear formal tights for all public appearances. Yet Meghan has gone out with bare legs many a time.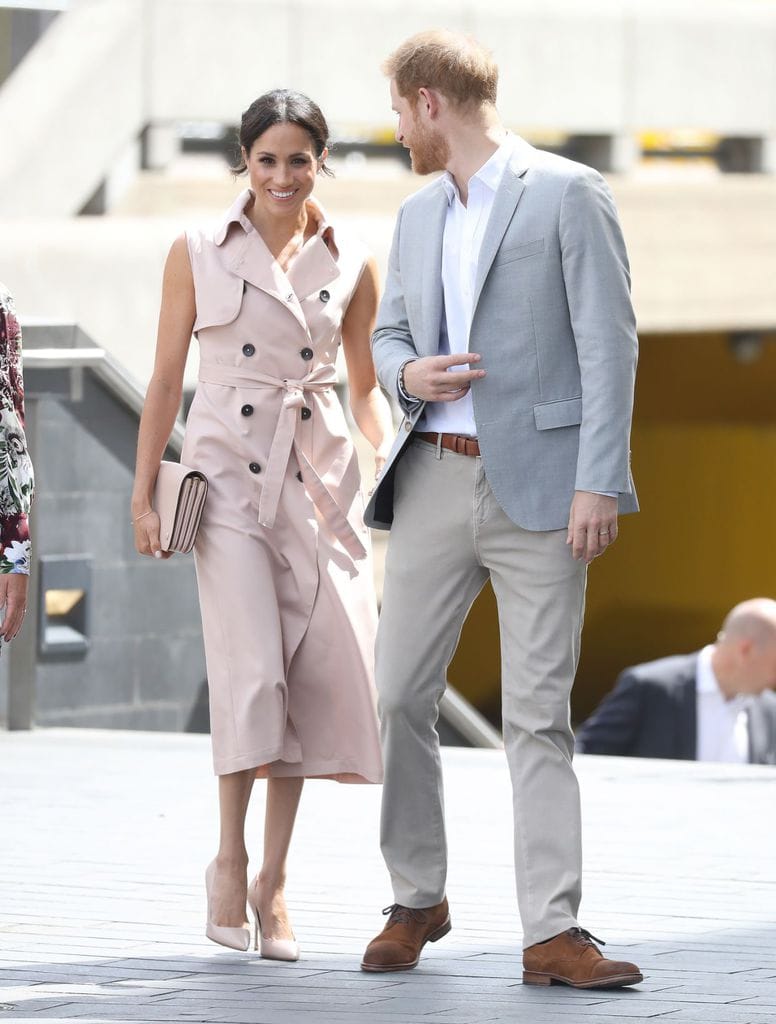 Trying Way Too Hard?
There's a high chance that had Meghan married someone with a lower profile, she wouldn't have needed to have worked anywhere near as hard in order to fit in. According to PR expert Nick Ede, Meghan has given herself an impossible task. "This is somebody who has just entered the Royal Family, who is working quadruply as hard as she was learning scripts for Suits," he claimed. "She has actually put herself in the position where it's not an easy life."
Weird Obsession
While Meghan Markle has claimed that she didn't know much about the royal family before marrying Harry, some friends beg to differ. In fact, childhood friend Ninaki Priddy claimed that Meghan always had a strange obsession with the Queen and company. "It's like she has been planning this all her life," she said. "She gets exactly what she wants and Harry has fallen for her play." She also admitted that Meghan always dreamed of being famous and loves being the center of attention.
Public Haters
It's not just her royal peers that Meghan Markle has had to contend with scrutiny from. She has also had to endure the hate from the British public (and beyond). Members of the online community have sent out a torrent of hateful Tweets and posts on social media. Kensington Palace representatives issued the following statement in response: "Some of it has been hidden from the public — the nightly legal battles to keep defamatory stories out of papers…the bombardment of nearly every friend, co-worker and loved one in her life."
Breaking Up The Bros
It's well documented that Prince Harry and William have always been close brothers. However, ever since the former married Meghan Markle, there seems to have been a lot of tension between two couples. Meghan has reportedly urged Harry to agree that they do their own thing as a couple, which was clear when Sussex recently split from The Royal Foundation, which was originally established by the two brothers. Ever since they moved out of Kensington Palace, the signs point to some sort of falling out.
Is There A Cultural Divide?
Just the fact that Meghan and Harry are from completely different cultures and backgrounds is enough to suggest that they might not be the best match. From the moment that it was announced that Harry was dating someone from "across the pond," the British public found the move extremely unusual. Any outsider marrying into the Royal family would have their work cut out trying to fit in, but Meghan Markle's background alone seems to give her the ultimate uphill battle.
She Wanted To Marry "A Famous British Guy"
Of course, Meghan Markle probably should have sat down and worked out some good reasons why she wanted to marry Prince Harry. If one of them was just the fact that he's famous and British, then that's probably unsustainable. TV personality Lizzie Cundy claims that Meghan asked her to set her up with a famous British man. "[Markle] said, 'Do you know any famous guys? I'm single and I really love English men,'" Cundy wrote in her memoir.
What Happened To My Perks?
Meghan Markle went into her marriage with Harry under the impression that she'd be getting plenty of perks, such as luxury houses and royal jewels. While there is some truth to that, Meghan maybe should've lowered expectations, especially after the Queen reportedly stopped her from gaining access to the Royal Collection. "There was this row where Meghan wanted this particular necklace, Harry said 'Meghan gets what Meghan wants,'" Gavin Gray claimed. "The Queen turned around and said 'oh, no, she doesn't.'"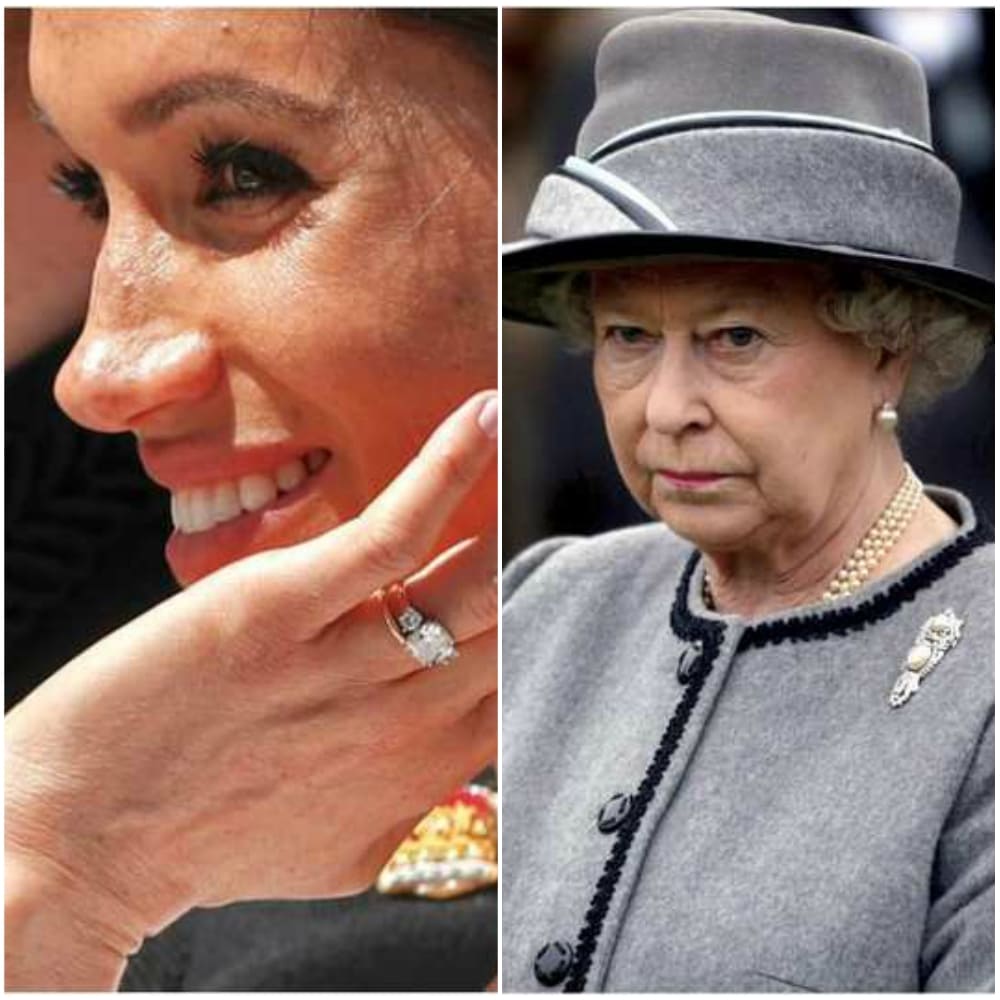 Accepting Each Other's Families
While Meghan Markle is certainly struggling to win the hearts of her new royal in-laws, her marriage to Prince Harry also seems to have drawn a wedge between her and her own family. Ever since she revealed her plans to marry Harry, Meghan's half-sister Samantha hasn't stopped bad-mouthing her, both in private and in interviews. She also isn't speaking to her half-brother right now. Meghan marrying Harry drives her even further away from her family, who are on the other end of the socioeconomic scale.
Even The Queen Is Bending The Rules For Her
After tying the knot with Prince Harry, Meghan seems to be bending numerous royal figures to her will, including the Queen herself. Elizabeth II has already made a variety of leniencies for the Duchess of Sussex, having let Meghan attend the family Christmas party before the couple even tied the knot. Of course, the Queen was also the one who signed off on Harry marrying a divorcee in a church, the first time in the royal family's history.
Too Many Differences?
We often read about celebrity couples who end up divorcing due to "irreconcilable differences." Whatever happens between Meghan and Harry, there is no denying that there are plenty of things they don't have in common. However, perhaps these differences will be what make things work between the unconventional royal couple, and only good things will be in their future.
Sharing Their Struggles
In recent times, Harry and Meghan have opened up about their struggles to balance their married life with their duties as members of the royal family. In their documentary Harry and Meghan: An African Journey, the couple's thoughts apparently "worried" members of the royal family. Since then, the documentary has been broadcast in Australia, Africa and Europe. While the emotional and mental effects that royal life has had on them have been a big talking point, Meghan was particularly vocal…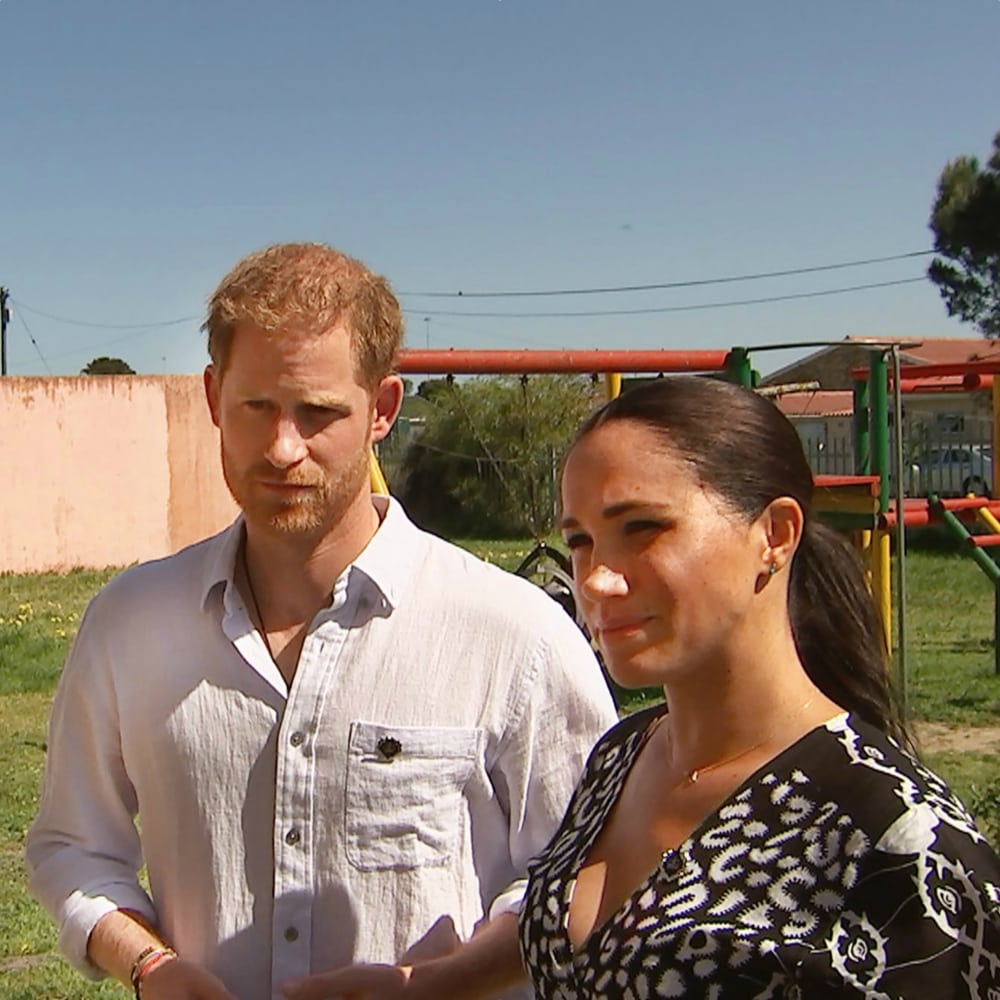 I'm Not Fine
One of the most notable parts of the documentary that the public has been talking about is what Meghan Markle said regarding the pressures of being a mother, a newlywed and a royal family member in such a short space of time. She suggested that the royals haven't been particularly supportive of her. "As a woman, it's a lot," she said. "Thank you for asking, because not many people have asked if I'm OK. But it's a very real thing to be going through behind the scenes."
New Rumored Romances
Another thing that might be drawing a wedge between Meghan and Harry are the rumored romances they may have had before meeting that they are only learning about now. Apparently, the Duchess of Sussex claimed that retired soccer player Ashley Cole tried to date her shortly before she met Harry. However, Cole's brother, journalist Matty Cole, has since debunked such rumors. "It's nonsense, completely made up," he said. "He definitely wouldn't have to beg Meghan Markle for a date."
"Destroyed" By The Media
One of the biggest mysteries surrounding Meghan Markle and Prince Harry's marriage is the debate of how much attention they actually like having from the media. Recently, the Duchess of Sussex reportedly claimed that the British media was hellbent on tarnishing her reputation. In her words, tabloids are trying to "destroy" her. However, TV presenter Lizzie Cundy suggested that just two years ago, Meghan "all but begged" for as much exposure as possible. It seems like things have changed…
She's "Manipulating?"
It seems like old friends of Meghan Markle are trying to paint a picture that she should never have married Prince Harry in a variety of ways. Take TV presenter Lizzie Cundy, for example, who used to be friendly with the Duchess of Sussex. During one of her shows, Cundy described Markle as being "manipulating" since marrying into the royal family. She also went as far as saying that she has "seen a different side" to the former actress after she became a royal figure.
More Money, More Problems
There is no denying that as a member of the royal family, you're never going to go without food on the table. However, many have criticized Meghan and Harry's excessive spending since tying the knot. One of the ways that financial troubles have made their relationship more complicated is the fact that Meghan still pays taxes due to her American citizenship. This also means that a lot of Harry and Meghan's royalties could be subject to American taxation.
She's Forcing Him To Open Up
Many think that Meghan should never have urged Harry to open up about his deep-rooted feelings, which started a couple of years ago when they were still dating. In a 2017 podcast, Harry opened up about the death of his mother Diana. According to journalist Bryony Gordon, "it was Meghan who encouraged her then-boyfriend to do the podcast about his mental health with me." Prince Harry also claimed to "festering wounds," ever since losing his mother over 20 years ago.
They Have "Disappointed" The Queen
Another reason that Meghan might regret ever tying the knot in the first place is due to the fact that they are disappointing the Queen with their attitude. According to reporter Richard Palmer, numerous sources have described Harry and Meghan's recent opening up about mental health as an excuse for their poor behavior. "While there is a concern for Harry and Meghan's mental health, their attitude has disappointed the Queen and other members of the Royal Family, according to several sources," he tweeted.
She Took Him Away for Christmas
Another red flag in Harry and Meghan's marriage is her recent need to take him away from his family during the most important time of the year – Christmas. Meghan ended up taking her husband, along with their baby boy Archie to Vancouver Island, Canada for a couple of weeks to be with her mother, Doria Ragland. Although the Queen seemed to support the move in public, it is reported that she was actually "disappointed" by the decision.
Forced to Make Big Decisions
There is no denying that marrying Harry has forced Meghan Markle to make some big decisions. Many of these decisions, she has not been completely comfortable making. However, it seems like the most recent big decision she made was one that suited her more than anyone else. The couple released a statement via their official Instagram account, saying the following: "After many months of reflection and internal discussions, we have chosen to make a transition this year in starting to carve out a progressive new role within this institution."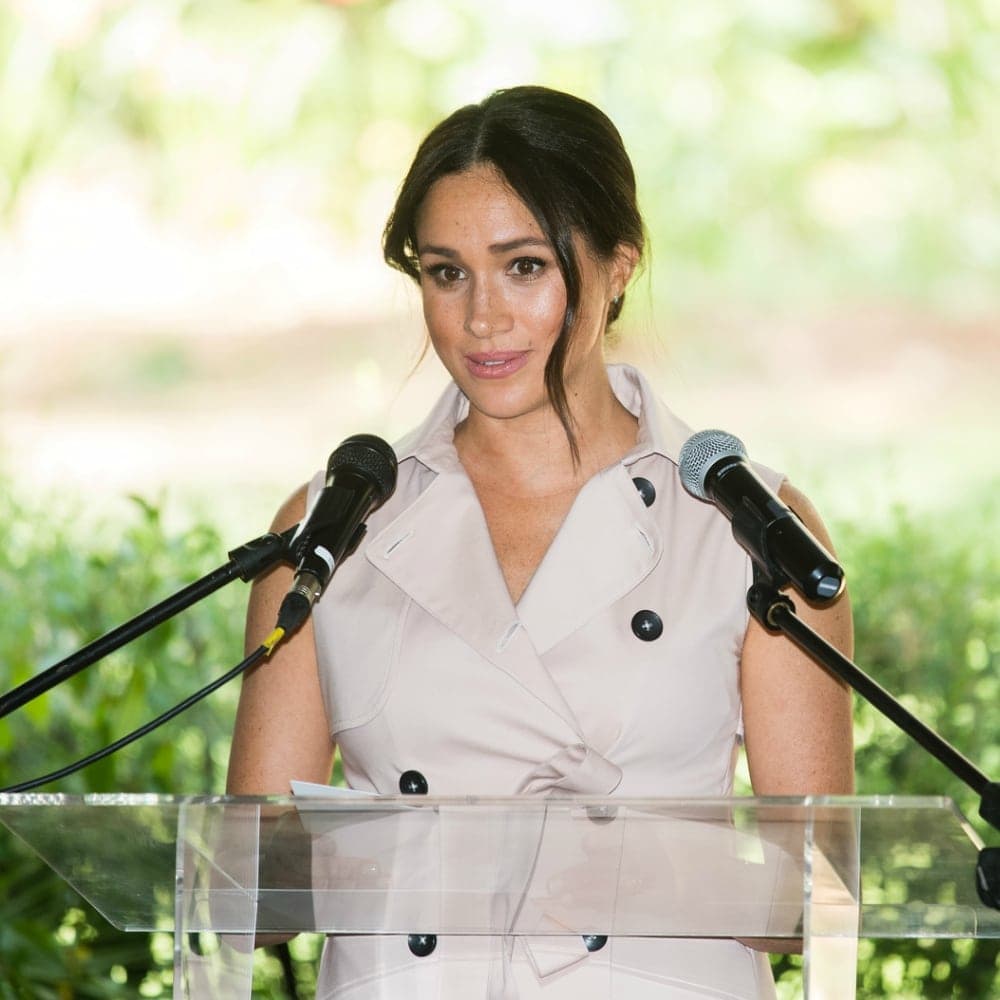 She's Made Him Step Back
It became increasingly clear in the statement that Meghan and Harry were about to do something huge. According to them, they "intend to step back as 'senior' members of the Royal Family and work to become financially independent." While it appears to be a mutual decision by the two, many have speculated that Harry took a lot of persuading from Meghan to make it actually happen. Despite this, the decision ultimately means that 95% of their budget will still be covered by the Duchy of Cornwall.
Meghan's Taken Harry to America
Inevitably, the statement also hinted that Meghan and Harry would be relocating to the other side of the world – somewhere closer to where Meghan grew up, perhaps. Many feel bitter at the possibility that Meghan has taken Harry away from his family so that they can live somewhere in North America. Some believe that they could end up relocating to Canada, while others have speculated that they might consider moving to L.A. in order to be closer to her mother.
She Has "Hurt" the Royal Family
Another sign that Meghan maybe should never have married Harry is how her actions, along with his, have either directly or indirectly hurt members of the Royal family. Just their decision to step down as senior royal figures is believed to have left many relatives both "disappointed" and "hurt." Most importantly, it is believed that the Queen is right up there as one of the members who is hurt the most. She even alluded to their actions in her annual Christmas speech.
They Have Taken Archie Away
Many believe that Meghan and Harry's decision to take baby Archie away from the royal family is also an indicator that maybe she should have never married into the family, to begin with. The royal family would have loved nothing more than to have Archie in their lives, day in, day out. Now though, that simply won't be possible. Experts also believe that the couple are determined to give Archie a "normal" upbringing, meaning there is a chance that he might have an identity crisis later on in life.
Legal Issues
Meghan Markle's seemingly neverending battle with the media has only gotten more bitter in recent times. The Duchess of Sussex recently took legal action against the Mail on Sunday, accusing the newspaper of illegally publishing a private letter she had sent to her father, Thomas Markle. Had she never tied the knot with Harry, to begin with, Meghan probably never would have had this issue. Stepping back from royal duties might make it more difficult for UK tabloids to invade their privacy.
Awkward Family Reunions
If there's any reason that Meghan shouldn't have married Harry in the first place, it is the awkward reunions she is inevitably going to have with the royal family moving forward. According to The Daily Mail, the Duchess of Sussex is believed to feel "some trepidation" about returning to the UK and finalizing their preparations to officially step down from senior royal duties. According to expert Katie Nicholl, Meghan is feeling "sadness" and trying to "put on a brave face."
The Queen's Putting Her Foot Down
Now that Meghan and Harry have decided to leave a lot of their royal duties behind, it is believed that the Queen is now putting her foot down when it comes to some of their previous privileges. ABC's royal correspondent Omid Scoobie reported that Elizabeth II recently had a word with the couple, informing them that she would eventually stop paying for their security, which is believed to cost somewhere in the region of $25 million.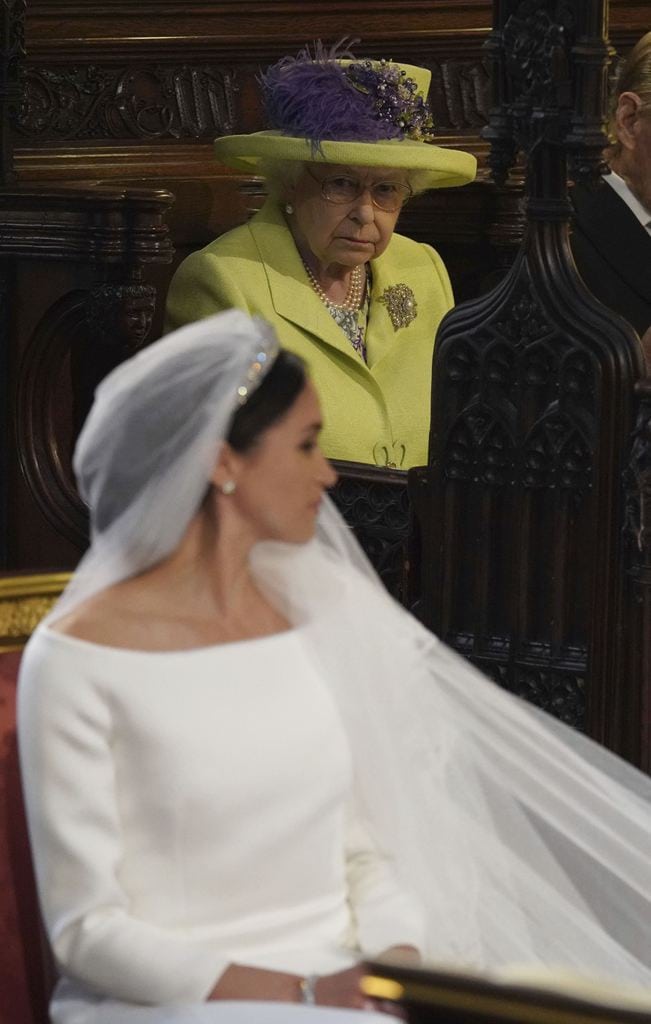 She Has Been Divorced Before
Arguably the biggest red flag suggesting that Meghan Markle should not have married Prince Harry is the fact that she had recently come out of a short-lived first marriage. The Duchess of Sussex was previously married to Trevor Engelson. She had met him in 2004 and soon enough, the couple lived together before tying the knot in 2011. However, after being married for just 18 months, Meghan and Trevor ultimately decided to go their separate ways and divorced in 2013.