Capsule Wardrobe
A capsule wardrobe is a collection of basic clothing, with all the essentials that you need. Everything in your capsule wardrobe should match, and you should ensure that there's something for all types of occasions.
With a solid capsule wardrobe, you'll be able to just grab something out of your closet and go — ensuring that you look great, even when you've rushed to get dressed. A typical capsule wardrobe consists of basics, flattering silhouettes, solid neutrals, and classic styles.
Blazers
A blazer can add a level of class and sophistication to pretty much any outfit. Fashion website shopping director Tiffany Yannetta explains, "Buying a good blazer is important because it's such an easy way to elevate an outfit. The upper half of your body is what people see the most — more than your pants or your shoes."
So, if you've got a meeting and want to look professional but can only splurge on one new piece, go for a blazer rather than slacks or heels.
Pointy-Toed Shoes
If you look at shoe styles for females in different age groups, you'll probably notice that round-toed shoes tend to be worn by girls, while pointy-toed shoes are favored by women.
If you're not in love with the pointy-toed look, you can always opt for an almond-toed shoe, which sits in the middle between pointed and round. That'll ensure you'll have that rich-lady look, but without elongating your feet, if that's something you're concerned about.
Statement Earrings
If you're going to rely on one piece of jewelry to pull your look together, have it be earrings, since that's what people will see when they look at your face.
Gold hoops tend to go with any look, are timeless, add polish to one's appearance, and are flattering on most people — especially if they're small or medium-sized. If you're not a hoop earring fan, drop earrings will also add glamor to an otherwise so-so getup.
Structured Bags
A structured bag looks more refined than a floppy purse. Furthermore, it'll take longer to lose its shape, making the structured bag a great investment piece. Simply choose one in a neutral color, so you can use it with anything, and you're all set!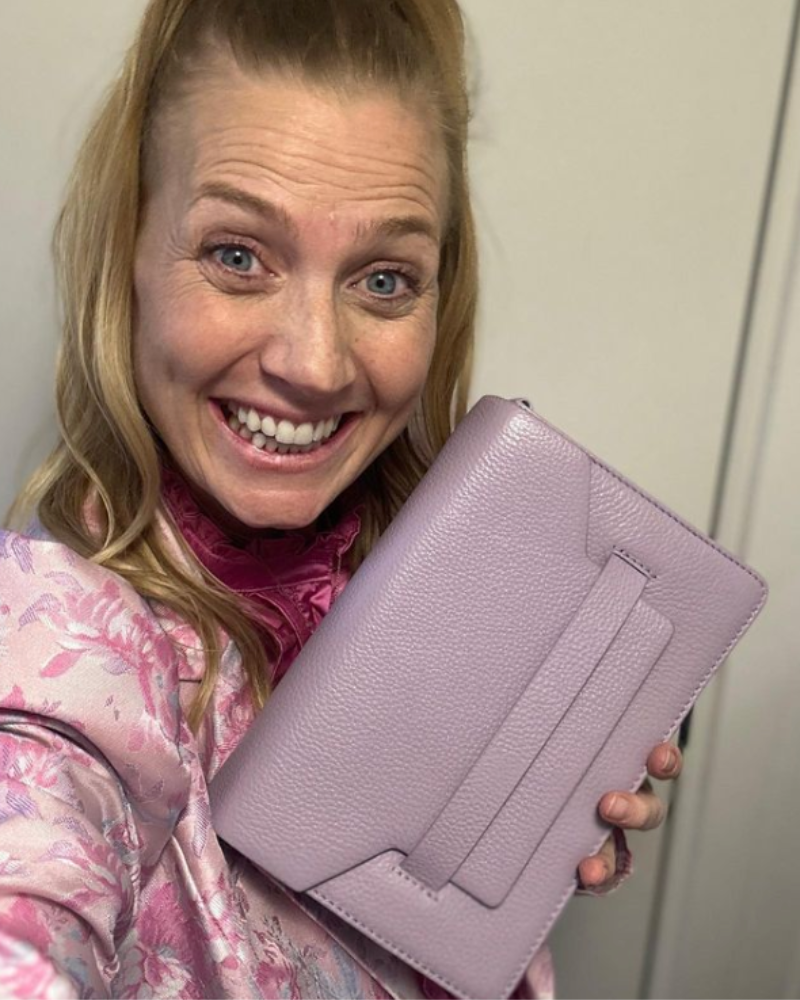 If you're unsure whether or not a bag is sufficiently structured, just stand it on a flat surface. If it stays upright on its own, you're good to go! If it falls to the side, this may not be the bag for you.
Sunglasses
Think about celebrities hiding from the paparazzi, secret agents on missions, and real housewives covering their fresh injections — everybody important always wears sunglasses.
This accessory not only adds some mystery to an outfit but also shields your eyes from the sun, which is obviously more critical. Less crucial but still a perk is the fact that sunglasses can easily cover a make-up-free face, so no one needs to know you were in a rush that day.
Belts
A classy-looking belt can make an otherwise bland outfit look incredibly put together. Not only is it a stylish accessory, making it look like you've got money to spend on non-essential clothing items, but a belt can also create the illusion that your clothes fit better than they do.
Wealthy people tend to get their garments tailored to fit their bodies, so using a belt to make it seem like that shapeless dress accentuates your waist, will make your whole look seem more expensive.
A Sleek Hairstyle
Whether you prefer a bun, ponytail, your hair piled on top of your head, or low at your neck, a slicked-back updo always looks powerful.
Not only will you look chic with this hairstyle, but it'll also cover up any bad hair day that may be going on — just make sure to keep everything in place with some hairspray. If you really want to maximize the high-class look, pair your sleek 'do with red lipstick, hoop earrings, and large sunglasses.
Red Lipstick
In general, red lipstick adds instant sophistication to any look. However, there are some caveats to the rule. Cool or medium-toned reds tend to be flattering on everyone, while bright or deeper shades of red may look a bit cheaper.
It's also important to opt for lighter eye makeup if you're going for a red lip, in order to avoid a clown-like look. Lastly, red lipstick is one of those pieces that are worth investing in. A cheap lipstick will smear, which is a look that doesn't exactly scream "chic."
A Gold Watch
Before everyone had cell phones in their pockets to tell time with, watches were the thing. A watch was a status symbol because it meant that your time was precious and you had places to be.
Regardless of the fact that we no longer need wristwatches to tell time, their symbolism hasn't faded. A classic gold watch will give you that vibe of importance and, seeing as you only need one, you won't have to break the bank to get it.
Leather Detailing
A purse or jacket that's all leather will cost you quite a bit, but what about something with just a touch of leather detailing? Items with leather strategically placed onto buttons, sleeves, collars, or trimming, won't cost much and will help your outfit look a lot more pricey.
Not a big fan of leather? The same concept holds true for gold. Rather than purchasing a mostly gold accessory, get something with gold detailing on it instead.
Manicured Nails
In recent decades, manicured nails have gone from a luxury geared towards the rich to something we regular folk can afford too. This is because there are really great at-home manicure kids and tons of YouTube tutorials, so you don't necessarily have to have the funds to go to the salon in order to have pristine nails.
Even if you prefer gel manicures, which are notoriously more expensive, you can invest in a gel manicure kit of your own. That'll still be cheaper than getting it done professionally.
Matching Separates
Buying separate pieces gives you more options because you can mix and match. And if you buy matching pieces, you can pair them together, so they do the same work as a dress or a jumpsuit.
Think about it — with a matching shirt and skirt set, you can wear them together, wear the skirt with a different top, or the shirt with a different bottom. However, if you buy a dress instead, it won't be long before you're repeating the same outfit.
Classy Makeup
Some makeup looks are just classier than others, and you won't know what works best for your face without a bit of trial and error. Of course, we're not saying you need to hire a personal makeup artist or splurge on a million different products.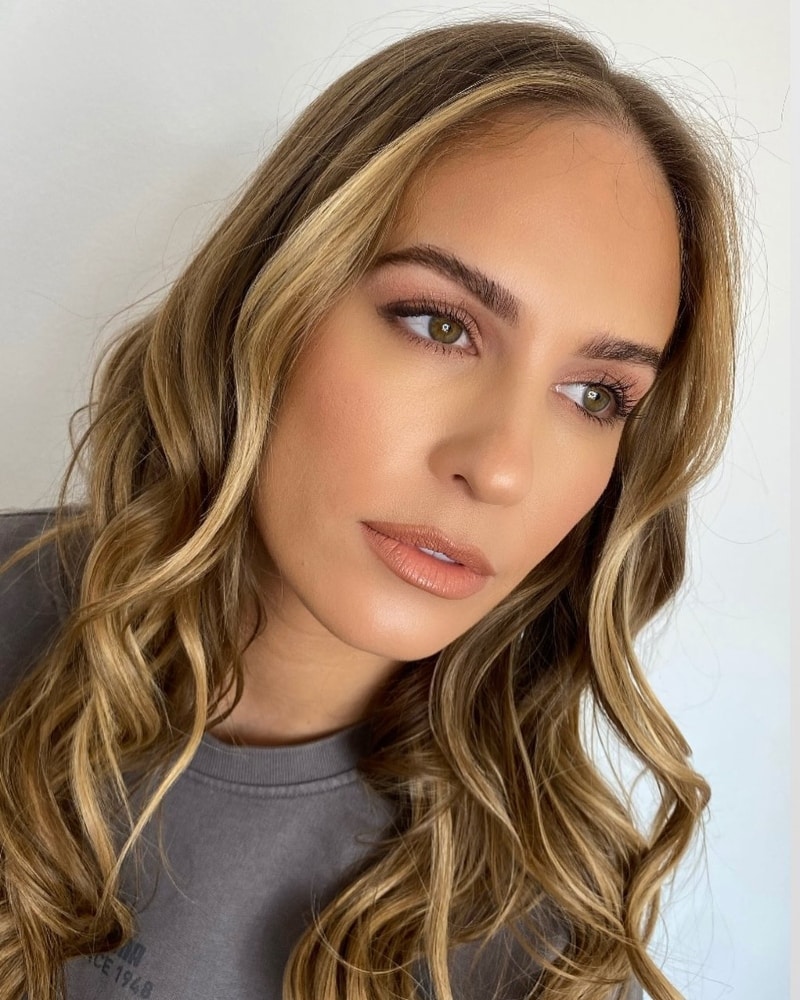 Luckily, there are tons of makeup tutorials on YouTube to help you choose a timeless, elegant look that flatters your features. Marc Jacobs himself has said, "Makeup is the finishing touch, the final accessory."
Black Tights With Black Shoes
Black opaque tights paired with black-heeled pumps are a timeless classic for a reason. Not only is the look extremely elegant and sophisticated, but it's also flattering. Black is slimming, and because the tights will blend with the shoes, the style creates a long and lean leg.
This black tights with black shoes combination will also help make shorter skirts or dresses wearable in colder months, which means less winter shopping for you!
Coat Draped Over Shoulders
A coat or jacket draped over one's shoulders is a staple for the nonchalantly rich. Despite its impracticality, people seem to really love this look. If you want to counter the inevitability of the coat sliding off your shoulders, you can secure it with safety pins.
Truthfully, we think this look makes it seem like the wearer is unsure of how coats work — like they haven't figured out there's a place for your arms. But the elite seems to love this aesthetic, so do with that what you will.
Holding Purse on Forearm
While we have to admit the practicality of wearing one's purse on their shoulder or across their body, it may not be the look you're going for. Carrying one's bag in their forearm or the crook of their elbow is often perceived as more sophisticated.
According to body language expert Patti Wood, holding one's purse this way exudes "high maintenance." "You're wearing the bag as if it's a badge of honor or an award. You feel as if you've got a sense of superiority."
Collared Blouse With Sweater
Wearing a collared blouse under your sweater gives you that sought-after versatility in your clothes. It's also a great way to dress up an otherwise blah sweater and make it look more professional.
Here are some guidelines to keep in mind if you want to try this look — the collared shirt can be tucked in or out, but it's best for the sweater not to be tucked in. If your sweater is round-necked, tuck your collar in for a smoother look. Lastly, make sure that the collar is ironed.
Popped Collar
If you really want to go for the rich, preppy look, a popped coat, jacket, or shirt collar will do the trick. You'll have to play around with your clothing a bit since some collars look better popped than others, but this is an adjustment you can make on the go if need be.
In order to really accentuate the aesthetic, wear your hair in a sleek updo so the popped collar is more noticeable.
DIY Shoe Embellishments
Shoe embellishments definitely make footwear look fancier and more expensive, but it's not just a trick of appearance… embellished shoes truly are pricier than their plain counterparts. Luckily, it's easy enough to DIY shoe embellishments.
If you're crafty, you can glue-gun your own additions onto any footwear. If art isn't your thing, you can always purchase clip-on embellishments which you can take off at the end of the day. This also means that you can wear the same pair of shoes repeatedly and no one will notice.
Maintain Your Clothing
Learning how to properly care for your clothing is good life advice for anyone, but especially those on a budget. Being responsible in how you store, clean, and wear your clothes will keep them lasting longer, meaning you don't have to buy new garments as often.
Of course, an outfit that doesn't have holes in it isn't stained, or fraying at the ends, will always look more high-end. Even learning to do small repairs yourself, like stain removal or minor sewing, will help both your wallet and your look.
Faux Fur
Faux fur is more affordable than the real deal, and many would argue that it's far more ethical. Fashion designer Hannah Weiland has said, "I think faux fur has become a commodity that feels just as luxurious as real fur."
So, to recap — it can look just as good as real fur, feels just as nice, is cheaper, and doesn't harm any animals. The latter point is why even some wealthy individuals opt for faux fur. So really, this is a fashion choice that people of all incomes can agree with.
Avoid Logos
Generally speaking, high-end brands don't make their logos super noticeable on their products. That's because they have their own way of designing that's usually apparent in their items (think Louboutin red-bottom heels) that make them stand out anyway.
It's usually the cheaper brands that see logos as status symbols and display them prominently. So, if you want to look rich, stay away from looking like a walking billboard and go for an understated class instead.
Loose Dresses
Whether it be boho-chic, coastal grandma, or whatever other style is trending at the moment, loose dresses are always in fashion. Not only will a flowy dress always make it seem like you've just shopped the season's latest trend, but it's also a piece that can last a long time.
Dresses that aren't too form-fitting can withstand changes in one's size a lot better than a tighter dress will. Bonus points for the fact that they're super comfortable!
Tailored Clothes
Wealthy people get clothing that's custom-made to fit their bodies, so it stands to reason that ensuring your garments are tailored would make you look wealthier. Of course, not everyone can afford to get all their items adjusted, so choose a few essential pieces that you wear often, and have them altered.
If going to a tailor isn't an option for you at all, it's advised to spend a bit more time when clothes shopping to try on all sorts of sizes and styles in order to find something that fits you perfectly.
Shoes
Pristine shoes are the trick to any expensive-looking outfit. So, make sure to clean and polish your footwear on a regular basis. It's also best to keep them stored safely, especially when you won't be wearing them for a while (for example, winter boots in the summertime).
If you have some money to spare and want to invest in one or two items, shoes should definitely make the list. Keep in mind that good quality shoes aren't just about aesthetics, they're also good for your knees and back.
White Teeth
Wealthy people have plenty of money to spend on dental care and fancy teeth whitening procedures. While we don't all have that luxury, we can all take care of our smile — both for the sake of looking rich and for the sake of our oral hygiene.
We all know the regular tricks of using toothpaste with whitening properties, flossing, and mouthwash. That said, it's also best to avoid tea, coffee, and products that create smoke — in order to maintain a million-dollar smile.
Perfume
Your signature scent can often send a message about your financial status. More expensive perfumes do smell different than cheaper ones, with exceptions of course, but there are ways to smell wealthier than you might be. It's all about choosing the right fragrance.
Subtle, woody, floral scents are properties of fancier perfumes. Meanwhile, sugary scents that are geared toward younger people give off the aura of something bought a bit cheaper. Similar to choosing wardrobe staples, when selecting a perfume, opt for something timeless over the current celebrity-endorsed trend.
Second-Hand
Getting rid of the stigma over wearing second-hand clothes is long overdue! Plenty of people can't afford expensive clothing, and there's no shame in wanting high-quality items. One option for those waiting to get on the pre-loved train is second-hand clothing shops.
Another excellent alternative is clothing swaps. The latter involves bringing old clothes that you don't wear to a clothing swap event, and then taking whatever you want from what others have brought. No money is required!
Work With What You Have
Sometimes, your closet is the best place to go shopping. You may be able to use old clothing in a different way in order to spruce up your wardrobe for free.
Lost weight and that once form-fitting sweater is now too big? Great! Pair it with some flattering jeans for an oversized sweater look. A cute skirt's time has come and it's now unwearable? Excellent! Cut off a piece of the fabric that's still good and tie it around your purse handle to add some chicness.
All Black
Monochromatic fashion looks sophisticated in general. Add to that the fact that black is slimming and elongates the figure, and you can start to see why an all-black ensemble is a good idea.
Black is timeless, neutral, and fits any event. As Christian Dior says, "You can wear black at any time. You can wear it at any age. You may wear it for almost any occasion; a 'little black frock' is essential to a woman's wardrobe."
Matching Shoes and Purse
Making sure that your shoes and purse match will give off the vibe that you've got the money to buy a new purse for every pair of shoes. We're not saying that they need to be the exact same style and pattern, but just making sure your bag and footwear are the same color will make a big difference.
On another note, if you're able to invest in a few more expensive items, shoes and purses should always be at the top of the list due to their reusability.
Skincare
Just like taking care of your clothes will make a big difference in the appearance of their quality, making sure you yourself look cared for will make you seem overall more put-together. Finding a skincare routine that works for you will make a huge difference in your appearance and health.
Of course, not everyone can afford routine spa trips and aestheticians like the rich can. However, it's entirely possible to treat your skin like gold — without breaking the bank.
Hair Care
As much as the cost of hair care can add up, it really is important to get your locks touched up every one to two months. If that's just too pricey, you can invest in going to a hairstylist less often but learn how to do the maintenance yourself.
Buy hair-cutting scissors and hair dye, watch YouTube tutorials to learn how to trim your hair, and touch up any roots that are showing. That should hold you over until your wallet allows a trip to the salon.
Keep it Simple
Trying too hard to look wealthy can have the opposite effect and make it seem like you're wearing a costume. Instead, keep it simple, as so many of the 1% do (think of Mark Zuckerberg and his plain t-shirts and sweatshirts).
In fact, it's widely believed that you can tell old money from new money based on how they're dressed. The latter tend to opt for flashy looks and brand logos, while the old money style is usually more toned down and subtle.
Quality Over Quantity
It's always better to have fewer clothing items of high quality rather than a closet packed full of cheap clothes. One could argue that, depending on the price difference, cheaper garments can end up costing you more in the long run anyway since they tend to be less durable than their pricier counterparts.
A good way to avoid wasting money on cheap clothes you don't need is to ignore fleeting fashion trends. Instead, buy timeless and versatile items that'll always be in style.
Hats
Wearing a hat will, literally, top off any look! This addition to your outfit will show that you've thought of each detail related to your outfit. Although there are plenty of different hat styles, some people just aren't fans of wearing one.
If that's your situation, you can opt for a different form of headpiece to pull off that same polished vibe. Headbands and hair clips will do all the same tricks of a hat — except for covering up a bad hair day, that is.
Fake Photos
If you really want to portray a wealthy lifestyle, and you don't mind crossing some moral lines to do it, there are lots of ways to fake being rich on social media. Plenty of influencers take pictures of themselves holding designer bags at the store as if they're going to buy them, but they can't really afford to.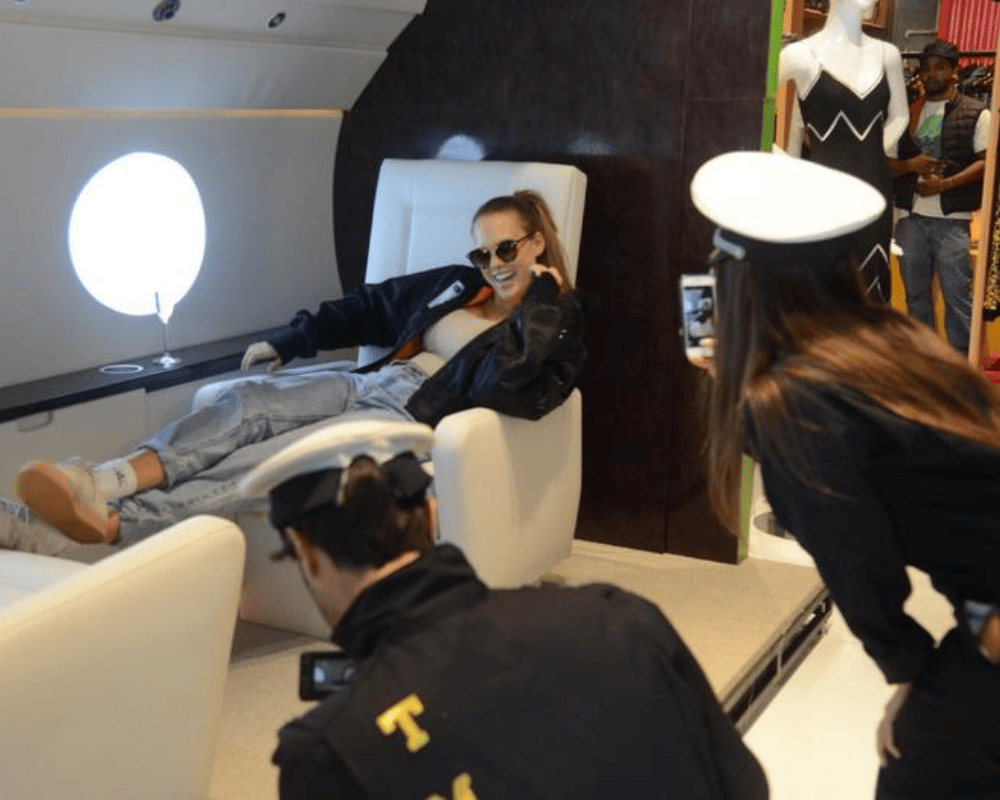 There are even faux private plane sets for people to do photoshoots! To clarify, we don't condone this behavior at all. But, now you can't say that we didn't tell you the options.
Light-Colored Outfits
Light-colored clothing is associated with wealth since it's harder to keep clean. It's silly logic, we know, but it's what people tend to believe. Regardless, if you opt for a beige or light gray, it'll give you that rich look and be easier to keep clean than white or cream.
You can also carry a stain-removing pen with you, just in case something does pop up. Also, as counterintuitive as it may be, wear nude undergarments – not white – when choosing a light-colored outfit, as nude is less visible.
Satin Clothing
Satin gives off the same luxurious vibe as silk but without the hefty price tag attached to it. The two materials look and feel similar, the only real difference someone with an untrained eye would notice is that silk is glossy on both sides and satin only shines on one side.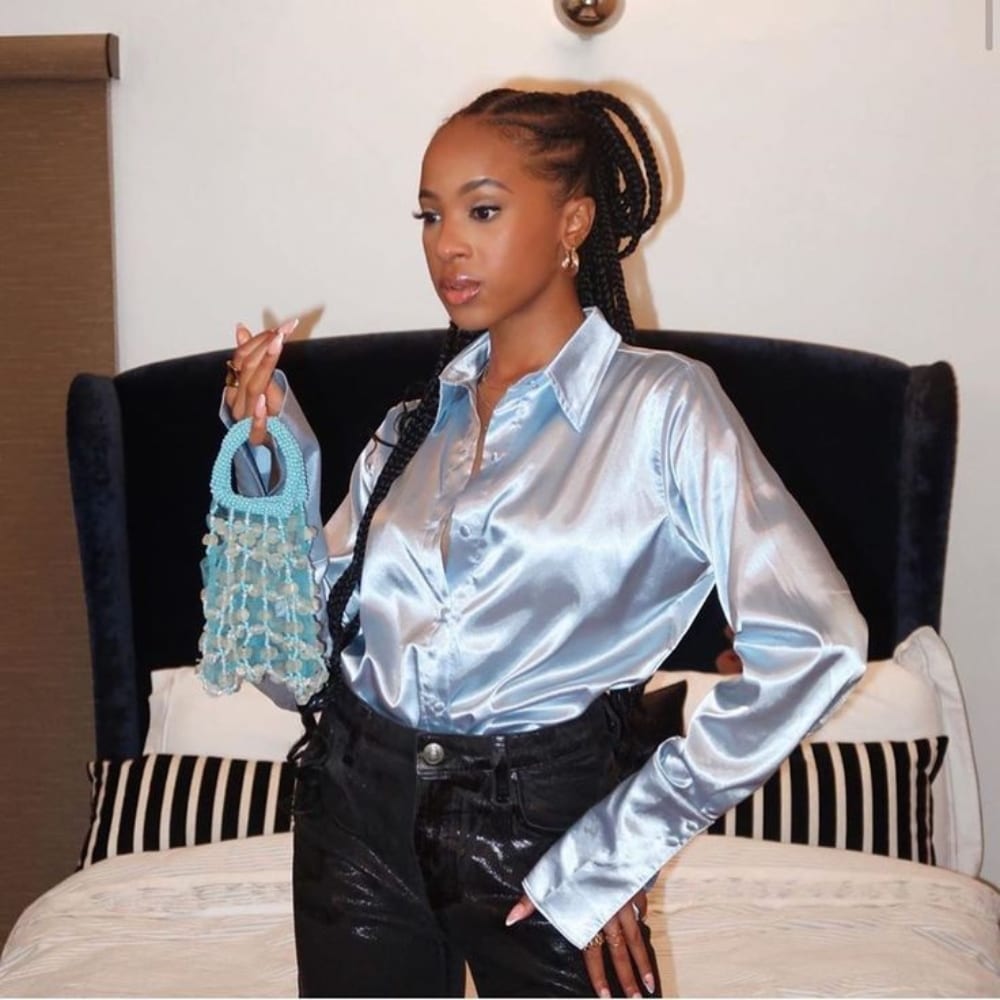 That being said, it's highly unlikely that someone's going to ask to see the inside of your clothing. And if they do, there's a bigger issue than the cost of your outfit.
Bizarre Beauty Trends From History That You Wouldn't Dream Of Using Today
Even today we'll do a lot for beauty, but these trends are just too much.
Black Teeth
These days, it seems horrible, but for years, it was the desired look. The trend started around 200 AD and was most popular in Japan. Having black lacquered teeth was referred to as Ohaguro and was achieved by drinking an iron-based dye infused with cinnamon and aromatic spices. It prevented tooth decay, but was banned in the 1870s when the Japanee Emporer rocked his white teeth as a move toward modernization.
Painted Legs
In 1941, Britain and then the U.S. began clothes rationing to conserve materials for World War II troops. To many women's upset, nylon stockings were some of the first products to go. However, women were instructed to not abandon standards of dress and to "Make Do and Mend." With this in mind, women began painting dark stripes up the back of their legs to mimic stocking seams. A popular paint was gravy juice and they termed the wartime look "Glamor Hose."
Hairline Plucking
Medieval England women believed less was more when it came to their hair. It was fashionable to elongate the forehead, which was considered as one of the most beautiful features on a woman and a high, oval forehead was all the rage back in the 1300s. But to achieve this look, women would pluck their hairlines – ouch! Additionally, they would pluck their eyebrows until they were barely there. Meanwhile, the church considered it a mortal sin for a woman to remove hair from her face.
Foot Binding
If you're the type to detest the day heels were invented, you will now appreciate them. It was once a trend to wear doll-sized shoes. The worst part – to fasten them your foot needed to be broken, bound, and walked on for two years until they deformed. Foot binding started in the 10th century after a dancer named Yao Niang, who shaped her foot like a new moon, was said to have mesmerized the Chinese emperor. Many nobles then followed suit. Any foot larger than six inches could damage the prospect of a good suitor.
Urine Mouthwash
While we all wish for a set of pearly whites, we are sure none of you would go to the lengths that these ancient Romans did. Wealthy Romans would whiten their teeth by rinsing their mouth with urine. Wait, it gets stranger. Not just any old urine, but the urine from Portuguese people, as it was believed to be the strongest in the world. The Romans had a point as the ammonia in urine can be used as an effective disinfectant, but we are still clueless about the Portuguese part.
Beauty Patches
Back in the 16th century, beauty patches were a thing. Made from pricey fabrics like silk or velvet and coated in a gum adhesive, patches were a sign of wealth. Women used the patches to hide their skin damage that was caused by harmful lead-based cosmetics and diseases. The French took the trend to a new extreme, creating a variety of decorative shapes like stars and moons. They were called Mouches (French for flies). Patching fell out of fashion in the late 1700s when more subtle makeup became popular.
The Unibrow
In the incident of a hair popping up in between the eyebrows, women today would usually grab the tweezers to take care of those unsightly strays. However, it was a different story for the women in ancient Greece. They often left their unibrow untouched as it was a sign of purity and intelligence. Women who did not have dark or full eyebrows would need to darken them with black powder or kohl. Some would even wear false brows made of goat's hair and tree resin.
Lip Plates
In 8700 BC women in Africa of a certain economic and social status would wear lip plates. The purpose would differ according to the tribe but they were usually intended to attract a husband. The bigger the plate, the more cattle the girl's family will receive, and this was certainly a good enough incentive to go big. Interestingly, the trend still remains today. Women from the Mursi tribe from the lower Omo Valley of Ethiopia use clay lip plates to symbolize a young girl transitioning into a woman.
Removing Eyelashes
These days, many of us women do all we can to create a "false lash effect." Whether it is applying gallons of mascara or using promising volume treatments or dye, we want them to be full and long. However, during the Middle Ages, the forehead was considered the most attractive part of a woman's face and so women would remove most or all of their eyelashes to draw more attention to this part. Some even went for the eyebrows too!
Pale Skin
Today we spend a fortune on getting that bronzed, sun-kissed look, whether it is from makeup, fake tan, or baking in the sun. However, in the 18th century, women wanted to be as white as a sheep. How they achieved this was probably more dangerous then soaking in the sun's radiations. They would powder their faces using a mixture of white lead and vinegar. However, this concoction would break down the skin and cause scarring. Some would even eat clay for that porcelain-toned skin.
Accentuated Veins
In France, while pale skin was at the height of its popularity, so were accentuated veins, with thanks to trendsetters like Marie Antoinette. Pale skin allowed the veins to become more noticeable and they were coveted by many women at the time, unlike now. Some would color in their veins with a blue pencil, especially ones on their chest, and called this "blue-blooded," whilst others would go to greater lengths like using leeches to make their veins more prominent.
DIY Blush And Lip Color
It was Queen Victoria from England who said that makeup was limited to actors and ladies of the night. Therefore, women from the Victorian Era chose not to wear it. Instead of wearing makeup they would find many DIY tactics to create the same look. Women would pinch their cheeks and bite their lips before meeting suitors in order to get a rosy glow on their mouth and cheeks. This must be where the saying "Pain is beauty" originated.
Dangerous Dye
Nearly everyone has dyed their hair at least once in their life, but in the '30s it was an extremely risqué thing to do, especially as only women for hire and chorus girls would do it. These promiscuous women attempted very dangerous methods in order to get the look. Actress Jean Harlow was rumored to have died from her iconic white hair. She used peroxide, ammonia, Clorox bleach, and Lux flake to achieve her platinum blonde look. However, this concoction produces a noxious gas that kills.
Lard Wigs
Before hair spray was invented, women in the 18th century had to use different products to tame their wigs. They would use lard – yes, lard. Though this worked very well for holding the hair in place, there was one large drawback. If you think you can sometimes have a "rat's nest," it doesn't come close to this. The lard would attract rats who would often create nests inside of them, living there for weeks. Therefore the women would need to sleep with cages around their head!
Arsenic Skin Treatments
When using lead for whitening the skin came to an end, women turned to eating arsenic instead. It may or may not have been better for their complexion but it certainly wasn't any safer. The deadly product helped even out complexion and whiten the skin. However, once you start you can't stop, as stopping abruptly will result in an awful complexion, making your skin ten times worse than it was to begin with. It even causes baldness!
The Bob Epidemic
Generally seen as cute and flirty, the bob haircut comes in and out of fashion. However, getting a bob during the 1920s was so shocking that it was probably the equivalent of women shaving their hair off today. Hair was seen as a symbol of womanhood and so some cut it to show they were independent and modern. Others were so scared of the new look that doctors published studies to "prove" getting a bob would lead to backaches or baldness. Some husbands even divorced their wives for it!
Sweat Facial
Forget expensive spa treatments for a glowing face when you can just try rubbing some "man sweat" on your skin instead. Famous gladiators of Ancient Rome were symbols of ferocious power and attracted the attention of Roman women. Small pots of gladiator sweat began to sell outside of fights as souvenirs. The sweat and blood were scraped from the men and mixed into facial creams and cosmetics that the upper-class women would use. The sweat was also considered to be an aphrodisiac.
Portrait Nails
A manicure in the 1900s was more than just keeping up with an appearance, it was a status symbol. Working women had rough hands with chipped nails, while ladies of leisure had soft hands with long pointed nails. These days people get patterns, studs, gems, and all sorts, yet some socialite women back then went even further and got their friends' portraits painted on. This would really mean that you were at the top of the social ladder.
Crushing Corsets
If you thought skinny jeans were bad enough, take a look at this. Causing squashed ribs and hearts or displaced spleens, Victorian women would endure waist-clinching corsets in the name of 'beauty.' Corsets were worn for many centuries, but the tightly-laced styles of the 1890s were particularly dangerous. They would mash internal organs, cause shortness of breath, and even break ribs. They could even cause or worsen health problems like chronic gastroesophogeal reflux, which can be fatal.
Shaving Armpits
Prior to the 1920s, shaving one's armpits was about the same as shaving off one's eyebrows today, unnecessary and even a little weird. Then Gillette arrived. The brand was the official razor of the US army during WWI and when the war ended they wondered how they could keep up their sales. The answer – sell to women. They teamed up with fashion magazines and began to promote the idea of sleeveless fashions and that it was time to get shaving.
Neck Rings
While most of these awful trends are a thing of the past, some still live on today. In remote parts of Africa and Asia back in the 1300s, women would wear rings to elongate their neck. In Asia it was considered an attractive quality, the longer the better, while in Africa they were also used to show status as only married women would wear them. Today there are still tribes, such as the Padaung people in Thailand, who coil their necks with the wang (brass neck rings).
The Smokey Eye
When we think of Egyptian makeup, we may refer to the iconic blue eyeshadow and heavy black liner that Elizabeth Taylor sported. However the process was much more dangerous. Egyptians used black kohl – a mix of soot, lead salts, and animal fat – to create the smokey eye. Although the lead was poisonous, some think it may have helped prevent eye infections and even block the sunlight to prevent strain and glare. But before you attempt to use it, remember the Egyptians only averaged a life expectancy of 30 years.