Milo Ventimiglia and Hayden Panettiere
Milo Ventimiglia met Hayden Panettiere on the set of Heroes — where he played Peter Petrelli, and she played Claire Bennet. At the time, Panettiere was 17 years old, and Ventimiglia was 29. Shortly after Panettiere's 18th birthday, the two announced their romantic relationship.
They broke up after two years. In an interview, Panettiere explained, "It was never a case of me making a decision, saying, 'I want to date older men.' But I am drawn to people who make me up my game, who bring me up to their level."
Johnny Depp and Winona Ryder
According to Johnny Depp, when it came to Winona Ryder, it was love at first sight. The two met at a premiere in 1989 when Depp was 26. Ryder was 17 at the time. Despite quickly falling in love, the two only began officially dating about four months after Ryder's 18th birthday.
Five months later, they were engaged. Depp famously got a tattoo of the actress's name to mark his love. He then altered that tattoo to say 'Wino forever' after the two ended their engagement three years later.
Don Johnson and Melanie Griffith
Way back in 1972, 22-year-old Don Johnson met the daughter of his costar Tippi Hedren, 14-year-old Melanie Griffith, and fell in love. The two very quickly became attached, and by the time Griffith had turned 15, they had moved in together.
On her 18th birthday, Johnson proposed. They married in 1976, but less than a year later, they divorced. After several other failed relationships, the two rekindled their romance and remarried in 1989, which soon led to the birth of Dakota Johnson. Five years later, they split for good but still remain close.
Bill Wyman and Mandy Smith
When Bill Wyman was 47, the ex-member of Rolling Stones was the subject of quite a controversy. In 1984, he met Mandy Smith, who was just 13 at the time. It's unclear how romantic their relationship was at the time.
Their relationship became public when she turned 16, and in 1989, when Smith reached the age of 18, the two were married. In his 1990 autobiography, he wrote, "She took my breath away…she was a woman at 13." They divorced just two years later.
Joel Madden and Hilary Duff
Joel Madden, the lead singer of the band Good Charlotte, was 25 years old when he met 16-year-old teen star Hilary Duff in the summer of 2004. After many speculations on social media, Susan Duff publicly announced her daughter and Madden were dating in 2005.
The relationship didn't last long, and in 2006 the two split up. A month later, Madden began dating Nicole Richie. The two are still married and have two children together. Since their split, Duff has gotten married, divorced, and married again.
Jerry Seinfeld and Shoshanna Lonstein
At the height of Seinfeld's success in 1993, then 38-year-old Jerry Seinfeld met high school senior Shoshanna Lonstein in Central Park. After exchanging numbers, the 17-year-old began dating the seasoned comedian.
The two dated for four years, with Lonstein even transferring to UCLA to be close to Seinfeld. The two were the subject of media scrutiny and criticism during their time together. They finally broke up in 1998. Seinfeld met his wife, Jessica Sklar, that same year.
Doug Hutchison and Courtney Stodden
When non-binary model Courtney Stodden had just turned 16, 50-year-old seasoned actor Doug Hutchison talked to their mother and asked if he could become Stodden's acting couch. He then asked their mother for approval to marry the model.
Just a week after meeting face to face, they got married. Although Stodden attempted to leave the marriage twice before, it was only in 2018 that they filed for divorce. Their divorce was finally official two years later.
Jerry Lee Lewis and Myra Gale Brown
Throughout the life of legendary rock & roll musician Jerry Lee Lewis, he was married seven times. Many of his relationships were controversial. Most relevant here was his marriage to his 13-year-old cousin, Myra Gale Brown, in 1957.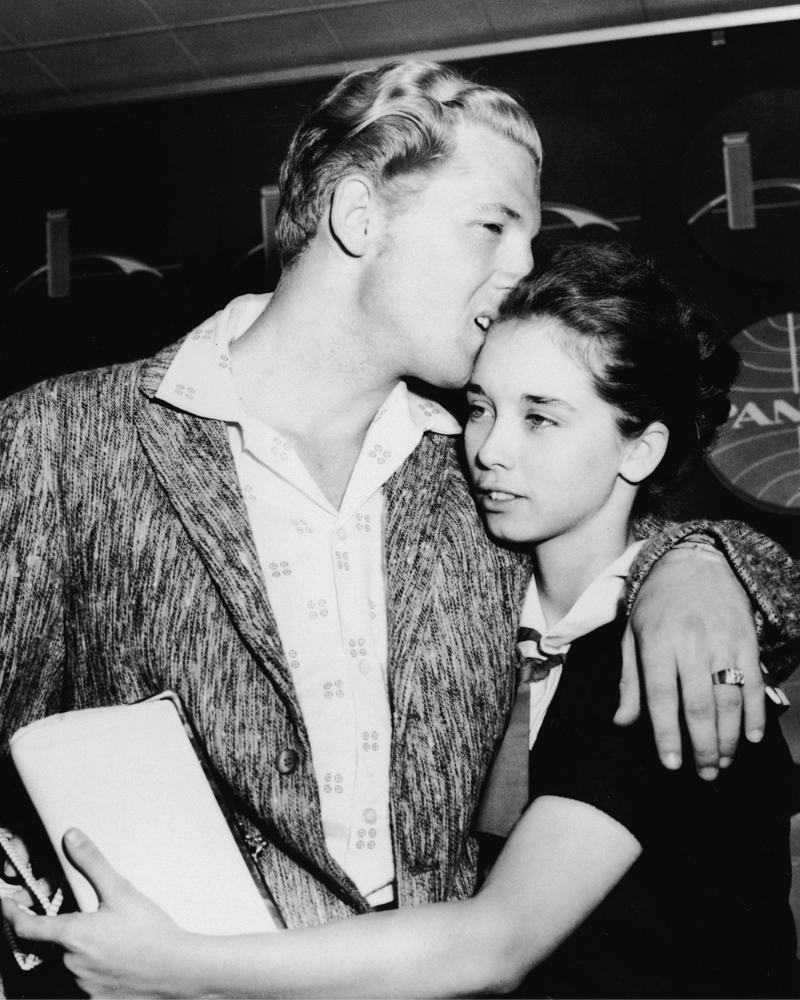 The two had their first child together when Brown was 14. The boy later passed away in a tragic accident. Their daughter was born in 1963. In 1970, Brown filed for divorce, sharing in her statement that she had been "subject to every type of physical and mental abuse imaginable."
Fergie and Justin Timberlake
It's not just male rock & rollers who date younger people. Fergie was also involved in such a relationship with Justin Timberlake. When the two were dating, the Black Eyed Peas singer was 23, while Timberlake was 16.
After the two broke things off, Fergie shared in an interview, "Justin and I would go out together and have fun and make out." Through the years, she continued to explain that it was nothing serious.
Elvis Presley and Priscilla
This couple might be the most famous age-gap Hollywood couple ever. As the story goes, during his service, 24-year-old Elvis Presley met 14-year-old Priscilla Beaulieu and fell in love. At first, the relationship was long distance.
Once he returned home, their romance strengthened. At 16, Priscilla moved to Memphis to be closer to the star. Finally, in 1967, when Pricilla was 21, the two married. They had Lisa Marie just a year later. The two finalized their divorce in 1973.
Steven Tyler and Julia Holcomb
Aerosmith's legendary lead singer, Steven Tyler, had his own news-worthy relationship at the age of 26, back in 1973. After a concert, Tyler met his 16-year-old fan, Julia Holcomb. According to a source, the two were "captivated" with each other right away.
Shortly after, Holcomb's mother signed guardianship over to Tyler so that Julia could join Aerosmith on tour. He continued to be her legal guardian for the entirety of their relationship. The two finally separated in 1977 after a failed pregnancy.
Chad Michael Murray and Kenzie Dalton
In 2006, then-25-year-old Chad Michael Murry met 17-year-old Kenzie Dalton on the set of One Tree Hill. The actor had just split up with Sophia Bush when he began dating Dalton.
In 2006, Murray and Dalton got engaged, with the young woman still a high school senior — and only eight months after that, Murray and Bush were officially divorced. Murray and Dalton remained engaged for seven more years, finally calling it quits in 2013.
Prince and Mayte Garcia
Prince and Mayte Garcia met for the first time in 1990 when the then-16-year-old dancer was auditioning to be part of the then-32-year-old star's tour. At 17, Prince became Garcia's legal guardian, allowing her to come with him to the US.
Their explicitly romantic relationship officially began when Garcia turned 19. They married on Valentine's Day in 1996. During their marriage, they lost their child shortly after birth. After a failed pregnancy, the two finally broke things off and divorced in 2000.
Tyga and Kylie Jenner
In 2011, Tyga was invited to perform at Kendall Jenner's Sweet 16 party, where he met young Kylie Jenner. Reportedly, the rapper began dating Jenner when she turned 17, in 2014 (he was 24 at the time).
Official news of the romance came out only a year later, after Jenner's 18th birthday. In 2017, they split. In an interview, Jenner explained why they broke up, saying, "​There was no crazy fight, we just decided…Well, I decided that I'm really young."
Leonardo DiCaprio and Gisele Bündchen
Leonardo DiCaprio is famous for never having a girlfriend over 25. During his first famous relationship, though, he was 24. His girlfriend at the time, Gisele Bündchen, was 18 years old. The two began dating in 1999.
They were in an on-and-off relationship for six years. But, by 2005, they broke things off officially. Years later, Gisele explained that one of the reasons they broke up was her wish to change, which wasn't shared by him.
Jimmy Page and Lori Maddox
Lori Mattix (Maddox) was first introduced into the world of rock & roll when she was just 13, soon becoming a popular teen model. After seeing a picture of the teen, Led Zeppelin's Jimmy Page reportedly fell in love with her.
After avoiding meeting him several times, Page's manager brought the then-14-year-old to the rockstar's room, and they began their relationship. Though they were apparently madly in love, after Maddox turned 16, Page left her for Bebe Buell. They dated again briefly in the '80s but quickly ended things once and for all.
Luc Besson and Maïwenn Le Besco
The famed director of La Femme Nikita, Luc Besson, met Maïwenn Le Besco in 1991 — shortly after divorcing his first wife, Anne Parillaud. At the time, Besson was 31, and Maïwenn was 15 years old.
They married just a year later when Le Besco became pregnant at 16. Their daughter, Shanna, was born in 1993. The marriage ended after Besson began an affair with Milla Jovovich while the two were filming together.
Wilmer Valderrama and Demi Lovato
Former That '70s Show star Wilmer Valderrama, then 29 years old, met 17-year-old Demi Lovato in 2010 after filming a PSA together. The musician shared years later that they signed on for the PSA to meet Valderrama, thinking "he was really cute."
Apparently, it was "love at first sight" for the two. But, the musician explained that they only began dating once she turned 18. After six years together, the two released a statement on Instagram sharing with fans that they had decided to break up.
Anthony Kiedis and a Fan
This one is quite controversial. Per his admission, during a tour when he was in his mid-20s, Anthony Kiedis from the Red Hot Chill Peppers spent the night with a fan. She then traveled with them the next day to their next venue.
It was then that she let him know she was a 14-year-old runaway from Louisiana and her father, the chief of police, was conducting a search since she had gone missing. It was then that Kiedis knew he needed to get her home, but not before spending one more night with her.
Charlie Chaplin and Lita Grey
Lita Grey met comedic legend Charlie Chaplin when she was just eight years old. She then worked with him on The Kid in 1921. However, their relationship only began when they met again when she was 15 on the set of The Gold Rush.
Chaplin was 35 when they began their affair in 1925. After Grey found out she was pregnant, the couple married in secret to avoid Chaplin being persecuted. They had two sons together, just 10 months apart. Reportedly, Chaplin was never faithful, and they divorced in 1927.
Ted Nugent and Pele Massa
In 1978, Guitarist and singer Ted Nugent met 17-year-old Pele Massa in Hawaii. The singer, then 30, wished to get married to Messa but due to the laws of the state, they couldn't until she would be older.
In a Behind the Music documentary, Nugent said that he got permission from Massa's parents to legally adopt her. However, no evidence has been shown to corroborate this statement which he later denied. The two were together for seven years.
Claude Francois and France Gall
French singer Claude François was involved with Eurovision winner, France Gall, around the time she won the international music competition. At the time, Claude was dealing with the aftermath of his failed marriage to Janet Wollacoot, who left him in 1962.
When François and Gall began their relationship, she was 17 years old, and he was 25. By 1967, two years after beginning their romance, they broke up.
Zach Braff and Florence Pugh
Zach Braff first approached (via social media) Florence Pugh in 2018 when she was 22 years old and he was 43 years old. The next year rumors began that the two were dating, which was soon confirmed by the couple.
During their relationship, Braff and Pugh were a favorite paparazzi subject, though they were also happy to share their relationship with their fans on social media. They also adopted a dog together in 2020. In the summer of 2022, they shared that they broke up.
Marvin Gaye and Janis Hunter
In 1973, Marvin Gaye (aged 34) was working on his album Let's Get it On in Los Angeles when he met 17-year-old Janis Hunter. The two began dating soon after. Gaye's song "Jan" was a tribute to Hunter. The two married in 1977.
Gaye was 38, and Hunter was 21 on their wedding day. As revealed later in Hunter's book — After the Dance: My Life With Marvin Gaye — the relationship was turbulent, and the two divorced three years later. Gaye passed away just three years after that.
Rick Springfield and Linda Blair
Linda Blair found massive fame at the age of 15 when she starred in The Exorcist in 1973. Around the time the film became a huge success, Blair met Australian singer Rick Springfield.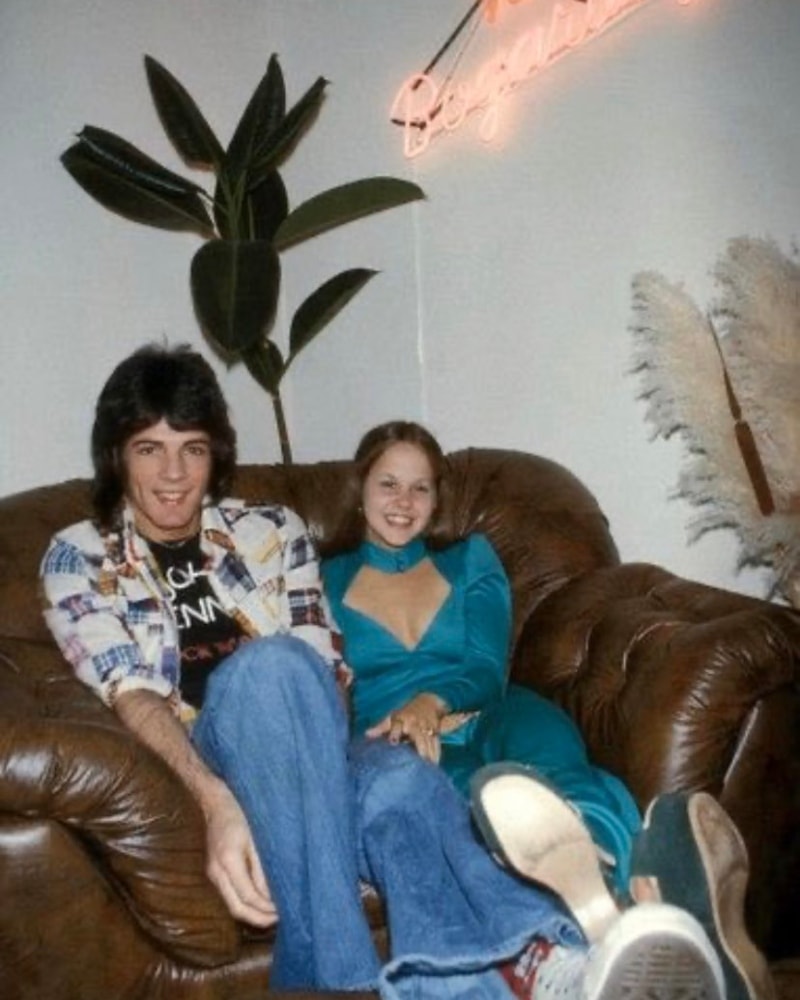 Springfield was 25 years old when the two met at a concert at Whisky a Go Go. The musician was quoted saying that Blair was the "hottest young actress in movies." The relationship was scrutinized by the media, and they broke up fairly quickly. They still remain friends.
Nicole Scherzinger and Harry Styles
Before Harry Styles became famous as a solo artist, he was a key member of One Direction. The group was created in 2010 on The X Factor. On the same show a few years later, he met show judge Nicole Scherzinger of the Pussycat Dolls.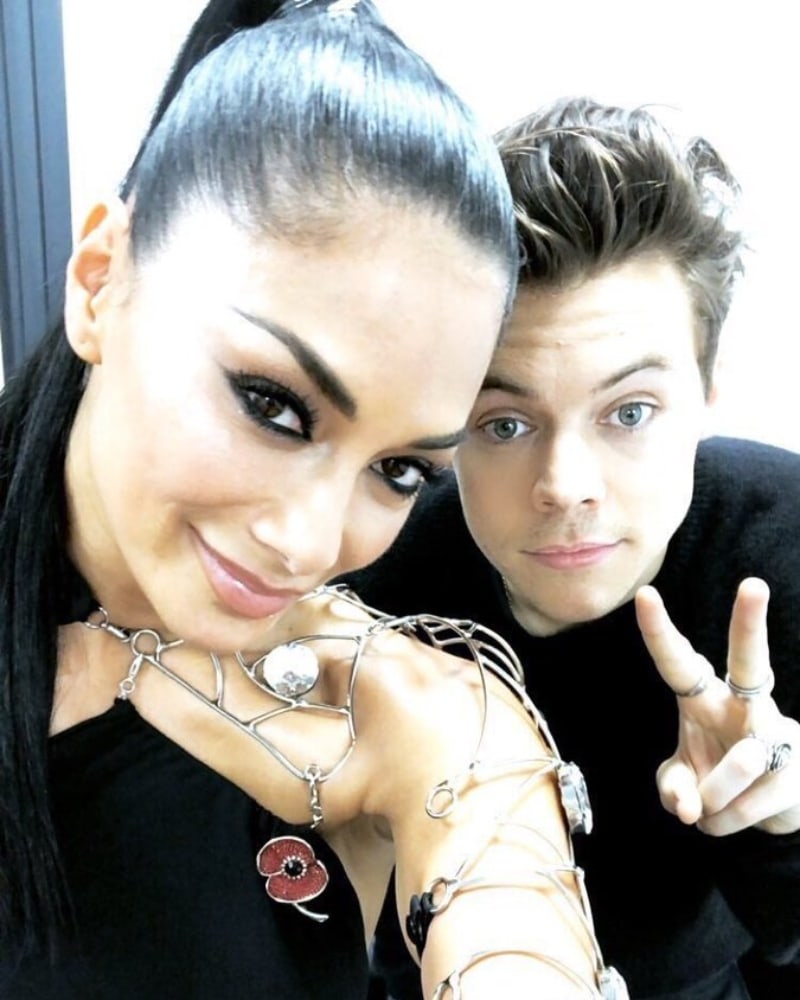 In 2014, the two met again and began dating. Styles was 19, and Scherzinger was 35 years old at the time. The fling, however, was short-lived and they quickly broke things off.
John Mayer and Taylor Swift
Thanks to her songs, Taylor Swift's exes have become infamous. One of the most notable is "Dear John", which seems to have been based on Swift's short relationship with fellow musician John Mayer in 2009.
At the time of their relationship, Swift was 19 years old and Mayer was 32. Although during their time together, they collaborated professionally, the two have written multiple scathing songs about each other since their break up in 2010.
Madonna and Jesus Luz
Madonna has become known for dating younger men. At the age of 49, shortly after her divorce from Guy Ritchie was finalized, the megastar began dating 21-year-old Brazilian model Jesus Luz.
The couple enjoyed two years together before parting ways in 2010, claiming the split was due to their 28-year age difference and the fact that they had nothing in common. Reportedly, it was Luz who initiated the breakup.
Demi Moore and Ashton Kutcher
Demi Moore and Ashton Kutcher's eight-year relationship created quite a media frenzy around it. The actors met in 2003 as Kutcher was making a name for himself on That '70s Show. Just two years later, they got married.
The couple never shied away from their 15-year age gap, often joking about it. The relationship, however, didn't last — they separated in 2011 after being married for six years. Kutcher began dating Mila Kunis in 2012. Kutcher and Moore's divorce was finalized in 2013.
Wilmer Valderrama and Lindsay Lohan
Wilmer Valderrama and Lindsay Lohan's relationship was pretty whirlwind. The two met in 2004, with Valderrama at the height of That '70s Show's success and Lohan fresh off Mean Girls.
Lohan had just turned 18, and Valderrama was 24. The two actors tried their best to keep their relationship private. After two months of dating, the couple got engaged. Two months after that, however, they broke up.
The Weeknd and Bella Hadid
Abel Tesfaye — a.k.a. the Weeknd — and Bella Hadid's relationship has had quite a few ups and downs. The two celebs began a relationship in 2015, with Hadid aged 18 and the Weeknd then 25. A year later, they amicably split.
In 2018, however, after the musician broke things off with Selena Gomez, the two got back together, even celebrating Hadid's 22nd birthday together and uploading loving posts about each other on social media. In 2019, they broke up again.
Jay-Z and Beyoncé
Beyoncé was 18 the first time she met who would become her husband, Jay-Z. After being seated next to each other on a plain in 2000, the two began a friendship, often talking on the phone. They began a romantic relationship, however, only a year later. Jay-Z was about 31.
From then on, they were inseparable. In 2008, they tied the knot in a secret ceremony, hidden from the paparazzi. In 2011, Beyoncé famously revealed her pregnancy during the VMAs. The two share three children — Blue Ivy and twins Sir and Rumi.
Wanya Morris and Brandy
Moesha star Brandy fell in love in the early '90s with Wanya Morris, the singer from Boyz II Men. According to him, Brandy's mother brought her to his attention as she was looking for a mentor for her daughter.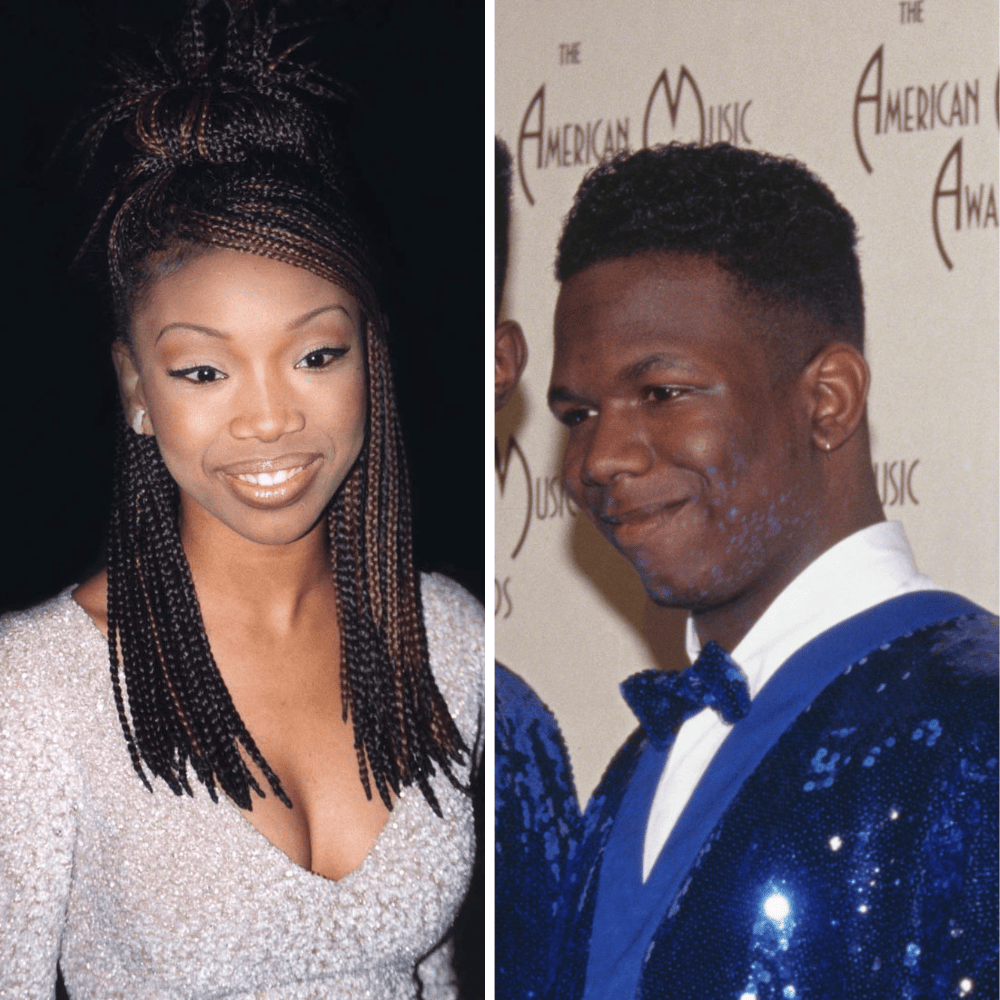 The two spent a lot of time together when Brandy was 17, and once she turned 18, they began a romantic relationship. Brandy was quoted calling Morris her "first love." In 1998, however, they broke things off. Morris was about 25 by then.
Henry Cavill and Tara King
Shortly after ending his relationship with MMA fighter Gina Carano in 2015, Henry Cavill fell in love with 19-year-old college student Tara King. Cavill was 32 when they began dating.
In interviews at the time, Cavill spoke very highly of his girlfriend. However, the romance was short-lived, as a source explained that "she was in too deep, and he didn't want anything too serious." They did remain friends for a short time after breaking up.
Taylor Swift and Conor Kennedy
One of Taylor Swift's shortest relationships happened during the summer of 2012 when she became close to the Kennedy family. During an event at the family's compound, she got to meet young Conor Kennedy, who was 18 at the time, while Swift was 22.
The two spent much of that summer together, with Swift providing Kennedy a shoulder to cry on after a family tragedy. By September, however, the two quietly went their separate ways. A source shared that the split was amicable.
Woody Allen and Babi Christina Engelhardt
Woody Allen and Babi Christina Engelhardt met in 1976 when the then-16-year-old slipped her phone number on Allen's table in a restaurant. They began a secret relationship. The then-41-year-old director reportedly never asked for her age, only knowing that she was in high school.
They continued their undercover relationship for eight years. During that time, Allen filmed the controversial film Manhattan in which a similar relationship is depicted. Opening up years later, Engelhardt explained her perspective — "This made me who I am. I have no regrets."
Wilmer Valderrama and Mandy Moore
From 2001 to 2002, Wilmer Valderrama dated then-16-year-old Mandy Moore. They met a year before during a photoshoot for a teen magazine, Moore shared in an interview in 2018.
The old romance hit the gossip columns again in 2005 when Valderrama made a careless comment about his intimate relationship with Moore which deeply hurt the young actress. In her own interview, she explained that it was false. Valderrama later apologized and tried to rescind the comment, The two are still friendly.
Cheryl Cole and Liam Payne
Liam Payne of One Direction fame first met Cheryl Cole when he auditioned for The X Factor, where she was a judge. He was 14, and Cheryl was 24. They started dating in 2016 after Liam had turned 22.
The next year the two welcomed their baby boy, Bear Grey. Only a few months later, however, the two broke up. The two still co-parent their kid as friends.
Dane Cook and Kelsi Taylor
Dane Cook's engagement to Kelsi Taylor in 2020 made headlines due to their 26-year age gap. It was later revealed that the two met for the first time in 2016 at one of Cook's famed house parties when Taylor was 17.
She was 18 when they officially began dating, Cook was 45 at the time. Now over 50, the comedian proposed to Taylor in 2022, and the two seem to be looking forward to getting married and starting a family.
René Angélil and Celine Dion
38-year-old René Angélil met musical prodigy Celine Dion back in 1980 when she was 12 years old. After she auditioned for him, he became her manager. After working together for seven years, the two went on their first date when Dion was 19.
They got engaged in 1991 after the international success of Dion's first English album. They kept their relationship fairly quiet for quite a few years until announcing it in 1993 and marrying soon after. They had three kids and were together until Angélil's passing in 2016.
Scott Disick and Sofia Richie
Reality star Scott Disick met then-19-year-old Sofia Richie in 2017. Rumors about them first began when the two were pictured celebrating Disick's 34h birthday on a yacht. Just a few months later, the relationship was confirmed.
Both the Kardashians (close to Disick) and Lionel Richie (Sofia's father) expressed their criticism of the relationship on air. Although there were rumors on and off that they were broken up at times, the couple ended up staying together for three years. They finally broke up in 2020.
With the Help of A.I., Here's What These 40+ Celebrities Would Look Today if They Were Alive
River Phoenix
Although he was only 23 when he passed away in 1993, River Phoenix (younger brother of acclaimed actor Joaquin Phoenix) left quite an impression on the acting world. The young Phoenix made waves in his break-out role in Stand by Me.
After that, he stood out in several roles and was even nominated for an Academy Award for Best Supporting Actor. He was also slated to be part of the star-studded cast of Interview With the Vampire. Unfortunately, he passed before filming began. Christian Slater took his place and donated his entire salary to River's favorite charities.
James Dean
James Dean was the actor who turned teen rebel into an art form. The young actor ruled the '50s with his suave looks and magnetic talent. His most well-known movies have been Rebel Without a Cause and East of Eden.
Unfortunately, his life was taken in a car crash when he was just 24. To honor his great talent, though, he was awarded two Academy Award nominations posthumously — both for Best Actor in East of Eden and in Giant.
Selena
"One of the greatest Latino artists of all time" is an understatement when it comes to talking about the great Selena. The "Queen of Tejano music" was an incredibly talented Mexican-American musician with a bright future, before her life was horribly cut short.
Having already been one of the most influential Latina artists in the world at the young age of 23, we can hardly imagine how much brighter she would have shone if she had lived on to today. All that's left to do is enjoy the music she left behind for us!
Tupac Shakur
Although the world only got to enjoy his musical talent for a few short years, Tupac Shakur (a.k.a. 2Pac or Makaveli) is, to this day, one of the most influential rappers in history. Despite his early demise, he's one of the best-selling artists, with more than 75 million records sold.
Born in New York to two vocal advocates, Tupac's music followed his parents' example and it mainly had to do with shining a light on social issues and inequality. He was also quite a talented actor and starred in a few movies before his untimely passing.
Sharon Tate
Sadly, although she was quite talented and had a bright future ahead of her, Sharon Tate might be more famous for the way she was taken from this world than her skills as an actress and model.
Married to controversial director Roman Polanski and pregnant with his child at the time, Sharon was killed by the Manson Family in 1969. Due to the success of her role in Valley of the Dolls, had she lived, she would have had a great career ahead of her.
Jimi Hendrix
This AI-generated image of an older Jimi Hendrix really makes us realize how much the world lost when the gifted musician passed away at just 27. At least we have the amazing music he created before his passing.
Described by the Rock and Roll Hall of Fame as "arguably the greatest instrumentalist in the history of rock," Jimi has been one of the most influential electric guitarists to ever walk this earth. To this day, he's a source of inspiration for young musicians.
Janis Joplin
Though she only released three albums before her demise in 1970 (with another released a year after), Janis Joplin still managed to leave an incredible legacy behind her. Her powerful voice and charismatic presence made her one of the most popular rock stars of her time.
While she started out as part of a band, her uniqueness quickly shined through and she began her successful solo career (including appearing in the famous Woodstock festival). Her cover songs alongside her original singles will forever be remembered.
Kurt Cobain
Founding member and lead vocalist and guitarist of Nirvana, Kurt Cobain might have passed away at a young age, but the musical legacy he left behind doesn't seem to be going anywhere. As a founding influence on alternative rock, Kurt will forever be revered by music lovers.
Although Kurt himself was cynical toward the band's massive success, Nirvana being hailed as the voice of a generation is a title that's hard to shake. Sadly, the pressure of fame might have been a contributing factor in his ultimate demise, which is why we never got to see him age.
Marvin Gaye
Younger generations might only know him from song lyrics ("Let's Marvin Gaye and get it on…"), but long before that, Marvin Gaye was an incredible artist whose influence on music can still be felt.
Being on the cutting edge of R&B, soul, and funk music, he was a leader of Motown music in the '60s, leading to him being called the "Prince of Motown." Although he passed in his 40s, we're sure that had he lived on, the world would have been better for it.
Jim Morrison
Jim Morrison wasn't just an incredibly talented and influential musician and vocalist. He was also a serious reader and poet, influenced by some of the greatest writers in history. His intelligence was even tested in high school and he came out with an IQ of 149.
What Jim is most known for, of course, is his position as lead vocalist of The Doors, who he joined after completing his bachelor's degree in film. Clearly, the arts were his passion. If he had lived past the age of 27, there's no telling how he would have shaped the future of music.
Amy Winehouse
Another sad member of the 27 Club, Amy Winehouse was especially recent. Before her untimely demise in 2011, the talented musician was making waves in soul, R&B, and jazz.
It was mostly thanks to her album Back to Black that the British singer became an international success. In the 2008 Grammy Awards, she ended up winning five awards, including Best New Artist and Record of the Year.
Brittany Murphy
Had she not passed away in 2009, Brittany Murphy would have been in her mid-40s now, with probably an even more impressive resume behind her. Still, she accomplished quite a few memorable and iconic roles in her too-short time.
Her breakout role was, of course, her incredible iconic character in the cult classic Clueless. From there, she continued to act in some pretty diverse projects, like 8-Mile, Uptown Girls, and even voice acted and sang in Happy Feet.
Marilyn Monroe
While she was not the original "Blonde Bombshell" (that honor goes to Jean Harlow), Marilyn Monroe might just be the most famous actress to be labeled as such. Beginning her career as a pin-up model, she was quickly discovered by the acting world.
By 1950, she was quite a popular comedic actress. That led to her becoming one of Hollywood's hottest leading ladies with iconic roles in Gentlemen Prefer Blondes, Some Like it Hot, and many more.
John Lennon
As part of the most popular band of all time, The Beatles, John Lennon had one of the most successful music careers ever. But that fame came with a heavy price, as he was fatally shot by a mega fan in 1980.
With both his songwriting partners, Paul McCartney and Yoko Ono, John was responsible for some of the most influential and beloved songs ever. We can only "Imagine" what his future would have been like if he had lived past the age of 40.
Paul Walker
Paul Walker was a part of showbiz since he was practically a baby, appearing in commercials and shows from the age of two. He began gaining fame though through his role in the long-running soap opera The Young and the Restless.
Despite acting in many films and shows, he's best remembered for his role in the Fast and Furious franchise and his close relationship with his co-star Vin Diesel. He was actually in the middle of filming the next installment when he tragically passed.
Elvis Presley
The world irrevocably changed the first time Elvis Presley took to the stage and began gyrating. "The King of Rock and Roll" became one of the most culturally significant and influential stars in history.
In fact, he's credited with being the catalyst for "fan culture" — his fans were known to "riot" every time he went on stage. Elvis was a star, like no other, that was taken too soon.
Freddie Mercury
Born as Farrokh Bulsara in Zanzibar, Freddie Mercury grew up to be one of the most successful and influential rock icons in the world. The songs he wrote for his band, Queen, are some of the most beloved rock anthems to this day.
He was also a vocal LGBTQ+ advocate (being himself a proud bisexual man), in a time when being one was quite dangerous. Sadly, he passed away from an illness in 1991 and the world never got to enjoy more of his talent.
Whitney Houston
Though she's probably most remembered for her extraordinary and enchanting voice, Whitney Houston was quite a well-rounded star, singing, acting, producing, and modeling over the years. To this day, she's one of the best-selling music artists of all time.
Sadly, she passed away under tragic circumstances in 2012 at age 48 (just a year before her daughter did). She left behind a touching legacy, but we can't help but wonder what else she would have accomplished had she lived on.
Michael Jackson
Michael Jackson's career in the limelight has been fraught with controversy and drama. From his days as part of the Jackson Five to his solo career, though, he created some of the most iconic and beloved songs ever.
He was also a dance genius, coining some of the world's most beloved dance moves like the Moonwalk and the Robot. He also holds the title of the most-awarded musician in history.
Heath Ledger
The passing of the talented Australian actor, Heath Ledger, was truly tragic news when it broke in 2008 shortly after finishing the filming of his most taxing role as the Joker in The Dark Knight.
First becoming successful in his home country, Heath became a household name around the world thanks to his heartthrob role on 10 Things I Hate About You. Throughout his brief career, he played many versatile roles.
Prince
Price wasn't just an incredible vocalist with an impressive and unique vocal range, he was a talented musician, often choosing to record the instrumental parts of his songs too. His music, which consisted of many different genres, is still beloved and admired by many.
He was especially known for his sixth album, Purple Rain — which served as the soundtrack for the movie that came out with the same name. The album spent six months atop the Billboard 200 chart. Sadly, he departed from this world in 2016.
Christopher Reeve
Probably best known for his iconic role as Superman in the '70s and '80s, Christopher Reeve was a man of many talents. For example, his hobby of being a glider pilot came in handy when creating Superman's iconic flying pose.
After falling off his horse in 1995, he became paralyzed. That, however, did not stop him from living. He had his wife and their children, and he even kept acting a little — even appearing in Smallville, the show about Superman's origin.
Bruce Lee
Though he was introduced to acting first, Bruce Lee's first passion was martial arts. In fact, he's considered the most influential martial artist of all time. It's also thanks, in large part, to him that martial arts became popular in the USA.
He even taught Chuck Norris how to fight in the '60s! Sadly, he died at the early age of 32, leaving behind his loving wife and two children. His roles in Hong Kong martial arts films changed the face of fighting movies forever.
Philip Seymour Hoffman
Some actors are known for their comedic timing, others for their unique looks, but Philip Seymour Hoffman was best known for bringing thought-provoking and interesting characters to life with exceptional skill. As such, he won the Academy Award for Best Actor thanks to his leading role in Capote.
He was also a gifted stage actor, appearing in several Broadway productions which all gave him Tony Award nominations. Unfortunately, as he was in the midst of filming part two of The Hunger Games: Mockingjay, he passed away at the age of 46.
Michelle Thomas
TV lovers of the '80s and '90s will undoubtedly recognize Michelle Thomas right away thanks to her roles in some of the most popular shows of the time. Those include Theo's girlfriend on The Cosby Show, Myra Monkhouse on Family Matters, and a short stint on The Young and the Restless.
Tragically, she was diagnosed in her 20s with a rare form of cancer. Despite undergoing treatment and several surgeries, she passed away from the disease the day before Christmas, 1998. She was only 30 at the time.
George Michael
Beginning his career alongside his friend Andrew Ridgeley with the band Wham!, George Michael built an impressive music empire in his life. His song, beloved by the MTV generation, also led to unique international success — as Wham! was the first Western group to tour China at the time.
Alongside his catchy songs like "Wake Me Up Before You Go-Go", "Freedom", and "Careless Whisper", George was also an advocate of the LGBTQ+ community. He himself came out as gay in 1998. After his passing in 2016, Elton John said of him that "he was the kindest, sweetest, most generous person."
Judy Garland
To this day, Judy Garland is probably best known for her truly timeless role as the young Dorothy Gale in The Wizard of Oz. But, while it was her biggest role, it was far from her only one.
In fact, before her passing at the age of 47, Judy created quite an impressive career as an actress, singer, and all-around entertainer. She was nominated for an Academy Award for her role in A Star Is Born — and her show, The Judy Garland Show was nominated for an Emmy.
Aaliyah
Before her tragic demise in a plane crash when she was just 22, Aaliyah went from being a promising young talent to a major player in contemporary R&B, pop, and hip-hop. Her music is still recognized as having redefined those genres.
She even got the chance to begin her acting career with the movies Romeo Must Die and Queen of the Damned. The "princess of R&B," though, lives on through the continued popularity of her music.
Farrah Fawcett
Farrah Fawcett was best known for her roles in Charlie's Angels, The Burning Bed, and Small Sacrifices. But, for many people, she was the object of their desires, fueled by the famous red swimsuit poster.
Her acting career was quite prolific, starting in the '60s with commercials, followed by recurring roles on several TV shows, and spanning all the way to her final roles in 2009 shortly before she passed away from cancer.
Natasha Richardson
Although nowadays she's mainly remembered for her on-screen acting career — including roles in Gothic, The Handmaid's Tale (1990), and beloved kid's classic The Parent Trap — her biggest contributions were to the stage on Broadway and the West End.
In fact, her theater roles led to her receiving a Tony Award for Best Leading Performance by a Leading Actress in a Musical for her portrayal of Sally Bowles in Cabaret on Broadway in 1998. Tragically, she passed from an accident, leaving behind her husband Liam Neeson, as well as their two children.
Patrick Swayze
The handsome Partick Swayze wasn't just a pretty face, he was also an incredibly talented performer who managed to take his great love for both dancing and acting and create a lucrative and successful career out of it.
Among his biggest hits are, of course, the films Dirty Dancing and Ghost in which he played the romantic leading man. He also enjoyed appearing in stage performances on Broadway. Sadly, he passed away from cancer in 2009.
Cory Monteith
Sadly, Cory Monteith's demise, though tragically young, didn't come as much of a surprise to longtime fans of the Canadian actor. He often spoke of his struggles with illegal substances and was, in fact, in a treatment facility a few months before his passing.
Still, he left quite a legacy with Glee fans all over the world. In the show, he played the lead male character Finn, a high school football player who goes against expectations and joins the glee club to pursue his love of music.
Anna Nicole Smith
Playboy model and actress, Anna Nicole Smith's life in the limelight was certainly filled with drama and controversy. Though her acting career never quite picked up, she was quite successful in her modeling.
Tragically, a few months after her son passed, in 2007 she lost her life. Thanks to AI, we can be fairly certain that if she had aged past the age of 39, she would have retained her looks and continued her modeling career.
Brandon Lee
Son of martial arts legend Bruce Lee, Brandon's life was cut even shorter than his father's. Thanks to his father, Brandon trained in martial arts himself, which led to his first acting roles in action movies, Kung Fu: The Movie and Legacy of Rage.
His life came to an end after a fatal accident happened on the set of The Raven — which was to be his breakout Hollywood role. The movie was finished with his family's blessing and became a hit.
Lee Thompson Young
After acting in his school's drama production at the age of 10, Lee Thompson Young knew that acting was what he wanted to do with his life. His dream came true when he was cast in The Famous Jett Jackson on the Disney Channel.
He also managed to make the transition into more adult productions pretty seamlessly with roles in Friday Night Lights, Scrubs, and Rizzoli & Isles, among others. Tragically, he took his own life at the age of 29 in 2013.
John Belushi
John Belushi was probably one of the world's funniest professional funny people. After all, he was part of the original cast of the beloved show Saturday Night Live. Alongside his long-time partner, Dan Akroyd, they redefined comedy.
He was also responsible for the classics, National Lampoon's Animal House and the ageless The Blues Brothers. It was a great loss to the entertainment industry and the world when he passed in 1982 at the age of 33.
Princess Diana
From the moment Diana Spencer began seeing King Charles III (then Prince Charles), all eyes in both the British Commonwealth and the world, in general, were on her. Her life among the British royal family was endlessly scrutinized and reported on.
While her publicized divorce and unconventional life (for a princess) were often commented on by the media at the time, it looks like two things were her focus — her impressive and revolutionary charity work, and her two boys. Her life was cut short in 1997 at the age of 36.
Robin Williams
As absolutely brilliant of a talent as Robin Williams was, he also had a complicated and often difficult inner life. Due to a neurological condition, he took his own life in 2014. To this day, though, he's remembered for the joy he brought to the world.
Breaking out as a stand-up comedian, Robin's first major role in TV was as the lead in the sitcom Mork & Mindy. From there, he built a career of countless classics. A few of his most beloved works were Dead Poets Society, Hook, Mrs. Doubtfire, and Disney's Aladdin.
Alan Rickman
A member of the Royal Shakespeare Company, Alan Rickman was one of the most beloved and memorable British actors of the last few decades. While many remember him for his deep voice, his acting talent was incredibly diverse.
From Hans Gruber in Die Hard to an Angel in the comedic Dogma (and many more), he was probably best known for his role as Severus Snape in the Harry Potter films. Heartbreakingly, he passed from terminal cancer in 2016.
Corey Haim
As part of the "Two Coreys" alongside Corey Feldman, Corey Haim ruled the world of child actors in the '80s. His roles in both Lucas and The Lost Boys won him fame and accolades.
Unfortunately, Cory found it challenging to deal with the sudden fame and success. To deal with the stress, he turned to illegal substances and built up a dependency, which he then suffered from for the remainder of his life. In 2010, he passed away from an illness.
The Notorious B.I.G.
Although he only lived to the age of 24, Christopher George Latore Wallace (a.k.a the Notorious B.I.G. or Biggie Smalls) managed to leave quite an impressive musical legacy behind. He was a major player in the East Coast hip-hop scene.
He only released two albums during his life, with the rest of his albums being released posthumously. Biggie's influence is undeniable — both Billboard and Rolling Stone named him the greatest rapper ever.
Sid Vicious
As "everything in punk that was dark, decadent, and nihilistic," Sid Vicious, though only 21 years old when he passed, is still remembered as one of the most iconic punk artists of all time.
Sid Vicious (born John Simon Ritchie) was the bass player of the beloved punk band Sex Pistols. But, before that, he was a massive fan of the group. In fact, he never missed a single concert even before he joined.
Mindy McCready
A five-album country singer, Mindy McCready seemed to always want to be a singer. She even finished high school early to be able to start her music career at the age of 16. Her song "Guys Do it All the Time" was a No. 1 hit on the Billboard country chart.
About a month after her partner and the father of her second child took his own life, Mindy followed in his footsteps. She was known to have struggled with depression and had a dependence on illicit substances.
Karen Carpenter
Karen Carpenter wasn't just famous for her incredible three-octave vocal range and beautiful deep voice, she was also the other half of the beloved duo the Carpenters alongside her brother Richard. Her difficulties began when she became the group's frontwoman.
Being constantly scrutinized by the media, Karen developed an eating disorder that followed her throughout her short adult life and ultimately was part of the cause of her passing. She will forever be remembered for the wonderful music she gave to the world.
Simone Battle
Though interested in the performing arts from a young age, it was in 2011 when she made it onto The X Factor that she found fame, with Simon Cowell reportedly saying that she was one of his favorite contestants he ever mentored.
Fittingly, after covering their song in the TV competition, Simone was added to The Pussycat Dolls in 2012, who soon changed their name to G.R.L. At the young age of 25 in 2014, she took her own life.