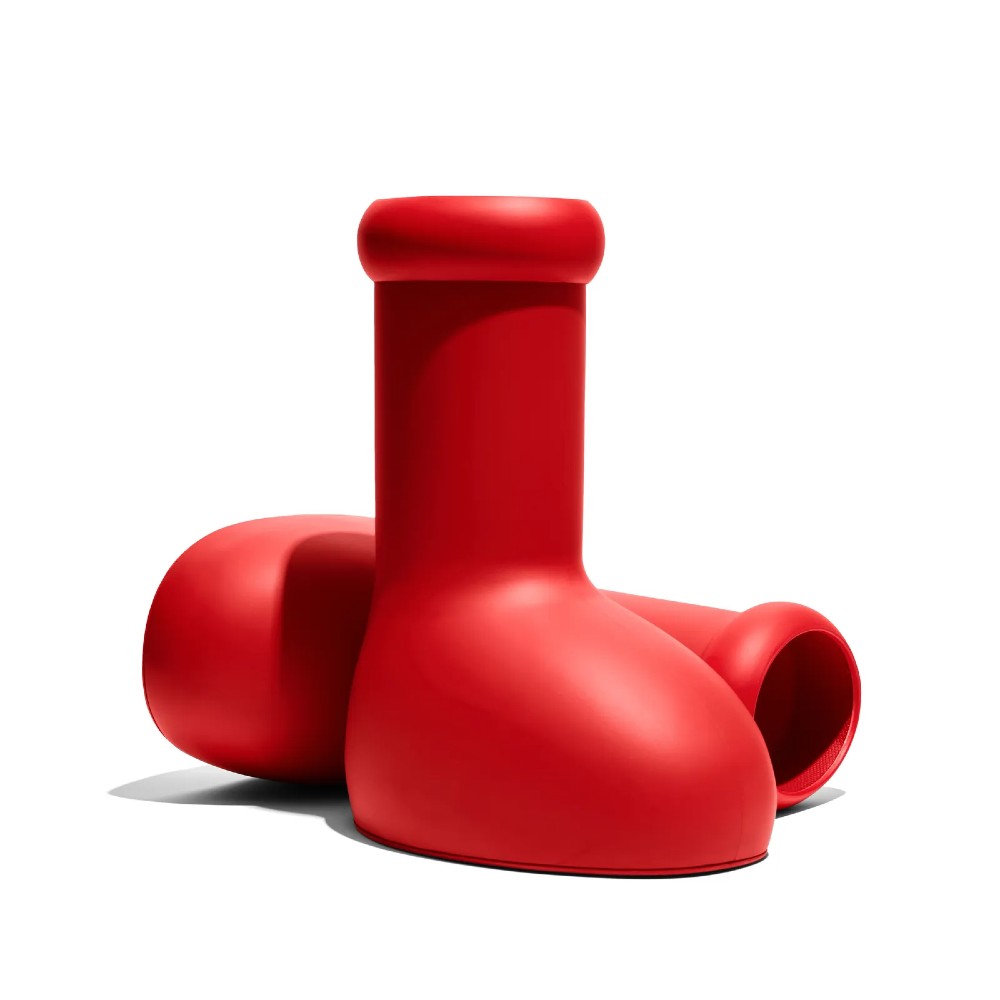 Every New York Fashion Week introduces a set of standout items that capture the fashion crowd's attention. This year, the spotlight was taken by MSCHF's distinct creation – "Big Red Boots." The brand MSCHF is known for its experimental and often controversial approach to fashion releases, with a reputation for pushing the boundaries. Their latest release, the Big Red Boots, embodies this brand ethos perfectly.
A Statement-Making Footwear Trend
MSCHF's Big Red Boots are characterized by their unique design that takes inspiration from video games, evoking a playful and cartoonish feel. The boots, made of TPU rubber and featuring an EVA mid-outsole, come with a promise of being an outright attention-grabber. The press release from the brand humorously notes that kicking someone wearing these boots would make a comical "boing!" effect. In spite of their unconventional and somewhat impractical design, the boots managed to attract considerable attention, finding their way onto the feet of celebrities, street style influencers, and even sports personalities.
From Celebrities to Sport Stars
The Big Red Boots have made their way beyond the fashion realm, catching the eye of celebrities like basketball player Shai Gilgeous-Alexander, musician Diplo, and artist Janelle Monae. Their striking shade, unconventional design, and bold statement have drawn people in, turning them into a conversation starter and a notable trend. Although wearing these Big Red Boots will surely take some extra effort, the fashion world's fascination with them shows a never-ending love for everything unique and bold.
A Gimmicky Fashion Statement That Stands Out
The world of fashion is no stranger to attention-grabbing trends, and MSCHF's Big Red Boots fit right into that category. These boots, reminiscent of video game aesthetics with a touch of playful charm, have taken the spotlight at this year's Fashion Week. While their uniqueness might not make them a long-lasting staple, they've definitely captured the current fashion scene's limelight, leaving everyone curious about what unconventional trend will emerge next!
You Can Grab a Pair of Meghan Markle's Sneakers for Cheaper Than You'd Think!
Let's be honest; Meghan Markle is a style icon. This lady knows how to rock her closet, but most people assume that because she's rolling in that royal dough and is married to a prince that she buys her clothes and accessories from the most expensive designers and brands possible. While that is the case with some of her gorgeous gowns and her jewelry, sometimes Meghan loves to buy something on the cheaper side. You know, like these incredible sneakers.
Life Down Under
While Meghan and Harry were touring Australia and living life Down Under as part of their royal duties, these two lovebirds decided to head out onto a boat. Of course, the cameras followed them, and while many were intrigued as to what these royals were getting up to, there were others who just couldn't take their eyes off her Veja sneakers.
Soaring Sales
Like many of the items that Meghan wears, fans of the Duchess and her style soon tried to get their own hands on these shoes. After all, they were not only chosen by Meghan herself, but they were also beautiful in their simplicity and completely fair-trade and ethical. In the month following Meghan's sneaker outing, Veja saw their Google searches grow a whopping 113% – and it seemed as though everyone wanted a pair for themselves. However, at around $150 a pair, very few people went through with the purchase.
Dropping In Price
If you were one of those people who put a pair of Meghan Markle's Veja sneakers in your shopping cart but just couldn't follow through to checkout, then you're in for a treat. You can now find Veja's on sale for as little as $65. Technically, this means that you could buy two pairs and still be under how much you would normally pay? You can find these discounts on Amazon, and there are various styles available.
Well, we're sold.