You heard it here first. Gucci, one of the most prestigious and expensive brands out there is selling dirty shoes. To make matters worse, these shoes didn't just fall in a pile of mud and there was no mishap in the coloring department. In fact, they have been made to look like this – on purpose!
While most of us tend to buy an average-priced pair of sneakers and dirty them up (accidentally), no longer do we have to do the hard work. Gucci has done it for us! Going for the broken-in look, these sneakers look as though they are a couple of years old and have seen some bad days. They seem as though they have witnessed a storm, or been on a hike, or even took part in a Tough Mudder contest, you would never have thought they were brand new.
Still representing the brands famous red and green colors, the men's Screener Leather Sneakers appear as though they were, some time ago, white. Coming in at an astonishing price, it would be cheaper to buy 10 standard pairs and get 10 dry-cleaning bills too. The luxury designer brand is selling these sporty sneakers at a crazy $870!
The description of the sneakers follow the lines of, "Influenced by classic trainers from the '70s, the Screener sneakers—named for the defensive sports move feature the Web Stripe on the side and vintage Gucci logo, treated for an allover distressed effect." But the most interesting, and slightly hilarious, part of the sneaker is the cleaning instructions, which go as follows, "Clean when the shoe is dry, using only neutral or same-color products to avoid staining."
So if you do happen to purchase these almost $900 sneakers, be sure not to screw up the perfect "vintage" look that they already hold. If this is a new trend which other brands are going to catch on to, then put on an old pair of sneakers and start running in the dirty fields – you will be on the trend before everyone! If we haven't made your day so far, then check out these…
There is even a crystal version!
40+ Celebrities Who Are Friends With Royals
Serena Williams
Megan Markle is definitely friends with a lot of celebrities. This time we talk about the all famous and all successful tennis superstar, Serena Williams. The Duchess's friendship with Serena is mainly due to her life before becoming a royal.
The two met at a Celebrity Beach Bowl in 2014 when Megan was still an actress. They hit it off as close friends and have been in touch since then. It is fair to say that life has directed both down different paths,  but somehow, the two are still close till today.
David Beckham
If one knows the retired soccer star, one wouldn't find it surprising to realize that he is friends of royals. What makes David Beckham's story more interesting is the fact that he is friends with not one but two popular princes of the British Royal Family. David is friends with Prince William and Prince Harry.
The fact that he is good friends with both puts him as one of the luckiest people on earth. He has often talked about how he sees his friendship with the two as "normal" and with no complications. We wonder how he does that!
Priyanka Chopra
Priyanka Chopra is one famous celebrity in the movie industry. In fact, some would consider her to be one of royalty. Which is why it doesn't come as no surprise to find that she is friend with one of the most popular royals in the last few years.
Megan Markle and Priyanka Chopra have been close friends for years. The two have publicly praised the other at different occasions. Megan once talked about how they met at an Elle magazine dinner which was the start of their long-lasting friendship.
Rod Stewart
When there is a party for the family of Prince Charles, there is one name that is likely to be present on the guest list. It is Rod Stewart. And in most cases, Rod is not there just to sip expensive drinks and stare at the Prince.
He has performed at royal parties on several occasions. His wife, Penny Lancaster, a TV presenter, once joked about their closeness on TV when she mentioned sitting next to a Prince on one of the royal occasions. Rod Stewart has been honored with a CBE (Commander of the Order of the British Empire).
Abigail Spencer
These two famous and beautiful women met at an audition. They broke bread and sipped tea while waiting to audition and from there became friends. One went on to become a royal through marriage and the other a famous celebrity.
Yes, that is the story of Megan Markle and Abigail Spencer. Ever since then, they have been good friends. They have been seen together on many public occasions. Abigail was even at the royal wedding. The two were spotted having lunch together when Megan visited New York City a couple of years ago.
Ashton Kutcher
Princess Beatrice is another member of the royal household that is friends with popular celebrities. This time, it is with one of the most popular celebrity couples in Hollywood; Ashton Kutcher and Mila Kunis.
Princess Beatrice is particularly close with Ashton Kutcher. The two have been seen together on different occasions and such sightings are common these days. They were once spotted having dinner together. On another occasion, the two attended a wedding together. This is one of the most famous friendships on the list.
Elton John
Anyone that knows anything about Princess Diana's social life when she was still alive would know about her friendship with Elton John. Elton John is another famous celebrity that was friends with royals.
His friendship did not just end with Princess Diana, he was very close with other members of the royal family. They, in turn, were fond of his music for years. Elton John performed at the Princess's funeral.
Tom Hardy
Guess what? Tom Hardy and Prince Harry share a birthday. That could be one of the reasons why the two are close but one can never be too sure. However, the two have been sighted together on multiple occasions having a laugh over drinks. They also met at a polo match in 2014.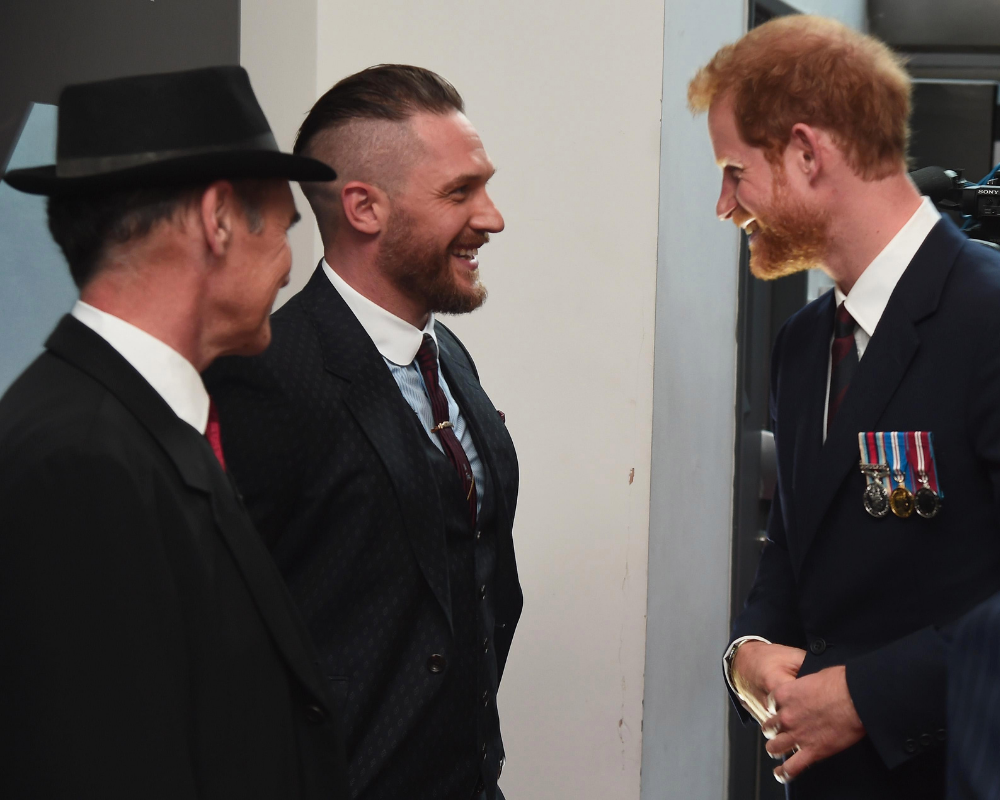 To help one appreciate just how close Tom is with the royal family, it should be noted that he is an ambassador of The Prince's Trust. For those in the dark, The Prince's Trust is a charity organization founded by Prince Charles. So, his closeness is to more than one member of the family.
Eddie Redmayne
Eddie Redmayne is another famous celebrity that is friends with the royals. This friendship is somewhat different to the others. It has been in existence for quite a while. Eddie Redmayne and Prince William went to Eton College together and were friends in those days.
Unfortunately, the friendship is not what it used to be, but it still bears mentioning. Eddie has mentioned on numerous occasions on how it was fun to be friends with a royal during his college days.
Cara Delevingne
Cara Delevingne is an actress and also a model. A famous one at that. She has been friends with Prince Harry for some years. The two became close through a friend group. Throughout the years, they have enjoyed each other's company.
Talking about Prince Harry's love life once, Cara did express her joy that the Prince has found the type of love that has changed him completely. Public sightings, dinner, and occasional prank calls are some of the details of their friendship story.
Usain Bolt
When Prince Harry and Megan Markle tied the knot in 2018, one surprise absentee was Usain Bolt. This was because many knew about his long years of friendship with the Prince. Usain Bolt's absence at the wedding did not affect their friendship in any way.
The words "cool" was used to describe Prince Harry on one occasion. This was when Usain Bolt was talking about their friendship. He also mentioned that they always find time to visit each other amidst all the traveling and busy lifestyle.
Kate Moss
It is hard to pinpoint how the friendship between Kate Moss and Princess Beatrice came to life but the two have been very close over the years. The report is that Kate Moss has been friends with Beatrice's mother.
Though not exactly a close friendship, it was enough to get her in good graces with the princess. Anyone that attended Princess Eugenie's wedding would definitely remember Kate Moss. She stood out on the occasion as one of the best-dressed guests.
Patrick Adams
Patrick Adams was Megan Markle's significant other on the popular series; Suits. The two have been very close during the Duchess's acting days. Their role as a couple in the series only made them bond together even more.
Well, life happened: Megan went on to become a member of the royal family and Patrick became friends with that very same royal. He was also at the wedding ceremony of the princess. The difference this time was the fact that there was no acting involved when Megan said yes to the Prince.
Emma Thompson
What is a popular friendship without its share of scandal? The friendship between Emma Thompson and some popular members of the royal family have not been without its fair share of rumors and scandals.
One would recognize the movie star from the popular Harry Potter film franchise. At one point she compared dancing with Prince Charles to well, sleeping with someone. On another occasion, she was accused of asking Prince William for a kiss. Despite all that, she remains a popular figure in the royal household.
Naomi Campbell
Naomi Campbell is another name one would find on the list of celebrities that are friends with the royal family. The fact that Naomi Campbell and Kate Moss are close friends makes it easier to conclude that she is also a friend with the royals.
Naomi is particularly close with Princess Eugenie herself. The two made their friendship known to the public in 2008 when the Princess came to Naomi Campbell's Fashion for Relief charity show in London. Turns out that they have been friends for many years before that.
Chris Martin
Chris Martin is the lead singer of the popular band known as Coldplay. He is another famous celebrity that is friends with another member of the British Royal Family. Chris Martin and Prince Harry's friendship has been strong for years.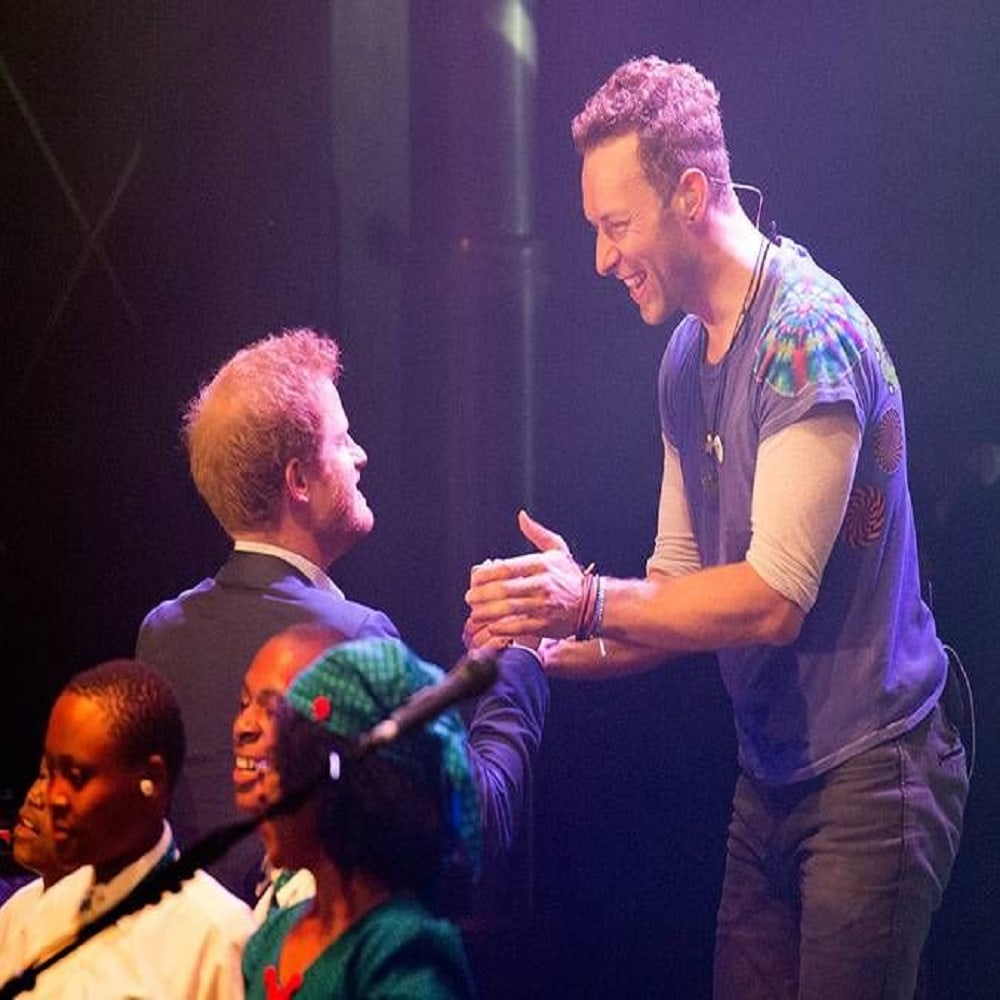 Over time, this friendship has continued to grow. Chris once performed at Prince Harry's charity, Sentebale. The prince joined Chris on stage and both looked like the best of friends while performing on stage. Not a sight that one sees every day.
Reese Witherspoon
This is one of those long-distance friendships. The type that is maintained despite the fact both parties leave on either sides of the earth. How did it start? Kate Middleton was on a royal tour of Canada and North America in 2011.
It was during the tour that she discovered a gem of friendship. She met with Reese Witherspoon during this tour and the two bonded immediately. They have maintained their friendship with gifts and grand gestures. A notable example was the baby gifts Kate sent to Reese when she gave birth to her son, Tennessee.
Roger Federer
Roger Federer, through years of top excellence, has gathered millions of fans from all over the world. Among those fans, you will find popular figures, fellow celebrities and royals. Some of these royals have moved on from fans to friends. One example is Kate Middleton.
Kate was seen greeting and cheering him on court after one championship. Roger Federer and his wife, Mirka, was also present at Pippa's Middleton wedding ceremony. Obviously as a guest of the bride's sister.
Richard Branson
Richard Branson was another close friend of the dearly departed Princess Diana. Their story together was an interesting one. It goes to show how sociable the Princess was during her lifetime. She met Richard when she was living on a private island in the British Virgin Islands.
This island, named Necker Island was one of the collections owned by Richard. Having met each other in time of need, the two became close friends. In their free time, they had been sighted playing tennis together.
Rihanna
The musical genius is another famous celebrity that is a friend of royals. This time, the royal is none other than the famous Prince Harry. The Duke of Sussex met Rihanna during his tour of the Caribbean in 2016.
The fact that the two were famous worldwide most likely helped to bring the two together. They talked at length at the tour. Their primary objective at the Caribbean tour was to raise awareness about the dangers of sexually transmitted diseases. They still had time for few laughs and that was the start of something beautiful.
Tom Hanks
Here is another name on the list of friends with the royals. Having met Princess Diana at the 1995 premiere of Apollo 13, the two made a pure connection in friendship. Tom Hanks was with his wife Rita Wilson on this occasion and the three were seen together on different occasions after that meeting at the Apollo.
The couple paid their last respect to the princess when they attended her funeral in 1997. Though the friendship was short-lived, both parties did enjoy their time together.
Taylor Swift
The list of Prince Harry's friends that are celebrities is turning out to be a long one. Taylor Swift is one of the popular names on that list. She performed at one occasion at the Kensington Palace charity event in 2013.
The performance was one of the highlights of the occasion. Prince William joined the celebrity on stage much to the delight of those in attendance. Reports suggested that the two became close after this event. Her comments about how she enjoyed every part of the evening made the reports more believable.
James Blunt
Prince Harry is a popular member of the Royal family. James Blunt is a popular celebrity and a legend in the music industry. But what is unique about this friendship is how it started. Anybody would have guessed that it started at one concert or a royal event. That is not the case.
The two served together in the British Army and that was where they bonded in friendship. After their years of service, they maintained the friendship as much as they could. James once performed at an event when he was invited by the Prince.
Tom Cruise and Nicole Kidman
Tom Cruise and Nicole Kidman is another example of famous celebrity couples who made friends with Princess Diana. She met the power couple at a screening of Far and Away in 1992.
In the short years that they became acquainted, they were seen together on different occasions. Rumors suggested that the Princess was very close with the couple. Both Tom Cruise and Nicole Kidman were present at the funeral of the Princess in 1997.
Joss Stone
Joss Stone is another popular British musician. She is a singer, a songwriter, and an actress. One more thing; she is friends with more than one member of the British Royal Family.
She has been good friends with Prince Harry and Prince William. How many people on earth can claim to be friends with one of the members of the British Royal family? She has got two in her friendship box. She once talked about how nice the Duke of Sussex had been to her.
Joan Rivers
This is one example of those friendships that nobody saw coming. When it did come about, people for some reason did not read much to it. This is the story of Joan Rivers and Prince Charles's friendship. As it turns out, the two became close friends.
Joan Rivers was presented at the Prince's wedding to Camila Parker-Bowles in 2005. She was not only present at the Prince's 60th birthday party, but he also had an excellent performer to celebrate the day.
Leonardo DiCaprio
Leonardo DiCaprio is a popular figure in the world of entertainment. He is an American actor and a one-time winner of the Oscars award for Best Actor.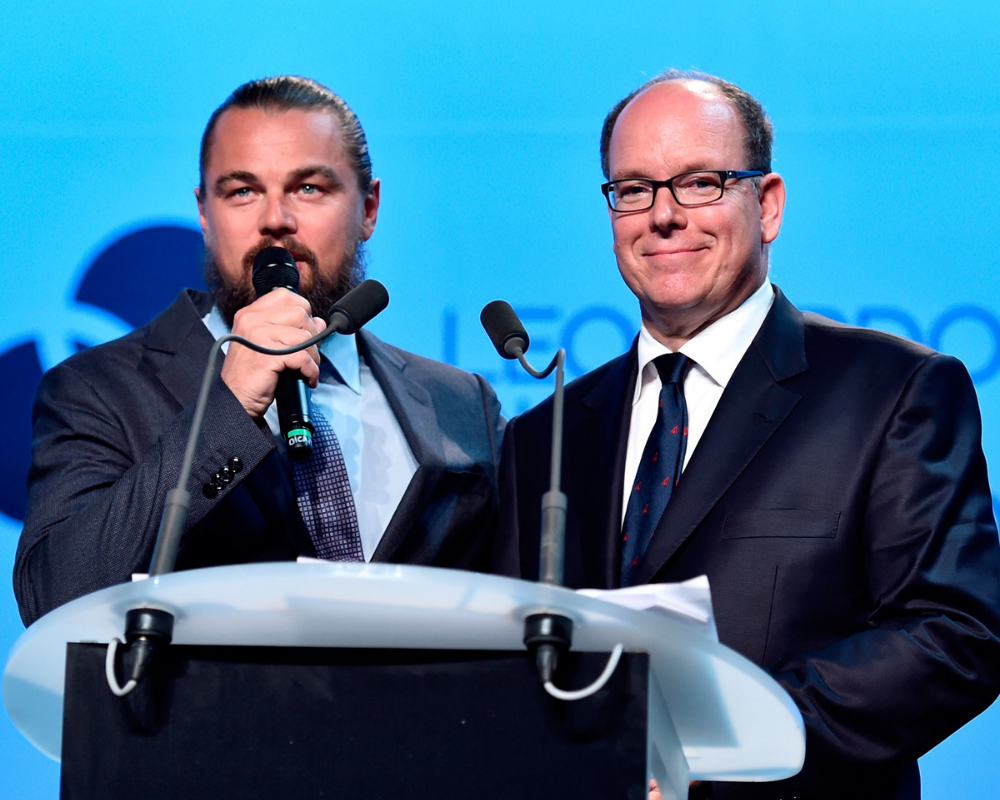 When this popular actor is not on set for his next performance, he is out there working with environmentalists towards making the world a cleaner place. This is a passion that he shares with Prince Albert of Monaco. The two share more than just passion for a cleaner world, they also share a bond of friendship.
Lady Gaga
It was a powerful scene in 2017 when Lady Gaga and Prince William both came out to talk about a cause they deeply cared about.
The occasion was aimed at encouraging people to open up about their mental health. Two years before that, Lady Gaga met Prince Harry at a Gala Concert in aid of WellChild in London. The famous musician has been friends with the brothers for a long time.
Jon Bon Jovi
It was lovely when the world learned that Prince William had teamed up with the famous rock star, Jon Bon Jovi for a special single. The single was recorded with the Invictus Games Choir at London's famous Abbey Road Studios.
Jon Bon also, on one occasion, talked about his closeness to the Prince. He stated that he had asked for permission from the Prince before releasing the recorded single. Here, Bon Jovi can be seen performing with Prince William
Angelina Jolie
This inspirational woman was made an honorary dame by the Queen. She was rewarded for her campaign against sexual violence. But an award is not the only reason why she might want to visit Buckingham Palace.
She once talked about having tea and biscuits with Prince William and Kate Middleton. On one of those occasions, she discussed their shared interest in combatting the illegal wildlife trade. Her praise of the Queen and other members of the family was high in one of her interviews.
Cheryl Ann Tweedy
Seeing Cheryl and Prince Charles together at a public event is fast becoming a norm. The two have established their friendship over the years through mutual goals.
To make it easier, Cheryl started working with The Prince's Trust, a charity trust by Prince Charles. Cheryl was also in attendance at the Prince's 70th birthday party. They have been spotted sharing drinks at various functions after the party in 2018.
Margot Robbie
Seems like if one wants to become a friend with Prince Harry, the easiest way to do that is through Cara Delevingne. Margot is not the only friend of Cara's that has gotten close to the Royal Prince.
Though, it is fair to say that their friendship is not the closest that one would find out there. In spite of that, they still find time to bond as much as they can, even if it is over the phone. Yes, they have each other's contact. Margot once talked about her habit of taking ages before replying to the Prince's messages.
Dave Grohl
Laughter is a big part of friendship. So, it is important to get a friend that makes you laugh a lot. This is the simple case with Dave Grohl and Prince Harry's friendship. It seems like the two know how to crack each other's ribs.
Dave Grohl is another example of a celebrity that is a friend with a royal. The two had a unique opportunity of getting closer when Dave had a leg surgery a while back. He did admit that Prince Harry was one of the first to visit him and buy him a gift while in recovery.
Suki Waterhouse
To have the Duke of Sussex attend a housewarming party is not something one sees every day. But that is what friendship brings to the table. Suki Waterhouse has surely enjoyed every bit of her friendship with Prince Harry.
Like Margot, the two met through Cara Delevingne and have been pals since they met. The housewarming party was fun and had a photobooth session according to Suki. Just another beautiful celebrity enjoying her friendship with a royal.
Karlie Kloss
Karlie Kloss has been spotted on several occasions hanging with Princess Beatrice. As far as the princess's list of celebrity friends goes, Karlie is definitely a close one.
While they have been sighted together publicly, the two have also found the opportunity to enjoy time together without the prying eyes of the paparazzi. This was evident in one of the Princess's posts on Instagram. The picture was a selfie of just the two enjoying quality time. Here, Kloss can be seen with Meghan Markle.
George Michael
This is another big name in Princess Diana's circle of friends. This pop legend was friends with the Princess and the famous Elton John. Both George and Elton were present at the Princess's funeral. However, George's friendship with the family did not end with the Princess.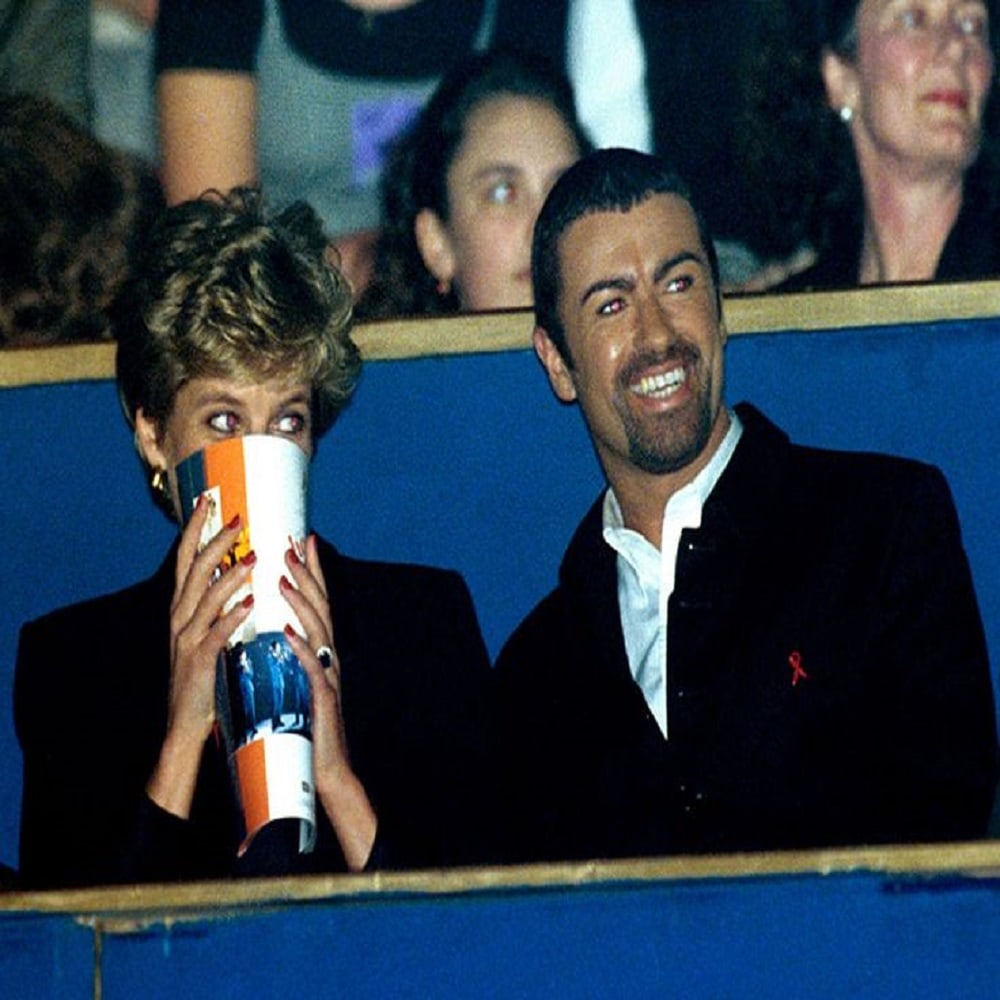 He also met Prince Charles backstage of the World Aids Day concert in 1989. George enjoyed fruitful years of friendship with the royal family before his death in 2016.
Chrissy Teigen
Megan Markle's life before becoming the Duchess of Sussex explains the origin of her friendship with Chrissy Teigen. The two had a short appearance on the series Deal or No Deal before their careers took off. When speaking about Megan, she mentioned her kindness and care.
She also revealed that the two have been able to comfort each other in times of pain and struggles. Both have had experience with miscarriages and both have comforted each other through the pain.
Jennifer Lopez
It was a dinner that made the headlines for days when Prince Harry and Megan Markle had gone out on a double date with Jennifer Lopez and her ex-fiancé, Alex Rodriquez. The dinner also revealed just how close Jennifer was to the royal family.
The two couples were spotted at a Spanish restaurant on Miami Beach called Habitat. Jennifer and Megan met at JPMorgan's Miami billionaires' summit. They connected and shared contact and it has been great ever since then.
Oprah Winfrey
If any celebrity is going to be friends with royals, it would be Oprah. She is not just any other friend. Reports and rumors suggest that she is very close with the British family, especially Prince Harry and Megan Markle.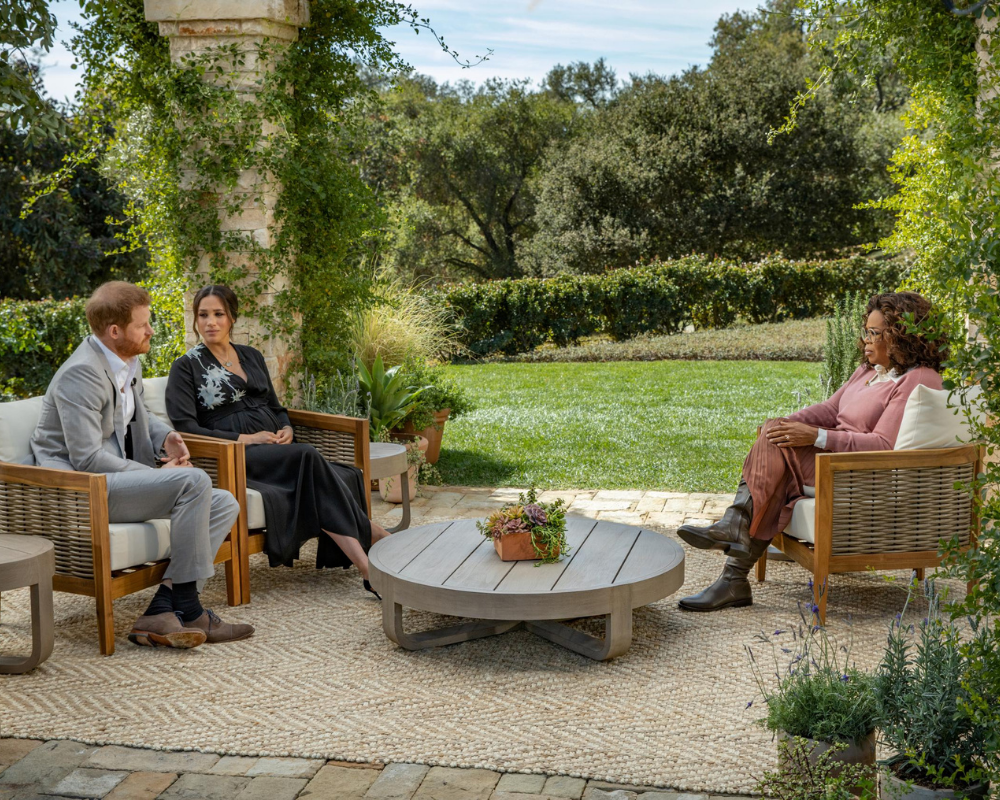 This friendship extends more to the Duchess's side of the family. Oprah Winfrey and Megan's mom had lunch and yoga together before the royal wedding. Oprah was also one of the celebrities that was able to grace the occasion with their presence.
George & Amal Clooney
The couple did come out on several occasions to publicly defend Megan Markle. George especially once compared her to Princess Diana when he was talking about the way the Duchess was being treated by the media and paparazzi.
To help one appreciate just how close they are, George Clooney was rumored to be the godfather of the newest addition to the Prince Harry family. Though George denied this rumor, he did nothing to downplay his closeness with the royal family. Another example of celebrities that are friends with the royals.
Gayle King
Gayle King is a very close and long-time friend of Oprah, so it is not exactly a surprise to find that she is another celebrity that is friends with royals. The closeness of her friendship with Megan is not exactly known.
However, she was at the Duchess's baby shower. The event was private and only a few had the invite which suggests that they must be very close friends. Gayle King is a popular TV personality and she had coverage during the family's wedding.
Ellie Goulding
Well, Ellie Goulding is certainly one of a kind. She is another one on the list that is friends with more than one member of the British royal family. Let's start with Prince Harry. The two were so close at one point in time that the rumor was that the two were dating.
Though nothing concrete surfaced to establish such, they have remained close till now. She also performed on Prince William and Kate's wedding day showing how close she is with the family.
Will Arnett
Will Arnett, on The Late Late Show with James Corden, once revealed the level of his friendship with Prince Harry. He mentioned that the two met in London on one occasion, and after having few drinks, they shared numbers.
According to Arnett, the two became close and maintained contact as much as possible. He also said on the show that he always texts the lovely Duke of Sussex whenever he is in town. In his words of praise and admiration, he described Prince Harry as the "Real Deal, A Real Prince of a Guy."
Michelle Obama
Once upon a time, the Obamas ranked as one of the most powerful families in the world. The British Royal family has also been one of the most powerful families in the world, for centuries.
When one puts two and two together, it only makes sense that the two families would be close friends. Even after her time in the White House, Michelle has continued to be a close friend of the royal family. Members of either family have been seen together on various occasions.
Geri Halliwell
Another popular celebrity that is friends with a member of the royal family is Geri Halliwell. Geri is a close friend of Victoria Beckham, wife of David Beckham. The two were members of a pop group known as the Spice Girls.
The group was formed when they were kids and they have been friends with the royal family since then. Geri once used the term "Honorary Spice Boy" to describe Prince Charles. This was after the Prince wrote her a letter saying she would be missed after she left the pop group.