Winter is coming and that means boots, boots, and boots! Choosing the right pair of shoes for winter can be a lot more challenging than many realize and every now and then, it helps to have a guiding hand or a style sheet to choose from! Thankfully, that's what celebrities are for!
Okay, so we know we can't always just up and follow celebrities blindly – you have to think for yourselves (otherwise we'd all be wearing bacon dresses). But having them to set an example certainly does make it easier to walk the path – especially when it comes to making important fashion decisions, like shoes.
So to make your life easier, here are our top three celebrity-approved boots for you this winter.
Luxury Hikers: Emily Ratajkowksi
While hikers may have been hip in the '90s, they've certainly made a comeback in recent years. Not only are the shoes fashionable, but they're designed to be incredibly durable, practical, and comfortable. So for once you can look stylish and wear shoes that are comfortable at the same time. We recommend these Ganni Sarai boots for $540 at hbx.com.
Square Tip Shoes: Kendell Jenner
We absolutely love that '90s styles are making a comeback (because thrift store sales are simply the best). Kendell Jenner made a bold statement when she decided to strut square-toed booties recently and it inspired us to get on board and dust off those old shoe boxes. We recommend brands like By Far and Bevza.
Fur Covered Boots: Gigi Hadid
Gigi Hadid is known for pulling some pretty daring style stunts from time to time and her faux-fur boots are a real head-turner. The style might seem kitsch to some, but it's come back in a big way. So long as you know which boots to choose, you'll be fly again in no time! We recommend these Tara Mellon Kindred Leopard boots for $995.
From Blush to Fuchsia: 25+ Outfits That Prove Princess Diana Was in Love With the Color Pink
Whether it was blush or bubblegum, fuchsia or magenta, Diana loved to look perfect in pink. Join us as we take a look at some of Princess Diana's most pretty pink outfits. There's no doubt pink was her favorite color!
Deep Pink Victor Edelstein
As a fashionista, Princess Diana had her favored designers. One of those was courtier Victor Edelstein, who was considered the English Oscar de la Renta. On this occasion, Princess Diana was attending a recital by New Zealand opera singer Kiri Te Kanawa. She paired the striking cowl back gown with a matching clutch.
Pinstripe and Pleated Pink
In this more demure ensemble, Princess Diana wears a sugary tone of baby pink. This stunning pinstripe pink dress was designed by Catherine Walker, another favorite of the Princess. The matching pink hat is by Scottish milliner John Boyd, who made hats for three generations of Diana's family.
This perfectly pink outfit was from the Royal Tour of Italy in 1985. Diana accessorized this look with a pearl choker, a white clutch, and her famed sapphire engagement ring.
Polka Dot Pink Pleats
Here we have the first of several pictures of Princess Diana with family — here Prince Harry. This snap was taken at Clarence House in London at the celebrations for the Queen Mother's 92nd birthday. Just out of the '80s, this outfit is from 1992.
This celebratory pink outfit features a polka dot sheath dress with a pleated skirt. The matching jacket creates a pop of perfect pink, a relief against a sea of black. At this stage, Diana's hair was '90s style short.
Satin Pink at the Ballet
Princess Diana's next pink outfit is a whole lot of '80s fashion in one dress. This floor-length, pink satin, off-the-shoulder gown was designed by French designer Catherine Walker. The designer made over 1,000 outfits for the Princess, starting just three months after her royal wedding to Prince Charles.
Princess Diana wore this pink satin gown to The Royal Ballet at the Berlin Opera House in 1987. Not afraid to wear clothing twice, she wore it again the following year to meet the President of Turkey.
Princess Pink in Brisbane
Looking like a picture-perfect princess, Princess Diana reclines here while at a state reception in Brisbane, Australia. This delicate pink gown is another Victor Edelstein creation, with a subtly ruffled bodice and tie straps. To match her engagement ring, the Princess chose Saudi sapphires for this occasion.
Here, we can also see the Spencer Family Tiara, which is made from various pieces of jewelry from across different eras. The centerpiece was given to Diana's grandmother for her wedding in 1919.
Padded Pink Ski Suit
Princess Diana didn't just look great in an evening gown or a power suit, she also rocked sports style. Here, the Princess wears an incredible deep pink (bordering on red) padded ski suit with a high, wrap neck. To take things up another notch, she added a braided headband and a cheeky pair of gold hoops.
This particular ski trip took place in 1986 in Klosters, Switzerland. Perhaps, like the Queen, Diana liked to wear bright colors so people could see her more clearly in a crowd.
Bruce Oldfield's Salmon Pink Suit
Not content with just bright or pastel tones of pink, Princess Diana also donned some salmon and coral in her time. This perfectly coordinated salmon-toned outfit was worn to the Tokyo parliament during a visit to Japan in 1986. The Princess's hat and clutch are in the same calming tone.
British fashion designer Bruce Oldfield — who designed this outfit — has dressed various celebrities and royals including Faye Dunaway, Catherine Zeta-Jones, Taylor Swift, and Queen Rania of Jordan.
Blush at the Bolshoi Ballet
Looking radiant at the Bolshoi ballet in 1989, Princess Diana chose a slinky pink number. This outfit is from 1989 when Diana attended a performance of Swan Lake at the London Coliseum. The Catherine Walker creation has a structured white top, and a long, sleek bottom.
This gorgeous gown also boasted white shoulder pads and a dramatic plunging back. Keeping things chic, the Princess added a blush clutch and pearl drop earrings. We also appreciate the pearl cufflinks!
Maternity Wear in Pink
We have to say that we're really quite obsessed with this Princess Diana pink look. Here, Diana has the Sloane ranger style hair she made popular, and the English rose looks she was famous for. This simple, oversized pink shirt dress is absolutely perfect for a pregnant royal at an outdoor event (if we do say so ourselves).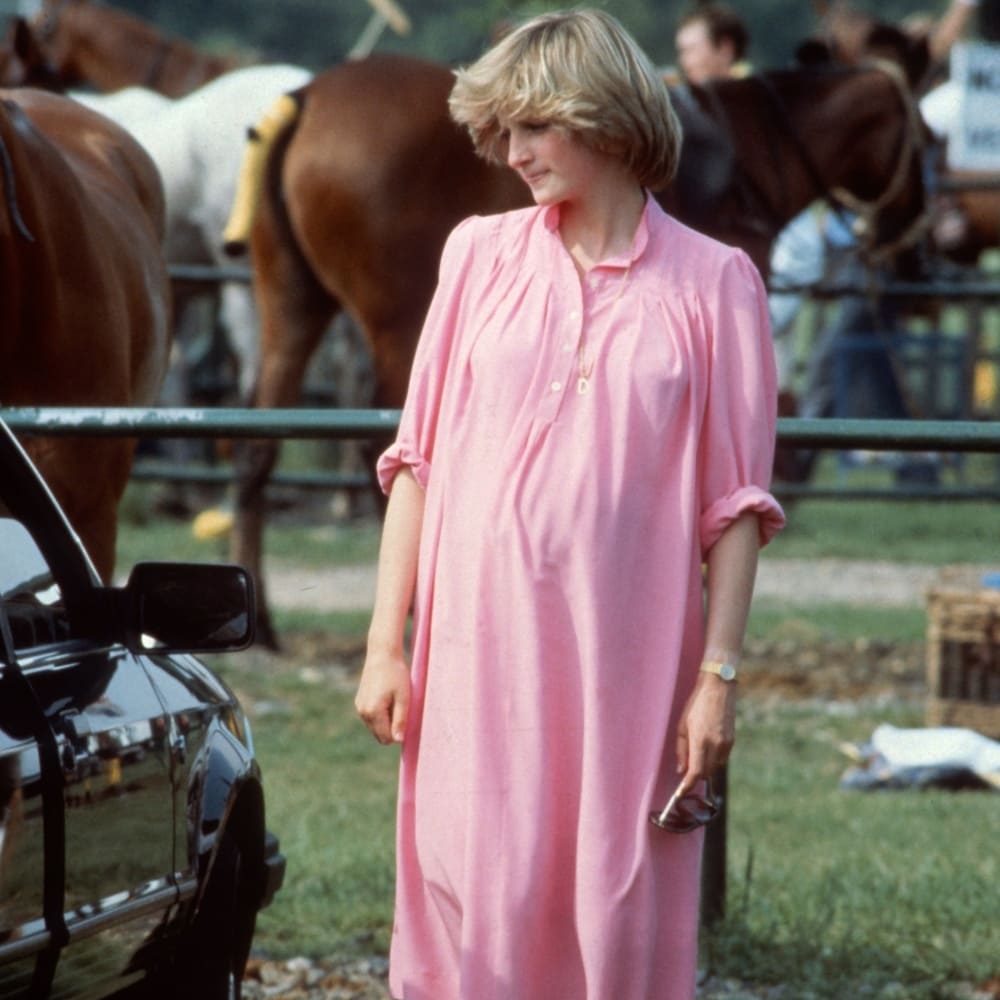 The event in question here is a 1982 polo match at Guards Polo Club in Windsor. Diana was expecting her first child, Prince William.
Color Blocking in Catherine Walker
Considering her style prowess, it's no surprise that Princess Diana didn't follow boring fashion rules. While some might say that pink and red should never be worn together, this outfit proves that rule completely wrong. Seriously, why don't people wear pink and red more?
This red and pink look (the bottom of this dress is red, matching the hat) was designed by Catherine Walker for the Princess. She wore it in Dubai while on a Royal Tour of the Gulf in 1989.
Honeymooning in Belville Sassoon
Fashion boutique Belville Sassoon has been around for decades, and designer David Sassoon created multiple outfits for Princess Diana. The designer recalls, "When she got engaged, her mother brought her in to us and asked us to make the going-away outfit." The result? This peachy pink dress and matching hat.
Belville Sassoon actually made two versions of this outfit, one with short and one with long sleeves. Diana went on to wear this outfit on her 1983 tour of Australia (pictured).
Palm Beach Pink
Like many of Princess Diana's incredible gowns, this Catherine Walker pink number also had a dramatic plunge back. You can tell this picture was taken in the '80s, as we can see padded shoulders, ruching, pearls, and either velvet or satin. To be precise, this was 1985 in Palm Beach, Florida.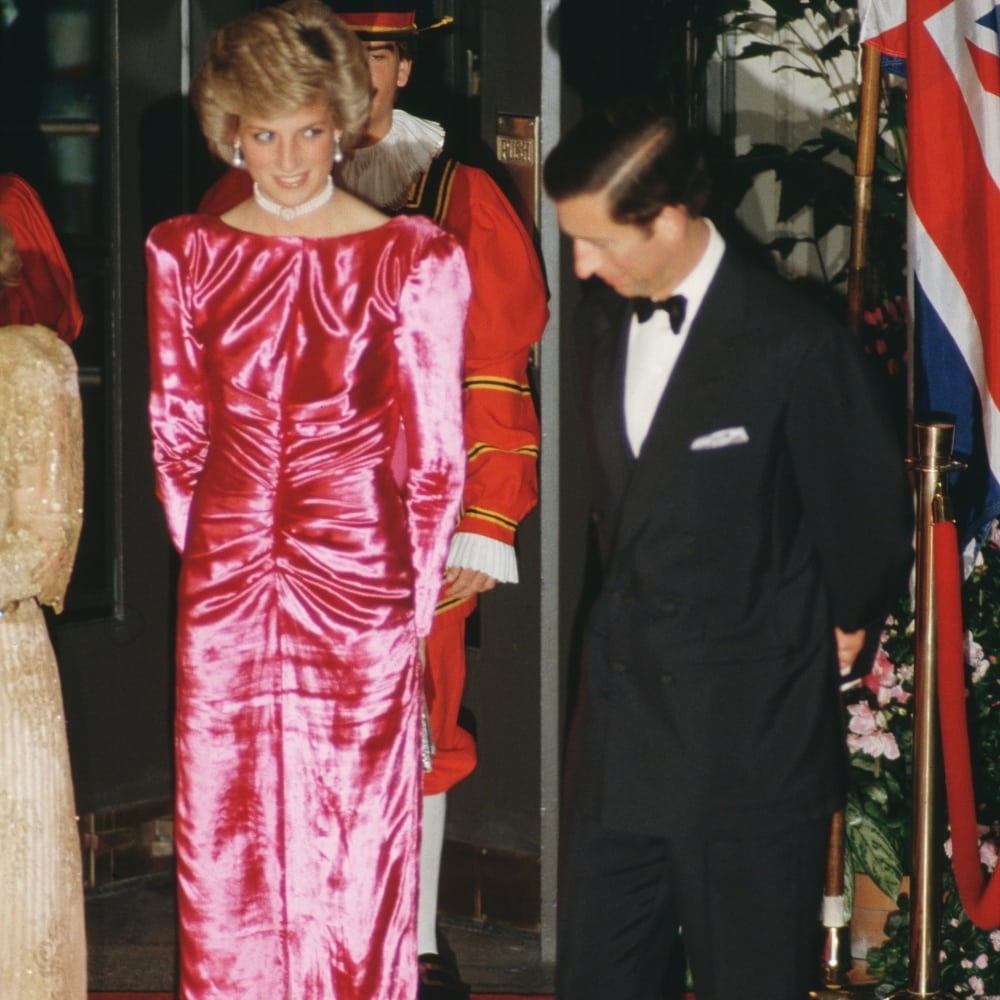 Diana looks striking in this gown, as Prince Charles looks on with bemusement. It's no surprise that the Prince was jealous of the attention and love his wife received from the public.
Gorgeous Catherine Walker Gingham
Here's another Catherine Walker number, this time in perfectly pastel pink gingham. This picture was taken as the royal left London's St Paul's Cathedral in 1990, after attending a service for The Children's Society. This striking look is actually a wool coat dress, rather than separate pieces.
To match this church-appropriate but fashion-forward look, the Princess opted for a Philip Somerville hat. Here, the net veil is up, but it can be worn across the face. Fabulous!
Bubblegum Pink Sweatshirt
Princess Diana's style is making a serious comeback, and you only have to look at this picture to see why. Athleisure has been making a comeback for years now, and bike shorts and sweatshirts are now seriously fashionable pieces.
Princess Diana pioneered this look back in the '80s, which is why she's such a style icon right now. Instagram and TikTok are full of teenagers curling their hair into demure Sloane bobs or flicked out '80s dos like this one. Bring it on!
Polo Match Pink
Seriously, there's no wonder this woman is a timeless style pioneer. Even candid photos of Princess Diana show that she had an effortless yet playful sense of style. In this picture, taken in 1984, the Princess is at a polo match while pregnant with Prince Harry.
For the sporting occasion, Diana wore a raspberry pink sailor-style dress with an oversized white mohair cardigan on top. Naturally, she wore her hair in a teased but natural '80s bob and a fresh face.
Taffeta in Pink and Blue
One of Diana's favorite designers, Catherine Walker, created our next pink look. This strapless taffeta dress had a base of pale pink, with watercolor style blue flowers, and a fairly dramatic '80s ruched bustle. The Princess opted for sapphires to match her gown's color palette.
Diana wore this gown in 1988 in Melbourne during the Royal Tour of Australia. It was part of the 79 Diana dresses auctioned in 1997. It's now owned by Texan Suzanne King.
Just a Pop of Pink
Hey, we didn't say that Diana just wore pink, did we? Here the Princess relies on a pop of her favorite color to make her purple suit really sing. Again, we're clearly in the '80s here, judging by the shoulder pads and taffeta.
This shiny purple suit was made by Bruce Oldfield. Diana wore it to a concert while in Melbourne, Australia. Not one to shy away, Diana's hair is appropriately teased and ready to rock.
Power Suited Pink in Paris
And here's another fabulous pink '80s look. We can certainly see why the beloved royal wore this color so often. This bright pink suit featured a jacket and skirt in classic '80s tailoring. The jacket is long with pleats at the bottom, with three buttons keeping things pulled together.
Princess Diana definitely used fashion to express herself, and she looks confident while strutting in this pink power suit. This picture is from 1992, and was taken at a rehearsal of The Nutcracker in Paris.
Buttoned Down in Pale Pink
When Princess Diana and Prince Charles officially split in 1996, the royal still wanted to work with the public and bring light to important issues. In 1997, Diana traveled to Bosnia and Herzegovina for a three-day visit to visit victims of the civil war. In particular, she fought against landmines.
On this trip, Diana wore a pale pink button-down tucked into a pair of sturdy black '80s jeans. Accessorized with gold earrings and a black belt, the Princess looks like she means business.
Fuchsia Frederick Fox Hat
We're back to Princess Diana's royal duties with this picture, taken in 1986 in Vienna. To meet the crowds, Diana opted for a charming pink suit by Victor Edelstein. To match is a coordinating hat made by Australian milliner, Frederick Fox.
Frederick Fox first made hats for Queen Elizabeth, after joining her official dressmaker Hardy Amies. In total, the milliner has made 350 hats for the Queen, as well as for Diana, the Queen Mother, Princess Anne, and Joan Collins.
Color Coordinating in Hungary
This stylish pink look was worn in Hungary, when Princess Diana and Prince Charles visited together in 1990. The couple attended a covered market in Budapest, and Diana wore this colorfully coordinated outfit.
This pink and purple suit was made by Catherine Walker, and was worn with matching purple pumps and clutch. Again, this '80s tailoring features a long double-breasted jacket with three sets of buttons and a matching skirt. As was common, gold earrings completed the entire outfit.
A Picture in Pink Gingham
What's the best color to match with pink? Why more pink, of course! As shown here, by the pink-loving Princess Di. Here, the royal sits outside Highgrove with a small and very cute Prince Harry.
For this outfit, Diana paired pink gingham cropped pants with a crisp white shirt and raspberry cardigan. We appreciate the details here, like the upturned shirt collar and draped cardigan sleeves. As she often did, Diana chose light makeup here, highlighting her English rose beauty.
Pink Polka Dots in Perth
We love this shot of Princess Diana dressed head to toe in pink. This outfit was designed by Donald Campbell, and worn with a matching hat by milliner John Boyd. Diana wore this charming outfit while at the Perth Hockey Stadium in 1983.
This dress has lots of gorgeous details, including its slightly puffed shoulders and interesting neckline. The matching hat features a large bow, adding even more charm to the delightful ensemble. Diana also wore this outfit while visiting Freemantle Hospital.
Pink With a Pussybow
Here we have a rather uncommon sight — Princess Diana with long hair. While the royal often teased her hair outward, she rarely wore it curled back like this. Of course, she looks cute as a button.
This beautiful magenta coat was designed by English designer Jasper Conrad, who made various pieces for the princess. The coat was worn over a silky cream pussy-bow blouse, and accessorized with a navy clutch and pearl earrings. This picture is from a charity event in 1984.
Sugary Pink Catherine Walker Suit
Next up is another of Princess Diana's post-divorce pink looks. This picture, taken in 1997, shows the princess attending 'The Daily Star Gold Awards for Courage and Bravery' at The Savoy Hotel in London.
This chic suit was designed by Catherine Walker in a beautiful calming shade of sugary pink. It looks like Diana paired this gorgeous suit with a cream-quilted Chanel purse. The style would go on to be named the Diana style.
Llama Sweater in Pink
It's no wonder style mavens love Princess Diana, especially considering quirky outfits like this one. Here we have a young Diana with Prince Charles, out and about in the British countryside. For the occasion, Diana opted for a bright pink sweater emblazoned with llamas. Perfection!
To add some Sloane style to this Andean look, the princess wore pleated green-toned pants, a cream turtleneck, and her air in a well-groomed bob. Truly, she can do no wrong.
The Brightest Pink Possible
We know that Princess Diana loved pink, and she wasn't afraid to opt for a super bright tone. Here, in London in 1990, the fashion-loving royal wears a bright pink coat with gold buttons. The silhouette here is different from her '80s era pink coats, with no lapels and buttons all the way down.
But never fear, the '80s haven't totally left yet. Princess Di wore some stunning '80s style earrings, and seems to be carrying a baseball cap.
Textured Pink Maternity Coat
Honestly, we're absolutely obsessed with this pink Belville Sassoon maternity coat. Seriously, guys, look at it! This custom-made berry-toned coat looks like it's made from mohair, and has a billowing, dramatic shape. Epaulets on the shoulder add even more texture and bulk, but in the best way possible.
Underneath this fabulous creation, Diana wears a dainty polka dot number. At this time, in 1982, the princess was in Huddersfield, and pregnant with Prince William.
Rose Pink Jasper Conran
We've already seen Princess Diana in a pink Jasper Conran creation, and here we have another one. This two-piece pink suit consists of a long, billowing skirt, paired with a military-style matching jacket.
Over the years, Diana liked wearing military silhouettes, so it makes sense that she opted for this style. Here, the Prince and Princess of Wales were visiting the Royal Albert Hall in 1982. At this stage, the couple had only been married for one year.
Sailor-Style Pink
Princess Diana loved to wear a sailor-style collar, and this outfit is clearly inspired by that love. This look is also from 1982, and was selected for the wedding of Diana's former housemate, Carolyn Pride.
We're not sure if this outfit is a two-piece, but we suspect it's a drop waist gown with a pleated skirt. The white sailor collar is dramatic, and has been matched with a nautical white and navy hat, and a quilted clutch.
Baby Pink Versace
Just look at that smirk! Here, Princess Diana wears a Jackie-O-inspired suit to visit UK troops in 1995. The Gianni Versace designed outfit came with a tulip collar, double-breasted buttons, and a pillbox hat by Philip Somerville.
According to Somerville, during a fitting, Diana remarked, "I wonder if in the years to come people will think of me as the Jackie Kennedy of the period." We can confidently say that Princess Diana reached that level of style… and fame.
Sweatshirts and Bike Shorts
Remember we said that Princess Diana's style has been inspiring modern fashion? Well, here's another obvious example of it. Diana had notoriously cool street style, and often wore oversized sweatshirts with bike shorts. On this occasion, she's paired a pale blue sweater with coral pink shorts.
Ever the fashionista, Diana wore tortoiseshell sunnies with her workout look. At this stage, her hair was shorter in a more cropped style. Frankly, we love it all.
Off the Shoulder Embellished Pink
We're not sure who designed this striking off-the-shoulder pink gown, but we do know that Diana wore it to a performance at the London Coliseum. This pretty, pale pink dress is covered with rows of white embellishment. In fact, we're willing to bet it's covered in artfully arranged pearls.
This 1993 gown has a fitted upper bodice over a pleated, flowing skirt. The Princess wore white pumps with this gown, as well as pearl drop earrings.
Floral Patterned Pink in Sydney
When Princess Diana and Prince Charles embarked on their royal trip to Australia, the 22-year-old Diana had never left the country. Naturally, people flocked to see the supposedly happy couple, and to get a glimpse of the famous Diana.
This image, taken outside the Sydney Opera House in 1983, shows a nervous-looking Diana wearing floral patterned pink. This loose-fitting summer dress features a ditzy white and blue floral print. Diana wore it with a wide-brimmed pink hat.
Bowler Hat in Hot Pink
Remember that incredible maternity coat designed for Diana by Victor Edelstein? Well, this similar number was also made by the designer. This version looks somewhat lighter and less textured. However, it does feature ruffled bib-style shoulders, similar to the epaulets on the maternity coat.
Most importantly, a young Diana added a hot pink bowler hat to this outfit. The cute headwear comes with a ribbon in a complementary shade of pink. To top things off, she added a black purse.
Magenta Mom Coat
Like other moms, Princess Diana attended events at her sons' schools. Here, the royal arrives at the Wetherby School in London to watch Prince Harry's Christmas carol concert in 1990. How adorable!
For this family event, Diana wore this super cool magenta mom coat. This looks like a double-breasted pea coat with low black buttons, worn with simple black pants and a white blouse. It looks like Princess Diana has also grabbed her black quilted Chanel purse for the occasion.
Sparkly Pink for Starlight Express
For those lucky enough not to know, musical Starlight Express is a strange Andrew Lloyd Webber creation. The show follows a steam engine, and the entire cast performs on roller skates. It's super weird but super successful.
In this snap, Princess Diana attends the 1984 premiere of the musical. This looks like another pink gown that combines a long bodice with a drop waist pleated skirt. This gown has a sparkly skirt, and a cute pink ribbon belt.
Red and Pink Applique
Unlike many public figures, Princess Diana liked to bring her kids with her to special events. Here, she's joined by Princes Harry and William at a film premiere in support of Great Ormond Hospital for Children.
This outfit is another clear example of red and pink matching each other perfectly. This applique gown has a pink base, and is covered with patterned red lace. A matching red clutch and her signature pearls finish off this red carpet look.
Shift Dress in Candy Colors
This shift dress makes us think of Easter, what with its sugary toned pink and blue. This snap is from 1991 when the princess visited The Royal Star and Garter home for injured servicemen.
This charming shift was designed by Catherine Walker. It has structured shoulders, elbow-length sleeves, and a subtle split at the bottom. Actually, upon further inspection, this could be another one of Diana's stylish coat dresses. As she often did, the royal added a matching clutch.
Fuchsia Pink Polka Dots
It's possible that this fuchsia pink polka dot dress is the same one that Princess Diana wore during her 1983 trip to Australia. That dress, designed by Donald Campbell was worn with a large hat, and looked more demure than this incarnation.
This version is much bolder and worn with what looks like a pink, envelope purse. This picture was taken in 1985 during a visit to Rome, Italy. From this angle, we can see the gown's buttoned-up back.
Pastel Pink Sheath Dress
Diana certainly looks chic in this shot, taken when she was visiting the Hale Clinic in London. This sheath dress is high necked, with an unusually shaped neckline. The sleeveless dress looks professional yet classy, making it the perfect outfit for Princess Diana.
We particularly like this shade of pink on Diana — it brings out her demure side, reminding us of Audrey Hepburn and Jackie O. The princess has added to the outfit's glam factor with a pair of gold-legged sunglasses and pearl earrings.
Lace on the Ice
In 1985, Princess Diana attended an ice skating show by Olympic athletes Jayne Tovill and Christopher Dean. The pair had the highest scores in figure skating history, and their Olympic performance was one of the most-watched TV events to ever happen in the UK.
For the show, Princess Diana wore a pale pink lace gown. This drop-waist dress had a pink ribbon belt, and embellished sleeves. It looks like Diana could have joined the pair on the ice!
Perfect in Pink Plaid
Isn't this outfit just the epitome of '80s fashion? Actually, Princess Diana was so associated with over the top '80s style that she was affectionately referred to as "Dynasty Di." This pink plaid outfit was worn on the Royal Yacht Britannia in 1985.
This amazing suit has balloon sleeves and a straight skirt, with everything in the same large pink and navy plaid print. Diana wore a pink pussy-bow textured blouse under this suit, making it pop even more.
Patterned Floral Pink Suit
Lastly, let's turn to this wonderful patterned floral pink suit. No matter the shade, print, or decade, it's certain that Princess Diana fully embraced the color pink. This 1990 look was captured on camera as the royal arrived at Clarence House.
With this fierce skirt suit, it looks like Diana wore a simple white tee underneath, rather than a voluminous blouse. With a fresh face, pearl earrings, and bare legs, this is a good an outfit as any to finish with.