Balenciaga, renowned for reinventing fashion norms, continues to make waves in the industry with its distinct and unconventional designs. Led by creative director Demna Gvasalia, the brand consistently pushes boundaries, delivering unique takes on clothing, accessories, and footwear. The newest addition to Balenciaga's lineup is the Men's Defender "Worn-Out" Sneaker, which takes its name quite literally!
The Latest Release
The Men's Defender "Worn-Out" Sneaker by Balenciaga embraces a deliberately weathered aesthetic, appearing as if it's covered in dirt and dust. Despite its rugged appearance on its silhouette, the shoe retains its original design, featuring lightweight mesh uppers and exaggerated chunky soles.
An Upgraded Edgy Style
The sneaker goes beyond just a worn-out look. This special Balenciaga sneaker boasts a 0.5-inch arch and a dramatic jumbo tire treaded sole, enhancing its edgy appeal. Crafted in China, the sneaker comes in a distinct 9700 Beige Destro color, characterized by a bright white tone with cream undertones. Abrasions and bold scuff marks adorn the lower perimeters and outsole, adding to its worn-out effect.
Signature Details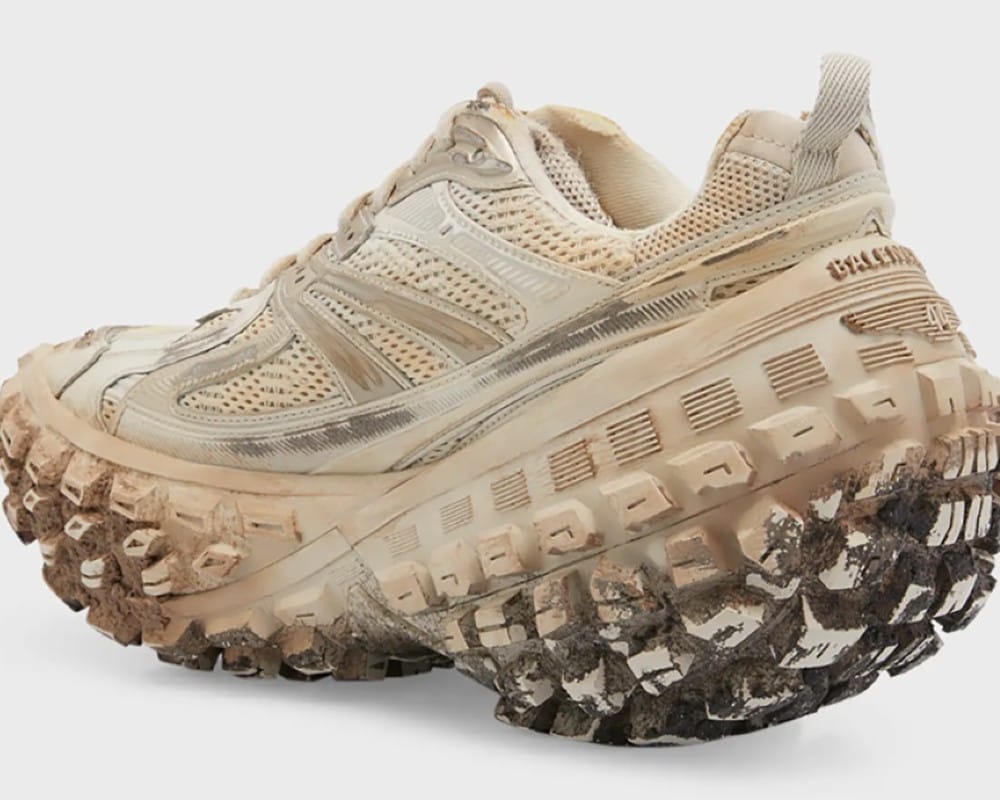 The iconic branding of Balenciaga is subtly incorporated into the design, with the signature logo debossed at the back, on the tongue, and at the edge of the toe of the shoe. The silhouette also features a destroyed nylon and mesh upper, giving it a distinctive look. Additional details include a wipe with a soft cloth, stained laces, and a convenient back pull-on tab, further contributing to its striking aesthetic and rugged appearance.
Availability and Price
Priced at $1,550, the Balenciaga Men's Defender "Worn-Out" Sneaker is now available for purchase at all the Balenciaga stores and through various famed high-end retailers, including Saks Fifth Avenue and Neiman Marcus. The brand continues to be highly sought-after in the luxury category, celebrated for its creativity, craftsmanship, and contributions to the fashion industry, and the new sneaker undoubtedly upholds the brand's unique legacy.
With Her First Buzz Cut, Ireland Baldwin Feels More Beautiful Than Ever
Ireland Baldwin has debuted a new appearance. On Saturday, the model posted a picture on Instagram flaunting her freshly shaved head with small cuts of platinum blond. In the caption, she wrote, "Don't tell me I won't do something because I will." With this, Baldwin is shunning her fear of people's opinions, a step that she has always wanted to take.
The Fresh Buzz-Cut
Ireland Baldwin first dropped her new hints on her Instagram story with the words "Bye red villain era … Will miss you." After that, she posted her shaved-off head with a blonde buzz with a big caption. Baldwin, in her message, stated that one should act in ways that frighten them and defy the limits that others set for them. The model's hair has incurred damage due to her years of bleach and modeling. Even though Baldwin has always wanted to get a buzz cut, she's always been afraid of people's reactions. But, now that she's done it, the model feels more beautiful than ever.
The Reactions
Ireland Baldwin is the daughter of actors Alec Baldwin and Kim Basinger. Basinger lent her support to her daughter by stating that she has been a witness to all of this for a long time now. Stylist Hannah Bonetti shared a video of the process too, showing Ireland shaving some of her long hair herself. But, after a few passes with the clippers, she gives Bonetti the reins again. Bonetti said that she had the absolute pleasure of assisting Ireland Baldwin as she bravely entered new terrain. She further added that they both anticipated making a significant difference to Baldwin's hair (like getting bangs), but neither of them anticipated that their session would result in such a dramatic alteration. Bonetti further stated that she is grateful to have customers who trust her with such radical moments and bring their entire selves into her chair.