The Met Gala is known to many people as the "Super Bowl" of the fashion industry. It is a huge fundraising event that takes place every year, and it starts the Costume Institute's new exhibitions that will go on to shape the future movies of Hollywood. Since the 2020 Met Gala is postponed, what better way to fill its void than to take a look back at some of the best themes from previous galas?
Here are some all-time favorites:
2019: "Camp: Notes on Fashion"
This theme led many people to question, "What is camp?" The answer to this question isn't as straightforward as some might like. The meaning of camp is based on your interpretation, which is what made the Met Gala so unpredictable as far as how the stars would dress up. But it generally implies a dedicated following of a specific interest, and belonging to its "camp" – which can, of course, still mean infinite things.
2016: "Manus and Machina: Fashion During the Age of Technology"
Technology was the forefront of the 2016 Met Gala. Stars like Emma Watson stepped onto the red carpet wearing a five-piece Calvin Klein Collection set that was made from recycled plastic bottles. The Met was focused on the division between machine-made and handmade fashion.
2014: "Charles James: Beyond Fashion"
This was one of the most anticipated themes in which the Met museum celebrated Charles James, a large figure in the fashion industry, but also one less known. No less than 100 of his biggest and most important designs were on display. The gala was filled with ball gowns that were large, sleek, and elegant.
Previous Met Gala Looks
The Met is a time when some of the top celebrities and stars step on the red carpet ready to deliver looks that are showstopping, creative, and coincide with the theme that year. Each year, people look forward to seeing how stars interpret each theme, which designers they work with for their looks, and what they end up dressing up in.
45 Christmas DIYs That Will Upgrade Everyone's Holiday Season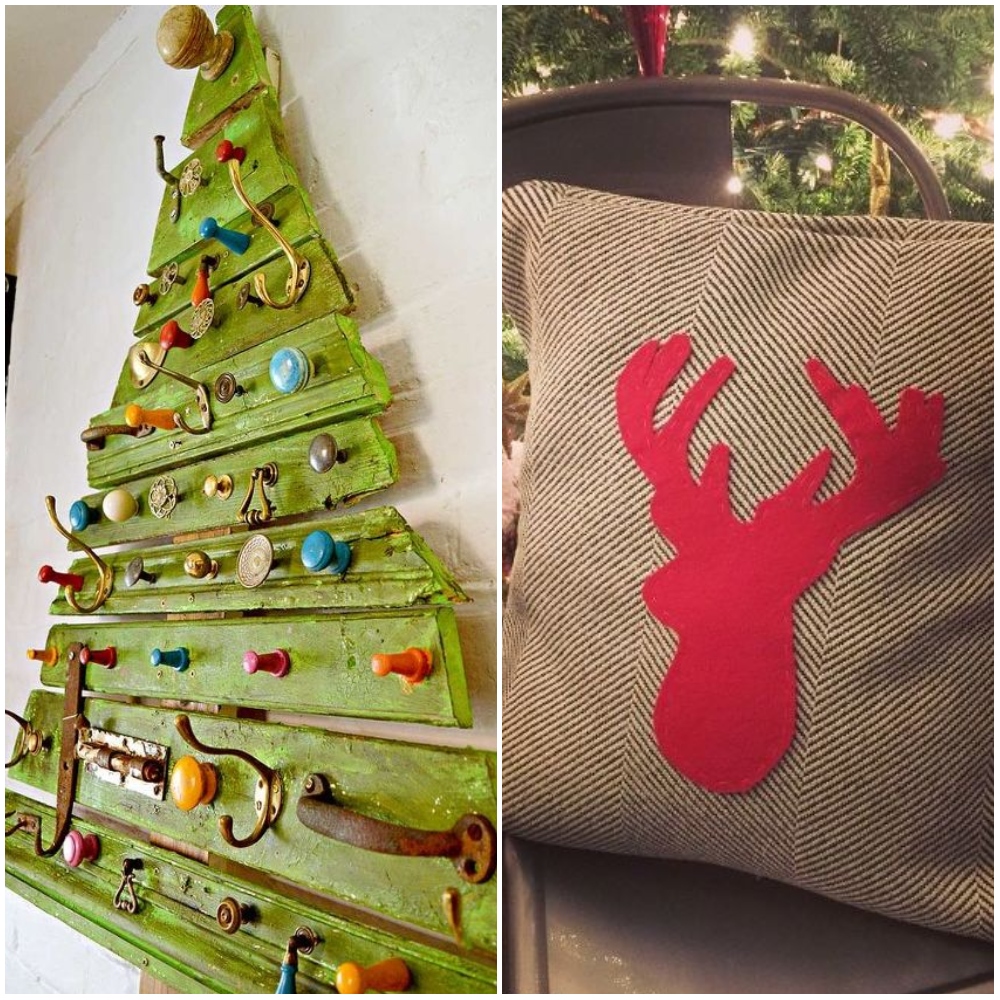 At this magical time of year, many people want to get decorating as soon as possible. It's time for wreaths, lights, baubles, and candy canes, and we'd like to help you experiment with some seasonal crafts. Some of these Christmas DIYs are simple, some require more equipment and skill, and others can be done with a group of friends or family. With just some card, glitter, and a mason jar or two, you'll be thrilled with your décor this festive season.
Glittery Christmas Bulbs
Most households end up with old lightbulbs every now and then, so hold onto them and put them to good use during the festive season. With just some glitter and glue, you can transform a boring, old light bulb into a bright and jolly Christmas bauble.
If you feel like getting more creative with your light bulbs, then you could also try painting them with Christmas designs. You could make Santa, a snowman, or even a penguin to hang on your tree.
Decorate Christmas Branches
Many people like to decorate their stairs and banister using Christmas branches. You can buy fake branches at a range of stores around the holiday season, or you can simply take the trimmings from your own tree. Whatever you end up with, you can decorate your branches with a range of Christmas ornaments or toys.
Twine is a good seasonal option for this DIY craft, and many online videos show how to attach it to ornaments. Alternatively, craft wire is a great option.
Festive Glitter Jars
This is a charming Christmas DIY to make, especially with kids or tweens. To begin, you need to remove the sticky label from a jar. There are all sorts of ways to do this — some versions use baking soda, others simmer the jars in water and dish soap. Regardless, avoid just picking the label off with your fingers.
Once you have a clean jar, you're ready to go! This festive glitter jar is decorated with frosty blue snow, a snowflake, and tied with a silver ribbon.
Garlands on Everything
This isn't so much a DIY project, as a DIY suggestion. At Christmas time, there's no need to limit yourself to what you've always done. Look at every object and surface as an opportunity, and consider placing festive garlands in places other than on the Christmas tree.
Garlands look fabulous draped around a mirror or framing a door. These garlands can be homemade or purchased, or they might just be an elegantly placed string of tree lights.
Snowy White Vases
Similar to the festive jars we've seen already, these snowy white vases only require a few items to make. Save yourself some glass bottles in the weeks leading up to Christmas, and remove their labels in preparation.
When it's time to get crafting, paint your bottles white, and sprinkle them with coarse salt before the paint has dried. This way, you'll have vases that look like they've just been caught in the snow. You could also add a sprinkle of glitter for more festive cheer.
Cinnamon Button Christmas Trees
Without a doubt, cinnamon is one of the smells of the season. One way to incorporate the fragrant spice into your Christmas décor is to make these adorable little Christmas tree ornaments.
To make these, simply use a cinnamon stick as the bark, and glue on several spruce twigs — real, or faux. Then, turn to your button box to find some cute decorations to stick on top. This is a great use for buttons, especially for people that don't like to throw them away.
Cookie Tin Candle Holders
Here's another delightful Christmas DIY that uses items you might already have lying around your home. In this case, save your large, round cookie tins to make a gorgeous, glowing wall display.
Firstly, clean out your cookie tin and wrap it in a festive patterned paper or with a beautiful ribbon. Attach tea candles inside the tins before hanging in order to avoid any unforeseen emergencies. Once in place, the cookie tins will hold the candles, making a charming, homemade wall display.
Glowing Christmas Lamps
From one glowing DIY project to another, these glowing Christmas lights add a touch of glamor to your home over the festive period. To make these gorgeous, glowing bottles, find a dark glass bottle and remove its label.
Using a drill, make a hole at the bottom of the bottle in order to insert the Christmas lights. After that, simply add the lights and enjoy! You can also add other festive items to the bottles — such as beads, baubles, or buttons.
Snowman Place Settings
Aren't these snowmen place settings just amazing? This is a wonderful craft for Christmas day itself, or for any other special meals around the holiday season. As you can see, these snowmen place settings are made by combining a dinner plate and a side plate.
There are various design options for these adorable snowmen, but most use a carrot for the nose. You could add spoon and fork arms, a napkin hat and scarf, and gummies as the eyes.
Baubles on the Windows
Much like our Christmas garland recommendation, we suggest using Christmas ornaments in locations other than on your Christmas tree. For example, this person has decorated their window with Christmas baubles by hanging them at varying lengths from a Christmas branch.
A giant bow ties this display together, and adds another nod of festive cheer. This Christmas decoration idea can be seen from the outside and turns a regular room into something much more exciting. Why not experiment with something different?
Bicycle Wheel Christmas Wreath
This Christmas DIY project is a bit more involved than those we've seen so far, but it's totally worth it. In order to make one of these creative bicycle wheel Christmas wreaths, you need to get your hands on a bicycle wheel. For that reason, this is a great crafting option for cyclists.
Once you have your wheel, clean it with dish soap, and get decorating. Wrap a garland around the rim, and attach flowers and/or ornaments using a glue gun.
Drinking Straw Stars
Admittedly, these drinking straw stars aren't very environmentally friendly, but we presume they could be made with paper straws just as well. In order to make these awesome looking straw starbursts, get yourself around 30 drinking straws, some zip ties, and a pair of scissors.
Snip the bendy end off your straws and cut them to the same length. Take 30 straws, bundle them, and zip tie at the middle. Then, fold back some of your straws so they touch the middle. That's it!
Clothes Hanger Christmas Wreath
Christmas wreaths really add warmth and character to a space, but they needn't cost the world. To make this colorful creation, all you need is a wire hanger, some spruce twigs, a ribbon, and a couple of sets of inexpensive Christmas baubles. Ideally, choose baubles of different colors and sizes.
To start, unfold your hanger and thread on the baubles one by one. Once you have a full wreath, glue the ribbon and some spruce at the top. Now, get hanging!
Cute Bobble Hat Baubles
Would you believe us if we told you that you need no knitting skills whatsoever to make these cute little bobble hat tree ornaments? Well, you just need a toilet roll tube, some yarn, scissors, a tape measure, and a pen.
Cut your toilet roll at 2cm so that you have a base, then cut your yarn to 25cm. Loop the yarn around the cardboard, eventually covering the entire thing. Tie the loose threads with another string, and craft a pompom top.
Familiar Faces Decorations
While you're already crafting adorable new Christmas ornaments and decorations, it can be a sweet idea to include some photographs of the ones you love. In order to make these personalized ornaments, buy clear plastic or glass ornaments that open in half.
Place the photographs inside the clear decoration, and add tinsel, lights, or salt to look like snow. Alternatively, use ornaments that don't open, as you can just roll the photograph up and stick it inside before adjusting with a pair of tweezers.
Stunning Wooden Snowflakes
Popsicle sticks have long been a preferred crafting item, and they continue to provide us with an inexpensive way to make wooden objects. There are multiple ways to make snowflakes using wooden popsicle sticks, and we do recommend looking up some patterns and instructions before starting.
Once you've glued your sticks into your chosen snowflake pattern, you can then paint them to match your home. For even more sparkle, consider adding some flecks of glitter too. Hang your snowflakes using a ribbon.
Sparkly Christmas Ornaments
These sparkly Christmas decorations that look like miniature Christmas presents are easy to make and delightfully glittery. These ornaments were crafted using square chunks of wood that were made using the square dowel on a saw.
Take the wooden cubes, and apply glue to one side. Then sprinkle on your glitter, and feel free to use multiple colors and textures. Repeat this with all sides, gently tapping the glitter to help it adhere to the wood. Glue on small mirrors for the finishing touch.
Car in a Mason Jar
We absolutely love this car in a mason jar, which is actually fairly simple to make. To begin, you'll need a mason jar, a white napkin, a toy car, a toy Christmas tree, and some red and white string.
Start by tying the tree to the car using the string. Then, add some faux snow to the jar — either by tearing up a napkin or by using salt. Next, add your car to the jar, and that's it! This makes an adorable trinket or gift.
Upcycled Rocking Horse
This fabulous upcycled rocking horse was made for under $15. This Christmas DIY is for those that like a good project, and are no strangers to a bit of sandpaper. This project started out with a sad-looking wooden rocking horse from Goodwill.
To transform it into this festive foal, it was sprayed white and sanded to give a rustic look. The horse has been decorated with a Christmas sign, a wooden Christmas tree as a seat, some lace ribbon, a plaid bow, and of course — glitter.
Decorative Window Art
During the holiday season, many families like to decorate their windows with a Christmas scene. Painting on your windows isn't actually that difficult and can be done by just about anyone, depending on how artistic you are.
To paint on windows, it's best to use either gouache — a type of opaque watercolor — or toothpaste mixed with water. That's right, toothpaste. Cut star-shaped stencils from paper, place them over the window, and sponge on the minty mixture. You'll be left with a lovely winter scene.
Candy Cane Tennis Racket
We've had a Christmas craft project for the cyclists among us, and now we turn to the tennis players. As you can see from these images, you can turn an old fashioned tennis racket into a candy cane themed Christmas hanging.
To transform your unwanted athletic gear into some festive cheer, start by spray painting the tennis racket white. Add stripes with red paint, and then add a bow and floral details. These can be attached with wire or by using a hot glue gun.
Snowy City Winter Lamp
Aren't these lamps gorgeous? They've been elevated from simple candles in jars to charming and atmospheric pieces of Christmas décor. To make your own snowy city winter lamp, get yourself a jar, a thick piece of paper, and a candle. Some prefer to use white paper for a snowy effect, while others opt for black to give an evening feel.
Regardless, measure the paper around the jar, then draw and cut out a winter or Christmas skyline. Attach the paper to the jar, and light the candle.
Floating Winter Candles
These floating winter candles are similar to the winter lamps we've just seen, and show just how many crafts are possible using just a jar and a candle. Understandably, these floating candles require tea lights or small candles so that they can float on the surface of the jar.
As you can see, you can choose from several jar filling options. Add water, then cranberries, twigs, cones, oranges, flowers, or leaves. Also, these floating lamps can be made in bowls, vases, and glasses too.
Christmas Painted Spoons
At Easter time, some cultures paint boiled eggs and roll them down a hill. This is a great way to fill an afternoon with young kids, as everyone ends up really invested in their own design. The same can be true for these Christmas painted spoons.
Sit kids down to paint their own metal or wooden spoon using acrylic paints. If you want to hang your spoons from the tree, then fold the handle of a metal spoon to make a hook.
Festive Christmas Chandeliers
We've already advised that people decorating their homes for the holidays make use of the numerous inexpensive baubles that can be found just about anywhere at this time of year. We suggested hanging baubles from the windows at Christmas, but why not attach them to the light fixtures too?
Hanging some Christmas ornaments from the light fixture turns it into a real Christmas chandelier. This one uses Christmas branches with berries as its base, and red, silver, and white ornaments.
Christmas Decorative Lamps
These decorative Christmas lamps are so simple and take hardly any time to put together. As you can see, these classy looking lamps are made using a transparent vase, and could also be made in a glass bowl or jar.
To make your own Christmas lamps, just put a bunch of baubles, twigs, and cones into your glass receptacle and add a string of lights. This crafting project is so easy that it barely qualifies as one.
Woolen Christmas Stars
These little woolen Christmas stars look great hanging from the tree, the light fixture, and just about anything. To make them, you need knitting wool, glue, some nails, and a wooden cutting board. To begin, position the nails in a star shape on the wooden board, and dip your yarn in a mixture of glue and water.
Feed the wool around the nails to make a star shape, and continue until the wool has created a thatched and layered star shape. Trim let it dry, and hang.
Origami Star Decorations
OK, we'll say from the outset that we can't explain how to make an origami star using words alone. For that, we humbly point you to an origami instructional video, or a set of steps that comes with individual pictures. What we're here to tell you is that you can do it! You can make an origami star!
Apart from the origami skills, you'll just need some tissue paper and a pair of scissors for this Christmas DIY. Good luck!
A Snowman Refrigerator
This Christmas DIY is super simple, but is sure to bring a smile to everyone's face around the holiday period. This is a particularly good craft for small kids, especially those that are learning how to cut out shapes using scissors.
To create your own refrigerator snowman, cut out circles for eyes, a mouth, and coal buttons. Make the nose from some orange paper, and use wrapping paper to make a scarf. Excitingly, this design can also be done on doors.
Miniature Christmas Trees
These homemade miniature Christmas trees make great gifts for family and friends. After all – who doesn't want a tiny tree to place on their coffee table? Who doesn't want one on each windowsill?
To make your own mini tree, make a basic cone shape out of some card. For your base, choose between green sequins, velour, pompoms, or tinsel. Attach your chosen material with hot glue, then decorate with mini pompoms or puffy paints.
Mason Jar Snow Globes
Speaking of cute Christmas gifts, these mason jar snow globes are amazing. When making one of these, make sure to mark the front of your jar and ornament with a pencil.
Then, trace around the jar lid on some paper, and glue the paper to the lid. Afterward, glue your chosen décor inside the globe and cover it with fake snow or glitter. Hot glue the edges of the ornament, then tie the rim with a ribbon. Put candy, a candle, or cocoa powder inside.
Almost Glowing Embers
This is another handy Christmas craft that yields incredible looking results. To achieve this glowing embers effect, simply add a string of Christmas lights to a basket or bucket full of logs, pine cones, twigs, or branches.
This is a great DIY project that makes for some fun preparation. Prior to putting these together, you could go out for a walk and gather up some attractive logs and pine cones. For that reason, this DIY is also excellent for kids.
Upcycled Christmas Terrarium
Whilst the previous DIY project included some outdoor items, this upcycled Christmas terrarium can include just about anything. Generally, terrariums are like aquariums but for plants, and people arrange them to look like their own self-contained gardens.
This terrarium was found in a thrift store, and upcycled to become a festive decoration. To do the same, paint and distress with a sanding sponge, attach craft letters and ribbon, and fill with inexpensive Christmas baubles. Add lights and pine cones for a final flourish.
Fabulous Festive Pillow
It can be tempting to splash out over the Christmas period, especially when stores are full of luxurious new festive items. However, it's not that difficult to make your own holiday furnishings, especially if you already know how to sew.
To make this fetching reindeer pillow, start by finding your chosen pattern, enlarging it, and cutting it out. Pin the design to red felt, and cut your pillow fabric to its desired size. Using a pattern, sew the pillow together and attach the reindeer.
Sweater Christmas Tree Pillow
Alternatively, if you have some fabric lying around, you can transform unwanted items of clothing into adorable cuddly Christmas trees. To do this, you need a sweater that's at least 70% wool, and then you need to shrink it in a hot wash.
Draw your tree design on your sweater and cut it out. Then, fill with fiberfill and sew up the hole. Alternatively, use a brown sweater to make a trunk. Decorate your cuddly Christmas tree pillow with handmade pompoms.
Snowy Candle Holders
Here's yet another style of candle holder made using a jar and some salt. In this case, wash and remove the label from a glass jar, and add a small candle. Then, pour in coarsely ground salt to act as snow.
This wonderful looking candle holder has a piece of lace as a trim around the top of the jar, and a fetching bow tied in brown twine. Along with the pine cones, this gives a delightfully rustic feel.
Scrap Wood Christmas Tree
Here's another more sizeable Christmas DIY project for those that are comfortable using power tools. This person put together an incredible scrap wood Christmas tree made from bits of wood found in dumpsters and old cabinet knobs.
To make one of your own, use a reciprocating saw to cut various types and pieces of wood to make a triangle shape. Then, paint green, add a dark wax topcoat, and paint assorted knobs. Eventually, arrange everything and screw in place. You can add ornaments to the knobs, or leave them as they are.
Cone Beaded Christmas Trees
These lovely cone beaded Christmas trees can be used as they are, or with lights inside to make a festive lamp. To begin, take a polystyrene cone and cover in parchment paper. Secure the paper with pins, and then continue adding pins in random places, without pushing all the way in.
Starting from the bottom, wind Christmas wire, twine, and sequins around the pins. Cover the twine and wire in textile glue, and remove pins when dry. Then, add pearls and stars where the pins were.
Traditional Paper Snowflakes
In a list of Christmas crafts, how could we forget the classic Christmas snowflakes cut out of paper? Paper can be simply folded and cut to create these symmetrical decorations, but there are more complex designs out there too.
Have a look online for 3D medallion snowflakes, six-pointed snowflakes, and even snowflakes made up of gingerbread men. With some paper and a pair of scissors, nothing can stop you! Don't forget to hang some in your windows.
Sweet Sock Snowmen
Aren't these little snowmen adorable? To make your own, grab an old pair of white socks that you don't want anymore, cut off the tip, and tie a piece of thread around the other end. Add rice to give your snowman a rounded belly, and tie another piece of thread around that. Make another rice ball for the head, and tie closed.
Next up, sew on your snowman's eyes and nose, and make him a scarf from some fabric. Attach buttons to his front, and use the sock tip as a hat.
Christmas Cutlery Stockings
We really are a fan of these Christmas cutlery socks, especially because they don't take a huge amount of effort. Obviously, you could just buy tiny stockings from the store, but if you're nifty with a sewing machine then it's better to just make your own.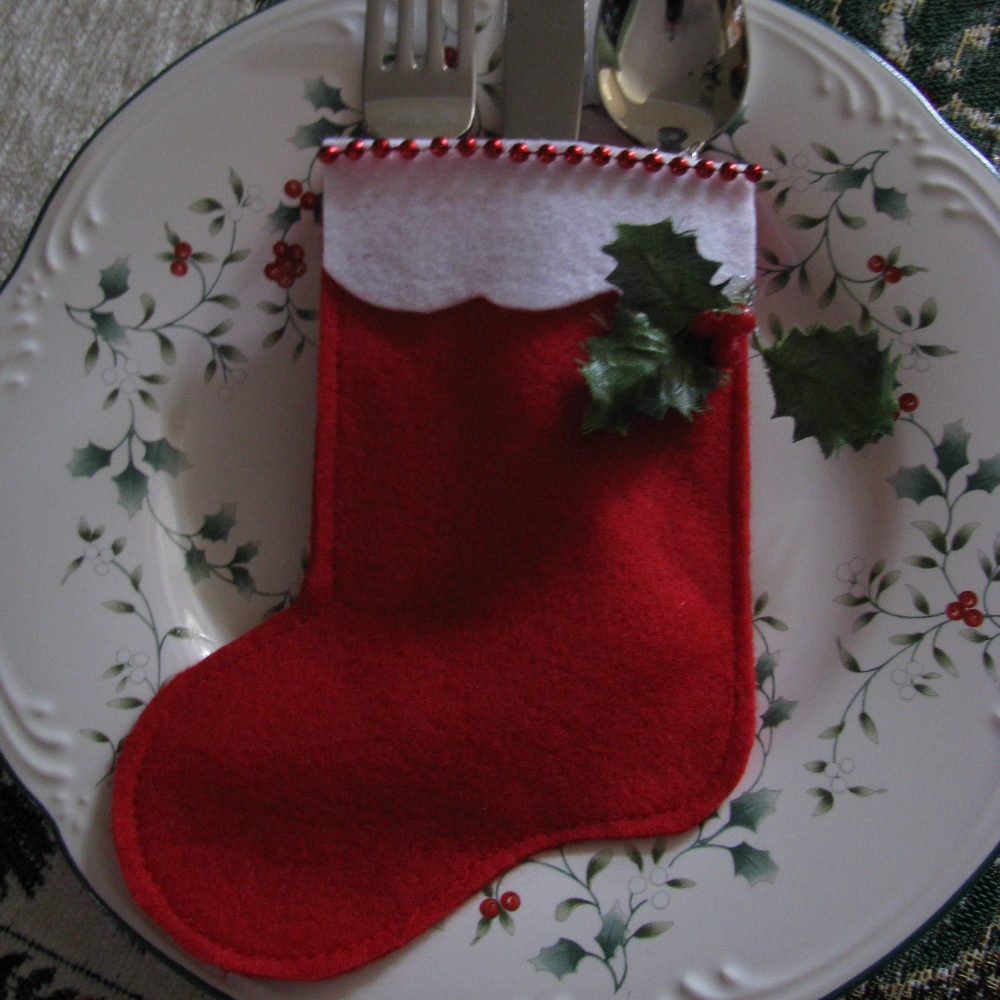 This Christmas cutlery stocking is made from red felt and trimmed with red beads, but there are other design options too. Cutlery could also go into woolen red socks with cream woolen tops. Guests will love it!
Glowing Photos and Pictures
At Christmas time, most people are thinking of their loved ones. Those lucky enough to be with them will be dining and opening gifts with their family members, while others will be looking at photographs and reminiscing over years gone by.
As a mini craft project, use Christmas lights around family pictures, photographs, pieces of art, and children's drawings. You can easily attach a picture to Christmas lights using clothespins, and it's sure to make people smile.
Sock Advent Calendar
Advent calendars are loads of fun every year, and this one made from socks is extra cute. To make one of your own, stock up on Christmas socks after the holiday period, when you can get multiple pairs for only a few dollars.
Embroider each date of the month to either the top or bottom of the socks, using a color of thread that will be visible. Alternatively, use gift tags or puffy paint instead. Pop a small gift in each sock, and watch the fun unfurl.
Hershey's Kisses Christmas Trees
This Christmas crafting project is super easy and a great DIY to do with kids. Simply cut out some colorful Christmas trees using colored paper, cardboard, or pieces of wrapping paper. Stick a toothpick to the back of each tree using a piece of tape, and then stick each one into a Hershey's Kiss.
Of course, these little trees can be made using whatever candy you like. Once completed, they make tasty little pieces of décor for the Christmas table.
Glowing Christmas Sign
In order to make one of your own impressive glowing Christmas signs, grab yourself a piece of wood, a drill, some chalk, a set of Christmas lights, and whatever you want to use for decoration.
Unless you're super artistic, we recommend using a printable template for this DIY. Mark out where the lights go in advance, drill the holes, stain the wood, and then trace on the words in white chalk paint marker. Finally, insert lights and hang.