The red carpet is more than just a place for stars to pose for pictures. It's also a great place for designers to show off their creations. Still, even some of the most iconic names in the industry have had to account for unexpected fashion challenges.
Winnie Forsyth
At the 2013 British Academy Film Awards, Winnie Forsyth sported this yellow gown and got some really stunning photos. What we don't see as much of is the train. That's because the star removed it for an easier but equally elegant evening after the wind picked up.
Hayden Panettiere
Hayden Panettiere is no stranger to red carpet shows. Still, even a professional can take the wrong step here and there. Hayden Panettiere was attending the 2014 Met Gala in a ballgown fit for a Disney movie.
The length was a bit of a struggle, though. While she mostly managed it flawlessly, the stairs on the red carpet got the better of her. Luckily, the actress took it in stride and managed to get a few great photos on those same stairs.
Jenny McCarthy
Jenny McCarthy looked stunning at the 1997 Oscars but said something seemed off. She told US Weekly that there was a reason her dress felt too tight.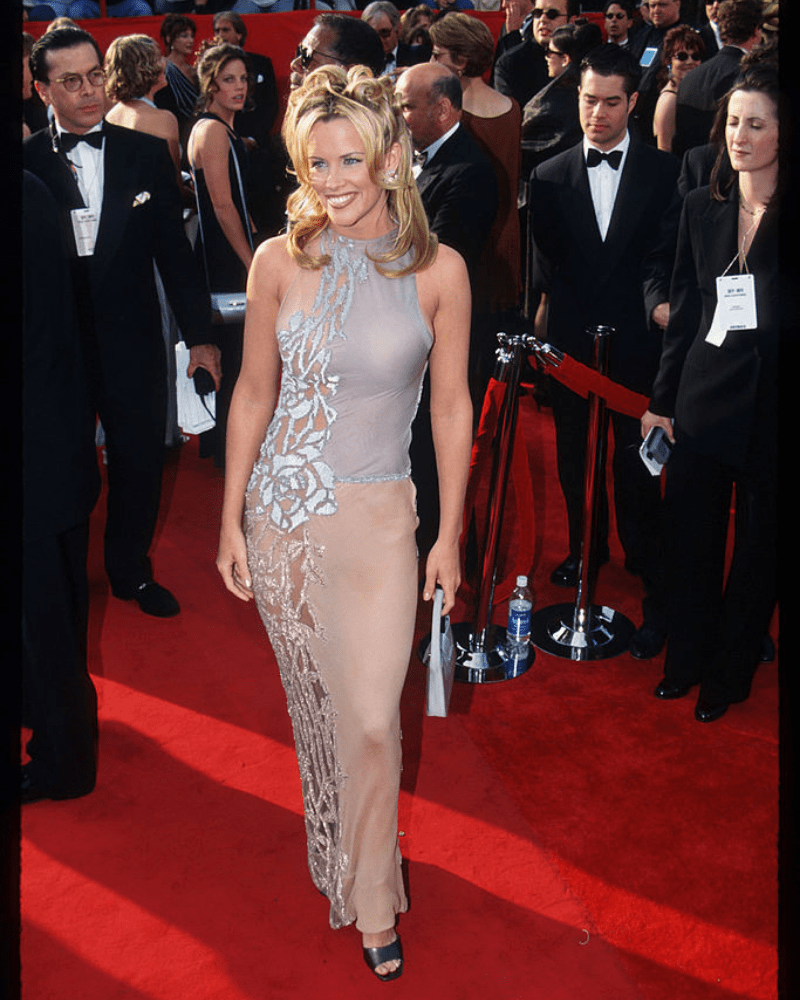 She shared in the interview that she "walked down the red carpet, went to the Vanity Fair party, felt like a million dollars but I did wonder why it was so tight in the chest all night." Her questions were answered when she ran into Valentino himself who informed her that she was wearing the dress backward.
Ashley Graham
Anyone who has ever put on a pair of stilettos can tell you that they aren't easy to walk in. Still, some people manage to make it look effortless!
With that difficulty in mind, it's no surprise that stars stumble sometimes. As a supermodel, Graham is no stranger to making difficult outfits look effortless. Yet, everyone still had a moment of concern when the star got a stiletto caught on her outfit. The good news is that she was fine and even recovered right away!
Sofia Vergara
Sofia Vergara is no newbie on the red carpet. That's why you could have missed theModern Family star's fashion crisis in 2012 at the Emmys.
Vergara was there to accept an award for Best Comedy Series along with the rest of the team involved in Modern Family. Yet, a backstage sneak peek showed us that sometimes in Hollywood, you have to make last-minute adjustments to glamourous looks to avoid problems like them splitting down the seams.
Cameron Diaz
When Charlie's Angels premiered in 2003, Drew Barrymore, Lucy Liu, and Cameron Diaz did a lot to promote the film. Of course, this included a few red carpet appearances. At the 2003 premiere of the movie, the actresses all showed up in coordinating white outfits.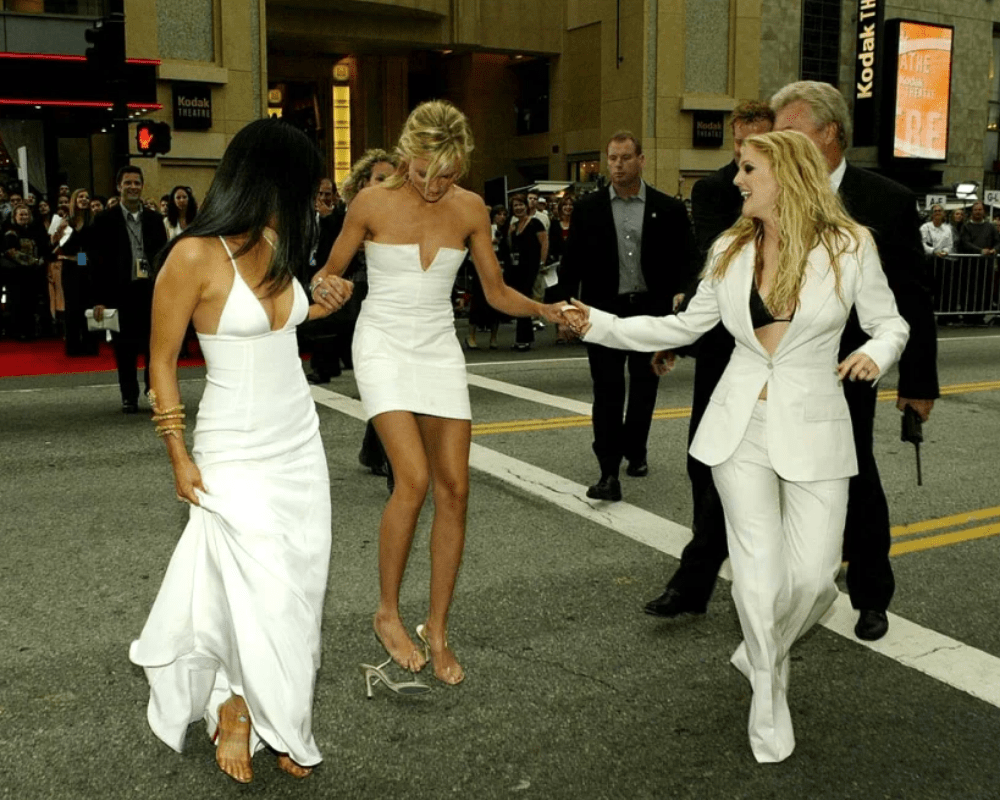 Luckily, Barrymore and Liu were right there as Diaz lost a shoe crossing the street to meet a few fans. We suppose a broken shoe strap is the least that Charlie's angels have had to deal with!
Nicki Minaj
Nicki Minaj has shown off quite a few eye-catching outfits over the years. She's even managed to adapt those outfits on the fly when things go wrong. There are surely plenty of fashion crises that we never even noticed over the years.
When the rapper attended the MTV Music Video Awards back in 2014, her gown unexpectedly flew open! What would end in disaster for most people, though, the star simply caught her dress before it was too late and played the whole thing off like it was nothing.
Lili Reinhart
Speaking of fearful fashion moments that we didn't see, you would have never have known that Lili Reinhart needed some last-minute alterations at the 2017 Teen Choice Awards.
All in all, the actress looked great for the event and it was only because she shared the blue carpet mishap on Twitter. She shared that she was thrilled to be there even after "the waist-band of my dress was held together by two strings and one of them completely ripped as I was being zipped up."
Lady Gaga
If there's one person who isn't afraid to deal with an impractical outfit, it's Lady Gaga. She wasn't going to disappoint at the 2011 CFDA Fashion Awards. The singer was more than attending too — she was accepting a fashion icon award while she was there!
For all of the complicated parts of this outfit, Gaga nailed the train and impossibly high heels, only hitting a momentary drag when her top fell down. Still, the icon just pulled it up and kept going.
Zendaya
We've already briefly touched on the challenges of wearing staggeringly high heels to walk across the red carpet. They're hard to keep your balance in when you aren't posing for photos!
At the 2016 Radio Disney Music Awards, Zendaya rocked a pair of shockingly high yellow heels. Her stylist once shared with Footwear News, "Rumor has it that he said he did not design the shows to be worn outside. Literally eight minutes into the walk to the carpet, I was holding her up because her legs were buckling."
Behati Prinsloo
There are certain jobs that would make you ready to handle fashion mishaps. We imagine a Victoria's Secret Angel would have to know how to adapt to a fashion mishap. That's what happened to Behati Prinsloo when she and her husband Adam Levine walked the carpet at the 2015 Vanity Fair Oscar Party.
Her dress seemed like a no-fail choice. Unfortunately, she noticed it slipping down throughout the night but didn't miss a beat in avoiding disaster — thanks to her trusty hubby. As you can see, the two shrugged off the mishap with a couple of laughs.
Ben Affleck
Women's fashion is highly critiqued on the red carpet but that doesn't mean that they're the only ones who make a fashion mistake here and there.
Ben Affleck experienced a red carpet disaster of his own, although it could have been much worse. While his outfit for the Suicide Squad premiere in 2016, his slate suit was a safe choice. He just might have wanted to take a few more minutes on the buttons before stepping out.
Micaela Schäefer
Fashion is an art form and it seems that it knows no bounds. You might even notice that some designers try to add new looks using traditional textiles.
Micaela Schäefer made waves with a unique look at the Men in Black 3 premiere in Germany. The bottom half of the gown was made up entirely of the film from VHS tapes. As a result, the wind frequently swept the skirt away but Schäefer seemed to accept the wind as part of the look and went with it.
Katherine Heigl
Katherine Heigl had a big night at the ShoWest Awards in 2010. She was there to accept the Female Star of the Year Award, after all!
She even had the perfect gown for the event — until the shoulder strap broke, that is. Luckily, the star managed to catch the issue with help from presenter Billy Bush. This allowed her to continue her speech and accept the award without letting the surprise trouble interrupt her for too long.
Mario Lopez
If you find yourself in an embarrassing situation, sometimes you might find laughing at the situation helps. Mario Lopez did, at least.
On the way to one red carpet event, he ran into some last-minute issues with his suit. They were pretty hard to ignore too! So, the actor decided to own the situation, sharing the debacle on Twitter even adding the tags #PantsTooTight and #Undies to poke fun at the unfortunate situation.
Rihanna
Rihanna was there to stun everyone at the Ocean's 8 premiere. For the event, the musician and actress donned a Poiret dress accented with eye-catching metallic gold that draped down one shoulder.
Unfortunately, it was this sliding sleeve that caused the star so much trouble. Nothing disastrous happened but the sleeve keep trying to continue its descent, leaving her pulling it back up between photos. The good news is that she successfully avoided disaster and got a few good snapshots too!
Katy Perry
There are times that you just have to go with what happens to an outfit because there's nothing you can do. That's where Katy Perry found herself at the 2017 Academy Awards.
The dress she wore, designed by Jean Paul Gaultier, took some vintage inspiration. It made it through the red carpet but at the Vanity Fair afterparty, the gown tore at the seam on the drop-waist. Perry managed to stay covered but the designer dress was done for.
Dakota Johnson
To her credit, Dakota Johnson did safely make it through the red carpet at the People's Choice Awards in 2016. The wardrobe malfunction in question happened on stage.
Ironically, the actress was accepting an award as Favorite Dramatic Movie Actress for her role in 50 Shades of Grey when her top started to come undone. Luckily, actress Leslie Mann snagged it just in time. Johnson quickly cracked a joke about what happened, saying that if the top had come off, it wasn't anything anybody hadn't seen before.
Bella Hadid
Bella and Gigi Hadid are a pair of supermodel sisters who have reached quite a bit of fame over the years. So, neither is a stranger to handling a little fashion mishap.
For Bella Hadid, the 2016 Cannes Film Festival came with some challenges. She went for a strikingly classic look with a high-slit red gown and a pair of heels. While the supermodel pulled it off, the train was deceptively difficult to handle.
Lily-Rose Depp
Lily-Rose Depp is a talented actress in her own right. At the event we're talking about here, she was celebrating the premiere of the movie The King.
While at the premiere, the actress opted for a gown from Chanel's 2020 collection. It featured a halter top complete with a ruffled texture. One particularly strong gust of wind tried to blow her top out of place but the actress just caught it with a laugh and readjusted it for the next picture.
Cardi B
Cardi B has gotten a lot of attention for her fashion sense over the years. In 2018, she attended a performance in Calibash where she performed "La Modelo".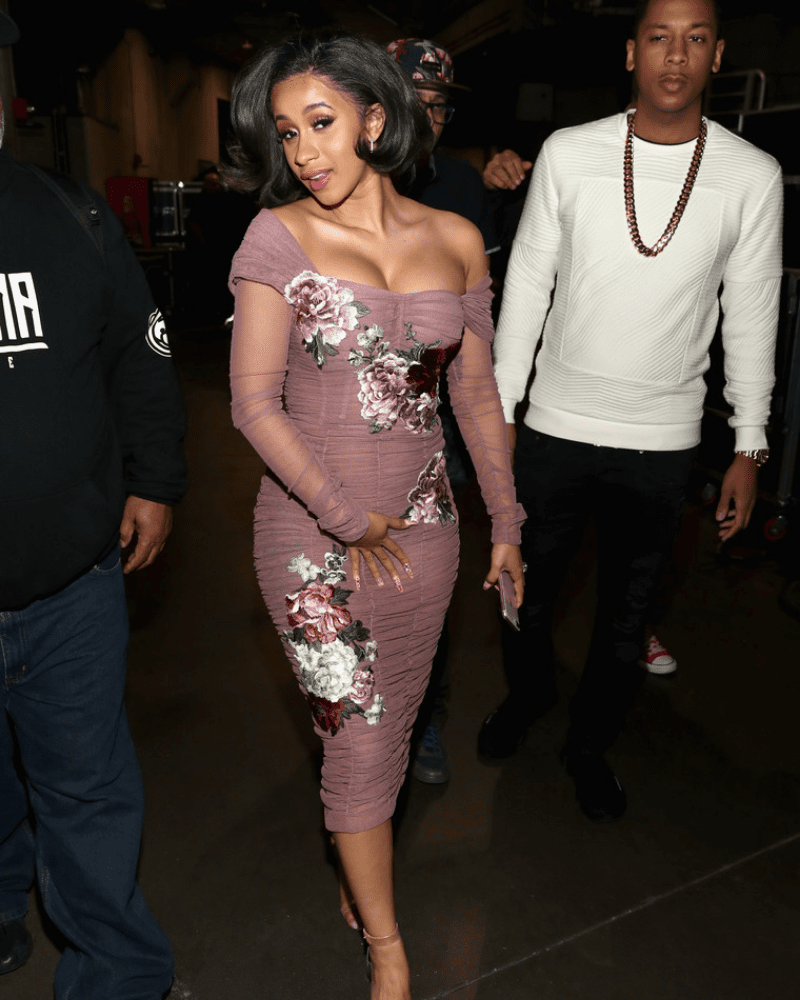 The dress was gorgeous and classic design but it came with a major drawback. Once the rapper was on the red carpet and under the stage lights, it became clear that the dress was transparent. She later wrote on Instagram, "Last night was LIT!!! Even tho I realize my dress was see-through and I realized at the last minute."
Kim Kardashian
Kim Kardashian is well-known for her fashion sense, so it's no surprise she didn't pull any punches at the opening for The Cher Show in a vintage Versace gown.
The gown featured a halter top to keep the back open. The only problem was the star made a bit of a mistake during the red carpet when she over-adjusted her dress to expose part of her chest. Kardashian didn't hesitate to laugh it off, even sharing it on Instagram censored with a GIF of Cher.
Emily Ratajkowski
A train on a gown can add a lot to the design. Yet, the longer your dress is, the harder it likely is to make sure you're aware of it all night long.
Emily Ratajkowski is no stranger to difficult outfits as a supermodel. So, she probably handled the challenge of her gold gown at the 2017 Golden Globes more than most people would. Still, it was clear that the train was getting in the way in some of the photos.
Chloë Grace Moretz
Chloë Grace Moretz was making an appearance on Watch What Happens Live when she ran into a bit of a wardrobe failure. Luckily, you couldn't spot it unless she turned around. The velvet top that the star rocked was trendy but it didn't quite have the stretch she needed it seemed.
It looks like one overextension tore the seam and split the back of the sleeve. To be fair, if the outfit had to tear, the back shoulder — which was only visible when she was signing autographs — isn't all that bad.
Anne Hathaway
Like many, you could have easily missed the wardrobe malfunction that Anne Hathaway experienced at the Met Gala. She eventually revealed the story herself on The Late Show With Stephen Colbert.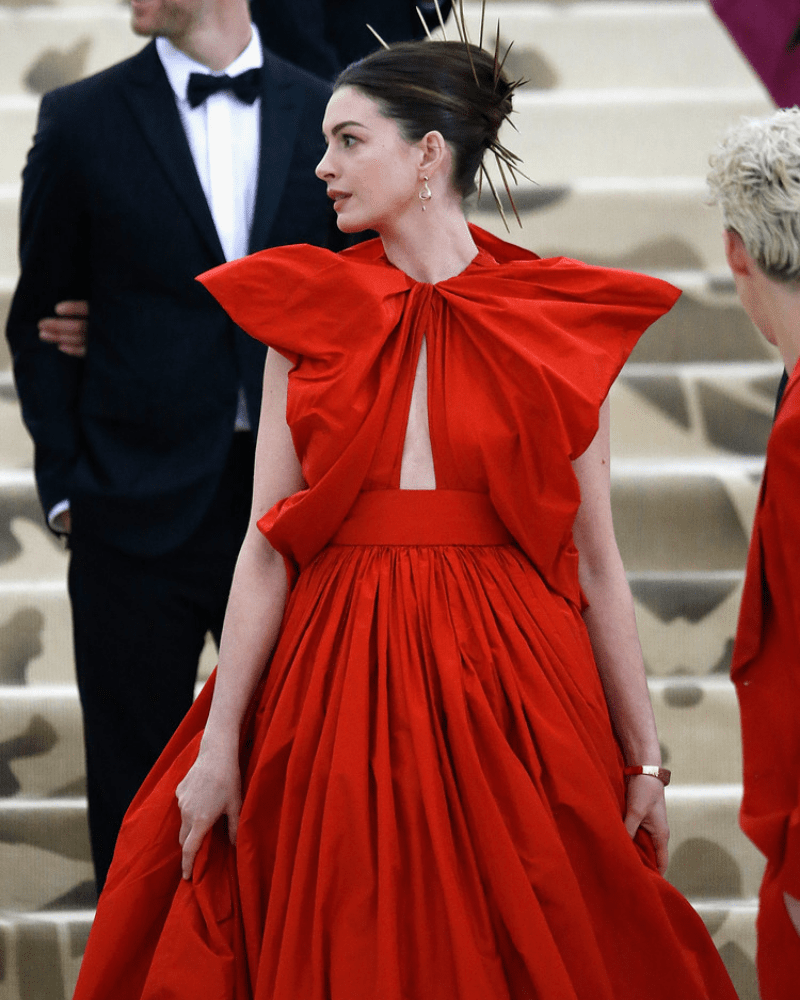 "One year, I was going as the guest of Calvin Klein and Francisco Costa. I was about a block away from the Met," the actress shared, "And I sneezed, and my dress split. Like just straight-up split open." They stopped to find a seamstress to help and, as a result, Hathaway was second-to-last to show up.
Hailee Steinfeld
Some fashion mishaps on the red carpet really steal everyone's attention. Other ones happen to fly under the radar and you wouldn't know until much later on.
At the 2017 Oscars, Hailee Steinfeld fell into the latter category. The star looked stunning in a flowery gown that went all the way down the red carpet to pool at her feet. If you have a good eye, though, you can see a slight tear the star managed to hide almost completely.
Minnie Driver
As a versatile performer, you have to be able to think on your feet quickly. It helps during red carpet wardrobe malfunctions as well. In 1998, Minnie Driver was attending the Oscars and chose a red gown that seemed appropriate, being that she would be walking the red carpet.
Before long, the dress started falling off but Driver wasn't deterred. She simply wrapped the shawl she was carrying around her shoulders, letting the faux fur cover her in a way that was definitely still fashionable.
Laura Govan
Laura Govan went for a fun look on the red carpet when she sported this patterned party dress. She ran into many of the same problems that Michelle Rodriguez did in the strapless dress.
The star quickly realized that her party dress wasn't staying put. That meant that she had to spend a good portion of her time on the red carpet holding the dress in place or pulling it up. The dress ended up looking great, even if it wasn't the most comfortable choice.
Janet Jackson
We'd be remiss to talk about fashion disasters without talking about the unfair situation that Janet Jackson faced at Super Bowl XXXVIII. The singer was billed for the halftime show with Justin Timberlake.
During the performance, Timberlake pulled the pocket of fabric over the right side of Jackson's top, causing the wardrobe malfunction. She later shared that the move was accidental, as Timberlake was only supposed to remove her bustier and leave her bra in place for coverage.
Ariel Winter
Ariel Winter is another member of the Modern Family cast who isn't a stranger to awards shows. In 2017, she stole the show on the red carpet at the Emmy's.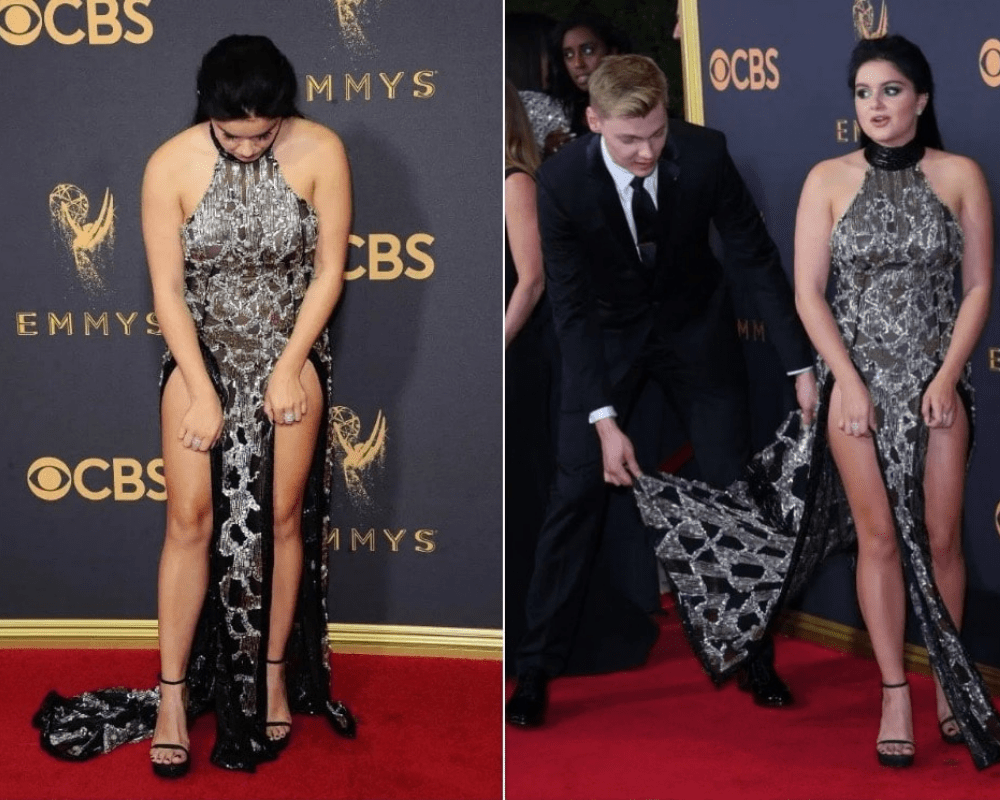 The gown in question was a sparkling pattern with a pair of high slits to add to the design. The star did manage to avoid anything too disastrous but it wasn't without effort. It looks like managing the dress was a bit more difficult than anyone originally expected.
Margot Robbie
Margot Robbie has had a meteoric rise to fame with a number of amazing roles over the years. For the event in question, she was celebrating the release of I, Tonya.
Playing the titular Tonya Harding, Margot Robbie was there as the star at the premiere in Australia. The actress chose a simple silk gown in pale pink, livening it up with a deep neckline. It was this neckline that left the star adjusting her dress all night.
Beyoncé
Beyoncé has a way of making everything she does look effortless. In reality, even something as simple as walking across the red carpet can be surprisingly difficult. The tight mermaid gown definitely turned heads at the 2011 Met Gala.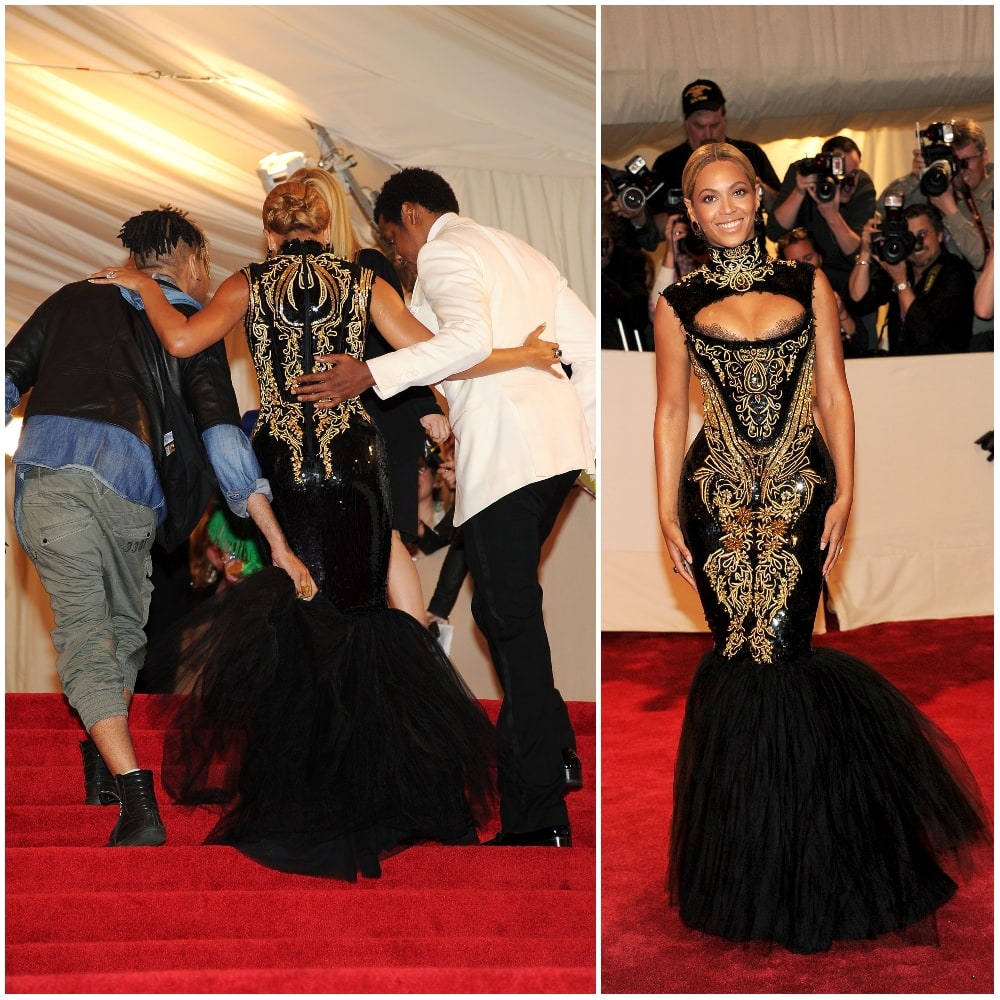 However, mobility was the price to pay for the look. Luckily, Beyonce had her husband and fellow celebrity Jay-Z close at hand to help her across the red carpet when it was time to move between photos.
Kaitlyn Bristowe
Fans didn't have to wonder what happened when Kaitlyn Bristowe had to think fast on the red carpet. Throughout the 2018 Emmys, she kept fans updated on the debacle.
For the event, the star donned a black gown. It would have all been fine had the dress not split up the back at the zipper. She shared that with the tear, it was impossible to stand and stay decent but that a friendly couple was kind enough to lend her a jacket.
Chrissy Teigen
Chrissy Teigan made a brand for herself around a relatable persona. So, it's no surprise that she shared her unfortunate circumstance with fans after a red carpet wardrobe malfunction.
For one event, Teigen chose a white gown with a slit up the front. As luck would have it, though, that slit got torn about five inches higher throughout the night. Teigen shared a snap of her hiding the fashion malfunction under her bag to try and mitigate the situation.
Lady Victoria Hervey
Lady Victoria Hervey is a celebrity of many titles. Between her socialite status — as well as her acting and modeling careers — she has plenty of red carpet experience under her belt.
At the Cannes Film Festival in 2015, she was presented with a particular challenge. Her low-cut and high-slit gown had been holding up well as she strutted and posed across the red carpet. Unfortunately, a stray gust of wind tried to blow it all apart. She managed to handle it with only a bit of a stumble.
Emma Stone
We've seen here that trains on dresses are gorgeous but sometimes more difficult than you might expect. Sometimes, that isn't just for the star in the dress either.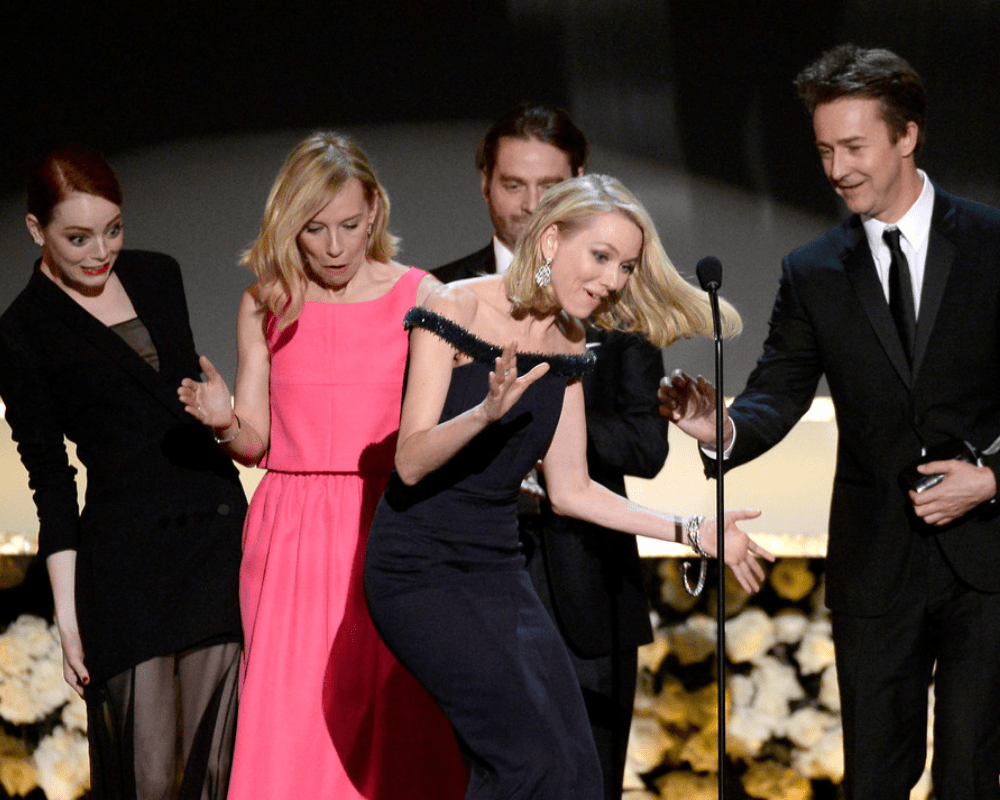 Emma Stone had no trouble with her train on the red carpet in her Dior suit and dress combination. Everything was fine until Stone and the rest of the cast of Birdman jumped onstage to accept an award for Best Ensemble. Naomi Watts tripped over Stone's train but Edward Norton was there to catch her before she fell.
Elisabetta Canalis
No one would have known that Elisabetta Canalis ran into a snag with her dress before the 2010 Oscars that could have spelled out disaster. As she was getting ready, the zipper on Canalis' dress broke while she was getting ready.
Rather than calling in Hollywood help, though, the situation was easily handled when Canalis' then-boyfriend, George Clooney, stepped in to sew the zipper back into place at the last minute.
Beyoncé Is Back
Well, before Bey's mermaid gown at the Met Gala, she was asked to perform at the 2005 Academy Awards. This included multiple rapid and complete costume changes.
With only minutes to get ready, the star didn't fully strap one of her heels to sing "Learn to Be Lonely" from The Phantom of the Opera. During the performance, the shoe came off entirely while she was performing but stayed hidden in the dress so the audience never noticed.
Jennifer Lawrence
Jennifer Lawrence isn't afraid to show us her more relatable side. That means she's quick to own and laugh off a red carpet mishap. That's exactly what happened at the 2011 SAG Awards. In a floor-length bright pink gown, the star was definitely capturing people's attention.
The only problem was that she also turned heads when she stepped on her dress, causing her to stumble. In true J-Law fashion, she just laughed it off and got back to posing for the paparazzi.
Another One for Jennifer Lawrence
As we said, Jennifer Lawrence isn't shaken by a relatable mistake on the red carpet. To be fair, she made it through the red carpet in a gown for her first Oscar acceptance.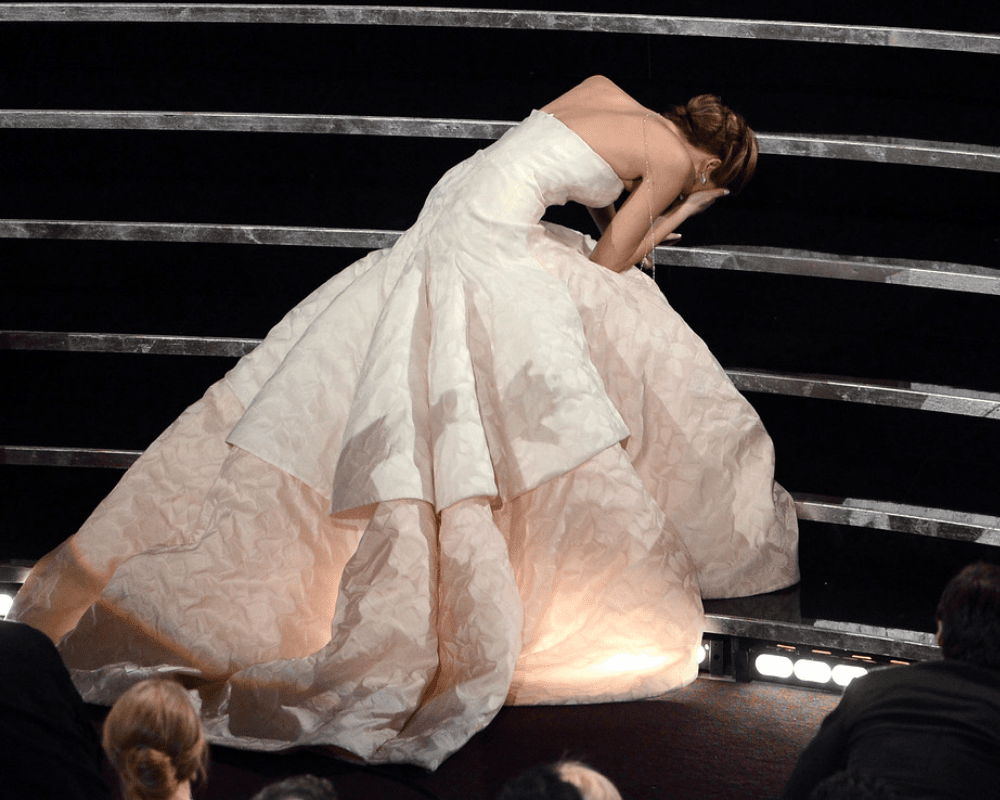 It was actually accepting the award that made things difficult. On her way up the steps, the Best Actress winner stepped on the hem of her dress, causing her to fall on the stairs. She later said, "What went through my mind when I fell down? A…a bad word…that I can't say. It starts with 'F.'"
Sarah Hyland
Sarah Hyland has been walking red carpets for quite a while. For her look at the 2017 Emmy Awards, the actress opted for a red gown with a cutout. The only problem is that when there's a cutout in a dress, you probably hope it won't endanger the security of it staying on.
Yet, it seems like Hyland was caught off-guard when the bottom part of the dress just wouldn't stay in place, revealing her Spanx. As a result, she had to keep adjusting the band — and later posted about it via Instagram to make light of the situation.
Mariah Carey
Everyone knows the story of Cinderella. In that story, losing a shoe is the way for her true love to find her after the ball. Mariah Carey had her own Cinderella moment — she just decided to swap out those glass slippers for a pair of fairly high Louboutins.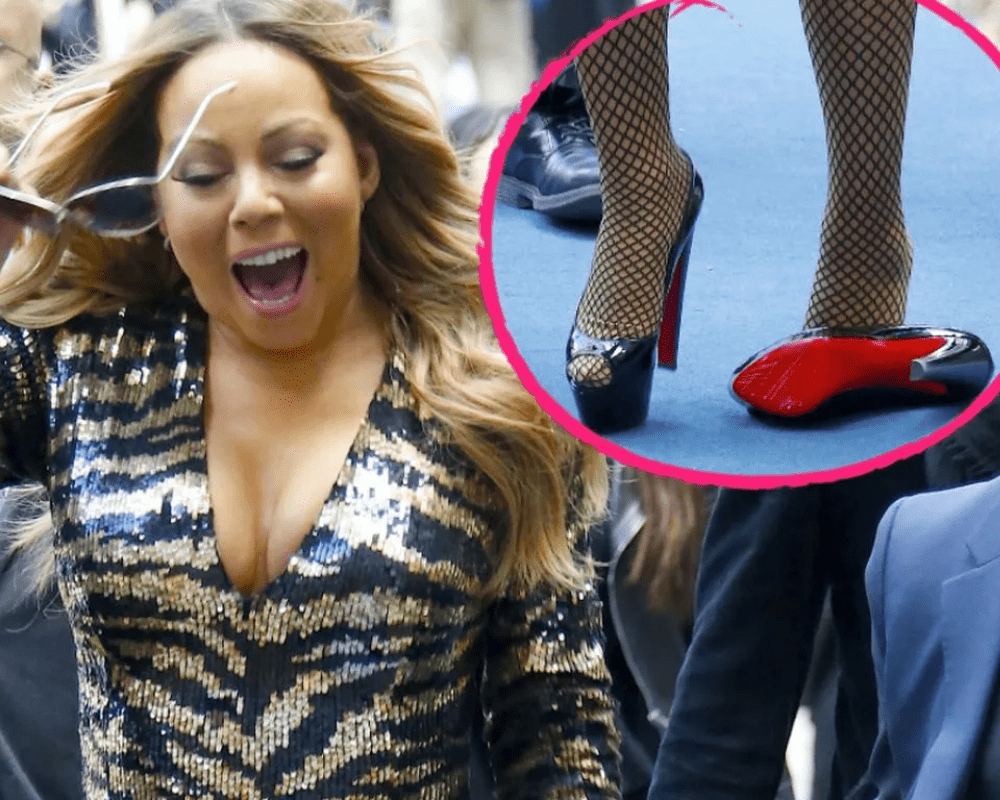 However, it seems like that extra height would make this misstep all the more intimidating but Carey is a professional and didn't let the stumble hold her back for long.
Michelle Rodriguez
Strapless dresses have a lot of appeal. Still, they aren't always easy to keep up with since they don't have the straps for support.
That was exactly the problem that Michelle Rodriguez ran into when she stepped out for the sixth The Fast and Furious film. It didn't take long to realize the problem — the dress kept sliding down! Still, Rodriquez managed to catch some great photos even if she had to hold her dress up for most of the night.
Emma Roberts
Emma Roberts has shaped up to have all of the acting talents that you'd expect from a member of this famous family. So, there are plenty of premieres that fans can spot her at.
The star was attending the premiere for The Blackcoat's Daughter when her purple dress started to deteriorate. It isn't hard to see that one sleeve is split down the side in this picture. She shared with PeopleStyle, "My sleeve almost fell off and completely exposed my body!"
Kendall Jenner
At the 2016 MTV Movie Awards, Kendall Jenner showed up in a stunning outfit. In particular, people quickly fell in love with the dramatic lace-up heels she paired with the dress.
The only problem was that those stilettos just refused to stay laced even after it took a pair of assistants to get them on at all. Between photos, her assistants had to keep redoing the ties. Gigi Hadid even gave fans a behind-the-scenes look in a Snapchat video of Jenner trying to get the sandals off at the end of the night.
30+ Dark Boy Band Secrets We Never Knew About
With their good looks and tight harmonies, boy bands seemed to be everywhere. Behind their carefully sculpted and wholesome images were some pretty dark secrets hidden just below the surface. Here are some dark boy band secrets that, even if you were a die-hard fan, you probably didn't know about.
Where's My Money?
Manager Lou Pearlman once bragged that the members of his successful band, The Backstreet Boys, had made "well over $50 million apiece." That said, many sources say that the performers made less than $300,000 each. Meanwhile, Pearlman was making millions!
New Secret Boy Band, Same Tricks
Lou wasn't only stealing millions from the boys of the band, but he already had his "plan B" ready and waiting in the wings. He had formed another boy band, and they were gaining some traction.
While he was managing the BSB, Pearlman had begun to put together a new group of boys that would eventually become competition for the Backstreet Boys. You may have heard of them – *NSYNC. Like BSB, Pearlman stole millions from the members of *NSYNC, leaving them with embarrassingly low paychecks.
The Dinner That Changed Everything
By the late '90s, *NSYNC was one of the biggest music groups in the world. With sold-out tours and chart-topping hits, one would have expected the boy band members to be millionaires. Unfortunately, this was not the case and the members were paid just $10,000 instead of millions.
Band Member Lance Bass knew something was off and immediately consulted a lawyer who found that the band's manager, Lou Pearlman, had manipulated the contract in order to entitle him to more of the band's earnings. Thankfully, Bass' suspicion paid off!
Health Concerns for A Backstreet Boy
Along with all the trouble with their money, one of the members was secretly dealing with serious health issues. Brian Littrell had been informed by his physician that he needed surgery on his heart.
Brian had been born with a cardiac defect, which was now causing problems. But the show had to go on, so he had to set his surgery up around the band's schedule, which meant waiting longer to have it.
How's Your Voice?
The Backstreet Boys would have more to be concerned with when it came to Brian's health, but he would opt to keep his other health issues silent for several years. Brian had also been diagnosed with muscle tension dysphonia.
In fact, he was able to hide his health concern from the rest of the band for years. They would only find out in 2015, six years after he had been told about the issue.
Nick and Brian's Tension
If you've been a fan of Backstreet Boys since the beginning, you may be shocked to know that the relationship between Nick Carter and Brian Littrell changed considerably throughout the first couple of years of the band's success.
The two seemed inseparable at the beginning, but through the years, as they grew, tension did too. Eventually, it led to a very heated argument that was captured in the band's documentary, Show 'Em What You're Made Of. In the documentary, Carter loses his temper and lashes out at Littrell over everything from unresolved issues to his voice.
Different Paths
By 2002, members of the Backstreet Boys wanted to break away from their management company, The Firm. Bandmember Nick Carter didn't want to leave the company.
He didn't want to disturb the process of his current solo project, which would be released the same year the band severed ties with the company. Seeing their management company play favorites put a strain on the already strained relationship between the band's members.
More Heart Issues for the Backstreet Boys
In 2008, Nick had been feeling bad and had no energy, so he went to the doctor and was diagnosed with cardiomyopathy. This, of course, was hard for the youngest member of the band to deal with. The lifestyle Nick had been living was only exacerbating the problem.
Much like Brian did, Nick chose to keep this health concern private and didn't share it with the band either.
Nick Falls Into Addiction
The heart condition that was worsening for Nick was due to his fall into addiction. Under the stress and perils of the limelight, the youngest member had taken to drinking and other bad habits.
Eventually, he would come out and tell everyone about his addiction problems in 2009, but until then, he had kept it relatively quiet. Carter would continue to struggle with substance abuse and sobriety in the years following this admission.
Another Backstreet Boy With a Problem
Like many young stars that gain their fame so young, A.J. McLean from the Backstreet Boys also struggled with addiction issues. The descent into his dependency started when the band was filming the music video for the 2001 hit, "The Call" and the young artist was offered an addictive substance on set.
This first taste would eventually lead to multiple trips to rehab for mental health issues and additional problems. McLean has been honest about his difficult path to sobriety and his struggles with addiction.
Don't Upset Them
As the Backstreet Boys gained popularity, Pearlman's other band, *NSYNC, was told to remain in the shadows. They were hidden so well that when looking at reports from the company itself, they had another name.
The band wasn't allowed to go into the record label, and on every bit of the documents pertaining to the band, you would find the name "B5". Eventually, though, the secret leaked, and the truth was known – Pearlman was secretly creating a new source of income with this new boy band.
Staying In the Closet
When you're a member of one of the most popular boy bands ever, there is a lot of pressure on you to be a certain way. Not only are you meant to dress a certain way, but you need to appeal to your core audience – teenage girls.
This made it hard for Lance Bass because he didn't quite fit that mold. Throughout the band's highest points of popularity, Lance struggled with his sexuality. Eventually, he would come out in 2006, but for the entirety of much of the band's success, he suffered.
Issues With Body Image
There's a lot of pressure on boy band members to look a certain way, and because of this, they often develop issues related to their body image. One Direction's Zayn Malik would eventually talk about this long after leaving the band.
He would discuss in an interview why he felt this way and why it had to be kept secret. Food was the only thing he had control of in his life, and so that is where he focused on.
Always an Outsider
After finding himself a member of the boy band One Direction, Zayn Malik almost immediately wanted to leave. It seemed to him that he just didn't click with the rest of the band and that he had a very different idea of where he saw his musical career heading.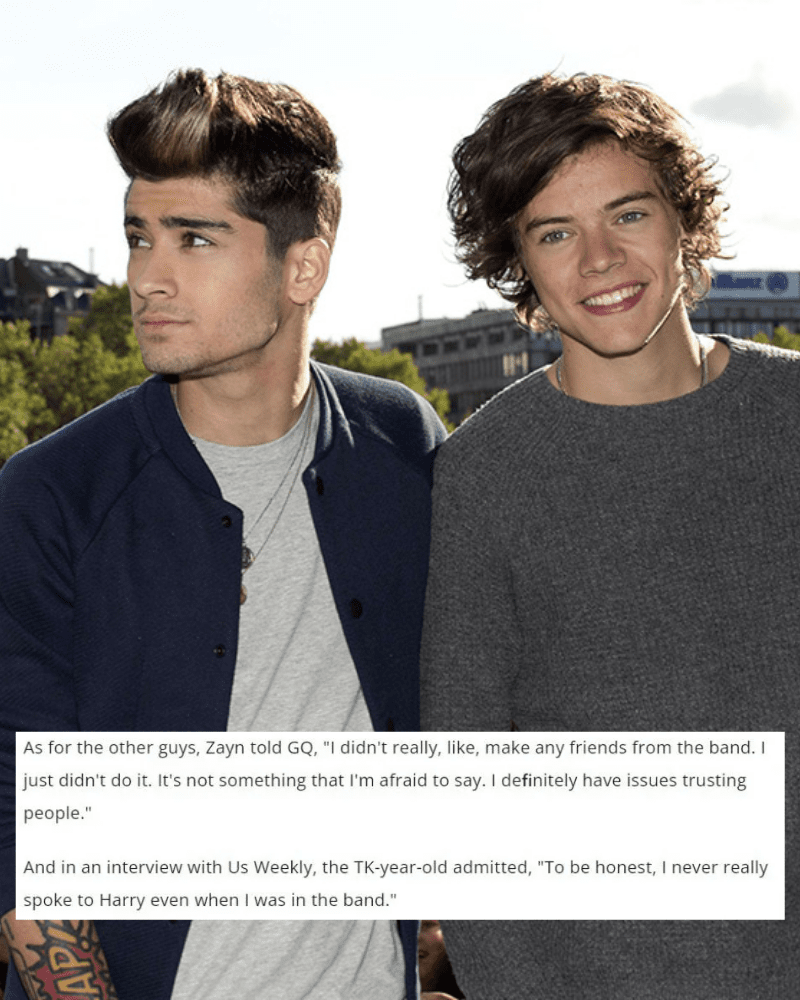 The truth is, according to Zayn, that he never really made any friendship connections with any of the other band members. Even going so far as to say that he and Harry Styles never even really talked.
Mental Health Struggles
We can't even imagine how much pressure is put on young stars to be perfect. Combined with their rigorous schedule, they have no time to breathe, often leading to exhaustion and mental health problems.
Liam Payne from One Direction felt this. In an interview, the singer spoke about feeling lonely and lacking control over his life. His struggle with his mental health even led him to contemplate ending his own life. Thankfully, Payne has sought help and is now talking about his struggle to help inspire others to seek help.
Music, My Way
When you're a member of a boy band, you are sometimes limited as far as the genre of music you can make. In the case of One Direction's Zayn Malik, the British crooner was disappointed in the generic-sounding pop music he was expected to produce.
In an interview, Malik claims that he wanted to make music with more of an R&B sound or with more soul. Unfortunately, his requests were ignored or worse – he was told to just follow the record label's orders. It's not surprising that he left the band to pursue his own musical career and identity.
Brotherly Disagreements
Over the past couple of decades, there have been many boy bands, but only a few of them have actually been more than just bandmates. The Jonas Brothers hit the airwaves at an early age and quickly became the darlings of most teenagers.
Naturally, the brothers began pursuing other interests outside of the music industry. Kevin was married and was the first to leave the band. Though his brothers tried to carry on with the band, they split in 2013.
An Uncomfortable Conversation
While many celebrities have no problem talking about their faith, others prefer to keep those things private. Unfortunately for the Jonas family, no subject was off-limits when it came to giving interviews.
The boys were forced to explain their religious beliefs after an interviewer threatened to say their purity rings were affiliated with a cult. As the sons of an ordained minister, the Jonas brothers were raised with certain beliefs including the wearing of purity rings – rings that symbolize a vow of chastity.
NKOTB and Mental Health Problems
With all the stress put on them to perform at all times, the young members of New Kids On The Block would, much like many other members of boy bands, begin to struggle with mental health issues.
Controversies like lip-syncing and the horrific tragedy at one of their concerts in 1992 had taken a toll on them. Along with that, interpersonal things caused many of the members to seek help. Band member, Jonathan Knight, has been very vocal about his struggle with anxiety disorders.
Not Out Yet
One of the New Kids on the Block members that had the most trouble was Jonathan Knight. This may be why in 1994, Jonathan announced that he was leaving the group due to his severe panic attacks.
These panic attacks may have been caused by the fact that he was riddled with anxiety and hiding a deep secret. His secret would be announced to the world by his ex-girlfriend during a live interview in 2011. Knight later confirmed Tiffany's comments and is engaged to his longtime boyfriend, Harley Rodriguez.
Another Victim of Lou Pearlman
It seemed that Lou Pearlman had a golden touch. Not only had he managed Backstreet Boys but *NSYNC as well. So it's not surprising that other bands would think it was an amazing idea to be managed by this man.
But just like the other two bands, the members of LFO would find out that was a mistake. In 2009, Rich Cronin discussed this on a radio show. The manager had stolen millions from the boys and Cronin even suggested that their former manager had behaved inappropriately with the band members.
Lou Pearlman Accused of Much More
For the boys of LFO, though, that was the least of the damage this predator had done. In fact, Rich Cronin would go on to discuss the inappropriate actions that he had allegedly witnessed while under contract with Lou including being asked to touch a part of the manager's body.
Other pop groups managed by Pearlman reported similar stories including being told to wear more revealing clothes, or receiving inappropriate massages.
K-Pop Scandal
Over the past couple of years, Korean pop or K-pop has exploded across the globe. Much like the boy bands of the '80s and '90s, they are formatted to have a clean and wholesome image.
Unfortunately for the K-Pop boy band Big Bang, this image would be tarnished, at least for one of the members. Seungri, who would eventually leave the band and entertainment altogether, was accused of distributing illegally-filmed content, embezzlement, and other serious charges.
Harassing K-Pop Heartthrob
Another popular K-Pop band, N. Flying, had a bit of a scandalous issue as well. Not only was Kwangjin saying horrible things about his fellow bandmates and dating his fans, but he would also eventually find himself feeling the wrath of the band's fans who wanted him out.
Accused of harassment and misconduct, the bassist for the band opted to leave the band instead of drawing out his embarrassment. Though we're sure his record label didn't really give him much of a choice.
Estrangement for the Carter Brothers
When multiple people in a family taste stardom at an early age, eventually, there is bound to be some friction. Nick Carter of the Backstreet Boys and his brother Aaron Carter seem to have found this to be true.
They seemed like a happy-go-lucky brotherly duo for years, but due to some dependency issues, the two have recently found themselves at odds via social media. As Aaron continues to suffer from mental health issues and issues related to substance abuse, we hope the brothers can put aside their differences.
Let the Right One In
Though there were many negative influences that Backstreet Boy's youngest member, Nick Carter, had to contend with, one person seemed to be the biggest one – Paris Hilton. According to Nick, the relationship with her was not a healthy one.
Their long-term relationship was at the height of Paris's party days, and this only served to expose Nick to everything he was having a problem with. According to Nick, Paris seems to see things a little differently!
I'm Out of Here!
Like with any family, which is basically what a boy band becomes after years, there may be those that want to take off and do their own thing. So in 2006, when Kevin Richardson of the Backstreet Boys told the world he was leaving, there had to be some adjustments made and made quickly.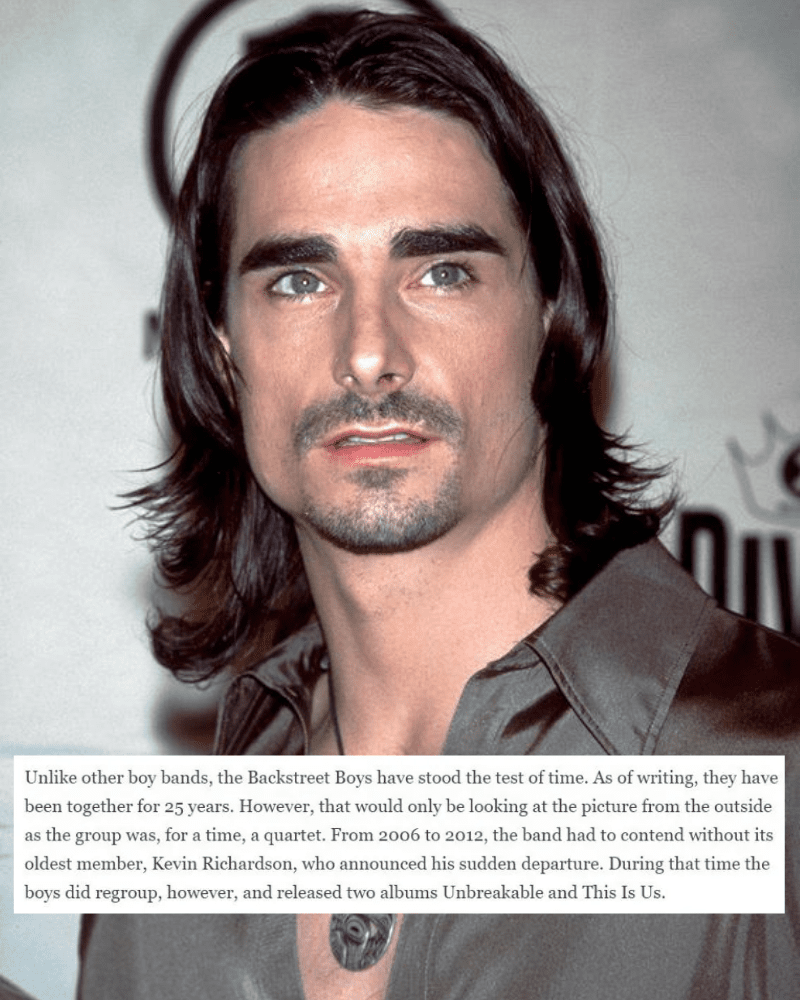 The truth is Kevin just wanted a little time to regroup and focus on his family. Eventually, he would find his way back home and return to the group in 2012.
The Backstreet Boys' Tragic Connection to 9/11
The success of any boy band is not solely due to the talents of the members themselves. Many of them use the same crew, which leads to the formation of an even larger family. So when one of them passes, it can be pretty impactful on the band itself.
One of the band's set carpenters passed during the tragic events of 9/11, and unfortunately for A.J. McLean of the Backstreet Boys, this passing coincided with other struggles he was going through at the same time.
New Label
It seemed in some ways that the Backstreet Boys couldn't get away from issues with their management and record labels. In 2002, they decided to leave their record company, citing several charges such as unfair competition and breach of contract.
This caused friction within the band, especially since the record label tried to utilize underhanded tactics to get Nick Carter to work on solo projects with their label. The label allegedly used the band's trademark and website to promote Carter's solo album making it difficult to record or tour as a band.
It's All Your Fault
It's tragic when you lose a sibling. Nick Carter of the Backstreet Boys understands this better than most, having lost his younger sister at an early age due to substance abuse issues.
But the mourning process is made even worse because it seems that his family feels that he is responsible for this. This may be why he didn't attend the funeral! This is such a heavy load to bear and quite the secret to keep.
Did You Feel That?
Sometimes the secrets kept may be dark but aren't necessarily horrible. Many fans understand that bands like Backstreet Boys have to fly to get from place to place, so they spend a lot of time on planes.
During one of these plane rides for the "Black & Blue" tour, the boys experienced a bit of a scare. It seems that AJ had made a bet with the captain, and the captain lost, so AJ had taken over the plane. There was just a little bit of a drop, and then the aircraft was back on course.
Get Off the Stage!
Sometimes things are kept secret when it comes to bad boy bands because it's just embarrassing. The Backstreet Boys had this experience with one of their performances, and until now, no one talked about it.
Most of us couldn't even imagine the Backstreet Boys being booed off the stage, but it happened one year at a foam party. It seems that the guys in the audience were not looking for a boy band, but some girls to make an appearance.
Liam Was Accused of Being Homophobic
One Direction may be one of the biggest boy bands in history, and with social media being prevalent in their lives, there are bound to be some issues that arise. For Liam Payne, one of these was an accusation of homophobia.
After some comments at a concert, one fan took to Twitter to call Liam out. Of course, the young boy bander denied the accusations, but the fan still felt that the comments were wrong. Many suspected that the band's management wanted this interaction kept secret so it wouldn't damage the boy's reputation!
Trouble With Dependency
The boy band craze took off globally, and not only did they come from the United States but also places like Korea and Great Britain. In fact, one of the biggest, Blue, was a four-man band that shot to fame in 2001.
Though not as young as the other boy bands, they still had to deal with all the pressures just like the others. Lee Ryan talks about these pressures when discussing his dependency on certain substances.
No Money Left
When we think of boy bands, most of us think of millionaires. Unfortunately for the boys of Blue, particularly Antony Costa, that isn't always the case. When the band broke up, several of them had to file for bankruptcy.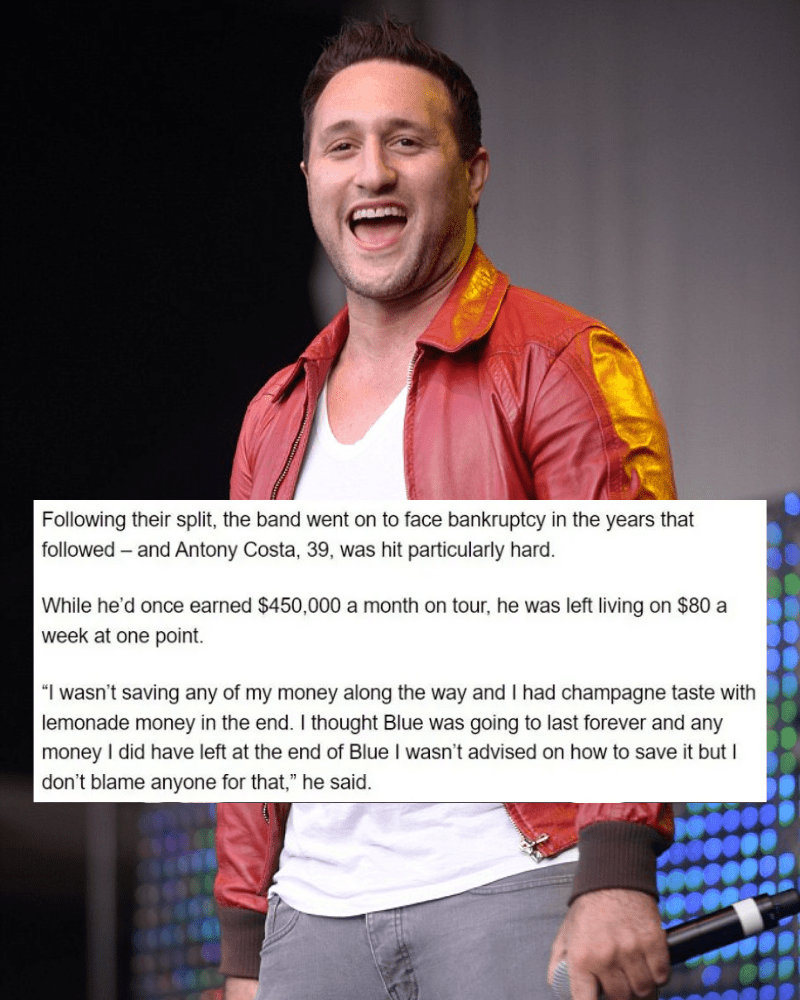 This wasn't due to some inappropriate actions of their management rather the fact that no one was there to help them learn how to handle their money. So they went from being able to spend almost half a million a month to barely being able to afford $80 a week.
So Many Temptations
When you rise to fame, you suddenly can ride on private jets and have tons of money at hand. This often comes with many temptations in the form of intimate relations with fans and others.
Both Lee Ryan and Duncan James of the band Blue seemed to have really gotten in trouble with this. It led to some pretty big scandals that we are sure they'd rather forget about.
We Have to Take a Break
In 2015, Blue was suddenly down to a band of three as Lee had to take a break from performing. No one understood what had happened and thought that it had been some part of a scandal that caused him to step down from the stage.
But in reality, it would later come out that he had had a health scare and had to have a cyst removed. Luckily, it wasn't cancerous, and once he had healed up, he could get back to doing what he loved.
I Want to Be Alone
Simon Webbe of the British boy band Blue found himself dealing with severe mental issues. The stress of being a member of the band would eventually lead him to substance dependency to combat his stress.
With multiple factors from the stress and the loss of his brother, Simon found himself having to work through severe bouts of depression and self-loathing. Thankfully, the former Blue member has found success once again in the entertainment industry and recently welcomed a child.
Feeling the Blues
Everybody deals with stress and anxiety in different ways. For many boy bands, because they have access to so many substances to numb their pain, they often find themselves dealing with substance abuse problems.
Duncan James from Blue certainly did. Thanks to the stress of the job and personal issues, including coming to terms with his orientation, Duncan needed to find help, and luckily he did. Fighting through it all, he finally came out and worked his way out of his depression.
Improper Conduct B2K
In 2004, one of the hottest boy bands, B2K, decided to go their separate ways. Though there was no real reason other than the fact that many of them wanted to go different directions in their career, one of the members would reveal a dark secret.
Raz-B accused his cousin and the band's manager of inappropriate relations with him and other group members. Though these were all just alleged accusations, it still was enough to cause major issues.
'