Oh no, she's wearing the same outfit! This is a catastrophe! While wearing the same outfit to the same event is a major faux pas, there is nothing wrong with wearing the same thing in public, right? Yes and no! It is just another funny anecdote for regular people, but when you're a celebrity hitting the town with the same thing on as another celebrity, it only serves to ask the question of who wore it better. We have found a few instances like this, and we are going to take a look at just who rocked it the best!
Caitlyn Jenner Vs. Kris Jenner
It is bad enough when the celebrity that you end up twinning with is a friend or a complete stranger, but when it is your ex, it is even more important to know who looked better in it. This happened to Caitlyn and Kris Jenner.
In early 2020, Kris had an appearance on a popular British TV talk show and wore a simple yet elegant black dress with a gold zipper. Eight years previously, Caitlyn had worn the same or similar dress to a publicity event.
Gigi Hadid Vs. Bella Hadid
Sibling rivalry isn't just reserved for the Kardashians on this list – the Hadid sisters seem to enjoy wearing the same outfit as well – and it's hard to pick a winner for this one.
Both Hadid sisters were seen out and about wearing this Tommy Hilfiger silver puffer coat. Gig kept it very '90s with a turtleneck and jeans, while Bella was seen wearing it a few months later with more of an athletic look. Let's be honest, they're both stunning no matter what they wear.
Miley Cyrus Vs. Harry Styles
Fashion knows no gender, and that means that sometimes you will be competing with the opposite one, just like Miley Cyrus and Harry Styles did in this black sequined jumpsuit.
In 2019 at the Oscar party for Vanity Fair, Cyrus strolled down the carpet in this chic little number, and a short while later, the former One Direction member rocked it at his SNL performance. The two even seem to have the same accessorizing thoughts too. Both definitely looked good.
Jameela Jamil Vs. Jonathan Van Ness
Rocking the runway at the Netflix Creative Arts Emmy's afterparty, Jonathan Van Ness, one of the stars of Queer Eye, rocked this stunning fuchsia trapeze dress.
The strapless number designed by Rochas was also the same dress worn by the British comedic actress Jameela Jamil at a YSL party in late 2019. No need for users to choose, Jameela copped to the fact that Jonathan wore it better on Twitter.
Kim Kardashian West Vs. Winnie Harlow
This entry from one of the Kardashian clan members is going up against Winnie Harlow. Both took a spin around town sporting this green Maisie Wilen dress.
Kim opted to tie in the yellow accent with a pair of strappy sandals. Having the same thought, Ms. Harlow chose to pick up the accent by matching her clutch to the yellow. Neither of them did any harm to this dress. In fact, they both kind of slayed it.
Brooke Burke Vs. Sofia Vergara
It is pretty common nowadays for stars to create their own fashion line. When they do, what better a way to get some free publicity than to wear it out and about on the town yourself?!
Sofia Vergara did that with a cut midi dress from her Sofia jeans by Sofia Vergara line. Then just a few months later, Brook Burke was spotted attending a meeting wearing the same dress.
Victoria Beckham Vs. Megan Markle
It might not seem fair to ask who wore it better when one of the participants is clearly pregnant, but when you're a star, all bets go out the window when it comes to fashion.
So when Meghan Markle stepped out in the same dress as Posh Spice herself, Victoria Beckham, there were sure to be some comparisons. Both chose colored accents, but Posh's accent is just a bit brighter.
Zendaya Vs. Gwyneth Paltrow
Zendaya has come a long way since her Disney days and has cemented herself as quite the fashion icon (hence why she is on our list more than once).
In early 2020 at one of the many awards ceremonies on her to-do list, Zendaya rocked a Tom Ford metallic breastplate. That same piece was also worn by Gwyneth Paltrow on the cover of Harper's Bazaar just a month later.
Michael B. Jordan Vs. Zendaya
The unisex look is something that not everyone can pull off, but Zendaya definitely seems to have it down to a tee. She sported a charcoal grey suit from Berluti to a Harper's Bazaar event that had previously seen the red carpet on the back of Michael B. Jordan.
Being the gentleman he is, Michael answered the question before we even asked via twitter. His opinion? Zendaya, all the way!
Khloe Kardashian Vs. Kylie Jenner
The sisters of the Kardashian/Jenner household seem to like to strut their stuff in the same things. This just begs us to compare them with each other, like in this animal print one-piece.
The one-piece from Onia x We Wore was donned by the younger sister on her trip to Turks & Caicos. There, she posed for a few 'grams. Not to be outdone, just a few months later, Khloe sported the same suit on her trip, posting an image to Instagram as well.
Kristina Schulman Vs. Danielle Lombard
The Bachelor is a phenomenon that has gone on for seasons, and many of the past alums have made quite the name for themselves. Two of these attended the same party and wore the same dress.
This could have been the height of embarrassment, but both rocked it their own way. Kristina chose to go business and accessorize it with a blazer and booties, whereas Danielle decided to go a little more hip and pair it with a leather jacket and white sneakers.
Kourtney Kardashian Vs. Kim Kardashian West
Fierce is one word some would use to describe the Kardashian sisters, and in this case, they would not be wrong. Both Kim and Kourtney chose to wear this tiger printed Roberto Cavalli dress.
Kim sported it first, and then a few months later, the elder sibling attempted to show her how it was done. Which sibling did it serve better? That is up to them, and hopefully, it doesn't lead to another catfight.
Rihanna Vs. Bella Hadid
Bella Hadid walked the runway and took fashion to the races with this checkerboard cape and short pairing. She definitely worked it on the runway. A few months later, another star worked it maybe just a little harder.
Rihanna, the pop icon, loved the look so much she took it out for a spin to a concert. This concert was on her home island of Barbados, and she lit the night on fire in this fantastic ensemble.
Amanda Peet Vs. Meghan Markle
Even when you are pregnant, you still want to look pretty, and especially when you are holidaying in Morocco. Duchess Meghan Markle chose to do that in a blue Carolina Herrera dress.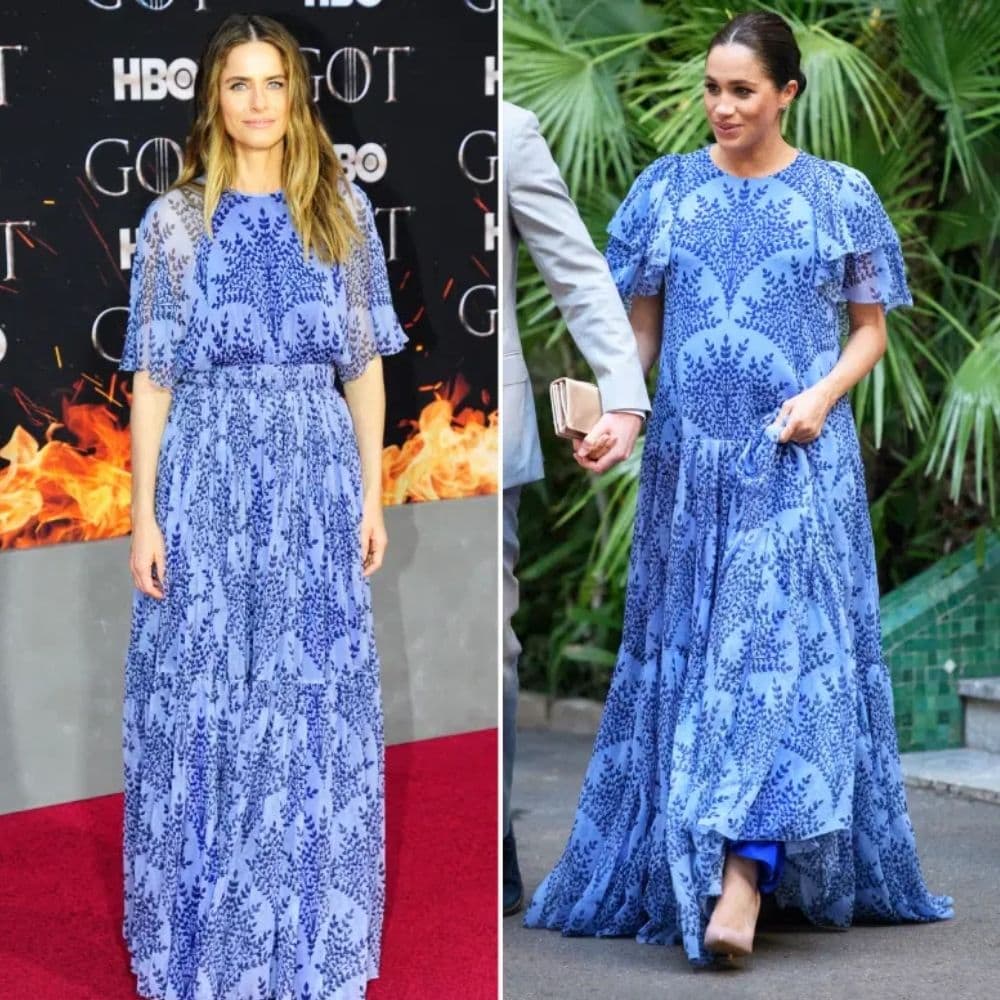 That same dress found its way to the Game of Thrones season 8 premiere. This time it was worn by actress Amanda Peet with a bit of a different fitting, of course. The glow that Meghan had changed everything, and for this one, she may have had a little bit of an advantage.
Travis Scott Vs. Kanye West
There are plenty of men who like to show off their fashion abilities, and one of the biggest is Kanye West. During his 2011 Coachella performance, he sported this Celine top without ever breaking his swag.
That same shirt was thrown over a simple white tee seven years later by Travis Scott, and still, the shirt screams "I know how to dress." Both rappers understand how to leave their mark when it comes to fashion.
Zendaya Vs. Timothee Chalamet
The Euphoria stars seem to have a similar style when it comes to red carpet events. Zendaya, a few years ago, chose to wear a beautiful fuchsia Christian Siriano suit to a Humane Society event.
Inspired by this bold and stylish look, her now co-star Timothee Chalamet opted to wear something very similar. This time, the hot pink suit was designed by British fashion designer, Stella McCartney. Both clearly have a wicked eye for style.
Priyanka Chopra Vs. Olivia Wilde
Both of these stunning actresses know what looks good on them, and apparently, the same printed Kate Spade dress is one of those things. Olivia Wilde chose to go with a bolder color, making her modeling of this dress a little more memorable.
But Priyanka wasn't to be outdone, choosing to go a little more subdued with her color choice (despite being able to rock that bright pink very well). Both have a keen eye and looked stunning in the dress.
Tracee Ellis Ross Vs. Jackie Aina
Dior has been a name in women's fashion for decades, and so everyone wants to wear a piece when they go out on the town or to a special event.
So when this fly leather cage skirt found its way into the hands of both YouTube star Jackie Aina and the comedic actress Tracee Ellis Ross, there were bound to be some arguments over who wore it with better vibes. Tracee chose to wear the skirt a little more business chic than Jackie, but both got it right.
Jennifer Garner Vs. Meghan Markle
Another entry from the Duchess herself, Meghan Markle. This time she wore a beautiful navy Roland Mouret dress to an event the night before her illustrious wedding. She accessorized the dress with simple jewelry and tasteful pumps.
Just months before, Jennifer Garner wore that same dress as she accepted her place on the Hollywood Walk of Fame. The actress chose to go without any accessories.
Dua Lipa Vs. Gigi Hadid
There are just some names that are synonymous with fashion, and one of them is Versace, hence the iconic and classic reputation of the designer and his clothes. That is why, no matter the age, if you want to look fabulous, investing in a Versace piece is a good bet.
Dua Lipa and Gigi Hadid know this, as is evident by their choice to rock a multi-colored jumpsuit. Gigi wore it first on the carpet at a fashion awards show. But Dua chose to wear it out for a fun night in New York City. Both know what they're doing when it comes to fashion, that is for sure.
Leona Lucia Vs. Chiara Ferragni
It is rare that you get a mother-son "who wore it best?", but here you have it. Fashion influencer Leone Lucia chose to take the question to her Gram. There, she posted this image of both wearing the same t-shirt.
The cute novelty tee from Fiorucci looks great on both, but we think Chiara has the better model pose, so he clearly wins the contest. Plus, he is just plain adorable.
Olivia Munn Vs. Mary J. Blige
Who are you wearing? Fendi, of course, was the response of both Mary J. Blige and Olivia Munn. Both chose to take this black and white jumpsuit out on the town. Mary J. sported hers to the Essence Festival and paired it with a pair of matching peep-toe pumps.
Olivia, on the other hand, chose to go a little more relaxed. But no matter how the outfit was worn, it looked great on both of these amazingly beautiful ladies.
Demi Lovato Vs. Whoopi Goldberg
Did Whoopi inspire Demi? Who knows, but both hit the red carpets strutting their stuff in this cheetah print Dior gown. Goldberg wore it to the 2009 Oscars and Lovato nine years later at the Billboard Music Awards.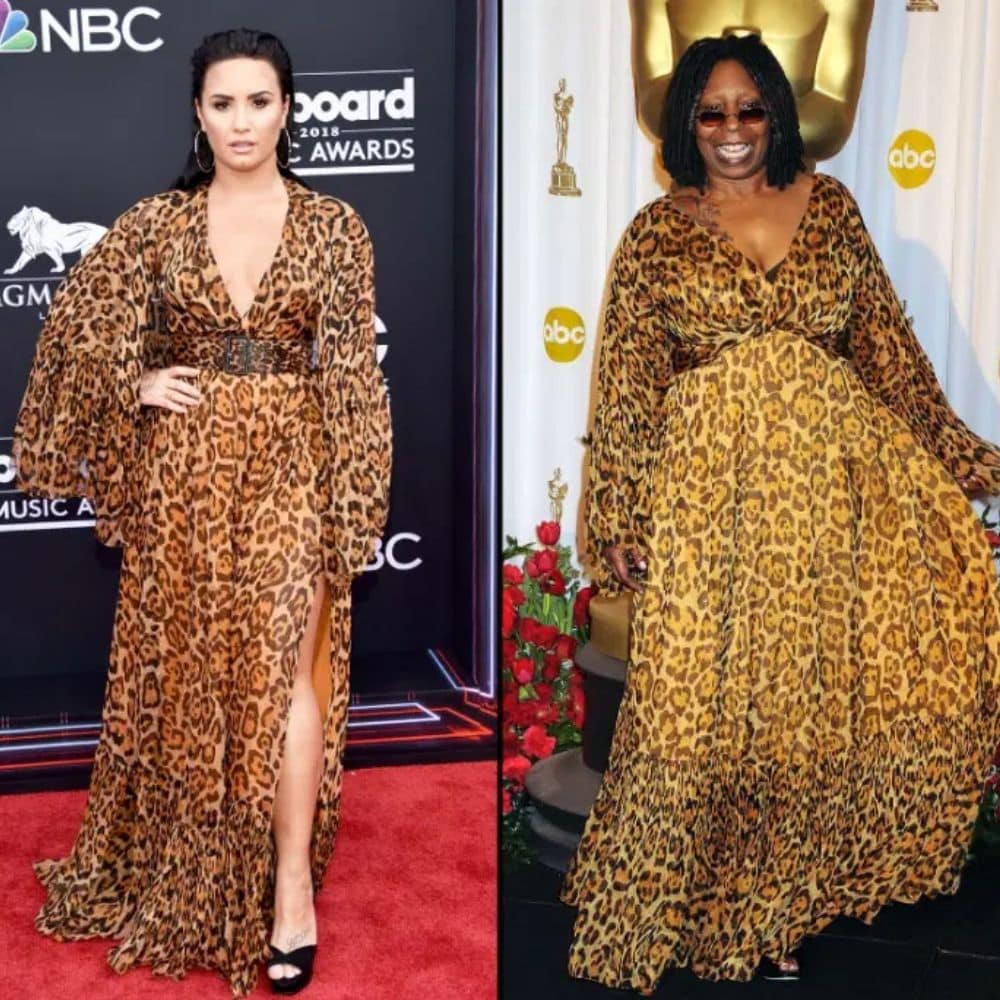 There is a little difference, of course – one wore a belt and let their legs slip through a slit, and the other went for a more covered-up look. Neither was wrong, and both were fun.
Beth Behrs Vs. Emmy Rossum
A simple little black lace top can be quite the addition to any outfit, but these two actresses took that idea to a whole new, yet very simple level. Emmy Rossum chose to don this number at a very special book launch.
Just a few days later, Beth Ehlers from 2 Broke Girls took the same top on a spin down the red carpet to a Hollywood premiere. Both paired it with a high waisted pair of pants and some cute pumps.
Helen Mirren Vs. Nina Dobrev
Seasoned veteran versus new blood? A generational "who wore it best?". The iconic veteran actress Helen Mirren took a spin in a Prabal Gurung with ruffles to a film premiere. Keeping it classy, she paired it with a gray heel and a perfect little clutch.
As an alternative, the young star of Vampire Diaries, Nina Dobrev, wore the same dress to her premiere of Flatliners. She took a little more edge to it and paired it with a set of strappy jeweled pumps.
Storm Reid Vs. Zendaya
Zendaya, as we have already said, loves a good pantsuit, so when it came time to collaborate with the world-class designer Tommy Hilfiger, she had to include one in her line, and show it off.
A little while later, the young star of A Wrinkle in Time, Storm Reid, chose to rock the same suit. She decided to make it a little more dressy by throwing the blazer over her shoulders.
Meghan Markle Vs. Courtney Love
Meghan Markle and Courtney Love don't have a lot in common except for their fame, and maybe a bit of style. The two ladies both put on a classy black Stella McCartney coat as they went out on the town.
The Duchess wore hers on a trip to Wales, while the rocker chose to wear hers at a YSL event in Paris. Both wore it well and chose to style it in their own unique ways.
Blake Lively Vs. Busy Philipps
Tartan is a fabric that has a classic and chic look, no matter how it is worn. Busy Phillips thought she would try on a Brunello Cuccinelli suit that Blake Lively had taken out on the town a few months previously.
Busy chose to let the suit do the talking, whereas Blake opted to top it with a long leather trench. Both took their own style and made the suit work for them.
Emma Roberts Vs. Alessandra Ambrosio
Both of these young celebrities decided to show their support for women's rights and power by pairing this comfy t-shirt with denim. The style was not chic, more of an everyday wear kind of situation.
But, both Roberts and Ambrosio were still able to make the shirt their own by pairing it with different denim types. That pretty much makes this contest a wash.
Kat Graham Vs. Katy Perry
The musician vs. actress "who wore it best?" lives on when it comes to this rainbow sequined dress from Christopher Kane. Katy Perry decided this was the look she wanted to strut on an appearance on a morning talk show.
On the other hand, the actress Kat Graham (who, by the way, is also a musician) took the same look and paired it with a different shoe for a more relaxed look. Don't get us wrong, she still looked chic. It was just a little less flashy than the red pumps that Perry wore.
Michael B. Jordan vs. Zendaya
A sleek suit is definitely the one thing you don't want to miss out on in your closet. This suit comes in two different colors (or at least these two put it in two different types of lighting). It looks like Michael B. Jordan took a deep charcoal gray while Zendaya chose a deep gray-blue.
Both of these stars kept this suede suit simple and buttoned with a dress shirt underneath and a tie to complete the look. But there's something about Zendaya's stance with one leg out slightly and a hand in the pocket that definitely seems to set it off right.
Kendall Jenner vs. Rita Ora
This tunic-style dress is one that creates a statement on its own in a monochromatic black and white. The deep V of the neckline is a little bold but still conservative enough to be worn without anything under it, like Kendall decided to do. Or you can add something under it like Rita.
While Kendall kept things simple with a straight hairstyle and no accessories, Rita paired a fishnet style shirt under this tunic as well as fishnet stockings. And the bold makeup and braids definitely complete the look.
Beyonce vs. Keke Palmer
These two had some spectacular fashion sense with their Yousef Aljasmi gowns for two different formal events. The form-fitting gold dresses most definitely turned heads, and these two women knew how to pull off all of that sparkle and then some.
Beyonce paired her version with a cute clutch and some bright, shiny earrings while Keke kept things a little more subdued. Though her bright white nail polish definitely set off the dress as well.
Nicky Hilton vs. Ashley Benson
This leopard print jacket definitely pairs well with an all-black ensemble and both of these women knew that when they ventured out with it. Matching black bags, black leggings, and of course their long blonde, hair make it difficult to determine just which of these two pulled off the best look.
While Nikki kept her jacket all buttoned up, Ashley chose to leave it wide open to show off the perfect clothing choice underneath. Not to mention the oversized sunglasses that really pull off that casual style.
Doutzen Koes vs. Gwen Stefani
These two rocked out in the same David Koma dress, but in two completely different colors. Black and white are an excellent complement to one another, with a sleek, monochromatic look, and maybe these two are both the winners in this dress.
Doutzen chose strappy sandals and no accessories for her rendition (though the beachy waves in her hair might be considered an accessory). Gwen instead chose some more classic pumps and plenty of silver bangles to make the look her own.
Rosamund Pike vs. Meghan Markle
The Duchess definitely knows how to dress and this outfit by Emilia Wickstead is no exception. She chose to pair the black version of this button-down dress with a cute hat and pocketbook for a royal occasion. On the other hand, Rosamund Pike chose the white version without the accessories.
Both dresses give a springtime look and accentuate a smaller waist. Not to mention all those buttons down the front that really set off the look. These monochromatic twins definitely make it difficult to decide who did the best job.
Jennifer Lopez vs. Kris Jenner
With this dress, you're definitely going to get all the attention. The high neck, long sleeves, and long skirt make it more conservative, but that slit up the side and the glitter all over definitely make sure you're going to be noticed. And that's exactly what Kris Jenner and Jennifer Lopez both did.
J Lo decided to create an intricate updo with simple stones at her ears. On the other hand, Kris chose a little more glitz for her jewelry, including rings and bracelets, and kept her short hair more simply styled.
Miley Cyrus vs. Lena Dunham
Between these two, this pantsuit definitely makes an impression. Miley chose to wear it in a slightly baggy style, while Lena went with a slightly more fitted look. But both pulled off the casual, hands in the pockets routine when it was time for the photos.
The all-black of the pantsuit itself is slimming and yet still bold, but it's the white stripe across the top that really sets it off. Both of these celebs chose to keep the jewelry practically non-existent, with Miley pulling out only a single bracelet on each wrist for the occasion.
Tracee Ellis Ross vs. Jackie Aina
This unique black skirt is definitely one way to make a statement. The black color means that it pairs with anything and the woven design gives it just the right hint of style. Tracee chose to pair hers with a black top and black jacket along with a gold necklace and clutch.
On the other hand, Jackie chose a black dress shirt, tucked in for a bit more professional look, and a statement bag. But the all-black style for both is definitely sleek and oh so gorgeous.
Zoe Saldana vs. Kim Kardashian
This mauve colored dress features casual straps and a straight neckline with a cinched waist and a slightly full (but short) skirt. It's definitely the kind of dress you can wear to an event like Saldana, or out for a stroll like Kim.
Both paired the dress with some more classic pumps but with a little bit of a strappy look. Plus their long dark hair really complimented the fact that this dress bares a little bit more of their shoulders. Why not show off those great locks?
Reese Witherspoon vs. Paula Abdul
This play on a schoolgirl outfit (or maybe it's a nuns habit) definitely has some fun to it. The black dress with white accents creates its own style. Perhaps that's why each chose to pair it with simple accessories like Reese's pearl and gold earrings and Paula's fishnet style stockings.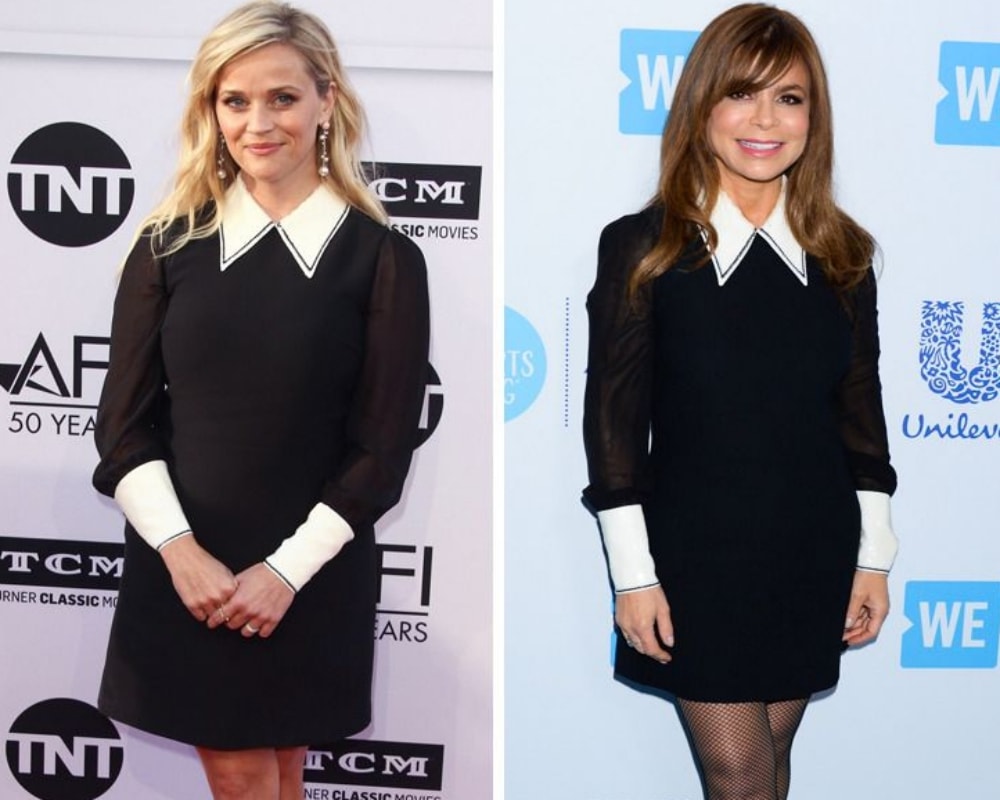 The end result is a somewhat demure dress, that still gives a bit of edgy vibe. After all, they've each got their own style to rock, right? And for any event, this dress really does make an impression.
Shakira vs. Pink
These two rocked out with the same dress at the MTV Awards and both of them definitely knew what they were doing. This leather look dress creates a unique vibe and the short, strapless, fitted style definitely showed off their own personal styles. Pink chose to pair it with pumps while Shakira went with tall black boots to complete the look.
It's definitely a look that fits the MTV awards, and wouldn't look out of place in a nightclub either. Not to mention it pairs great with the short punk hairstyle Pink has and the long, messy waves that Shakira is rocking.
Lady Gaga vs. Beyonce
This see-through red dress definitely does have its own flare and both Lady Gaga and Beyonce chose to take it on in slightly different ways. Lady Gaga chose a black bodysuit under the sheer dress while Beyonce paired it with even more red for a vibrant look.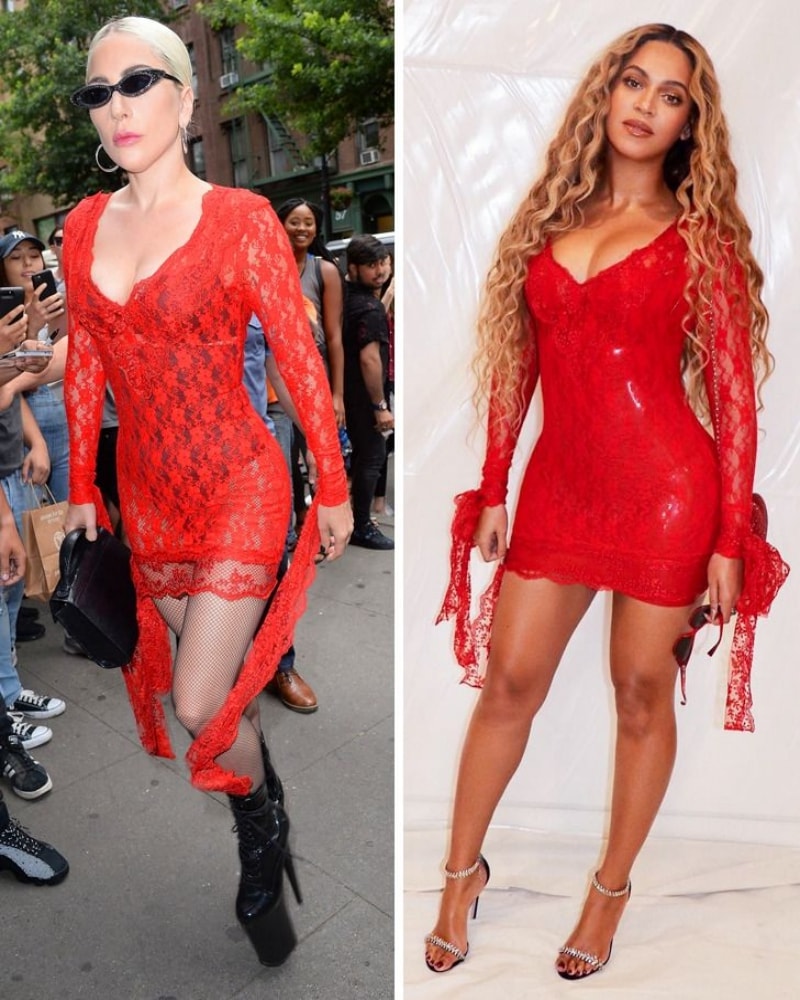 Lady Gaga pulled her hair back into a more severe look with her small sunglasses and hoop earrings. Plus some chunky boots and stockings. On the other hand, Beyonce chose her signature curls hanging down her shoulders with sunglasses and some strappy silver heels.
Miley Cyrus vs. Taraji Henson
The little black dress is a staple in just about any closet and there's a reason for that. But Miley and Taraji took that a step further with this dress. The sleek black looks stylish while the cutouts definitely create a little more enticing look to go along with it.
Miley paired this floor-length gown with a slicked back, short hairstyle. On the other hand, Taraji chose to keep her long, dark hair down around her shoulders, highlighting the dress and those curls at the same time.
Kate Middleton vs. Drew Barrymore
These two definitely have something in common with the auburn hair and the same taste in fashion. While Drew chose to keep the dress plain, the Duchess chose to pair it with some cute earrings and a shawl to stay a little warmer.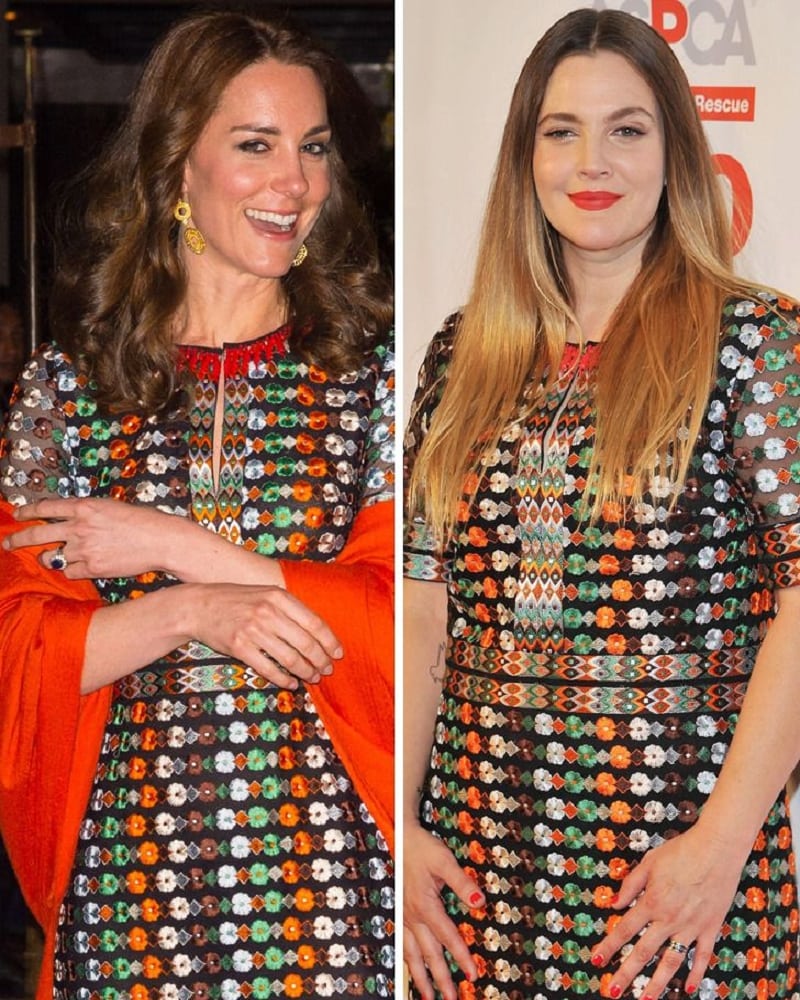 There's no end to the bright colors with this one, which means it attracts just the right amount of attention, and the slit down the front has a sort of peek-a-boo look that's still plenty conservative for an audience with the Queen (or anyone else).
J-Lo Vs. Shakira
There are few celebrities that can stand up to the style icon J-Lo, but at the Superbowl in 2020, Shakira sure tried her best. Though not exactly the same outfit, there were enough similarities to compare the two.
J-Lo rocked a silver Versace fringe jumpsuit while the Colombian hip shaker, Shakira, opted for a gold option. They both kind of worked it, so why don't we call this a draw, shall we?
Meghan Markle Vs. Lupita Nyong' o
It is hard to compete with stunning beauty like the Oscar winner Lupita Nyong'o, but the Duchess of Sussex thought she would try. At a music festival in March 2020, Meghan Markle donned a beautiful red caped dress designed by Safiyaa.
This dress was very similar to the one that Lupita had worn in 2014. Though Ralph Lauren designed Lupita's version, the lines and shape were similar enough to stir some comparisons.
Emily Ratajkowski Vs. Gigi Hadid
The Tony Awards are a good occasion to get out the fancy duds and show off what is new in your wardrobe. When it comes to fancy duds, there is nothing like an elegant black dress. Which is exactly what model/actress Emily Ratajkowski thought when she rocked this number.
The dress, though, had been snapped on the runways of 2019's spring and simmer lines. Who rocked it? Gigi Hadid. And she did a pretty good job – not to say Emily didn't hold her own.
Beth Stern Vs. Molly Sims
One may not think of cat print as an actual cat picture. Some would even question if this print is even stylish, but when paired with the right person, even a dress with cats all over it can be quite chic.
This is what happened with this midi dress that both Molly Sims and Beth Stern chose to wear out and about. Both chose to accessorize it differently, and this made them both fashion winners.
Kim Kardashian West Vs. Kylie Jenner
Sisters often share closets, but it seems like there is a rotation going on in the Kardashian/Jenner girls' homes. They have found themselves on this list several times already.
This time, it is a faceoff between Kim and Kylie. Both were seen in public wearing a very cute halter top from Charlotte Knowles. Kim strutted her stuff on Instagram, showing off her look with this top. Then later that evening, Kylie hit the streets to have a fun evening in the same top.
25 Fashion Rules Men and Women Should Live By
While fashion is subjective, like everything in life, there are certain rules and regulations that should be kept in mind when deciding what to wear. Check out these fashion rules for both men and women below to make sure you're a well-informed dresser.
#1 For Him – Less is More
When it comes to accessorizing your outfit, remember that less is more. When you overcrowd your look with too many pieces, it becomes difficult to appreciate each item amongst the chaos.
Take a fashion note from Ryan Reynolds, who kept his look minimal yet cool look here with these shades that perfectly complement his olive green jacket.
#1 For Her – Trademark Your Look
When you find an outfit combination that you really like, embrace it, and work your everyday looks around it. This is the advice that a lot of top fashion stylists offer to their clientele. For example, as seen here, the classic black leather jacket, boots, and side bag are great staples that can be rocked with many different garments.
This allows you to easily change your look around and dress from day-to-night. So, having minimalistic yet versatile pieces in your wardrobe always proves to be a good idea.
#2 For Him – The Pocket Square Dilemma
There is this common misconception that men should match their suit pocket square pattern to their tie. We are here to tell you to toss that fashion myth right out of your memory box. This matching combination can actually overwhelm your look and appear rather scattered.
The only exception here would be for fancy occasions with a single color, as opposed to a busy pattern. See how this man kept his outfit fun and unique with his green-spotted tie and maroon-edged pocket square? We're very into this look.
#2 For Her – Get Glamorous on the Daily
Why save your best outfits for those special occasions that hardly ever come? We suggest finding alternative ways to incorporate your most glamorous pieces into your daily outfits. So, now you no longer have to wait for a rainy day to sport your favorite looks.
A helpful tip here to try to tone down your fancy outfit would be to wear very minimal accessories with it. As pictured here, model Gigi Hadid tones down her busy dress with a casual beige belt and brown flats.
#3 For Him – The Shoe and Belt Combo
To all our male readers, this fashion rule is a simple yet necessary one, in order to have a put-together look. Remember that if you chose to wear leather shoes and a belt, try to ensure the color hues are matching. This combination binds the outfit together through synchronizing the items.
Also, a side note to anyone who's confused out there: tan and brown leather is not the same thing. So, don't make a fashion faux pas by combining those two colors. Unless you want to be fined for a fashion crime?
#3 For Her – Form-Fitting Jeans
Ladies, when it comes to choosing your jeans, it is important to know about the right materials and how much stretch is required. According to jean experts, 95 percent cotton to around five percent lycra is what you should search for in order to source your form-fitting jeans.
Without knowing this information, you'll end up with jeans that instead of hugging your curves nicely, will just look dull and unflattering on you. No thank you!
#4 For Him – If the Tie Fits…
It is of the utmost importance that your tie fits properly. A good rule of thumb to check this is to see that the tip of the tie ends right before meeting the belt. In order to ensure your tie is right for you, take time to try on options at the store.
Your tie is the focus piece of your outfit, so it needs to fit perfectly. Otherwise, you might as well chuck it out or give it to a friend.
#4 For Her – Adapt to Your Surroundings
While personal style is all about expressing yourself and what you like, it is important to adapt your looks to your surroundings. For example, when dressing for work versus a lunch with friends, your outfit might very well need to be adjusted.
This is when the length and formality of your garments need to be taken into account. And remember, once you have adapted your outfit to fit your environment, you can always add your personal flair to complete the look.
#5 For Him – The Art of Unbuttoning
A fully buttoned-up jacket generally gives a feeling of intensity and discomfort. Due to this, we are here to all tell you that unless you're in a military environment, do not secure your bottom button. The more open appearance gives the impression that you are calm, cool, and collected.
This is definitely the direction you want to rather aim for and you better listen up to your fashion captains. Get it?
#5 For Her – Rock the Men's Wardrobe
It is an antiquated belief that trouser pants, blazers, and suits are only for men. In fact, the look suits women swimmingly. Today, we can take as many fashion risks as we desire and women rocking the men's section fits the cut.
Just check out this outfit here, everything from the grey pants to the loose shirt gives off a cool and eclectic look that is still very much feminine. So, ladies do not be afraid to inspect the men's section the next time you go shopping!
#6 For Him – The Navy Blue and Black Clash
Generally-speaking, navy blue, and black outfit items should not be worn together. Instead of complementing one another, they just end up blending in with each other and looking rather strange. So, as a rule of thumb when dressing, decide on what color you want to wear that day and ignore the other.
Except in the case of wearing a navy blue suit. In this instance, black shoes and a black belt compliment the outfit nicely. Just see here for yourself!
#6 Elevate Your Look
Change up your everyday outfits by investing in some fun and trending accessories. Not only will it brighten up your look but this approach will allow you to chase the trends without overdoing it. Just take this funky street style finding as an example.
The yellow-shade sunglasses and thick gold-chain necklace really complements the formal blazer and brown leather pants. Side note, platform sneakers are always a good idea to elevate your everyday look. We are going right ahead and giving this outfit some major style praise!
#7 For Him – The Pattern Overload
When it comes to sporting patterns in your outfit, try to keep it to one loud pattern. Any more than that creates sensory chaos that can be painful to the eyes. So, as a rule of thumb, mix the loud patterned piece with solid colors to balance out the look.
However, there are always exceptions to the rule and ASAP Rocky's loud and fashion-forward choices definitely show us that rocking crazy patterns can indeed look stylish.
#7 For Her – The Little Black Dress (LBD) Savior
When in doubt about what to wear, always opt for the classic little black dress (LBD). This choice will never lead you astray as it can complement any woman and is easy to pair with most accessories. If you are dressing for the day, keep your shoes and purse simple and rather play up your accessories for the night.
We suggest opting for heels and some glitzy pieces for your nighttime transition. Lastly, try to find an LBD that cinches in at your waistline for added-flattery.
#8 For Him – Tailor it to Perfection
The art of a suit is truthfully in its fit and how it hugs the man. When choosing the suit for you, try to opt for a classic style and ensure the shoulders fit just right. Also, altering the chest and waist area is an easy fix and makes all the difference.
So, if you fall in love with a suit that doesn't fit perfectly, just take it to a tailor for that magic touch. Putting in the extra effort will go a long way.
#8 For Her – Utilize Those Changing Rooms
While fast-shopping has taken over, there are some activities that still require your time and effort. We know how tempting it is to avoid the changing room queues in stores or simply buy your clothes online but nothing replaces the act of trying them on for yourself.
Essentially, fashion always comes down to its fit so don't try to cut corners on this imperative step. Rather spend a little extra time sourcing the correct size for you, than regret it later when your clothes feel ill-fitted.
#9 For Him – Watch Yourself
Having a good watch on your wrist is more than a status symbol or something that tells the time. Your watch is a reflection of your personality, so think about that when purchasing yours. Your preference should be practical for your everyday life but also should excite you, since it will catch your eye very often.
Lastly, before purchasing your chosen watch, check with a professional that the dimensions and fit are correct for your wrist size.
#9 For Her – Treasure your Treasured Pieces
Splurging on that expensive item that you wanted for so long, is only one part of the purchase. Maintenance is the other half and the key to ensuring that your most treasured pieces remain in good condition.
Ways to check this include following those dry cleaning instructions that come on the items you buy, and storing your goods away in safe places with the right coverings. Lastly, resoling your fancy shoes after time is very much recommended.
#10 For Him – Pop That Color
Wearing minimal shades in your outfit will always look presentable but adding that extra touch of color will take your look to new heights. The key when incorporating loud colors into your outfit is to keep it to one garment and at maximum, two.
After that, instead of the color helping to complete the look, it actually complicates it. Take this image here as a good reference, the bright coral jacket is evened out with the neutral colors from the rest of the outfit.
#10 For Her – Mix the Flavors
When it comes to filling up your wardrobe with different pieces, the process is similar to choosing flavors at an ice-cream shop. It is recommended to start with a simple base and then build from there with elaborate sauces and toppings.
So, apply that same philosophy to your closet by incorporating the basics with added pieces that are fun and trendy. By allowing yourself this mix, you'll be ready for any occasion that comes your way.
#11 For Him – Distressed Jeans Can be Distressing
While many guys opt for the distressed jean look, we are not recommending that you buy them this way. Rather wear your new jeans until they become distressed from use. This way, the pair will last you longer and fit better.
Furthermore, distressed jeans are not suitable for many occasions so investing in more than a pair or two would actually be doing you an economic disservice. When it comes to choosing your jean style, apply the less is more philosophy here.
#11 For Her – Wear What Works for You
While chasing the latest fashion trends is a fun way of keeping up with the times, often the looks aren't complementary to our figures. Rather, stick to the classic pieces that work for you. You'll end up looking and feeling a whole lot better than trying to pull off something that is out of your comfort zone.
Remember, inner-confidence is worth more than any trend, so wear yours with pride! Also, how lovely is this white, classic-cut luncheon dress? We can't stop staring.
#12 For Him – Be Confident Like Kanye
Believe it or not, the single best fashion accessory is your confidence and self-esteem. It can shine through any outfit and is usually the thing that people will remember most about you. Take the fashion icon Kanye as an example, while he is dressed super casual in both looks here, his sass and confidence take his style to new heights.
So, never forget to wear your pride as it's one of the most powerful and priceless fashion statements.
#12 For Her – The Art of Mixing Prints
You don't need to be afraid of wearing loud colors or prints in your outfit. In fact, when executed correctly like this fashionista, it can look uber glamorous. The key is to work around your chosen print.
For example, her plaid pants and Burberry baguette bag are perfectly neutralized with her choice in a plain white polo-neck and simple beige and black heels. To help with this balancing out process, start with your chosen printed garment, and then find items that best work with it.
#13 For Him – Choosing Your Undies
While you can go overboard with choosing vibrant colors or prints for your underwear, it is best recommended to opt for plain and well-made ones. Not only will it last you longer but chances are, it'll be a whole lot more comfortable and when it comes to your underwear preference, comfort is key.
For this area, rather opt for good quality cotton boxer shorts, as opposed to trending brands with loud designs.
#13 For Her – Leave Some Intrigue
When showing our skin, it's all about being tactical and subtle. Less is definitely more in this department as it's always better to leave some intrigue. As a rule of thumb here, if you are choosing to show your legs, then rather cover up the other areas.
Whereas, if you want your chest area more open, then skip showing off your legs. This tasteful approach was skillfully carried out by this stylish woman who opted for short jean shorts and an oversized blazer to balance out the look.
#14 For Him – An Investment for Your Feet
While generally-speaking, men need fewer shoes than women, it's more about the quality of the shoe. This is why it is recommended for men to invest in a good quality pair of classic brogues that can be worn for work and more formal occasions.
Also, resoleable shoes are the way to go in order to get the most of them. If you want tips on color or style choices, check out the shoe display here.
#14 For Her – The Pants to Shoe Measurement
Ensuring that your pants are hemmed accordingly to the shoes you are wearing is of vital importance. If your trousers are not hemmed properly to your flats or heels, you are doing a great injustice to both fashion pieces.
As you can clearly see here, this fashionista has opted for three-quarter length white trousers with a pair of pointy heels, and the dimensions work well. However, if the pants were too long on her, we would lose sight of the shoe style and the whole outfit would be compromised.
#15 For Him – The Perfect Tie
When it comes to wearing suits, the tie is the centerpiece of your entire outfit. Due to its prominence, we suggest that you sport a tie that is darker than your shirt as the darker shades create an impact.
Plus, it is always a nice contrast to see a dark tie over a white or pastel shirt. If you opt for the opposite direction with the colors, the darker shirt would look rather dull and lose its emphasis. Check out this fashionable suit-wearer as an example of being on the right track.
#15 For Her – If the Bra Fits
Bras are all about comfort and fit. A badly fitted bra can impact your entire outfit by creating strange creases or bumps and will cause discomfort. So, ensure you wear bras that offer you the support needed and are correctly shaped to your shirt.
Ideally, your bra should be felt by you but not seen by the public, so check that the fit and wiring work to your outfit. Choosing the right bra will ensure your chest area looks seamless. You're welcome for the intel!
#16 For Him – Don't Underdress
Dressing correctly for the occasion is an important fashion rule that we should all abide by. Try to do your research before getting dressed so that you know the settings in which you need to dress for. In the event that you are unsure of the attire formality, rather take the fancier route and be safe than underdress.
For example, while this fashion-forward guy has great street style, due to the casual nature of his Converse sneakers, beanie, and hoodie, the outfit lacks versatility.
#16 For Her – The Scarf Trick
A scarf is a great fashion accessory that has underrated status. Not only can they easily help upgrade your outfit by adding a classy flare, but scarves barely take up any space. So, try to keep one on you at all times!
Also, if you are in need of some inspiration for how to wear your scarves alternatively, check out how these fashionistas incorporated theirs into hairstyles and bag designs. We're loving these chic scarf tricks. Try to get involved in the trend!
#17 For Him – Choosing Your Glasses
If you require glasses, take some time to choose the right pair for you since you'll be wearing them every day. A general rule of thumb to remember when sourcing your style of frame is to choose the opposite of your facial structure.
For example, this man's face has an oval shape, so he chose a square pair that lengthens his face. Also, another factor to consider is your hairstyle and color. Ensure that the glasses style compliments you, as opposed to taking over your face.
#17 For Her – Read the Instructions or Else
The instruction labels on your clothing are vital guides that need to be followed in order to preserve your clothes. If your clothing item label says "dry clean only", then it is imperative that you take that responsibility and bring it to professional dry cleaners to wash.
If you are not a person who believes in outsourcing to clean your clothes, rather save the money altogether and refrain from purchasing items that require this service.
#18 For Him – A Suitable Investment
While few of us require to wear fancy suits often, in the event that you do need one, renting a suit is not recommended. Firstly, the fit is never quite right as they usually require tailoring, and secondly, having a good suit is seen as an investment in your wardrobe.
With this new purchase, you'll be ready and particularly well-dressed for any fancy occasion that comes your way. What a suitable investment! Get it?
#18 For Her – Shop Smart
Instead of going shopping without a plan or purpose, try to make a list beforehand of what you already own and what you could get more of. By having that list in place, it will help give you direction so that you purchase more of what you need, instead of buying into the trends.
Also, while shopping, try to tick off as you go, like when you grocery shop to ensure you stay on track and don't go overboard. Pretty smart right?
#19 For Him – Keep it Classy
A rule of thumb when it comes to shirt shopping for men is to keep it simple and stick to the classic pieces. A white buttoned-down shirt has stood the test of time and can work easily with other garments.
Plus, you can dress it up and down depending on the occasion. Obviously, we are not crossing out bolder options but it is necessary that you have a good selection of white shirts.
#19 For Her – Keep Your Jeans Snug
When sourcing the right size jeans for yourself, always opt for the pair that's slightly more snug and fitted. Not only will this help to prevent creases or baggy areas but the slim-fit is also more flattering.
Additionally, jeans are known to stretch over time so by getting a size down, you are ensuring that you'll have them for the long-run. However, don't buy the jeans unless you can actually fit into them as this would be unviable and a waste of money.
#20 For Him – Basic is Best
When dressing for your regular days, go with basic garments that look good on their own or with other pieces. We recommend the classic rounded-neck white tee as a staple, which is worn so well here by actor Charlie Hunnam.
While the look is super casual with his black Ray-Ban shades and light-washed jeans, it totally works, and not just because of his dreamy looks. So, when in fashion doubt, skip the printed t-shirts and opt for the basics.
#20 For Her – 360 Degree Inspection
Often when we try on clothes in the changing room, we just inspect the front view but this doesn't give you the full effect. It is important to check how the garment looks on you from all angles, so try to look from the sides and behind as well.
If in the case that you don't have mirrors to help, ask someone to snap pictures of you from the front and back so you have a 360-degree inspection before deciding to make the purchase.
#21 For Him – Respect Your Shirts
In order to ensure you get the most out of your business shirts, you need to wash and store them correctly. Follow the cleaning instructions on the label, iron the shirt before storing it, and always opt to hang your shirts as opposed to folding them.
Not only does folding the shirt leave creases but it also gives more work to you, as you would need to re-iron the shirt before wearing it. So, remember to take care of your smart shirts and in return, you'll always look smashing.
#21 For Her – The Stitching and Lining
Believe it or not, when shopping for clothes, you shouldn't just inspect the outside of the garment but the inside as well. The stitching and lining of the clothes give a good indication of how well the clothing was made.
From this, you'll be able to know if the clothes will last you a long time. We recommend not purchasing the clothes in the event that the inner-lining is poor since the clothes will very easily deteriorate and end up being a waste of money.
#22 For Him – Avoid Clothing Clutter
As a rule of thumb, if a piece of clothing has been untouched for more than a year then it's time to get rid of it. You don't need to physically throw them away but rather give the clothes to someone who needs them more.
Truth be told, if the clothes have been sitting and collecting dust then you probably won't even resonate if they were no longer there. The only exception to this rule would be formal attire since those items are worn more rarely.
#22 For Her – Stay Loyal
If you find a few good quality pieces from a specific brand, chances are this store works to your figure and preferences. In this instance, we recommend that you maintain your loyalty to the brand and continue to buy from it in the future.
Sizes are usually standardized within a brand, so your shopping experience will become a lot easier. Plus, nowadays with customer loyalty memberships, you might be able to save some cash. Ka-ching!
#23 For Him – Good Quality
While high-end brands are generally heavy on the pocket, it is important to consider the quality of clothes before purchasing. You should also take into account the purpose of your purchase. For example, if you're just looking for clothes to roam around the home in then you don't need to splurge in this department.
However, if you want a garment that is going to look good and last you ages, then you need to put your money where your mouth is.
#23 For Her – When in Doubt, Nude it Out
If your outfit is already busy, sometimes choosing the right shoe to mellow it out can be a task of its own. In this circumstance, we suggest taking the safe route by pairing your look with the classic nude heel.
Truthfully, you can't go wrong with this shoe because no matter the color you're wearing, nude will complement it. Just take this outfit here as an example. Her heels complete the look and nicely accompanies the denim jeans and khaki jacket.
#24 For Him – Know Your Scent
While perfume is not exactly fashion, smelling good is a crucial part of completing your look. We recommend to all the men out there, to test out perfume smells and see which scent fits your preference. Having a perfume on that smells just right to you, will add that extra boost to your day.
Plus, someone's scent is usually one of the first things people notice, so you want to create your best first impression here.
#24 For Her – Quality Accessories
Ladies, while we by no means suggest spending your life savings on shoes and bags, having a few good quality accessories goes a long way. Having that fancy bag that complements your look or those pretty heels that make you feel extra confident, is a great addition to your wardrobe.
So, treat yourself to the occasional pricey piece and add that extra class to your wardrobe. Just remember to take good care of your purchases!
#25 For Him – Male Tender Loving Care (TLC)
No matter who you are, having good hygiene should be a vital part of your everyday life and nothing can replace this necessity. For example, it's all very well if you wear nice clothes and accessories but if your hair is messy and your fingernails are not seen, your overall impression is ruined.
So, remember to invest in personal maintenance, such as cuticle care and monthly haircuts, in order to keep yourself tidy and presentable.
#25 For Her – Be Bold With Your Choices
Fashion really is a display of your self-expression, so don't be afraid to break rules sometimes and wear what makes you happy. Whether it's trying out a crazy trend or mixing patterns and colors you usually wouldn't.
While there are fashion rules and guides to what matches and what doesn't, the best rule of thumb when dressing yourself is for you to feel happy and secure. Just remember, if you're going to be bold and take risks with your fashion choices, then pump up that confidence and own it!