The Royal Ascot
One of the royal family's annual traditions is the Royal Ascot, a racecourse located in Ascot, Berkshire, London, used for thoroughbred horse racing. The Duchess of Cambridge's Ascot dress was light-blue and was designed by Elie Saab and was gorgeously detailed, from the sheer sleeves to the tiny polka dots.
She paired the dress perfectly with a powder-blue hat by Philip Treacy topped off with the floral design. Fans noticed that the duchess and the Queen were matching for the event, who was also wearing blue and a floral hat.
The Duchess Wears Zara
Middleton managed to make Zara look like royalty – yes, you read that right. The duchess herself was photographed wearing wide-leg black culottes and a simple black and white polka dot top.
Kate stepped out in this perfect outfit for an event at the Sunshine House Children and Young People's Health and Development Center in London in September. She was visiting the center to meet with nurses who may be the reason she went for a chic yet approachable look.
Magical in Magenta
The Duchess of Cambridge may be a duchess, but she isn't above wearing the same outfit twice. She wore this magenta suit twice, the first time in January 2017 during a visit to the Royal Opera House in London.
The suit comes from Oscar de la Renta's 2015 fall collection, but somehow the duchess makes the outfit look timeless. The second time she sported the outfit was in November 2019 during a visit to the Nook Children's Hospice in Norfolk, England.
Tradition and Change
Duchess Kate and Prince William wore matching green ensembles to honor the official color of Pakistan. The Duchess wore a floor-length glittery Jenny Packham gown with a traditional dupatta scarf. Royal women have paid tribute to the nation with their outfits for years.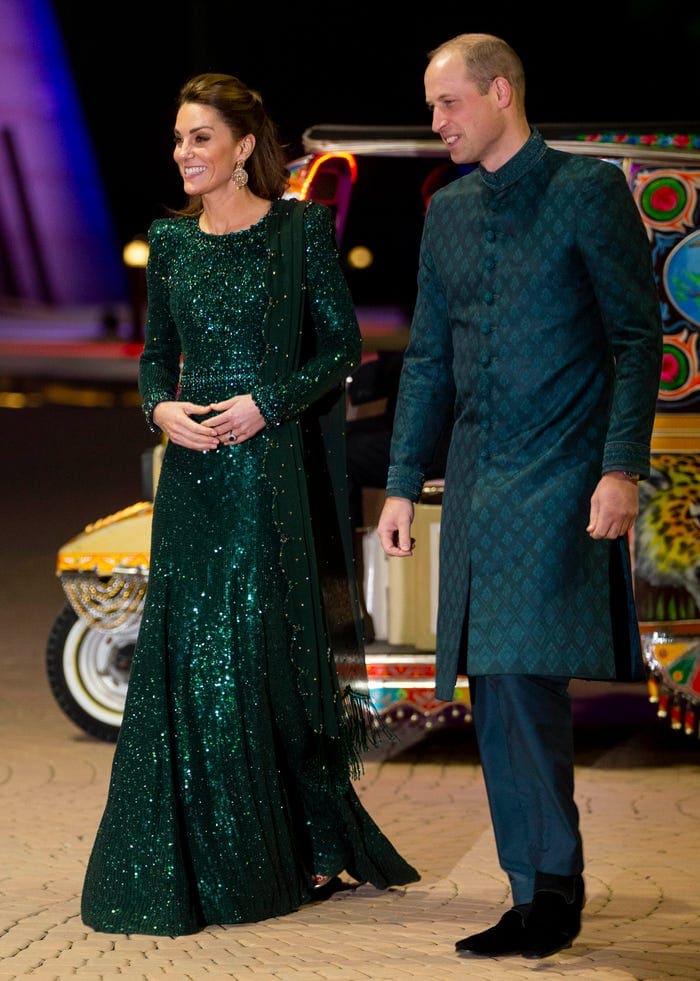 Her husband, Prince William, was the first male member of the royal family to wear a knee-length button-up sherwani. Men in South Asia traditionally wear the knee-length button-up coat.
Beauty in Blue
Kate wore several great looks during her and Prince William's royal tour of Pakistan. On the first day of the royal visit, Kate sported a shalwar kameez, a traditional Pakistani dress designed by Catherine Walker.
The unique teal-blue color of the duchess's dress was similar to the shalwar-kameez that Middleton's late mother-in-law, Princess Diana wore during a visit to Pakistan in 1996. This is not the first time the two royal women have been compared to each other. Kate has channeled Princess Diana's style in the past.
Fashion Recycling Revolutionary
The Duchess of Cambridge is known for her revolutionary fashion recycling, and this white off-the-shoulder Barbara Casasola dress was no exception to the change Kate has made in the royal world.
The mother of three rocked the dress for the first time at the Art Fund Museum of the Year prize event in 2016. She stunned in the dress again when she arrived in it at the first annual Addiction Awareness Week gala – accessorizing with a satin clutch and glittery metallic pumps.
Ethically Conscious Collections
The first dress the duchess debuted in 2019 was a dark-green, long-sleeved number that she chose from one of her favorite brands. The dress was designed by Beulah London, an ethically conscious brand that donates 10% of its profit to victims of human trafficking.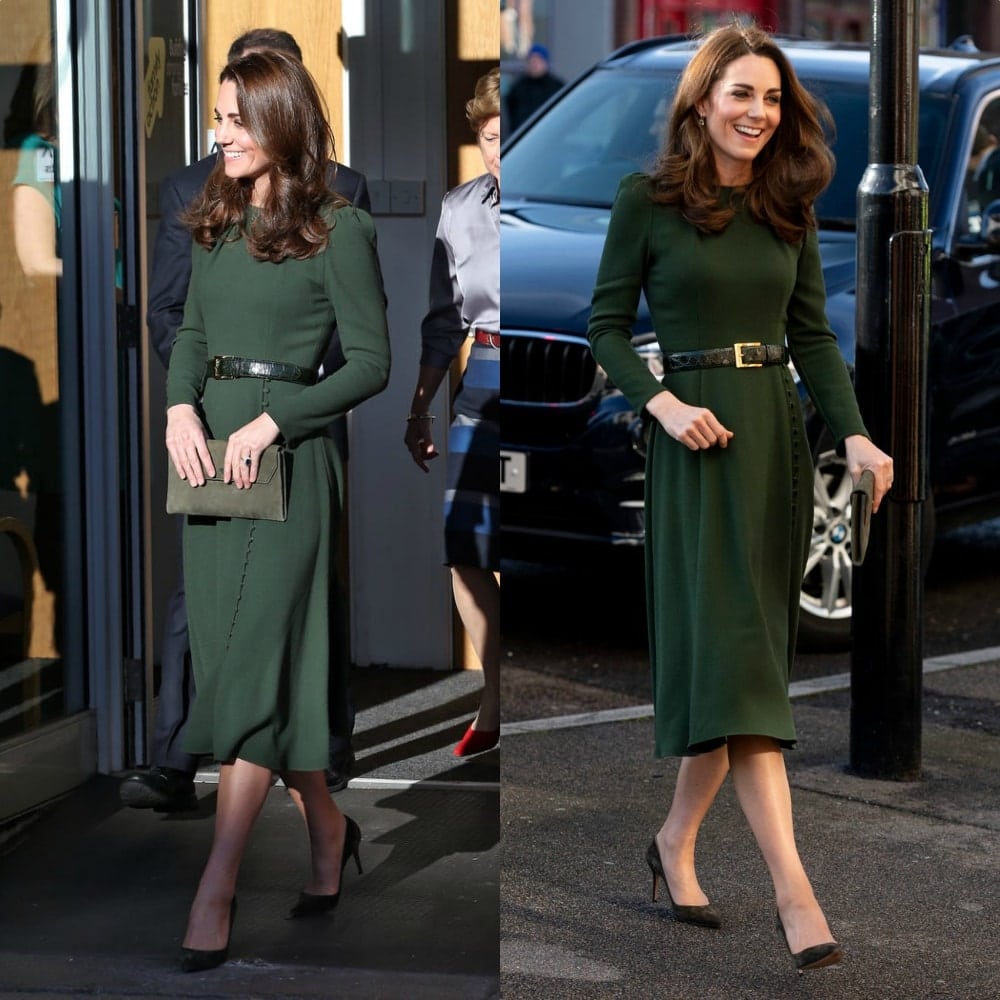 The duchess had worn this brand a few times before. She decided to dress in one of their $770 designs for a visit to Family Action, a UK charity that seeks to provide emotional and financial support to underprivileged families.
A Family Affair
The Duchess of Cambridge sported a yellow coatdress by Alexander McQueen while attending the Trooping the Color parade at Buckingham Palace with her whole family. Middleton wore a matching floral fascinator by Philip Treacy to the event – which was also a rare joint appearance for Middleton and Meghan Markle, who came out of maternity leave to attend the event.
Some royal family fans believed that Kate was thoughtfully giving a nod to Markle's first wedding anniversary as her dress was similar to the dress she wore to Meghan and Harry's wedding a year prior.
A Duchess in McQueen
White seems to be the Duchess's color – every time she steps out in it, she looks stunning. The duchess wore this Alexander McQueen gown to the 2019 EE British Academy Film Awards (BAFTAs) in London, which she attended with Prince William. She paired the dress with a bun, a diamond bracelet, and a white clutch.
When the royal couple arrived at the red carpet outside the Royal Albert Hall, the accessory that caught everyone's attention was the duchess' earrings – pearl and diamond drop earrings which once belonged to Princess Diana.
A Disney Princess
2019 was a subtle year for the duchess, she kept her style fairly casual this year but looked like a Disney princess while attending the 100 Women in Finance Gala in London.
The multi-toned rose-pink tulle gown, paired with a velvet Prada clutch that matched her belt and sparkling white heels designed by Oscar de la Renta. This isn't the first time Middleton has turned to the princesses of Disney for inspiration – the duchess has channeled Cinderella and Aurora in the past.
A Lady and a Rebel
Kate Middleton sported a $2,480 Missoni for a party in support of young people who were making a difference in Northern Ireland. The duchess and Prince William's attendance was a surprise to those being honored.
The sea-foam green dress was a great look, but her outfit wasn't the only thing that people were talking about. Middleton made headlines during the event when she went behind the bar to pour herself her own pint. A duchess, a lady, and a rebel.
Royal Finesse
On the second day of her visit to Northern Ireland, the duchess wore a baby-blue Mulberry coat. Mulberry is one of Kate's favorite UK labels. She wore the chic coat during a visit to a charity Cinemagic event in Ballymena.
The coat features large buttons down the front and a matching belt. The simple yet elegant coat's most interesting feature is the unique cape that tops off the look with a royal flair.
Classic Autumn Outfit
One of her more casual looks was worn for a surprise visit to the National History Museum in October. The duchess wore a beautiful burgundy sweater with a defined neckline and sleeves. She made a bold move by pairing the sweater with an olive shade wide-leg trousers, nailing the classic elegant autumn outfit.
The look was topped off with burgundy heels, a Chanel handbag, and gold Asprey hoops. The color collaboration was a risky one – wearing two bold colors together can often clash, but Kate looked stunning and proves that when you wear something with confidence, it just works.
An Elegant Dream
The duchess chose a blue ensemble yet again when she wore this dress to a reception at none other than Buckingham Palace in March. Kate looked royal in this pastel baby-blue dress – the high collar and small buttons down the front give this dress an elegant and classy vibe.
In some mysterious way, the duchess somehow makes even the most old-fashioned pieces of clothing look modern. She paired the look with a baby-blue clutch and cream-colored heels.
Radiant in Red
As we've seen until now, the duchess often wears pastels, so when she stepped out with this Catherine Walker coatdress – it immediately became the talk of the town. The striking red coatdress featured big gold buttons, and she added a matching bow fascinator to the look.
She wore the bold look for the Commonwealth Service at Westminster Abbey in March. Those who follow the duchess' style closely know that this wasn't the first time she wore the coat – it was worn previously during a visit to New Zealand in 2014.
Adding Caps and Letting Her Hair Down
If you take a good look at the two photos below, you'll notice that they were not taken at the same event. Another example of the duchess recycling a gown was when she added cap sleeves to her floral Alexander McQueen gown.
Middleton put a spin on the gown she wore the 2017 BAFTAs and re-wore the dress for a night out at the Portrait Gala in March 2019. When she first wore the dress, it featured off-the-shoulder straps, but then the duchess looked a bit less formal twist by simply adding sleeves for her appearance.
The Duchess and the Queen
This may come as somewhat of a surprise to you, but the duchess and the Queen's visit to King's College in London in March was the two royal women's first solo outing without another member of the royal family.
It seems like the duchess decided to let the Queen shine on this outing as Her Majesty is radiant in baby-pink while the duchess opted for a gray Catherine Walker coatdress. Kate paired her subtle coatdress with a black fascinator that matched her black tights, heels and, clutch.
Charlotte's First Day
For her first day of school, Princess Charlotte's mom wore a simple floral dress. As Middleton took her daughter to Thomas's Battersea, a $23,000-a-year school, she was caught on camera wearing a $180 Micheal Kors dress.
This wasn't the first time she wore the floral number, she previously wore it to Meghan and Harry's wedding rehearsal in 2018. Kensington Palace tweeted a photo of both children and parents entering the school grounds. By the looks of it, Princess Charlotte appeared to have a case of the first day scares, hiding behind her mom.
Powder-Blue Perfection
Kate has perfectly curated her wardrobe – the patterns and colors she wears are always true to her style. The duchess sported this two thousand dollar dress for a visit at the Back to Nature garden in London in September.
The powder-blue (which we already know the duchess adores) dress had a lovely floral pattern on it and was worn with a matching belt. Middleton is walking with poise and a huge smile as she greets fans – it's hard not to wish we were there.
Sweet Tributes
Kate and Prince William greeted Prince Shah Karim Al Hussaini, Aga Khan IV, during their visit to the Aga Khan Centre in London on October 2. The duchess's teal ensemble by ARoss Girl x Soler was worn with a green belt that flowed down the dress.
Middleton paired her outfit perfectly with earrings by Pakistani designer Zeen. The decision to wear a Pakistani designer's earrings was an endearing tribute as she and her husband met with the prince before their royal tour in Pakistan.
Christening Chic
When Meghan and Prince Harry's two-month-old son, Archie Harrison, was christened at Windsor Castle's private chapel – the duchess was there looking as chic as ever. Kate Middleton wore a bright pink Stella McCartney dress, which she paired with red pumps.
Of course, in the royal family, accessories are everything, so it only makes sense that the duchess's hatband and simple drop earrings were gorgeous. We know the celebration wasn't about her – but she manages to steal the show somehow.
Quintessential English Summer
Kate is known for being a longtime tennis fan, she makes an effort to watch a couple of Wimbledon matches a year. She was spotted at a game, sitting in her usual spot in the Center Court's Royal Box.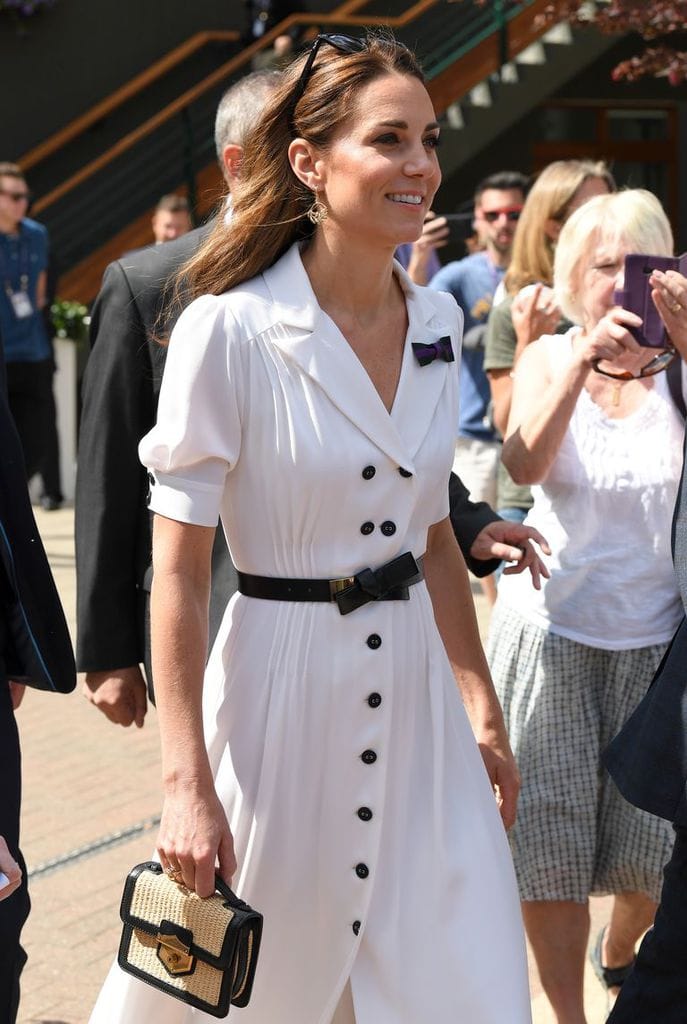 The duchess explained to People magazine in 2017 that the tournament "is such a quintessential part of English summer." This year, she opted for a black-and-white outfit wearing a Suzannah dress and Alexander McQueen belt.
A Beauty in Black & White
Kate wore a new stunning black-and-white ensemble when she attended the Order of the Garter ceremony in June. The Duchess of Cambridge wore yet another Catherine Walker coat dress with a white collar and black piping.
To top off the royal look, she wore a black hat, pearl earrings, and black pumps. The Duchess wasn't the only royal at the service, and she was joined by the Queen, Prince William, Prince Charles, and other members of the family.
A Style Icon
We're going to throw things back to prove that the duchess has been stylish for years. The heavily sequined and studded Jenny Packham gown, from the designer's 2011 collection, is one of the first pieces that the duchess recycled.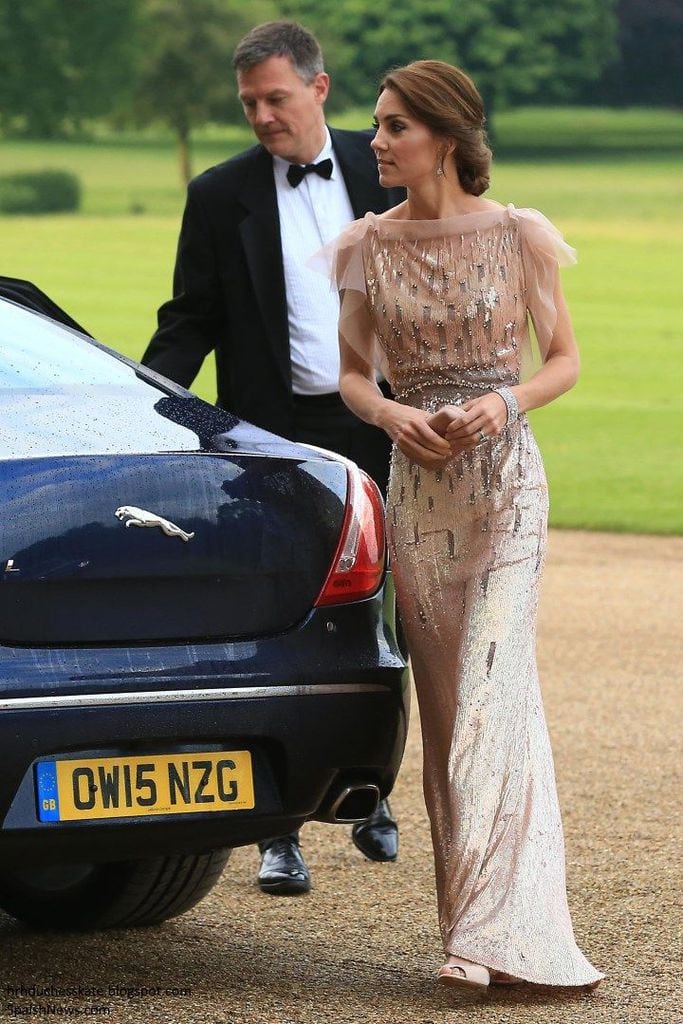 It is also one of the gowns that made her a fashion icon. She wore it here in 2016 when she attended a charity gala dinner at Houghton Hall in King's Lynn, England. The first time she wore the Packham design was in 2011 in her first formal appearance after her wedding to Prince William.
Stars and Royalty
One of Kate's most iconic looks was worn in 2018, marking her as one of royalty's most fashionable family members. The beautiful Erdem dress has an asymmetric neckline, full-length mismatched buttons, and a vintage-style embellishment.
The dress is timeless and although Kate made it her own adding a purple belt, royalty and stars alike have worn it. Carey Mulligan was the first to wow in this look, in 2017 to an awards event.
Midwife Middleton
Around Christmas-time, Kensington Palace released photos of Kate Middleton visiting the Kingston Hospital's Maternity Unit. The photos were taken in early 2019, when the Duchess of Cambridge visited the maternity unit, observing clinics, visiting post-natal wards.
For her visit, Kate chose a printed dress and black tights. During her visit, the mother of three joined community midwives during their house calls. Middleton wrote an open letter thanking the midwives for the work they do, acknowledging them, and the effort they put into their work to make lives better.
Mini-Me
It's always sweet when parents dress somewhat similar to their children, and as you can see, both Kate and William had mini-mes at Christmas. To attend Christmas Day services at Sandringham, Kate paired a simple chic gray coat with her favorite shade of green.
The Duchess wore an emerald green hat and heels which matched her daughter, Princess Charlotte's coat. Prince William and Prince George are also dressed similar, and we can't help but love everything about this photo.
Cricket Chic
We've seen a lot of Kate's Pakistan tour fashion, she chose her outfits perfectly for each occasion she attended – playing Cricket was no different for the Duchess. On the fourth day of their tour, the royal couple visited the National Cricket Academy.
The event was casual, so comfortable attire was required as they even tried to play the sport, and the Duchess paired white sneakers with a shalwar kameez designed by Gul Ahmed.
Her Signature Coat
There are some signature looks the Duchess will not give up, and we hope she doesn't give them up soon because she looks stunning in them. Kate Middleton may be most recognizable in this blue Alexander McQueen coat, which she has worn on many occasions throughout the years.
She wore the coat while she attended an extraordinary event in honor of Sir David Attenborough, in Birkenhead. For the special occasion, she paired the coat with navy heels, diamond earrings, and an Asprey clutch.
Powdered Pink
She may be down-to-earth, but this duchess knows how to dress up when need be. She and William often chose similar colors for occasions they attend together (he is wearing a pink pin), and you know what they say – a couple that dresses together stays together.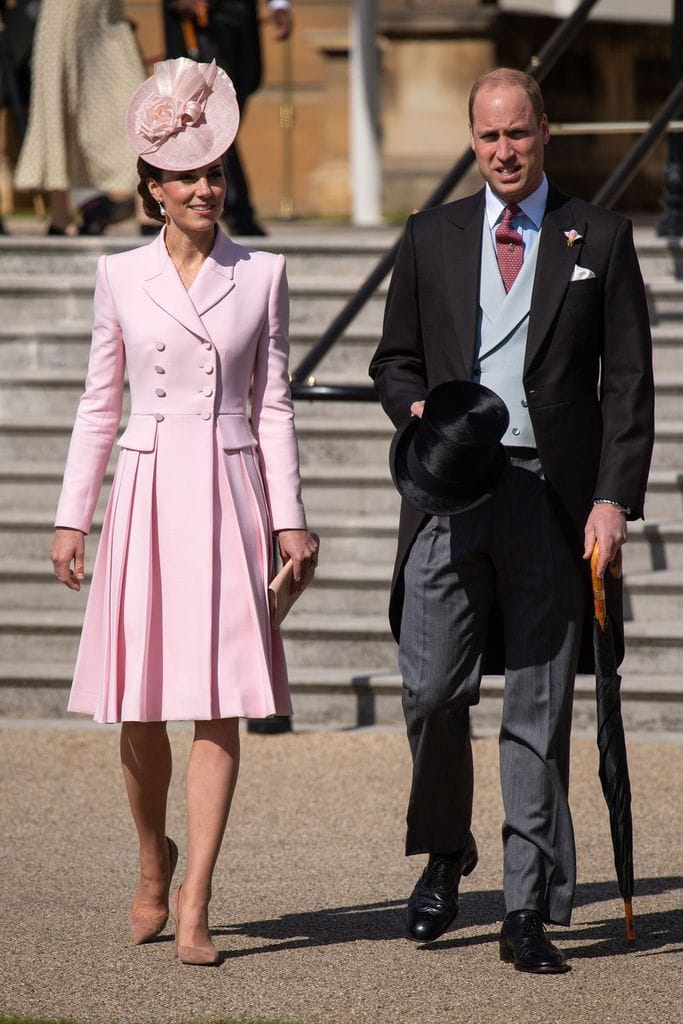 For one of the Queen's Garden Parties, Kate wore a powdered pink coatdress, designed by none other than one of her favorite designers, Alexander McQueen. She paired this stunning coat with a headpiece by Juliette Botterill.
Shades of Gray
The Duchess of Cambridge is known for the bright colors and prints she often wears (and stuns in), but every once in a while, she chooses a mellow shade.
Kate arrived at Kings College London wearing a Catherine Walker Coat dress. Middleton paired the gray look off with black tights and pumps and a small black clutch. Of course, the look would not be complete without the black Sylvia Fletcher for Lock Hatter's hat.
Royal Wedding Guest
Kate wore this stunning dress to the highly anticipated 2023 wedding of Princess Iman bint Abdullah of Jorden. The stunning blossom pink number was created by Lebanese designer Elie Saab for her ready-to-wear Autumn/Winter 2017 collection.
It was elevated, though, by Kate adding a sentimental touch to the look. She chose to wear jewels that had belonged to the departed Queen Elizabeth II — her late Majesty's Grenville Chandelier Earrings, which date back to 1918.
New Year's Resolutions
The new year has brought promising fashion change for the Duchess. We are positive that the Duchess will surprise us with many new and stunning outfits. We're also betting all our money on the fact that most of the Duchess's outfits will be coatdresses.
She started the year off as predicted with this multicolored coat dress. On January 5th, 2020, Middleton wore a bold royal blue fedora while attending church in Sandringham with her husband, Prince William.
Confident Kate
Looking happy and confident as ever, Kate stepped out in November in a deep royal blue dress by Eponine, a Couture Fashion Brand based in London. This was not the first time the Duchess dawned the look. She had worn this dress once before in 2017.
This time around, the Duchess paired her outfit with stilettos made by Rupert Sanderson, a black clutch and gorgeous sapphire drop earrings. Kate looked so stunning in this, and we can't help but wonder if we'll see this dress again anytime soon.
Walker Design
One of Kate's favorite designers was also one of the late Princess Diana's favorites, Catherine Walker. Walker, a French-born fashion designer, based in London, has been tied to the Royal Family for years.
When she attended her close friend, Sophie Carter's wedding, the Duchess wore a Walker design. Unsurprisingly, this was not the first time she wore this coat and dress. She first wore the look while on a royal tour of Poland and Germany in 2017.
Winning at Wimbledon
Kate is known for loving Wimbledon, so it didn't come as much of a surprise when the Duchess of Cambridge and the Duchess of Sussex made their first joint solo appearance at Wimbledon in mid-2018. Kate and Meghan were there to watch Serena Williams play Germany's, Angelique Kerber.
For the summery sporty occasion, Kate wore a polka-dotted Jenny Packham dress. We have since seen the stylish sisters-in-law together on many occasions, so it's safe to say they hit it off smoothly.
Royal Blue
Kate followed in her mother-in-law's footsteps, looking equally chic in her loose blue kurta as she mingled at a school in Pakistan on one of their overseas visits. Kate was captured in a royal blue shalwar kameez by local designer Maheen Khan and she matched her blue outfit and earrings with a ring.
William and Kate had a meeting with Pakistan's leader Imran Khan. Princess Diana had visited Pakistan a few times and it has been said that she was very fond of the country.
Paying Special Tribute
Kate Middleton's latest appearance has been a chic style win for the royal. But out of all her sightings, this one has a meaning more special than most. Paying tribute to the late Alexander McQueen, on the 10th anniversary of his death, the Duchess stepped out in a navy McQueen coat and matching skirt.
The touching tribute, worn with black boots, was a nod to the late British designer's fashion house that she's been a long-time fan of.
Casual Chic
The Duchess surprised us again when stepping out in Newtownards, Northern Ireland, and masters casual chic on a farm visit. We saw Kate interacting with young farm visitors and a fascinating mix of animals, including snakes and alpacas. For the occasion, Kate was appropriately dressed down for a day on the farm.
She wore a khaki green jacket with a sky blue turtleneck, skinny black jeans, and tall brown tassel boots. The Duchess rounded out her outfit with sparkling golden leaf earrings.
Effortlessly Chic
The Duchess looks effortlessly chic and sleek with her Reiss gray blazer, skinny black pants, and Aquatalia ankle boots. Her ashy grey jacket pairs well with the bluebell Cashmere Roll Neck Sweater. Her outfit looks polished and minimalistic, revealing a different look for her compared to her dresses, suits, and more formal wear. Kate debuted another gorgeous item – a pretty new pair of Catherine Zoraida earrings, featuring a leafy fern design. Kate has been a long-time fan of London label Zoraida, wearing her delicate gold designs on several occasions.
Kate debuted another gorgeous item – a pretty new pair of Catherine Zoraida earrings, featuring a leafy fern design. Kate has been a long-time fan of London label Zoraida, wearing her delicate gold designs on several occasions.
Her Favorite Wedges
Here we see Catherine, Duchess of Cambridge, visiting The Royal Horticultural Society Back to Nature Garden that she designed at the 2019 Royal Horticultural Society Hampton Court Palace. With her floral short sleeve midi dress, Kate Middleton pairs it with one of her favorite pairs of shoes.
She usually wears with more casual dresses are undoubtedly her Castañer tan wedges. She has been seen wearing these wedges on several occasions, so it would be safe to say they are among her favorite.
Relaxed with Style
Kate appeared for an interview and looked relaxed in a Sézane jumper that we've seen her in before. The duchess paired her blue coat with a black turtleneck – the first was in late-January at the London Early Years Foundation nursery and pre-school in Stockwell Gardens.
Back then, she styled it with black stocking and long boots and matching black gloves, but this time she wore the outfit more casually, with her hair styled in loose waves.
Lime Green Dress
From all the elaborate gala dinners, overseas travels, and everyday royal engagements, the Duchess of Cambridge certainly requires a comprehensive wardrobe that might challenge even the most devoted shopper. We've seen a change in style direction for the Duchess' style recently as Kate made an appearance in this very unexpectedly bright dress.
The lime green makes a real statement and catches our eye, although she has wisely toned down the dress with black stockings and L.K.Bennett Mollie Boots.
Calm and Collected
Meeting with dignitaries and high profile politicians can leave most people nervous and easily agitated, but not Kate, who didn't grow up being prepared for this kind of lifestyle, like most royalty. And yet, Kate looks incredibly calm and collected as she wore a crisp white skirt-suit with a peplum waist for a visit to Poland.
Kate added a red clutch for a pop of color. She accessorized her outfit with a pair of beige suede heels and understated jewelry.
Go for Green
On her tour to Canada, Kate has transformed herself into something akin to a Fifties movie star. Kate Middleton Debuts a New Smythe Jacket during her visit to the Royal Visit in Canada. Seeing as their engagements called for some outdoor activity, Kate opted for a rather casual outfit. Her moss green blazer looked perfectly tailored and effortlessly chic, she wears the color so well!
The Duchess finished her outfit with a Somerset by Alice Temperley tie-bow blouse, her go-to Zara pants, and cowboy boots.
Classic Mulberry
When we imagine the Duchess of Cambridge's closet, we believe it to be filled with every item of clothing from every designer imaginable. But regardless of how many options she may or may not have, there's one designer that Kate always seems to reach for, and it's Mulberry.
As she's wrapped up in a thick green coat, hat, gloves and snow boots, teamed with Sorel snow boots, and of course, the Mulberry handbag. The outfit is finished off with a pair of classic earrings.
Elegant in Midnight Blue
Over the years, the mom of three has worn the almost-periwinkle shade in gowns, coats, and everything in between. And the Duchess has wowed us each time! With this classic look, Kate bundled up in a midnight blue overcoat, that she paired with a red and white heart patterned scarf from British brand Beulah.
As an organization, Beulah's aim is to eradicate slavery and help create employment opportunities for vulnerable women. She sported this outfit on a trip to Swansea in Wales.
Gorgeous in Every Color
On the 29th of January this year, the Duchess made a previously unannounced visit to the LEYF Stockwell Gardens Nursery and Pre-school, where she helped served breakfast to children. For the casual event, Kate chose an Aegean blue coat, a white Sezanne sweater, and black ankle boots.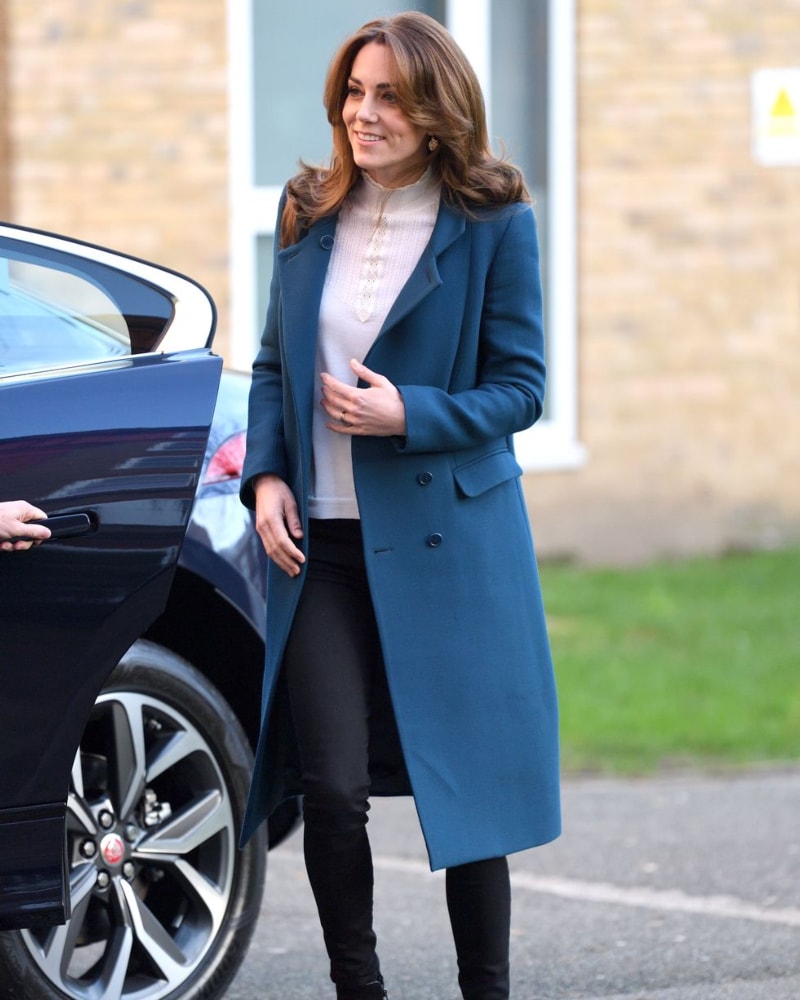 Duchess Kate looks gorgeous in every color of the rainbow and one of her favorite colors to wear is blue. Whether in deep navy or aqua, she carries off the color so well.
Making an Entrance
What an entrance! Kate Middleton's Pakistan royal tour wardrobe featured countless incredible looks, but this bespoke ombre, ranging from pale turquoise to aqua blue. Catherine Walker ensemble made a lasting impression. She wore it upon her arrival, straight from the plane.
The dress was inspired by a shalwar kameez, which is a traditional outfit consisting of a dress and trousers. She sported it at the Pakistani Air Force Base Nur Khan on the 14th of October last year in Islamabad.
Ready to Go
Back on the 31st of October last year, we saw The Duchess step out for a visit to the Imperial War Museum in London. Kate wore a rich blue dress by Jenny Packham with a clutch and nude heels. The dress is extremely flattering on her already trim figure.
Kate Middleton has often worn outfits by Jenny Packham, who is a well-known and highly regarded British fashion designer. Jenny mostly makes ready-to-wear clothes but also specializes in wedding dresses.
All That Glitters is Green
When meeting with Prime Minister Imran Khan, Kate wore a vibrant green tunic by Catherine Walker over trousers by Maheen Kahn, a look which she paired with a scarf by Satringi and earrings by Zeen. Kate said of the outfit: "I am personally in love with the green dress she wore.
The cuts perfectly complimented her body type, yet the dress was sophisticated and understated as it should have been for a visit to a notoriously modest culture.
Emerald Green
The Duchess of Cambridge arrived at Wimbledon last year wearing a vibrant green dress by Dolce and Gabbana, which she has worn before. Kate is a keen tennis player herself and was there in an official capacity as a royal patron.
After dazzling in white the day before, she decided on the dress that she had worn before, during her 2016 royal tour of Canada. The look was styled with a Dolce & Gabbana bag, nude pumps, and loop earrings.
Becoming Royal
Kate looked sophisticated in a floor-length black Diane von Furstenberg lace dress with a scalloped neckline and three-quarter length sleeves at the Anna Freud National Centre for Children and Families Gala Dinner held at The Orangery at Kensington Palace.
Interestingly, Diane von Fürstenberg is royalty herself as Princess Diane of Fürstenberg. She first rose to prominence when she married into the German princely House of Fürstenberg, as the wife of Prince Egon von Fürstenberg. A year after marrying, Fürstenberg began designing women's clothes.
Royal Tour
Back in July 2011, Kate and William attended a cocktail party at the United Kingdom's Consul-General's residence in Los Angeles. This event was the second item on their itinerary for their USA-leg of the royal tour. Earlier in the day, the duo attended a business summit in Beverley Hills.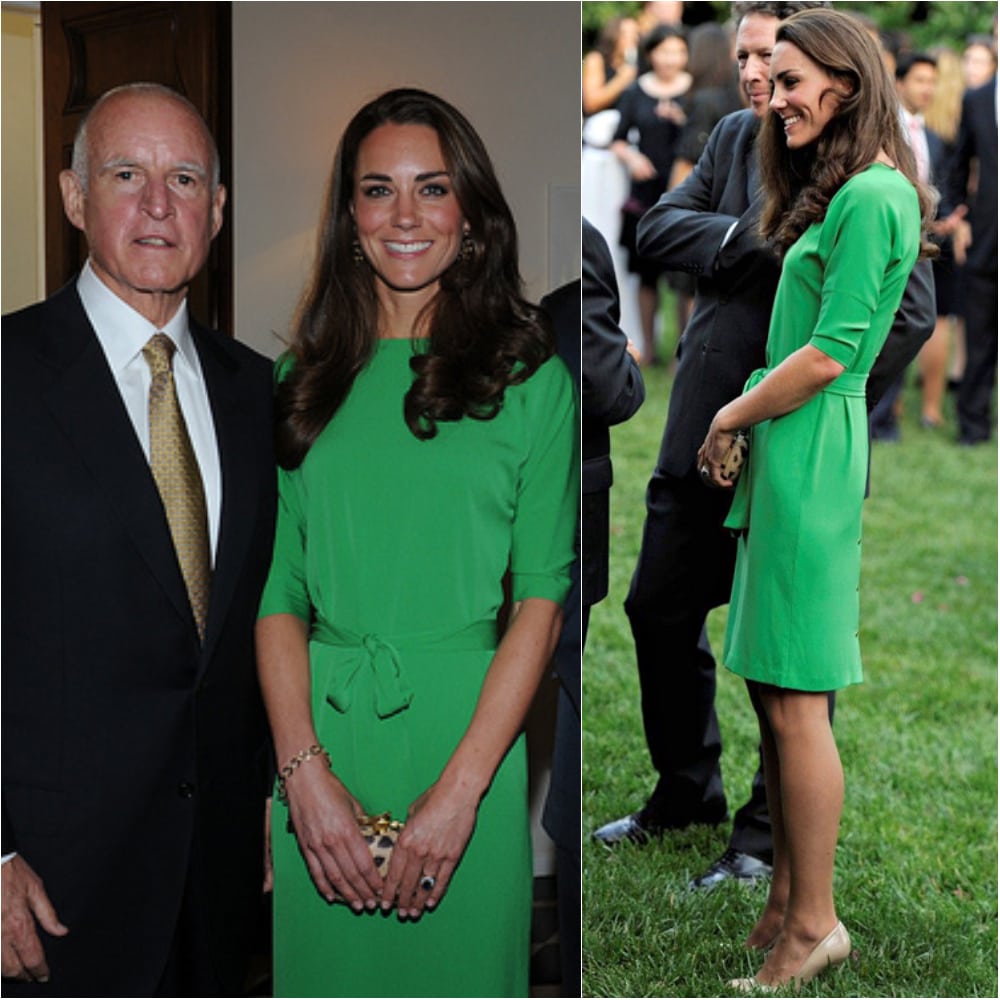 Both the Governor and the Mayor of California welcomed the royal couple to California at the event. Several famous faces were at the party too, including footballer David Beckham.
A Tribute to Princess Diana
Prince William and Harry paid tribute to their mother, Princess Diana, with a visit to her memorial garden at Kensington Palace on the day before the 20th anniversary of her death. The Duchess of Cambridge joined them on a tour of the Sunken Garden, which has been transformed into the White Garden in Diana's memory this summer.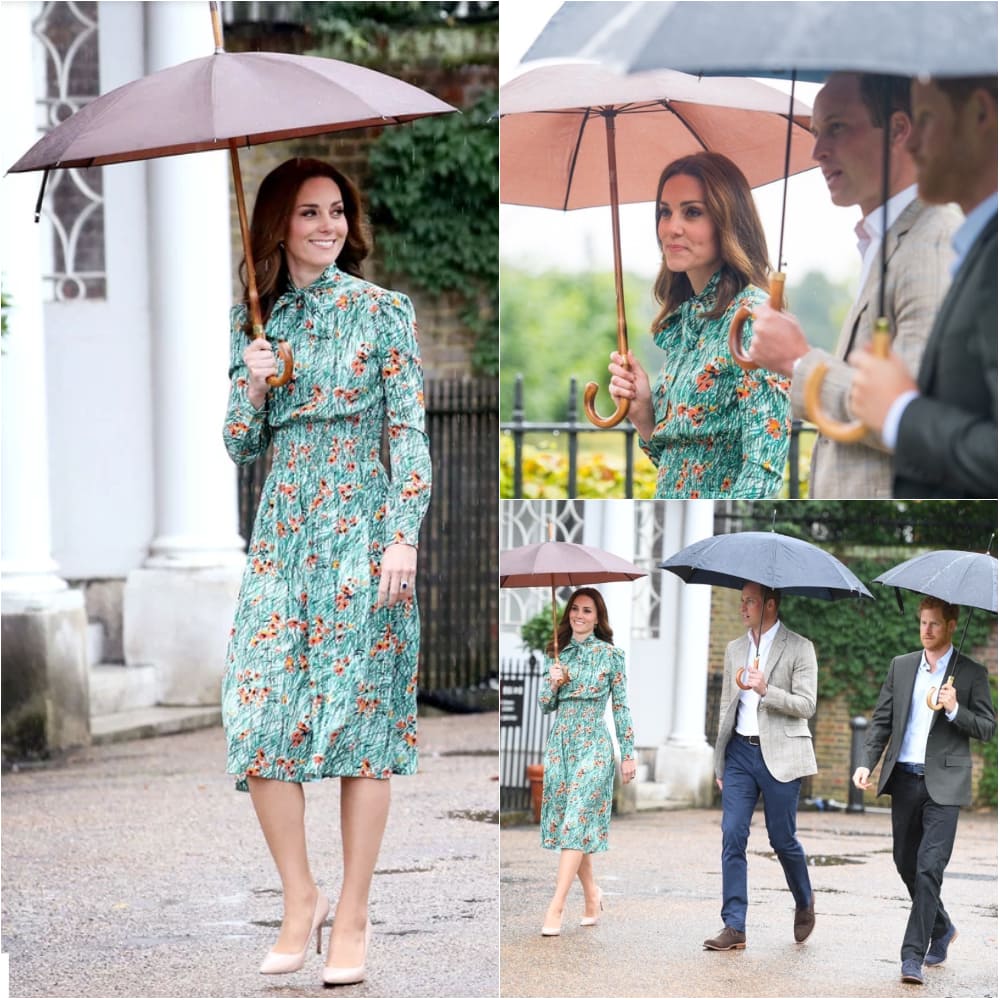 The Duchess chose an elegant green Prada tea-length dress with a high neck and long sleeves. The Royals were led on a walk around the grounds and pointed out many of Diana's favorite flowers, from lilies to white roses.
Radiant in Red
Kate Middleton was a vision in red for a Heads together event at the official opening of The Global Academy in Hayes, England. The Duchess joined Princes Harry and William as she looked flawless in a bright poppy-hued Armani skirt suit.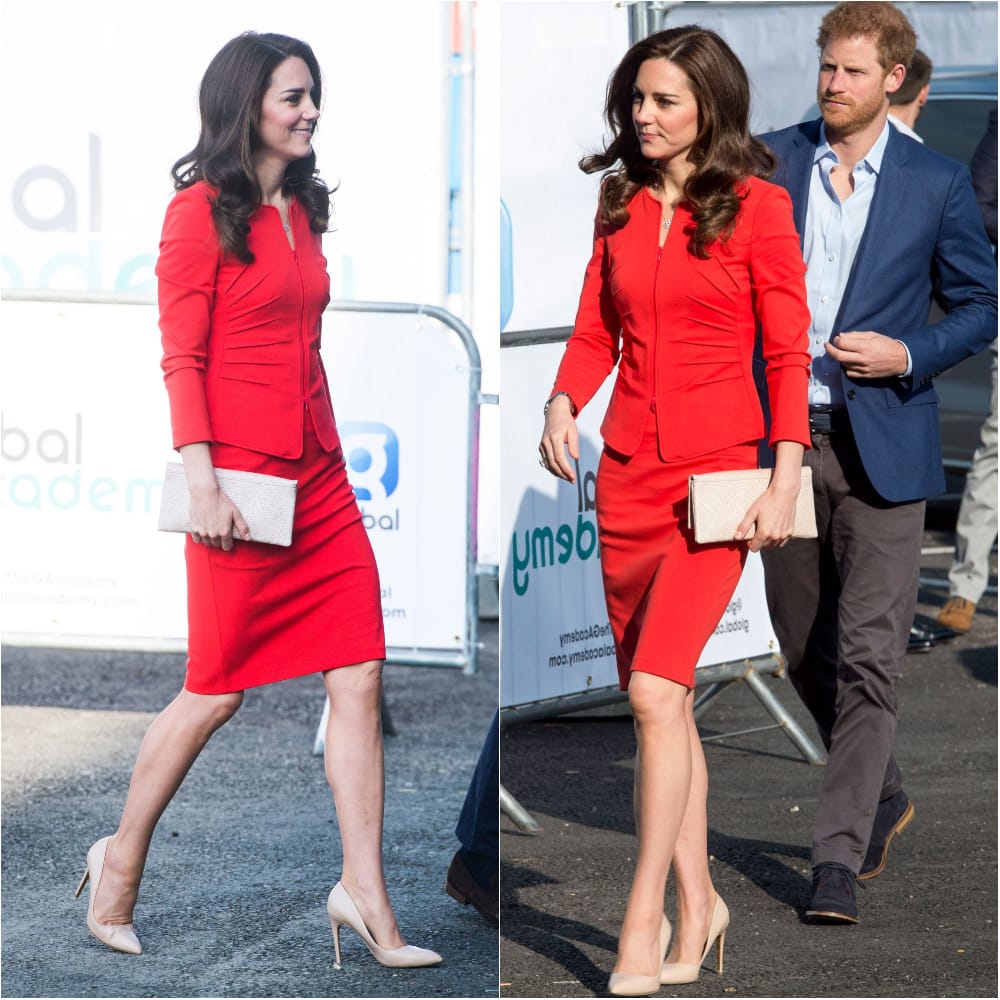 The fitted zip-up blazer featured a flattering ruching along the bust and a slight split at the neck. She paired it with a matching knee-length pencil skirt, a pair of classic nude pumps, and a slim leather clutch—also nude.
Black and White
Here's another look from her Royal Pakistan tour. Kate was seen in a Beulah black blazer coat, a white tunic, white pants, and black Russell & Bromley flats. She and Prince William attended their final event, a visit to Islamabad's Army Canine Unit, where they met dogs and puppies trained to identify explosive devices.
Her outfit choice is as perfect as it is understated and appropriate for the environment. We don't often see Kate in black and white like this, so it sure is a refreshing change!
When in Paris
These photos were from the second day of Prince William and Kate Middleton's trip to the City of Light, and it comes as no surprise that the Duchess had already mastered French style.
Middleton embraced Paris on her weekend visit, wearing a chic printed blue coatdress from Chanel, accented with a double-C belt and quilted handbag from the historic brand. Prince William, on the other hand, paired perfectly with his wife, wearing a navy blue suit, white button-up shirt, and maroon tie.
Blending Perfectly
Kate Middleton is the master of subtle styling tricks. Kate's green suit jacket, which she wore on a visit to the East Anglia's Children's Hospices, seems like standard outerwear. But, upon closer inspection, we catch a glimpse of her a new fashion hack.
Kate wore a tie-neck blouse underneath her Hobbs London jacket and let the Peter Pan collar stick out, creating the illusion that it was all one piece. This is easy to miss as the Gerard Darel top blended perfectly with the round neckline of her jacket.
Featuring Florals
Prince William, Harry, and Princess Kate were putting their heads together once again. At a briefing at London's Institute of Contemporary Arts on Tuesday, the royal trio outlined their plans and hopes for Heads Together, the foundation of their campaign to shine a light on mental health issues. Kate stepped out in a floral-print Erdem dress.
The Heads Together organization is one that she, Prince William, and Prince Harry, stand behind in their effort to promote mental health awareness.
Proper and Polished
During an outing on Friday, the 4th of November, 2016 while visiting the Nelson Trust Women's Centre, which is a Vulnerable Women's Center in Gloucester, England. We also adore seeing Middleton often visiting those least fortunate. Kate looked proper and polished in a black turtleneck top, a Dolce & Gabbana buttoned tweed skirt and a pale blue Mulberry coat.
She paired her look with an autumn-ready set of black pumps and matching tights, and her luxurious brunette locks billowing in loose waves at her shoulders.
Coated With Style
On a visit to the College of Agriculture, Food and Rural Enterprise in Northern Ireland, Kate was seen braving the rainy weather in a stylish coat. With the kind of elegant style that would make any girl envious, it is clear to see that the Duchess of Cambridge has a fine touch when it comes to fashionable expression.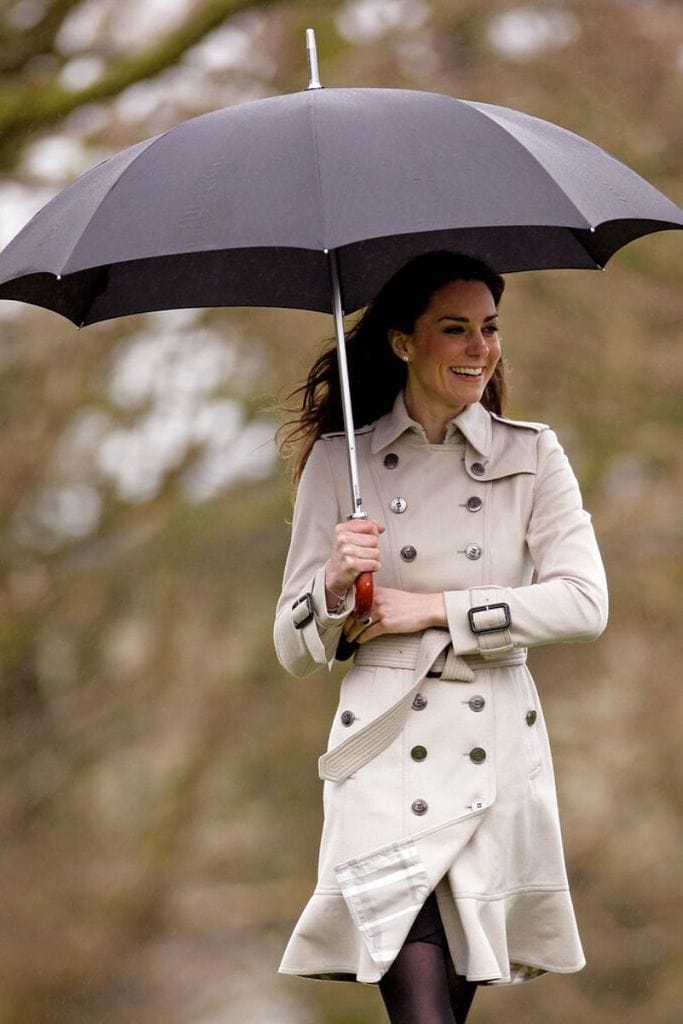 Sporting a beautifully contrasting color against the local surroundings, this exquisite choice has her standing out from the crowd. The buckled wrist straps are especially lovely.
Knitted for a Queen
While some might suggest that knitted wear, especially with patterned styling, would have you looking old fashioned, it is seemingly surprising how this was the exact opposite with Kate Middleton. Looking elegant with a refined touch of professionalism, the Duchess mastered the knitted look in this skirt and jacket.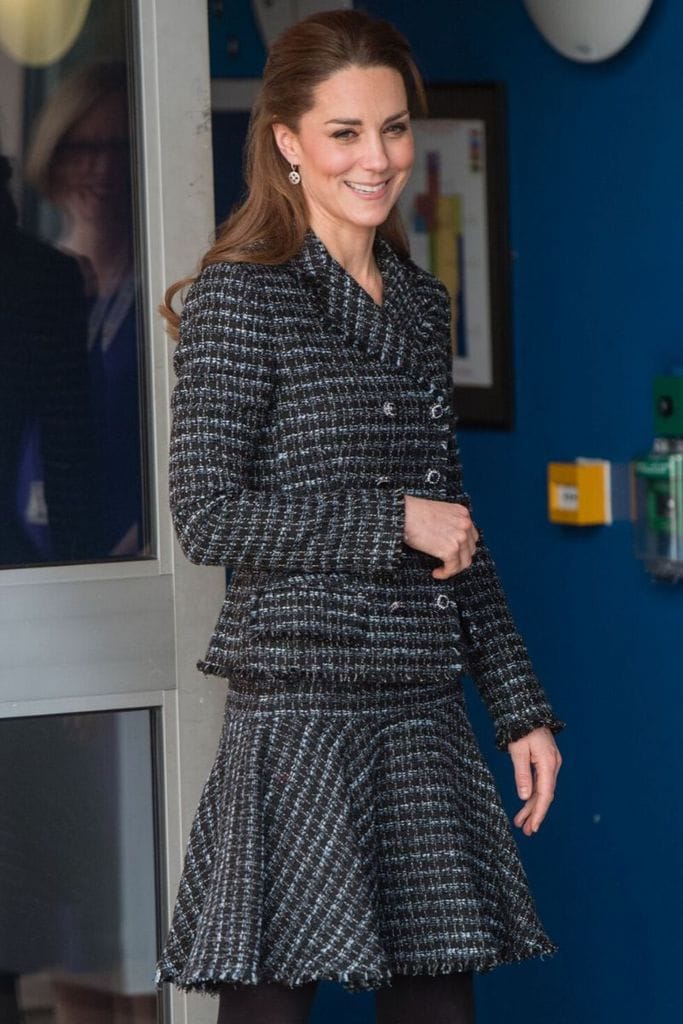 With a modern approach to the skirt's design and the exquisite detailing of the jacket, it is inspiring to see Kate look so beautiful in this youthful expression of office inspired style.
Classic Refinement
One of the most difficult color combinations to pull off is the classic black and white. For the Duchess of Cambridge, though, it seems to be one of her favorite combinations. The elegance of the jacket and blouse just blends so perfectly with the dark details of her hat, clutch, and skirt and is pleasing to the eye.
Perhaps, what makes this look so fashionable, is the added white patterns of the skirt, which adds to the expressive nature of the lovely combination.
The Devil in the Lack of Details
Some may think the abundance of detail expresses that sophistication, but here, Kate proves everyone wrong. Walking the red carpet in a lovely little number, the Duchess appears incredibly flattering in this unsophisticated dress.
Despite the lack of frills and elegant details, this plain-looking dress has the Duchess looking extravagant rather easily. As some might say, it is not what you wear, but rather how you wear it. Unsurprisingly, the Duchess of Cambridge certainly has the right strut for this dress.
Uncomplicated Flair
It appears that Kate is a big fanatic of simple style. Again, appearing on the red carpet in a dress that has little details to draw attention, she somehow pulls off an extravagant look.
Without frills, and with only a lovely neckpiece, Kate steals the focus of the night in a way that makes it look like she did not even try. The contrast of the black shoes and clutch is a lovely touch of expression that accentuates her simple beauty.
True Street Couture
From the red carpet to the sidewalk, style follows the Duchess of Cambridge everywhere. In a casual look that has all the refined touches of style befitting a princess, Kate looks especially lovely here on a day out.
How her blouse combines with the theme of her purse, and how the details of the jacket blends with those jeans is all the proof needed to say that this girl has a natural sense for fashion. Not to mention how the whole selection, with the added details of the boots and belt, is oh so flattering to her lovely figure.
Old Fashion Never Turns To Cold Expression
Fashion from the sixties and seventies, in all honesty, does not suit every girl, but it appears the Duchess of Cambridge seems to be the contrary. Looking exceptionally elegant in a blue, checkered dress that seems inspired by the retro looks of Diana's era, Kate was seen arriving at the Honiara International Airport.
Welcomed to the Solomon Islands in a style that has set Kate apart from other socialites, she looked both lovely and sophisticated, especially with the added details of white from her clutch and high heels.
Polka Doll
Once more sporting the combination of black and white, the Duchess looked beautiful as she arrived at the Warner Brothers Studio. Despite that polka dots have been in and out of fashion ever since the seventies, depending only on who you listen to, the Duchess pulled off the look brilliantly.
The lovely touch of expressive black, provided by the extravagance of her jacket and the trim details of her shoes and clutch, added exquisite detail to the stylish theme she sported.
The Public's Favorite Lady in Pink
Somewhere there is an unwritten rule that states no girl's wardrobe is complete without a few numbers of pastel pinks and purples. This dress of the Duchess of Cambridge has been an all-time favorite adored by the public.
Worn on several occasions, this pastel pink dress has never been a disappointment, and always seems flattering on the Duchess' shapely figure. Enough to make any girl green with envy, this elegant dress is one of Kate's most beautiful wardrobe pieces.
High Elegance At Its Finest
It is commonly believed that blue is a masculine color, but with the correct styling, it can be a flattering color for the softer gender, as proven here by Kate Middleton. With beautifully detailed patterning and design, made from a soft silky material, this dress is uniquely beautiful.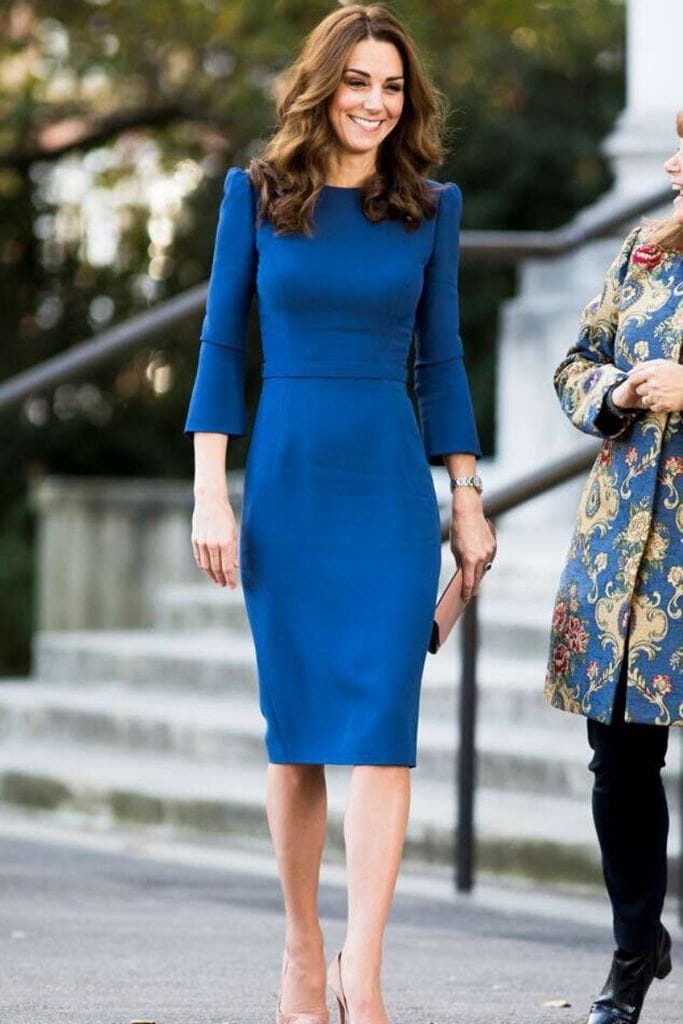 Another fine choice by the stylish princess of Great Britain. How the color flatters her skin tone and accentuates her natural beauty is exquisitely admirable. Certainly an expression of high elegance at its finest.
Hitting the Red Carpet
The Duchess of Cambridge appeared on the red carpet at the premiere of A Street Cat Named Bob in London, in support of the charity Action on Addiction, of which she is patron. She stunned in a white gown that featured a floral crochet bodice and a pleated skirt with a high-slit.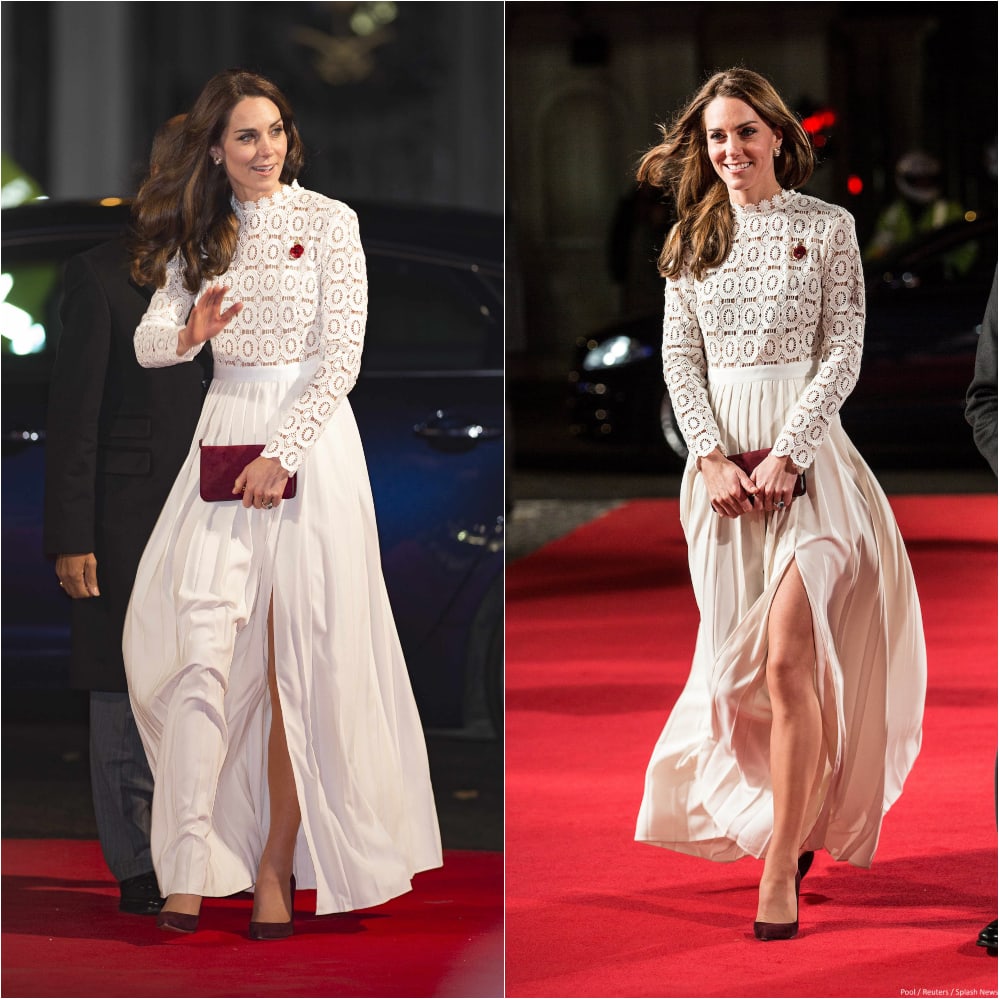 Kate accessorized with a red clutch bag, black suede pumps, and a remembrance poppy pin. Despite being a chilly November evening in London, The Duchess looked fresh and summery.
First Official Trip
The Duchess made an appearance at the National Football Museum in Manchester, England, with Prince William in a sophisticated blue-and-pink checkered Erdem coat, pairing the cover-up with a black lace blouse, a pair of navy blue suede pumps, a small black clutch, and gold-and-pearl earrings. The pair started their day at The National Football Museum.
Upon arriving they met some local schoolchildren who were having some early Halloween fun. Fun fact: This was the couple's first official trip to the city together!
Blushing in Pink
Kate Middleton looked pretty in blush pink for a royal visit to Cornwall, where she and Prince William took the day for a set of programs and engagements at several local youth organizations within the coastal county.
The Duchess looked radiant and was beaming from ear to ear in a pale pink fit-and-flare dress by Lela Rose and a summery pair of Monsoon espadrille wedges, wearing her hair in loose, wavy locks and kept her makeup on the natural side.
Printed Patterns
Kate Middleton has once again raised the stakes on the courtside style as she took to the Wimbledon final from the Royal Box wearing Alexander McQueen. The skull, lipstick, and butterfly print dress was a different look for Kate, but she wore it well.
The printed number is adorned with butterflies, hummingbirds, lips, and lipsticks, as well as the signature McQueen skull. She completed her ladylike look with her LK Bennett Natalie box clutch and delicate gold charm earrings.
Winning Look
The Duchess once again made a statement at Wimbledon – and she didn't disappoint. She was wearing a recycled yellow Roksanda dress accessorized with nude pointy pumps. With her brunette hair worn down in billowing waves, it was another winning look from the Duchess, who has been stepping out in several high-fashion ensembles in recent weeks.
She had previously worn the eye-catching bright yellow and white block design when she arrived in Sydney on her royal tour of Australia in April 2014.
The State Dinner
Kate Middleton wore this stunning outfit at the State Banquet in Buckingham Palace in November 2022. The gown was designed by Jenny Packham and the tiara featured a whopping 19 pearls.
The famous tiara, called the Lover's Knot Tiara, was previously worn by both Queen Elizabeth and Princess Diana. As always, Kate looked elegant and classy. It's worth noting that this was her first formal event with her new title – the Princess of Wales.