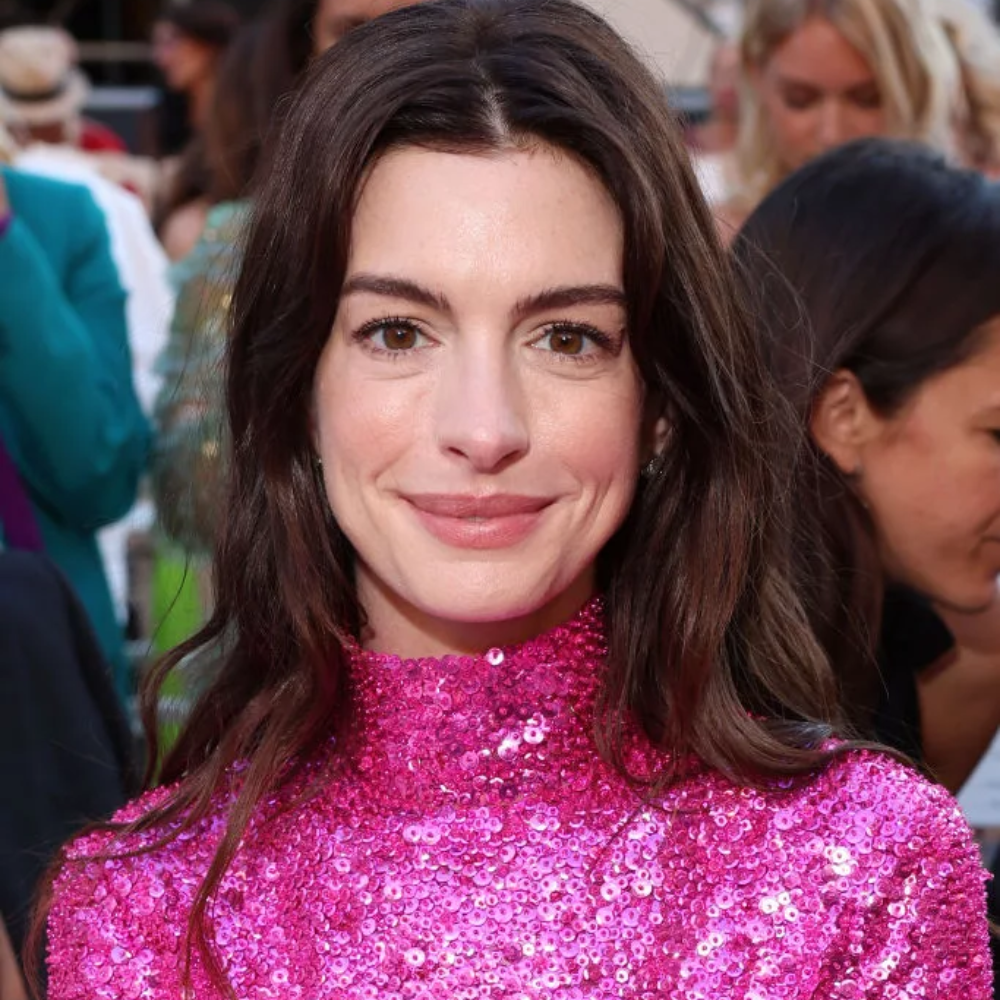 Not long ago, many people would have never imagined that Anne Hathaway would be the latest celebrity to jump on the Barbiecore bandwagon. Still, after seeing her recent appearance at Milan Fashion Week, it's hard to deny that she pulls off the look very well. But, can an average Jane replicate it? Read on to find out more about Anne Hathaway's Barbie-core look.
Anne Hathaway Rocks in Barbie-Core
Anne Hathaway was spotted in Milan, rocking the latest trend to hit the fashion world: Barbie-core. This new style is a mix of sporty and girly, and Anne looks fantastic in it! She's definitely setting the trends for spring fashion. This dress, which we all know was worn by the actress during the Cannes festival, was possibly the best one she's worn recently, out of all of her outfits. Fans of Anne Hathaway will have fun experimenting with some of these different styles in their wardrobes. There are plenty of opportunities to find a fashionable appearance that blends with today's society.
Anne Hathaway at Valentino Haute Couture
Anne Hathaway was also spotted at Valentino Haute Couture in Milan in the Barbie-esque get-up. The Barbie-core trend is all about looking like a doll, with lots of pink and ruffles, and Anne looks the part in this pretty pink dress. She completed her look with a pair of platforms and a matching clutch, and we think she looks absolutely adorable. In Italy's fashion capital, for the Valentino Haute Couture show, Hathaway wore a custom dress from the label: a long-sleeved, high-necked, belted mini-dress covered in dazzling fuchsia sequins. Wearing her hair down and with light waves, with an artfully messy middle parting, she accessorized with a matching studded handbag. Among other fashion and showbiz royalty, Hathaway was seen chatting with Giancarlo Giammetti, Ashley Park, Ariana DeBose, and Anna Wintour at the show.
Now Is the Perfect Time to Experiment With Eyeshadow Shades
Does anyone else have an obsession with buying pretty eyeshadow palettes? Well, you're not alone. There's something so enticing about a new palette that comes with all kinds of colors, sparkles, and shades, but there's a high chance that during your day-to-day life, you use the same colors because you know you can rock them. So, what about the other colors that go untouched because you're a little scared that they won't suit you? Now is the perfect time to experiment and try them out once and for all.
Pretty in Pink
There are some people on this planet who love pink, and there are other people on this planet who can't stand this color. Although it's a color of controversy, it seems as though it's one of the coolest eyeshadow trends of 2020. The bolder, the better is the rule when it comes to this color, and you don't have to feel afraid about going overboard. Just go with the flow, girl.
Gorgeous in Green
If your eyeshadow palette comes with a green shade as part of the collection, then you've probably steered clear of it for months. Who wants to put green on their eyes, right? Well, we want you to give it a go. Green eyeshadow is perfect for those who have brown eyes, as it really makes that natural color pop. It looks awesome. We promise.
Tantalizing in Turquoise
Turquoise may not be a color that you like to play around with very often, but we're here to tell you that it could be one of the coolest colors in your palette. This color is fresh, it's quirky, and it's enough to give your eyes the pop you might want without being totally overpowering. You don't see many people with turquoise eyeshadow, so why don't you start that trend?
Got no plans today? Well, it might be time to experiment with your eyeshadow.