Unfortunately, the majority of us aren't wealthy enough to have our own drivers yet, and while a lot of us rely on things like taxis or Uber to get around in a city, a lot of us are still stuck having to do the driving thing more often than not. While we hope and pray that the future of autonomous cars comes quicker than we expect, so that we can rest, recline, and even get dressed on the way to work in our cars, frankly, this idea is still pretty far from reality.
So in the meantime, we have to worry about all the little things while driving. Things like avoiding reading those text messages while we're driving, creating the perfect on-the-road playlist, and even what to wear while driving.
Now, men, in general, don't have much to worry about when it comes to this as men's clothes are generally designed to be more practical than women's. This is pretty annoying and while we can't all wear overalls and a T-shirt to work (regardless of how fashionable you might be able to make the look seem), the fact is that women have to make a few style decisions before getting behind the wheel.
In most cases, we're likely to be driving to work in the morning. Because of this, most women are likely to wear things like high-heel mules, short skirts, and sandals in hot weather because of the semi-casual professional look that they offer. However, when you're on the road – these are all a big no-no! Mules with low backstraps are likely to come off while driving, mini skirts restrict your movement terribly, and sandals have an annoying knack for getting lost behind the pedals of your car (especially when driving).
You'll also want to avoid things like thick, clumpy scarves, wide belts, too many layers, and stiff leather jackets. We know it's a hassle to have to restrict your wardrobe based on the fact that you're a driver, but it makes your life and that of those around you a lot safer! Better to be safe than sorry, it might be more than the fashion police you have to deal with!
30+ Dark Boy Band Secrets We Never Knew About
With their good looks and tight harmonies, boy bands seemed to be everywhere. Behind their carefully sculpted and wholesome images were some pretty dark secrets hidden just below the surface. Here are some dark boy band secrets that, even if you were a die-hard fan, you probably didn't know about.
Where's My Money?
Manager Lou Pearlman once bragged that the members of his successful band, The Backstreet Boys, had made "well over $50 million apiece." That said, many sources say that the performers made less than $300,000 each. Meanwhile, Pearlman was making millions!
New Secret Boy Band, Same Tricks
Lou wasn't only stealing millions from the boys of the band, but he already had his "plan B" ready and waiting in the wings. He had formed another boy band, and they were gaining some traction.
While he was managing the BSB, Pearlman had begun to put together a new group of boys that would eventually become competition for the Backstreet Boys. You may have heard of them – *NSYNC. Like BSB, Pearlman stole millions from the members of *NSYNC, leaving them with embarrassingly low paychecks.
The Dinner That Changed Everything
By the late '90s, *NSYNC was one of the biggest music groups in the world. With sold-out tours and chart-topping hits, one would have expected the boy band members to be millionaires. Unfortunately, this was not the case and the members were paid just $10,000 instead of millions.
Band Member Lance Bass knew something was off and immediately consulted a lawyer who found that the band's manager, Lou Pearlman, had manipulated the contract in order to entitle him to more of the band's earnings. Thankfully, Bass' suspicion paid off!
Health Concerns for A Backstreet Boy
Along with all the trouble with their money, one of the members was secretly dealing with serious health issues. Brian Littrell had been informed by his physician that he needed surgery on his heart.
Brian had been born with a cardiac defect, which was now causing problems. But the show had to go on, so he had to set his surgery up around the band's schedule, which meant waiting longer to have it.
How's Your Voice?
The Backstreet Boys would have more to be concerned with when it came to Brian's health, but he would opt to keep his other health issues silent for several years. Brian had also been diagnosed with muscle tension dysphonia.
In fact, he was able to hide his health concern from the rest of the band for years. They would only find out in 2015, six years after he had been told about the issue.
Nick and Brian's Tension
If you've been a fan of Backstreet Boys since the beginning, you may be shocked to know that the relationship between Nick Carter and Brian Littrell changed considerably throughout the first couple of years of the band's success.
The two seemed inseparable at the beginning, but through the years, as they grew, tension did too. Eventually, it led to a very heated argument that was captured in the band's documentary, Show 'Em What You're Made Of. In the documentary, Carter loses his temper and lashes out at Littrell over everything from unresolved issues to his voice.
Different Paths
By 2002, members of the Backstreet Boys wanted to break away from their management company, The Firm. Bandmember Nick Carter didn't want to leave the company.
He didn't want to disturb the process of his current solo project, which would be released the same year the band severed ties with the company. Seeing their management company play favorites put a strain on the already strained relationship between the band's members.
More Heart Issues for the Backstreet Boys
In 2008, Nick had been feeling bad and had no energy, so he went to the doctor and was diagnosed with cardiomyopathy. This, of course, was hard for the youngest member of the band to deal with. The lifestyle Nick had been living was only exacerbating the problem.
Much like Brian did, Nick chose to keep this health concern private and didn't share it with the band either.
Nick Falls Into Addiction
The heart condition that was worsening for Nick was due to his fall into addiction. Under the stress and perils of the limelight, the youngest member had taken to drinking and other bad habits.
Eventually, he would come out and tell everyone about his addiction problems in 2009, but until then, he had kept it relatively quiet. Carter would continue to struggle with substance abuse and sobriety in the years following this admission.
Another Backstreet Boy With a Problem
Like many young stars that gain their fame so young, A.J. McLean from the Backstreet Boys also struggled with addiction issues. The descent into his dependency started when the band was filming the music video for the 2001 hit, "The Call" and the young artist was offered an addictive substance on set.
This first taste would eventually lead to multiple trips to rehab for mental health issues and additional problems. McLean has been honest about his difficult path to sobriety and his struggles with addiction.
Don't Upset Them
As the Backstreet Boys gained popularity, Pearlman's other band, *NSYNC, was told to remain in the shadows. They were hidden so well that when looking at reports from the company itself, they had another name.
The band wasn't allowed to go into the record label, and on every bit of the documents pertaining to the band, you would find the name "B5". Eventually, though, the secret leaked, and the truth was known – Pearlman was secretly creating a new source of income with this new boy band.
Staying In the Closet
When you're a member of one of the most popular boy bands ever, there is a lot of pressure on you to be a certain way. Not only are you meant to dress a certain way, but you need to appeal to your core audience – teenage girls.
This made it hard for Lance Bass because he didn't quite fit that mold. Throughout the band's highest points of popularity, Lance struggled with his sexuality. Eventually, he would come out in 2006, but for the entirety of much of the band's success, he suffered.
Issues With Body Image
There's a lot of pressure on boy band members to look a certain way, and because of this, they often develop issues related to their body image. One Direction's Zayn Malik would eventually talk about this long after leaving the band.
He would discuss in an interview why he felt this way and why it had to be kept secret. Food was the only thing he had control of in his life, and so that is where he focused on.
Always an Outsider
After finding himself a member of the boy band One Direction, Zayn Malik almost immediately wanted to leave. It seemed to him that he just didn't click with the rest of the band and that he had a very different idea of where he saw his musical career heading.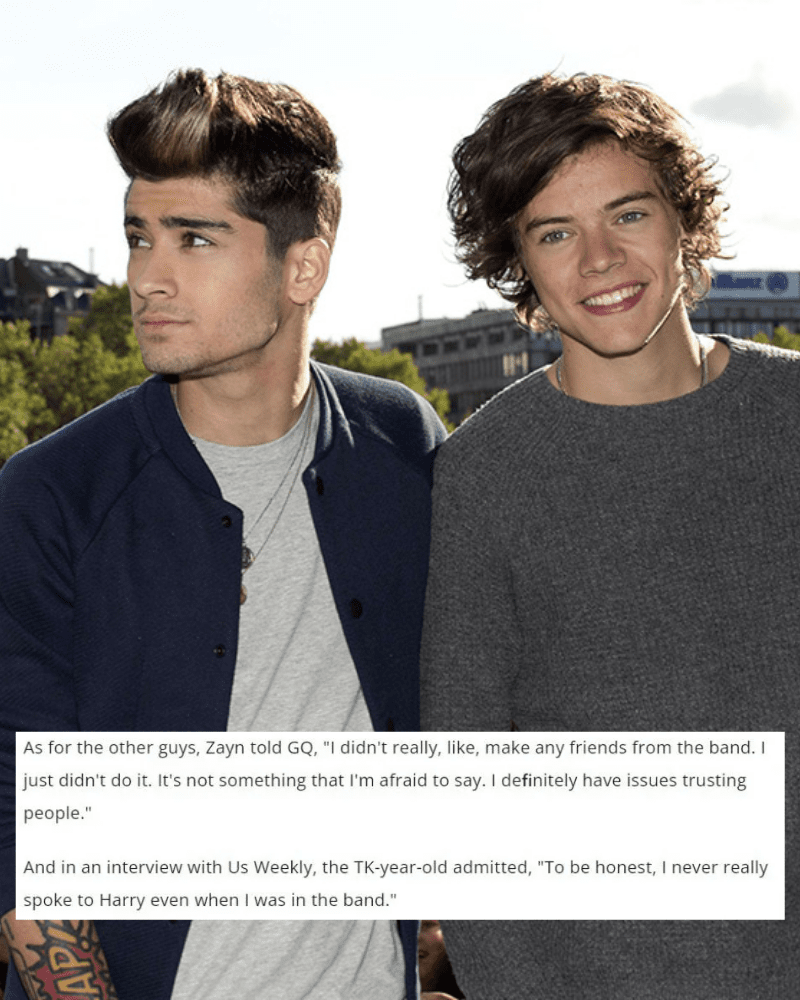 The truth is, according to Zayn, that he never really made any friendship connections with any of the other band members. Even going so far as to say that he and Harry Styles never even really talked.
Mental Health Struggles
We can't even imagine how much pressure is put on young stars to be perfect. Combined with their rigorous schedule, they have no time to breathe, often leading to exhaustion and mental health problems.
Liam Payne from One Direction felt this. In an interview, the singer spoke about feeling lonely and lacking control over his life. His struggle with his mental health even led him to contemplate ending his own life. Thankfully, Payne has sought help and is now talking about his struggle to help inspire others to seek help.
Music, My Way
When you're a member of a boy band, you are sometimes limited as far as the genre of music you can make. In the case of One Direction's Zayn Malik, the British crooner was disappointed in the generic-sounding pop music he was expected to produce.
In an interview, Malik claims that he wanted to make music with more of an R&B sound or with more soul. Unfortunately, his requests were ignored or worse – he was told to just follow the record label's orders. It's not surprising that he left the band to pursue his own musical career and identity.
Brotherly Disagreements
Over the past couple of decades, there have been many boy bands, but only a few of them have actually been more than just bandmates. The Jonas Brothers hit the airwaves at an early age and quickly became the darlings of most teenagers.
Naturally, the brothers began pursuing other interests outside of the music industry. Kevin was married and was the first to leave the band. Though his brothers tried to carry on with the band, they split in 2013.
An Uncomfortable Conversation
While many celebrities have no problem talking about their faith, others prefer to keep those things private. Unfortunately for the Jonas family, no subject was off-limits when it came to giving interviews.
The boys were forced to explain their religious beliefs after an interviewer threatened to say their purity rings were affiliated with a cult. As the sons of an ordained minister, the Jonas brothers were raised with certain beliefs including the wearing of purity rings – rings that symbolize a vow of chastity.
NKOTB and Mental Health Problems
With all the stress put on them to perform at all times, the young members of New Kids On The Block would, much like many other members of boy bands, begin to struggle with mental health issues.
Controversies like lip-syncing and the horrific tragedy at one of their concerts in 1992 had taken a toll on them. Along with that, interpersonal things caused many of the members to seek help. Band member, Jonathan Knight, has been very vocal about his struggle with anxiety disorders.
Not Out Yet
One of the New Kids on the Block members that had the most trouble was Jonathan Knight. This may be why in 1994, Jonathan announced that he was leaving the group due to his severe panic attacks.
These panic attacks may have been caused by the fact that he was riddled with anxiety and hiding a deep secret. His secret would be announced to the world by his ex-girlfriend during a live interview in 2011. Knight later confirmed Tiffany's comments and is engaged to his longtime boyfriend, Harley Rodriguez.
Another Victim of Lou Pearlman
It seemed that Lou Pearlman had a golden touch. Not only had he managed Backstreet Boys but *NSYNC as well. So it's not surprising that other bands would think it was an amazing idea to be managed by this man.
But just like the other two bands, the members of LFO would find out that was a mistake. In 2009, Rich Cronin discussed this on a radio show. The manager had stolen millions from the boys and Cronin even suggested that their former manager had behaved inappropriately with the band members.
Lou Pearlman Accused of Much More
For the boys of LFO, though, that was the least of the damage this predator had done. In fact, Rich Cronin would go on to discuss the inappropriate actions that he had allegedly witnessed while under contract with Lou including being asked to touch a part of the manager's body.
Other pop groups managed by Pearlman reported similar stories including being told to wear more revealing clothes, or receiving inappropriate massages.
K-Pop Scandal
Over the past couple of years, Korean pop or K-pop has exploded across the globe. Much like the boy bands of the '80s and '90s, they are formatted to have a clean and wholesome image.
Unfortunately for the K-Pop boy band Big Bang, this image would be tarnished, at least for one of the members. Seungri, who would eventually leave the band and entertainment altogether, was accused of distributing illegally-filmed content, embezzlement, and other serious charges.
Harassing K-Pop Heartthrob
Another popular K-Pop band, N. Flying, had a bit of a scandalous issue as well. Not only was Kwangjin saying horrible things about his fellow bandmates and dating his fans, but he would also eventually find himself feeling the wrath of the band's fans who wanted him out.
Accused of harassment and misconduct, the bassist for the band opted to leave the band instead of drawing out his embarrassment. Though we're sure his record label didn't really give him much of a choice.
Estrangement for the Carter Brothers
When multiple people in a family taste stardom at an early age, eventually, there is bound to be some friction. Nick Carter of the Backstreet Boys and his brother Aaron Carter seem to have found this to be true.
They seemed like a happy-go-lucky brotherly duo for years, but due to some dependency issues, the two have recently found themselves at odds via social media. As Aaron continues to suffer from mental health issues and issues related to substance abuse, we hope the brothers can put aside their differences.
Let the Right One In
Though there were many negative influences that Backstreet Boy's youngest member, Nick Carter, had to contend with, one person seemed to be the biggest one – Paris Hilton. According to Nick, the relationship with her was not a healthy one.
Their long-term relationship was at the height of Paris's party days, and this only served to expose Nick to everything he was having a problem with. According to Nick, Paris seems to see things a little differently!
I'm Out of Here!
Like with any family, which is basically what a boy band becomes after years, there may be those that want to take off and do their own thing. So in 2006, when Kevin Richardson of the Backstreet Boys told the world he was leaving, there had to be some adjustments made and made quickly.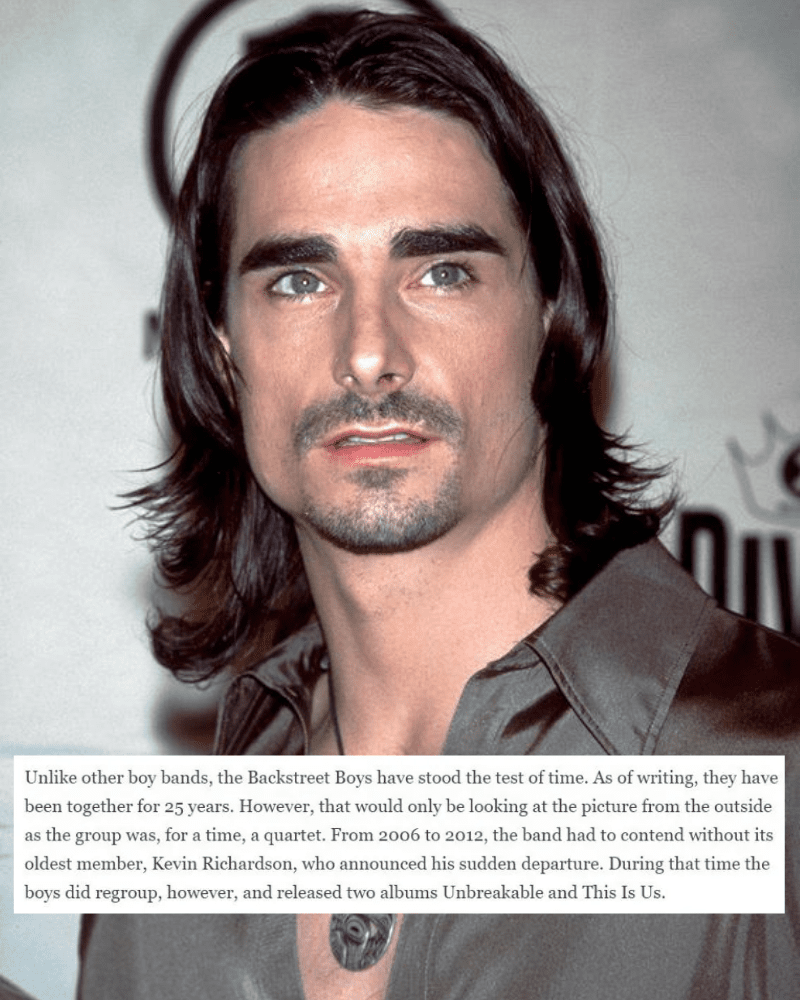 The truth is Kevin just wanted a little time to regroup and focus on his family. Eventually, he would find his way back home and return to the group in 2012.
The Backstreet Boys' Tragic Connection to 9/11
The success of any boy band is not solely due to the talents of the members themselves. Many of them use the same crew, which leads to the formation of an even larger family. So when one of them passes, it can be pretty impactful on the band itself.
One of the band's set carpenters passed during the tragic events of 9/11, and unfortunately for A.J. McLean of the Backstreet Boys, this passing coincided with other struggles he was going through at the same time.
New Label
It seemed in some ways that the Backstreet Boys couldn't get away from issues with their management and record labels. In 2002, they decided to leave their record company, citing several charges such as unfair competition and breach of contract.
This caused friction within the band, especially since the record label tried to utilize underhanded tactics to get Nick Carter to work on solo projects with their label. The label allegedly used the band's trademark and website to promote Carter's solo album making it difficult to record or tour as a band.
It's All Your Fault
It's tragic when you lose a sibling. Nick Carter of the Backstreet Boys understands this better than most, having lost his younger sister at an early age due to substance abuse issues.
But the mourning process is made even worse because it seems that his family feels that he is responsible for this. This may be why he didn't attend the funeral! This is such a heavy load to bear and quite the secret to keep.
Did You Feel That?
Sometimes the secrets kept may be dark but aren't necessarily horrible. Many fans understand that bands like Backstreet Boys have to fly to get from place to place, so they spend a lot of time on planes.
During one of these plane rides for the "Black & Blue" tour, the boys experienced a bit of a scare. It seems that AJ had made a bet with the captain, and the captain lost, so AJ had taken over the plane. There was just a little bit of a drop, and then the aircraft was back on course.
Get Off the Stage!
Sometimes things are kept secret when it comes to bad boy bands because it's just embarrassing. The Backstreet Boys had this experience with one of their performances, and until now, no one talked about it.
Most of us couldn't even imagine the Backstreet Boys being booed off the stage, but it happened one year at a foam party. It seems that the guys in the audience were not looking for a boy band, but some girls to make an appearance.
Liam Was Accused of Being Homophobic
One Direction may be one of the biggest boy bands in history, and with social media being prevalent in their lives, there are bound to be some issues that arise. For Liam Payne, one of these was an accusation of homophobia.
After some comments at a concert, one fan took to Twitter to call Liam out. Of course, the young boy bander denied the accusations, but the fan still felt that the comments were wrong. Many suspected that the band's management wanted this interaction kept secret so it wouldn't damage the boy's reputation!
Trouble With Dependency
The boy band craze took off globally, and not only did they come from the United States but also places like Korea and Great Britain. In fact, one of the biggest, Blue, was a four-man band that shot to fame in 2001.
Though not as young as the other boy bands, they still had to deal with all the pressures just like the others. Lee Ryan talks about these pressures when discussing his dependency on certain substances.
No Money Left
When we think of boy bands, most of us think of millionaires. Unfortunately for the boys of Blue, particularly Antony Costa, that isn't always the case. When the band broke up, several of them had to file for bankruptcy.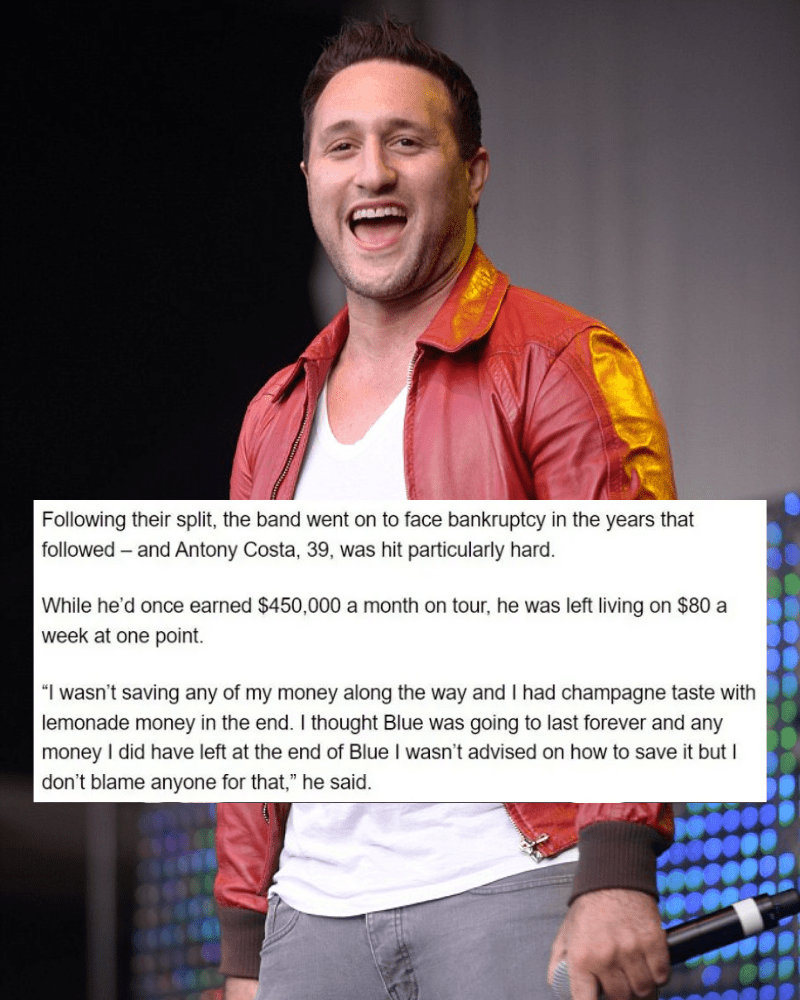 This wasn't due to some inappropriate actions of their management rather the fact that no one was there to help them learn how to handle their money. So they went from being able to spend almost half a million a month to barely being able to afford $80 a week.
So Many Temptations
When you rise to fame, you suddenly can ride on private jets and have tons of money at hand. This often comes with many temptations in the form of intimate relations with fans and others.
Both Lee Ryan and Duncan James of the band Blue seemed to have really gotten in trouble with this. It led to some pretty big scandals that we are sure they'd rather forget about.
We Have to Take a Break
In 2015, Blue was suddenly down to a band of three as Lee had to take a break from performing. No one understood what had happened and thought that it had been some part of a scandal that caused him to step down from the stage.
But in reality, it would later come out that he had had a health scare and had to have a cyst removed. Luckily, it wasn't cancerous, and once he had healed up, he could get back to doing what he loved.
I Want to Be Alone
Simon Webbe of the British boy band Blue found himself dealing with severe mental issues. The stress of being a member of the band would eventually lead him to substance dependency to combat his stress.
With multiple factors from the stress and the loss of his brother, Simon found himself having to work through severe bouts of depression and self-loathing. Thankfully, the former Blue member has found success once again in the entertainment industry and recently welcomed a child.
Feeling the Blues
Everybody deals with stress and anxiety in different ways. For many boy bands, because they have access to so many substances to numb their pain, they often find themselves dealing with substance abuse problems.
Duncan James from Blue certainly did. Thanks to the stress of the job and personal issues, including coming to terms with his orientation, Duncan needed to find help, and luckily he did. Fighting through it all, he finally came out and worked his way out of his depression.
Improper Conduct B2K
In 2004, one of the hottest boy bands, B2K, decided to go their separate ways. Though there was no real reason other than the fact that many of them wanted to go different directions in their career, one of the members would reveal a dark secret.
Raz-B accused his cousin and the band's manager of inappropriate relations with him and other group members. Though these were all just alleged accusations, it still was enough to cause major issues.