When it comes to styling inspirations, celebrities generally lead the charge. Yes, they are privileged to have the most talented glam squads of the beauty industry at their beck and call, but that doesn't mean we can't take the cue and recreate the styles on our own. While their hair and makeup always awe us with next-level styling, it's the nails that have stolen the spotlight this time. Nail art has often been an overlooked part of our style regime, but beauty professionals know that it's an inherent and intricate part of any stylebook, bringing the whole look together. Here are a few celebrity-inspired nail art designs to try this season.
Tattoo Nails of Megan Thee Stallion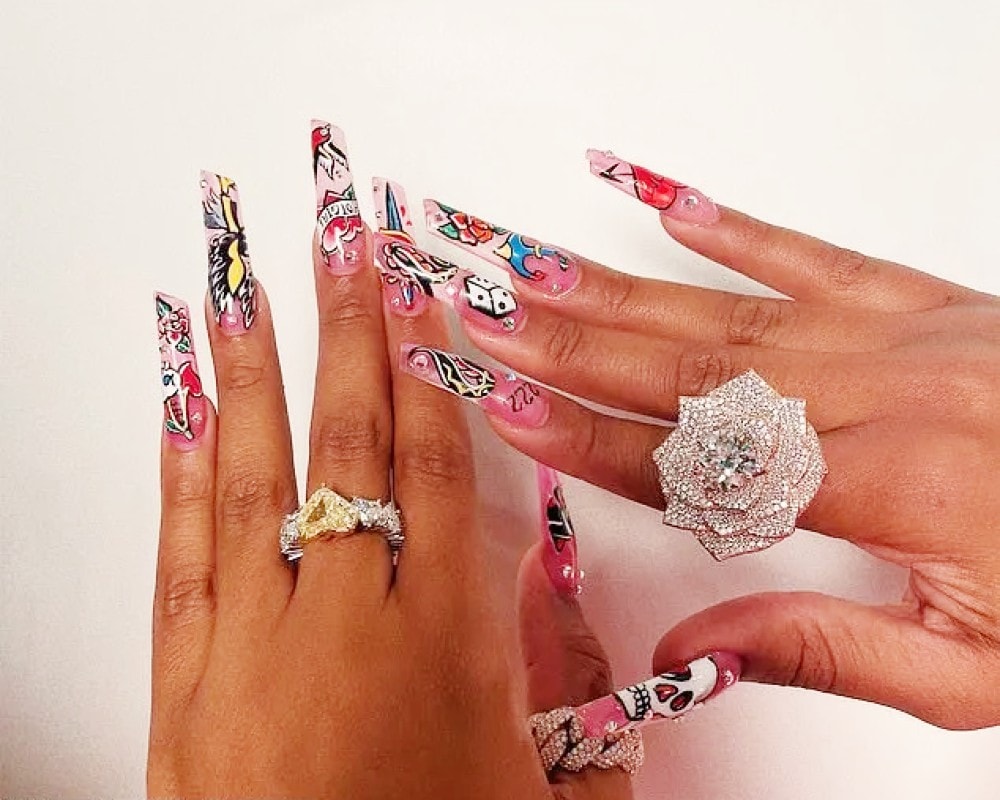 A tattoo is no doubt trendy, but don't worry if you can't get one on your skin. Because now you can get it on your nails! Just like Megan Thee Stallion, you can also get your fix for tattoos with stellar nail art. The singer recently debuted her classic tattoo nails, channeling the early aught with colorful bling. The designs of her nails smoothly wander in between butterfly designs and graffiti-esque red roses, embellished with rhinestones.
Lava Lamp Nail Art Look of Lily Allen
Thanks to nail artist Juan Alvear, Lily Allen is currently sporting a magical manicure. The lava lamp look of the singer feels amazingly modern and cheerfully retro all at once. The color combination of black and pink is bold and ethereal and perfectly syncs along with the recent popular Barbiecore trend, which celebrates anything and everything pink. Girly, stylish, and absolutely awesome!
Neon Nails of Selena Gomez
If there's one thing Selena Gomez loves, it's bold nail art. While the Rare Beauty founder doesn't typically go too quirky or crazy on the design front, she is always all in for an out-of-the-box shade. That makes bold and beautiful neon colors her all-time pick. Orange, green, red, or yellow, fashion-forward singer Gomez can rock it all. We're especially in for this neon lime green shade, painted by celebrated nail artist Tom Bachik.
Cheetah Print Nail Art of Lizzo
Cheetah print or Leopard print is having a moment in the world of nail art, and we have Lizzo to thank for that! The "Juice" singer currently seems to be committed to this theme, and we are not complaining! Courtesy of famed nail artist Eri Ishizu, the hot pink cheetah print manicure sported by Lizzo is a great pick for the summer stylebook. You can swap the pink with any deep and neon shade of your choice and you're still ready to rock.
Flame Design Nail Look of Vanessa Hudgens
If going all out with bold and super stylish nail art is your game, take a page out of Vanessa Hudgens' styling playbook. The actress didn't only rock the MTV Awards this year with multiple outfits and hairdos, but also with her flaming hot manicure. Celebrity nail artist Zola Ganzorgit gave Hudgens' nails an ombre base finished with a chrome flame design. While the shiny silver tone totally rocks, the look can also go up a notch with a hot red or orange hue.